Indian American Shree Saini On Conquering Over Her Facial Burns & Heart Defect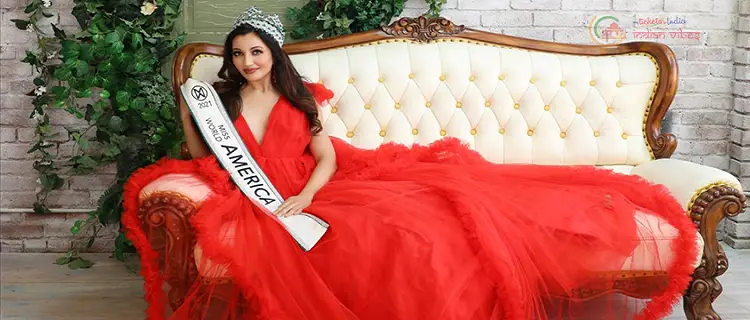 Indian American Shree Saini bags the first runner-up position at the recent Miss World pageant for the year 2021. The lady who represented the United States at the Miss World contest recently shared a heartwarming story of her life and how she believes anybody can conquer their daily struggles just like her.
She expressed, she strongly surmises that her story can potentially incentivize and inspire the general public to fight through their day-to-day challenges of life and succeed above them eventually.
Despite being just 26 years old, Shree Saini seemed pretty clear with her vision of life. She shared that by being at a global event like the Miss World contest, she wasn't there to just represent herself but also other "333 million Americans, billions of Indian immigrants".
Born in Punjab (Ludhiana), Miss Saini's family moved to the United States when she was just five years old. Later, she had to get a permanent pacemaker implanted by the time she was twelve as she was diagnosed with a rare heart condition.
Followed by that, Shree had a severe accident that left serious burns on her face. But what led her to inspire all was that she never allowed any shortcomings to hold her back from perceiving her real potential.
Just a few moments prior to the grand finale of this global event, she shared a post on her Instagram handle stating, "I hope my story of overcoming facial burns and heart defects can encourage people to overcome their daily challenges."

Through Instagram posting, Shree Saini also shared how participating in a global event like this was her dream ever since she was six years old. "When I was just 6, I dressed up as Miss World because I saw Miss World as a superhero, a woman who serves with her loving heart. This has been my deepest desire since I was young," she shared.

She even shared about the severe accident that left burning marks on her face and how badly it had affected her back then. "I no longer had my face. I couldn't even recognise myself. I couldn't even cry because my tears would burn as they would pass down my wounds. It was the most excruciating pain I had ever endured." she wrote.
Miss Saini beautifully ended her note to encourage people on her Instagram post with "see their light and to be the light".
Certainly, the lady has risen through some grave hardships but her zeal to conquer through all the life challenges has left us awestruck.
That's all on the recent update about the Miss World 2021 runner-up Shree Saini's take on life struggles. For more such news and Indian-American updates, do not forget to read through MyTicketsToIndia's other blogs regularly.
My Tickets To India is one of the leading flight booking portals that offer you the best air ticketing services. Indian Vibes, a sister portal to MyticketsToIndia, enables the Indian-Americans to stay well connected to their homeland and its latest updates of India and USA, travel, entertainment, events, etc.