8 Hindu Temples In The USA Which One Must Definitely Visit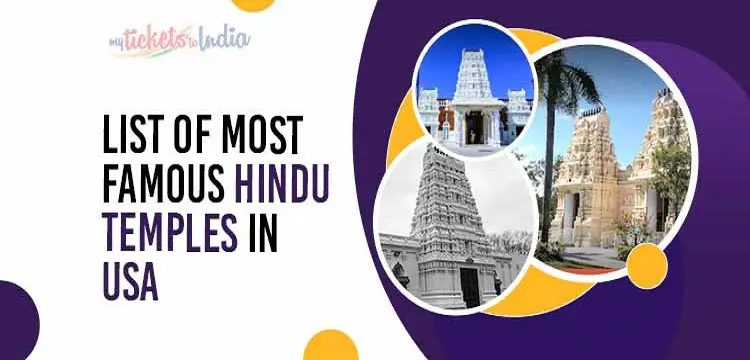 Another country with rich cultural diversity, the US, is one country that celebrates each culture's existence. Infact, despite being a majority of western origin, there are umpteen Indian temples in USA Interestingly, America comprises a significant population of Hindu communities. The recent survey and research indicate that the population of Hindus in America has reduced from what it was in the previous decade. Despite that, the number still represents 0.4% of the total USA population.
Since the country is an abode to such a vast mass of Hindu communities, it has taken care of its abiding citizens in all efficiency. Amidst all the essentials, the country comprises umpteen Hindu temples. Speaking of which, let's discuss the eight most popular and biggest hindu temples in USA.
| | |
| --- | --- |
| Sr No | Top List Of Temples In USA |
| 1. | Sri Maha Vallabha Ganapati Devasthanam, New York |
| 2. | The Shiva Vishnu Temple, Florida |
| 3. | Sri Venkateswara Swami (Balaji) temple, Illinois |
| 4. | Sri Lakshmi Temple, Ashland |
| 5. | Malibu Hindu Temple, California |
| 6. | Hindu Temple, Atlanta |
| 7. | Shiva Vishnu Temple, California |
| 8. | Swaminarayan Akshardham in Robbinsville, New Jersey |
1. Sri Maha Vallabha Ganapati Devasthanam, New York
Also known as the Ganesh Temple, the Sri Maha Vallabha Ganapati Devasthanam is in New York. Interestingly, this temple is the first Hindu temple of USA made for the welfare of all the Hindus residing in the country. Apparently, the construction of this holy place was completed in seven long years. Unbelievable, isn't it?
Address: 45-57 Bowne St, Queens, NY 11355, United States
Timings: Monday to Friday : 10:15 AM – 8:30 PM; Saturday & Sunday: 7:25 AM – 8:45 PM
2. The Shiva Vishnu Temple, Florida
This temple was designed and constructed under the guidance of 12 renowned architects. The temple spreads across an area as wide as 6200 sq. feet. Special attention was given to the temple's overall look during its construction.
In fact, one of the 12 architects was Dr. Ganapati Sthapati, who was a Chennai-based architect. He was specially appointed for this designation in order to tally if the temple is being constructed in the Dravidian style.
This temple of USA attracts a huge footfall of devotees every day, especially during the peak season as its design depicts it to be one of the South Indian temples in USA.
Address: 5661 SW 160th Ave, Southwest Ranches, FL 33331, United States
Timings: Mon to Fri: 9:00 AM – 12:00 PM, 6:00 PM – 9:00 PM; Sat & Sun: 10:00 AM-2:00 PM, 5:00 PM – 9:00 PM
3. Sri Venkateswara Swami (Balaji) temple, Illinois
The Venkateswara Temple in America is one of the innumerous abodes to Lord Vishnu Sri Venkateswara is one of America's most ancient Hindu temples. The Indian families in America had come together and donated around 20 Cr. to construct the temple.
Located at 1145 West Sullivan Rd, Aurora, the temple was built under the close guidance of the renowned Hindu temple specialist architect, Mr.Subhash Nadkarni.
Address: 1145 Sullivan Rd, Aurora, IL 60506, United States
Timings: 9:00 AM-9:00 PM
4. Sri Lakshmi Temple, Ashland
A temple in Ashland, Sri Lakshmi Temple, was constructed under the direction of renowned Indian sculptor architect Muthiah Sthapathi. It was built in the 1980s and took around two years to complete the construction.
Masking across 12 acres of land, the temple rises to a fifty-foot elevation from the base. The temple authorities follow their daily spiritual schedule, including various pujas, festivals, shloka classes, culture/Indian-languages classes, etc.
Apart from Goddess Lakshmi, the temple is home to deities such as Sri Maha Ganapati, Sri Mahalakshmi, Sri Venkateswara, SriNataraja, Sri Subrahmanya, Sri Hariharaputra Garuda as well as Navagraha.
Address: 117 Waverly St, Ashland, MA 01721, United States
Timings: Monday to Friday: 10:00 AM –12:30 PM, 6:00 PM–9:00PM; Saturday & Sunday: 9:00 AM – 9:00 PM
5. Malibu Hindu Temple, California
Located in Calabasas in California, dedicated to Lord Venkateswara, the Malibu Hindu Temple was built in 1981. Since its inception, the temple has been managed and maintained by the Hindu Temple Society of Southern California.
The designing and construction of the temple have been solely inspired by the traditional South Indian style of temple architecture.
Address: 1600 Las Virgenes Canyon Rd, Calabasas, CA 91302, United States
Timings: Monday to Friday: CLOSED; Saturday & Sunday: 10:00 AM – 5:00 PM
7. Hindu Temple, Atlanta
Absolute beauty in the name of a temple, the Hindu Temple, Atlanta (Georgia), was constructed in the 1980's. The temple, covered in peaceful white color, is the perfect example to showcase traditional Indian architectural style, and is a pure delight for the eyes.
People who seek blessings of Lord Ganesha, Hanuman, Durga, Nagendra, and Bhairava are primarily seen in this temple. It is an ultimate pinnacle for two temples: Lord Shiva as well as Lord Balaji. Interestingly, there are two major gods in the form of Lord Venkateshwara and Lord Ramalingeshwara present in this place.
Address: 5851 GA-85, Riverdale, GA 30274, United States
Timings: 9:00AM – 9:00PM
7. Shiva Vishnu Temple USA
Last but not least, this list could not have been completed without mentioning the well renowned Shiva Vishnu Temple in California. Devotees from all over the nation visit this temple to be amazed by the dimension and breathtaking beauty spread over an enormous surface area fashioned in white and red color.
Interestingly the temple is one of the most famous abodes to the world's most celebrated deities, Lord Shiva and Lord Vishnu. Keeping its historical value intact, the Hindu Community and Cultural Centre offers classes to impart knowledge of culture and religion to the next generation in the location.
Address: 6905 Cipriano Rd, Lanham, MD 20706, United States
Timings: Mon to Fri: 9:00 AM – 1:00PM , 5:00 PM – 9:00 PM; Sat & Sun: 9:00 AM – 9:00 PM
8. Swaminarayan Akshardham in Robbinsville, New Jersey
One of the biggest Hindu temples in USA, the Swaminarayan Akshardham of New Jersey houses a unique exhibition on Indian history and culture. The shrine is primarily dedicated to Lord Swaminarayan and witnesses a huge footfall from all over the country.
Address: 112 N Main St, Windsor, NJ 08561, United States
Timings: 9:00 AM – 7:30 PM
Each of the shrines in the above list has its authenticity in its own unique ways, as they are not just sacred to individuals of the Hindu faith but also to the people from other religions. Many tourists from all over the globe travel to the US and visit these temples in order to learn more about the rich traditions and diverse cultures of India. So, if you're planning your next trip to the USA, be sure to take your time visiting these temples.
Frequently Asked Questions
Q.How many Hindu temples are there in USA?
A: USA comprises over 450 Hindu Temples with a majority of them located in the eastern coast of the country.
Q.Where is the largest Hindu temple in USA?
A: Swaminarayan Akshardham is the largest temple in USA and is situated in Robbinsville, New Jersey. Interestingly, this Hindu temple of North America is not only the biggest Hindu temple in USA but is also the second-largest temple in the world.
Q.Which temple is recognised as the first Hindu temple in the USA?
A: The Shiva Murugan Temple is recorded as the earliest traditional Mandir built in the United States. Built in 1957, this temple is situated in Concord, California and is run by the public elected members.
Now, since you know everything about the most popular Hindu temples, you are all set to fly to these fantastic destinations in the USA. In case you're planning to visit any of the above-mentioned Indian Temples in USA, feel free to share your experience with info@myticketstoindia.com as we'd love to hear your unique travel exposure.
MyTicketsToIndia is a well-known flight booking platform where you can book your cheap India flights and return. Thus, Indian Vibes is one of the unique sister portals of MyTicketsToIndia, launched for Indians living in America who want to get closer to their home country.
So, what are you waiting for? Plan your next spiritual vacation immediately and let our travel expert take care of flight booking hassles so that you can sit back and enjoy your holidays in peace.