Best Hindu Temples in Houston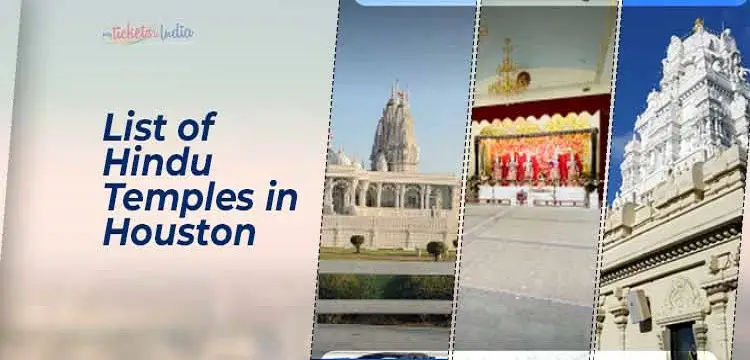 Are you tired of searching for the best Hindu temples in Houston? Don't worry, we have brought for you the list of best Indian temples in Houston, which will help you to stay connected with God and your culture.
Heaven is where God resides, true words! That's because the peace we get by going to God's house, we do not get it anywhere. We know how difficult it is to stay connected to our culture and religion by living in another country, where we do not have the guidance of our elders. So, come let's know about Houston's famous Hindu temples here.
List of Best Indian Temples in Houston
1. BAPS Shri Swaminarayan Temple, Houston
The BAPS Shri Swaminarayan Mandir is one of the biggest Hindu temples in USA. This temple was inaugurated in July of 2004 and it is the first traditional Hindu Mandir (temple) in North America. Here, the exhibition narrates the magnificence of Hinduism and the major contributions of India in various fields.
Address: 1150 Brand Ln, Stafford, TX 77477, United States
Timings: 9:00 AM to 8:30 PM
2. Nithyanandeshwara Hindu Temple, Houston
Nithyanandeshwara Hindu Temple, Houston was established in 2017. Temple's presiding deity is Sri Nithyanandeshwara Linga which is a replica of the main deity of the Sri Kalahasti Temple, Sri Kalahasteeswara. Other deities in this temple include Lord Shiva, Goddess Durga Devi, Lord Krishna and Goddess Radha. Despite being the best place for worship this temple also serves as a center of meditation & celebration.
Address: 14140 Westheimer Rd, Houston, TX 77077, United States
Timings: 9:00 AM to 11:00 AM, 6:30 PM to 9:00 PM (Mon-Fri); 9:00 AM to 12:00 PM, 6:00 PM to 9:00 PM (Sat-Sun)
3. Gauri Siddhi Vinayak Temple, Houston
Established in 2012, Gauri Siddhi Vinayak Temple is one of the most popular Hindu temples in Houston and the best place to worship Lord Ganesha, Goddess Gauri, and Goddess Durga. It also provides the service to hire priests for Hindu wedding ceremonies, Vagdan (Engagement), Shri Gayatri Havan, Shri Satyanarayan Puja, Simant (Baby Shower), Shri Lakshmi Puja, Shanti Havan, etc.
Address: 5645 Hillcroft Ave. Suite 701, Houston, TX 77036, United States
Timings: 10:00 AM to 7:00 PM
4. Sri Meenakshi Temple, Houston
Sri Meenakshi Temple is embellished with Indian imported granite, and it is believed to be an exact replica of the Sree Meenakshi Temple in Madurai, India. It also celebrates various Indian festivals, such as Saraswathi Puja, Ganesh Chaturthi, Navarathri, etc. It is home to 16 gods and goddesses and while exploring the temple complex you'll get to know more about them.
Address: 17130 McLean Rd, Pearland, TX 77584, United States
Timings: 8:30 AM to 1:00 PM, 5:00 PM to 8:30 PM (Mon-Tues, Thurs); 8:00 AM to 9:00 PM (Wed); 8:30 AM to 1:00 PM, 5:00 PM to 9:00 PM (Friday); 8:30 AM to 8:30 PM (Sat-Sun)
5. Sri Ashtalakshmi Temple, Houston
Sri Ashtalakshmi Temple is one the best places in Houston to visit for Hindu spirituality and to get enlightened. Here, you can worship Lord Lakshmi Narayan along with eight forms of Lakshmi – Maha Lakhsmi, Dhanya Lakshmi, Dhairya Lakshmi, Rajya Lakhsmi, Santhana Lakshmi, Jaya Lakshmi, Veera Lakshmi, and Dhana Lakshmi. Its main vision is to spread the knowledge of Vedas to new generations.
Address: 10098 Synott Rd, Sugar Land, TX 77498, United States
Timings: 8:30 AM to 12:00 PM, 5:30 PM to 9:00 PM (Monday-Friday); 8:30 AM to 2:00 PM, 5:00 PM to 9:00 PM (Saturday-Sunday)
Other Famous Hindu Temples in Houston
Hare Krishna Temple and Cultural Center
Shri Radha Krishna Temple
Chinmaya Mission Houston
Shri Swaminarayan Hindu Temple (ISSO)
Shri Krishna Vrundavana
Sri Guruvayurappan Temple
Sri Govindaji Gaudiya Matha
Sanatan Shiv Shakti Mandir
Jalaram Saibaba Temple
Sai Durga Shiva Vishu Mandir (SDSVM)
Frequently Asked Questions
Q.Which is the largest Hindu temple in Houston?
A: BAPS Shri Swaminarayan temple is the biggest and best Hindu temple in Houston.
Q.How many Indian temples are there in Houston?
A: There are 43 popular hindu temples in Houston,Texas.
If you have visited or are about to visit these temples in Houston, then do share your experience with us at info@myticketstoindia.com. IndianVibes will love to know about your experience.

IndianVibes is a sister portal of MyTicketsToIndia, one of the best flight booking platforms that books flights from USA to India and vice-versa at the cheapest prices. IndianVibes is an initiative taken by MTI which keeps the Indians, settled in USA connected to the soul of India.