A Glimpse On The Aamir Khan Reena Dutta Love Story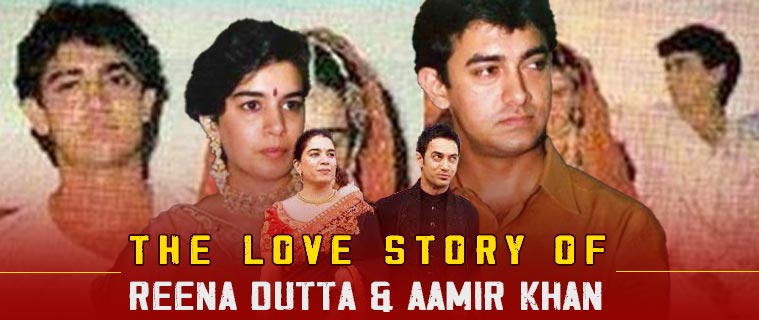 Although Aamir Khan and Reena Dutta decided to part their ways after 16 long years of marriage, it was never a bitter separation. The couple has been friends for the longest time, and they have always supported each other in all their endeavors.
In fact, while they were married, they had two children together, Junaid Khan(son) and Ira Khan (daughter). The two are still very good friends and share a warm relationship. Aamir Khan had later got married to Kiran Rao. Although he was recently separated from Kiran Rao as well, they had a son, Azad Rao Khan, while they were married.
A Love Story of Aamir Khan and Reena Dutta
Once a sensation, Aamir Khan Reena Dutta's love story doesn't fail to warm the cockles of our hearts even today. Aamir Khan's 1st wife, Reena Dutta, had met Aamir Khan for the first time when Aamir Khan shifted in her neighborhood.
The romantic buds bloomed into a beautiful marriage in a pretty filmy frame. Since both were neighbors, they often caught themselves sharing glances time and again throughout the day.
While Aamir Khan was pretty sure about his feelings, Reena Dutta was not. So, when he expressed his love for his, then, love interest-Reena Dutta, she turned down his proposal. But, the Bollywood superstar, Mr. Aamir Khan, was just not ready to take no as an answer from the girl he loved so much. As a matter of fact, he later explained his obstinateness sprouted because he was sure that Reena also had feelings for him.
He kept trying time and again, and eventually, the lady confessed her feelings about Aamir Khan as well. Soon, after dating for a couple of months, the two decided to tie an official knot of love in 1986.
Aamir Khan About His Wife, Reena Dutta
In 1999, Aamir Khan shared in an interview, "I spent a little more time than natural in front of my window. I just told her that I loved her, and I hoped that she felt the same about me."
Following this, he further added, "And as it happened, she said that she didn't, so I was devastated that this can't be happening to me again. I'm not the kind of guy who gives up easily. I didn't take no for an answer. After two days, she met me, and she said I still feel the same. I really avoided the window. I was heartbroken, and I was trying to stay away from her and get over her."
Reena Dutta and Aamir Khan Love Life
While they were dating, Aamir Khan had once written a love letter for Aamir's first wife, Reena Dutta. This letter was no ordinary love letter as Aamir Khan had decided to put an extra edge of 'head over heels madness' in it. Allegedly, he had written this letter with his blood. And, handed over the letter in blood to his wife as a token of love and their special relationship.
He somehow thought expressing feelings via letter with blood could be a romantic move. However, Aamir Khan's wife Reena was agitated with the gesture and, in fact, asked him to never repeat such teen madness for her again. It isn't safe to be doing such activities, of course. But, Aamir Khan seemed to recall this incident as a bittersweet memory while sharing it.
A quick peep into Aamir Khan's Personal Life
Aamir Khan's full name: Mohammed Aamir Hussain Khan
Aamir Khan's age: 56 years
Aamir Khan's first movie: Yaadon Ki Baaraat (1973)- As a child actor
Aamir Khan's first feature film: Holi (1984)
Aamir Khan's wife
Aamir Khan's first wife: Reena Dutta
Aamir Khan's second wife: Kiran Rao
Aamir Khan's wife age
Reena Dutta's Age: 53 years
Kiran Rao's Age: 48 years
Aamir Khan And Reena: A Supporting Spine Duo
On June 15th, 2021, On completion of 20 glorious years of successful film Lagaan, a press conference was held. A reporter there asked the superstar, "Hello Aamir Khan sir, please share a memory from this movie that is still fresh in your heart? To which Aamir Khan replied as he recalled, "It was my wife, Reena Dutta, who believed in me and my dream of making such an off-stream cinema movie.
Aamir Khan also shared, "I think the one thing that remains with me is the way Reena handled the film. My (Aamir Khan) ex-wife Reena Dutta, who was a producer of the film, was somebody who had no understanding of cinema until then. Though she was married to me for a number of years, she was not interested in films. So she never knew anything about filming. So, when I requested her one night for the main kar raha hoon (film), I will need your help. So, she said I don't know anything about filmmaking; what can I help you with?"
"She (Reena Dutta) was very sporting, and she said I will learn. Usne I (will) learn kya bola, ke usne pura hi sikh liya. She went and met Subhash Ghai. She met Manmohan Shetty, who runs a lab. She went to the lab and asked, " kya hota hai dikhao. " Sound negative kya hota hai, processing kya hoti hai, printing kya hoti hai, lab ka process hota kya hai." he further added.
Aamir Reena Bollywood career Co-incidence?
A lesser-known fact but Aamir Khan's ex-wife, Reena, was first seen in the Bollywood film industry in an Aamir Khan starrer movie, 'Qayamat Se Qayamat Tak,'.
Dutta had staked her position by being the producer of the Lagaan movie. It was again Aamir Khan's Lagaan Movie to which Reena Dutta was the film producer. In fact, it was her first movie as a producer.
Reena Dutta Aamir Khan: Post-Divorce Equation?
Although the couple had parted ways in 2002, Aamir Khan and ex-wife Reena Dutta share a pretty cordial relationship even today and showcase a fine example of a healthy relationship. The Paani Foundation is still a collective effort of both entities, even though Aamir khan's wife Reena Dutta is the COO of the foundation. Both of them did not let their personal life hinder their professional relationship.
Aamir Khan was once found sharing a Chinese news channel, "She is a wonderful person as well. Sometimes a relationship doesn't work, but I have a lot of love and respect for her. In fact, we are working together on this Paani project. She is the COO of the company."
The star had cherished his amicable terms with his first wife on Karan Johar's Koffee show.
For more such updates, subscribe to our website and never miss an update regarding all the interesting updates, news and stories, coming straight from your homeland.
Indian Vibes– a sister portal to MyTicketsToIndia, seeks to bring the NRI's in America closer to their home land.