Katrina Kaif-Vicky Kaushal's Wedding Details & Updates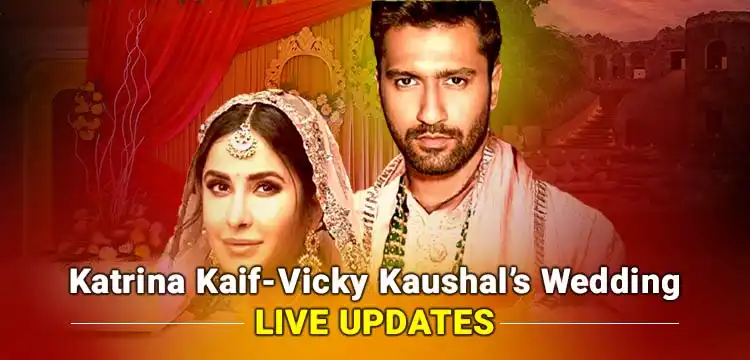 Katrina Kaif and Vicky Kaushal have been dating each other since 2019 after they showed mutual admiration for each other on their respective episodes in Koffee With Karan. Karan Johar has played cupid here and how! While the two have remained secretive about their relationship all throughout, their glorious wedding couldn't follow the lead since it's become a global affair now.
If you're somebody who wants to know the live details of Katrina Kaif and Vicky Kaushal's wedding, Indian Vibes has got you covered.
Wedding Date: Katrina Kaif and Vicky Kaushal, the power-packed Bollywood duo, are all set to tie the nuptial bond on 9 December 2021.
Wedding Venue: The wedding will take place at Six Senses Fort Barwara in Chauth Ka Barwara town of Sawai Madhopur.
Katrina Kaif & Vicky Kaushal's Wedding Photos
As she embarked on a new journey, Katrina Kaif took to her Instagram account and shared her wedding pictures. People flooded the comment section and offered blessings to the couple. Check out what Katrina Kaif shared.
Katrina Kaif & Vicky Kaushal's Wedding | 9 December 2021
Now, that the Sangeet and Haldi ceremonies are done, there's only wedding to be focused on. Speculations are that they have tied up with an OTT platform so their wedding can be showcased on the big screen.
Vic-Trina's wedding (as most people have been saying) will be an afternoon wedding. Vicky and Katrina will tie the knot between 3:30 pm to 3:45 pm today. If reports are to be believed, the couple has a list of songs that they will perform on like "Kala Chashma" and "Nachde Ne Saare". They will also be performing on "Teri Ore".
Besides this, Vicky Kaushal is speculated to come riding on 7 horses. Nobody is sure if it's feng shui or some other belief but what we are sure about is that the wedding is going to be a GRAND affair in its truest sense.
Katrina Kaif & Vicky Kaushal's Haldi Ceremony | 8 December 2021
Vicky Kaushal and Katrina Kaif's haldi happened at 11.30 am today. After breakfast, the couple-to-be went to their respective rooms with their stylists to get ready. According to a source, they planned to have two haldi ceremonies. Of the two, one happened today. In this, Katrina's sisters and their husbands, along with other relatives, participated.
The second haldi ceremony will be held tomorrow i.e. 9 December 2021. This will be a traditional haldi ceremony of which Vicky Kaushal will be a part. A Sangeet ceremony is planned for the night. Just like any other ceremony, this ceremony will be an intimate affair too. What Katrina and Vicky wore for their sangeet and haldi is something even we are waiting to know. Stay tuned until we share some information on the same.
Katrina Kaif & Vicky Kaushal's Private Party | 7 December 2021
While the couple has been tight-lipped about the whole wedding scenario, it was clear that they hosted a private bash for their close guests.
Katrina Kaif & Vicky Kaushal Wedding Prep | 6 December 2021
The couple-to-be took a flight to Rajasthan with their families on 6 Dec 2021. The guests started arriving at the fort on the same day. The attendees aren't allowed to use their cell phones during the ceremonies. A note read, "We request you to please leave your mobile phones in your respective rooms and refrain from posting pictures or using social media for any of the ceremonies and events."
That's pretty much it for now!
Stay tuned for more updates here. We'll come back with more interesting pieces of news to share.
Indian Vibes is an exclusive portal that aims to bring Indians in America closer to their homeland. It's an initiative by MyTicketsToIndia – a leading flight-booking portal that helps travelers book USA to India flights and back.