7 Stunning Places To Visit In Dalhousie On Your Next Trip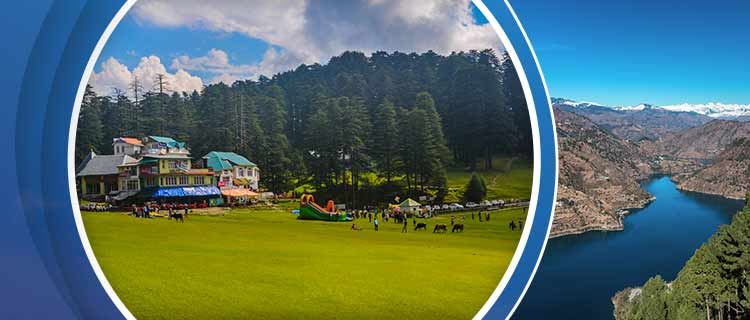 Posted on Friday, September 17th, 2021 by MTI Team
About Dalhousie
From fascinating temples to mind-blowing scenic views, Dalhousie is a dream destination for all nature admiring travelers. It is a beautiful city nestled amidst the green pine and oak trees in the Chamba District of Himachal Pradesh. The lush green mountains, serene rivers, and cool mountain breeze describe what this beautiful city is all about. There are no words to describe the Dalhousie scenery, so book your flights to the popular hill station right now and witness its beauty yourself. The snow-capped mountains around the city will make you want to stay here forever. Dalhousie is a pristine and gorgeous hill town in the Dhauladhar range of the Himalayas that will make you experience the most awesome things in life.
How To Reach Dalhousie?
By Air: You can travel to Dalhousie by flight to reduce the duration and be more comfortable. Air India, Spice Jet, and other major airlines in India operate flights to the city. Another boon of flying to Dalhousie is to be greeted by picturesque panoramic views. Although there is an airport lacking in Dalhousie, the nearby areas to Dalhousie host better-connected airports to major cities. One can also reach Dalhousie by landing at the Kangra Airport which is 3 hours away from Dalhousie.
By Train: Pathankot railway station is the closest terminal to reach Dalhousie so book your trains to this station. Most of the cities in India have trains on this route.
By Car: The national highways and roads that lead to Dalhouse are well constructed so you can take your own car or rental car to go on a road trip to the beautiful Dalhousie.
Best Time To Visit Dalhousie
Dalhousie has a cold climate most of the months because snow-capped mountain ranges surround from all directions. So the best time to visit the Dalhousie location is during the summer season, from March to May. The summer season begins during these months and the weather is quite pleasant to enjoy visiting all of Dalhousie's tourism places. Additionally, Dalhousie city also experiences snowfall during December, so if you wish to enjoy the beauty of snow, then winters are another great time to plan your Dalhousie trip.
Top 7 Scenic Locations To Visit In Dalhousie
This serene and ancient town Dalhousie offers a beautiful amalgamation of natural beauty and vintage locations. Dalhousie is one of the famous hill stations brimming with the richness of colonial heritage. There are plenty of places to visit in Dalhousie that will surely uplift the traveler's soul inside you.
1. Khajjiar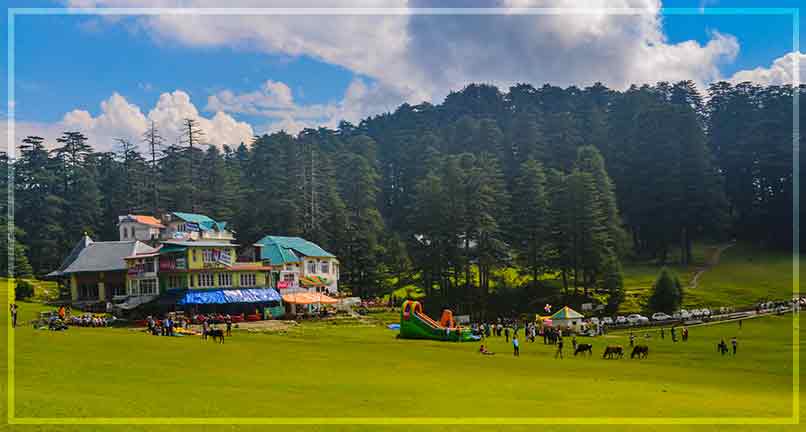 One of the most popular Dalhousie tourist places to visit in Khajjiar. It is the most astounding hill station located in Dalhousie, Himachal Pradesh. It makes up for the perfect picnic spot for friends and family. The entire area is surrounded by serene snow-capped mountains, which adds to the beauty of this town. If you admire nature, you should surely plan a visit to Khajjiar during your Dalhousie trip.
Things To Do: picnic spot, horse riding, forest trekking
Places to stay: Mystic Village, Kailash island, Heart Beat Resort
2. Kalatop Wildlife Reserve
Kalatop Wildlife Reserve is a must-visit Dalhousie location, especially if you love nature and wildlife altogether. Here you can spot Langur, blackbirds, and various other endangered species of animals. You can also trek up to Kalatop Hills to spot the wild daisies that only grow here.
Things To Do: Jungle safari, trekking, bird photography, bird watching
Places to Stay: Fortune Park, Aaroham Resort, Mini Swiss.
3. Dainkund Peak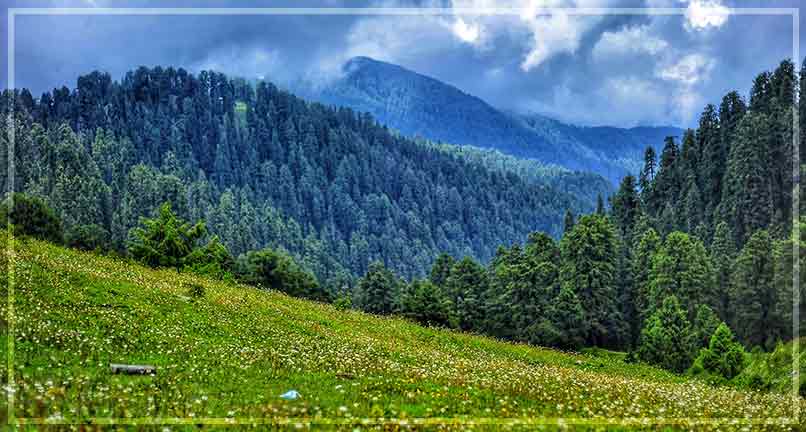 One of the most well-known Dalhousie beautiful places to visit is Dainkund Peak. It has astonishing views of dense forest, plans, and valleys surrounding the peak. Don't forget to spot the enchanting views of the three rivers, Chenab, Beas, and Ravi, that enhance the beauty of this spot.
Things To Do: trekking, camping, and picnic
Places to stay: There are cottages between snow-capped peaks like Zostel and Deodar with all the luxury.
4. Panchpula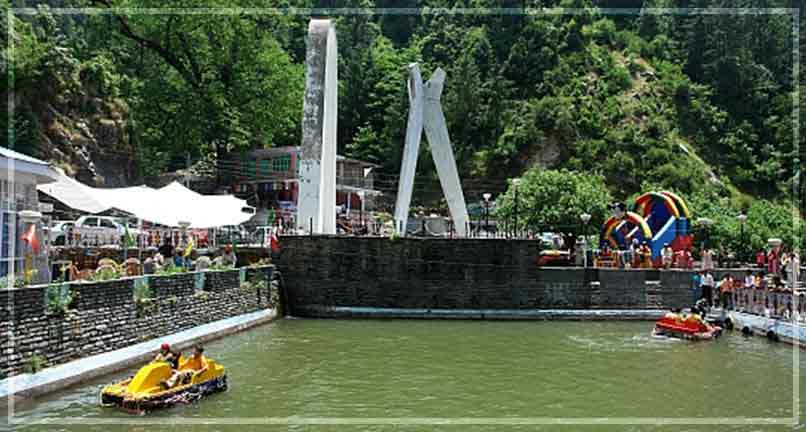 If you get excited about waterfalls, then Panchpula is the right place to fulfill your wish. The glistening streams, stunning waterfalls, and great historical locations make Panchpula a perfect Dalhousie tourist place to visit. One can enjoy walking through the scenic hiking trails to see some stunning vistas of nature.
Things To Do: Trekking, quality time with nature, riverside camping
Places to Stay: Nesta Elements, Nomadic Camp, Hyatt, Taj.
5. Satdhara Falls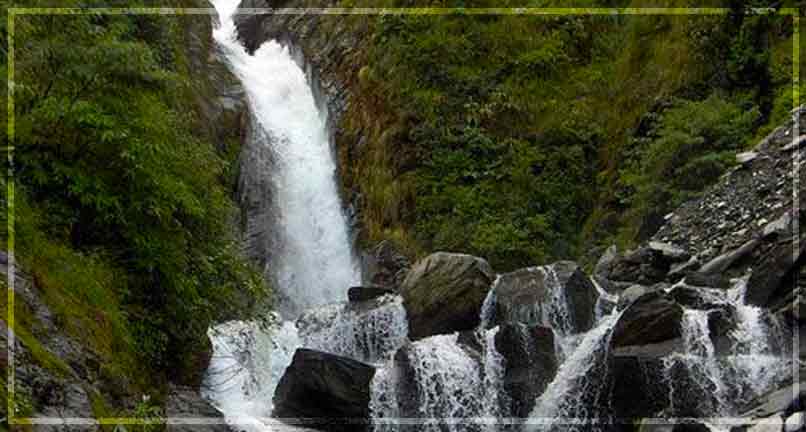 Satdhara Falls is one of the best examples of nature's artwork and Dalhousie's beauty as well. It is said that the water in these falls has medicinal healing properties. This perfect picturesque location is a great spot to rejuvenate your mind. Satdhara Falls is also a major attraction, especially for couples. Complete with a beautiful water cascade, this Falls tops the list of Dalhousie's breathtaking views.
Things To Do: healing dip, swimming, trekking, picnic
Places to stay: Best Western Dalhousie, Lall Ji Tourist Resorts
6. Ganji Pahari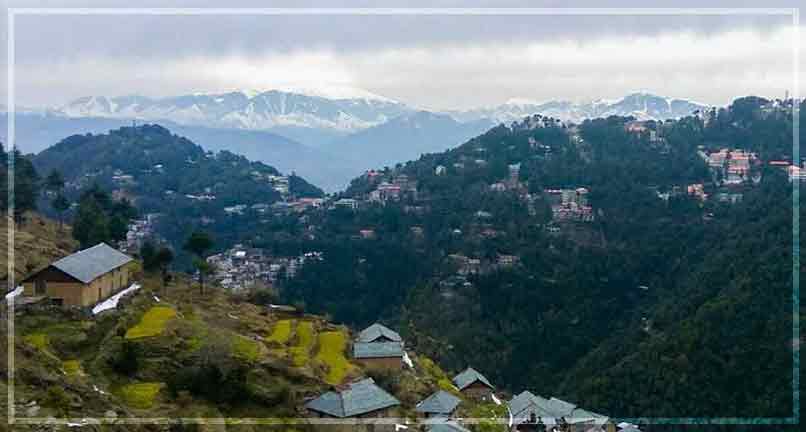 How about intoxicating yourself with some of the most picturesque views of mountains and river streams? Ganji Pahari, located in Bakrota Hill, offers the same experience. The hill is short on vegetation, and due to that barrenness, it gets the name Bald hill. A perfect spot for enjoying camping, trekking with the best views of valleys all through the way.
Things To Do: Trekking, camping, picnic
Places to stay: Dragon resort, Al Sheik, One Gujrat
7. Chamera Lake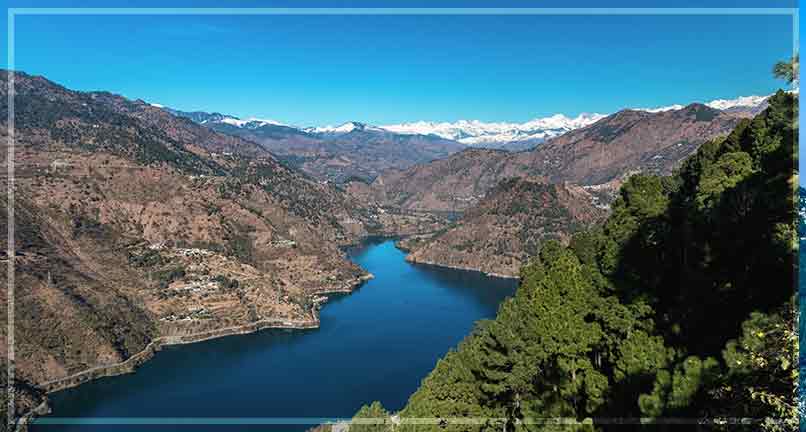 Chamera Lake will be a treat to your eyes and mind for sure. The entire region is surrounded by lush green trees and stunning views of mountain ranges along with blue and green water reflections. Pack a picnic and relax in the bliss of calm waters. It will at least take one hour to travel from Chamera lake to Dalhousie. Don't forget to seek blessings from Laxmi Narayan Temple which is located very close to this lake.
Things To Do: jungle trekking, fishing, picnic, watersports, boating
Places to stay: Alps Resort, JK Clarks, Nature Valley.
Top 4 popular markets to visit in Dalhousie
Dalhousie city is a beautiful hill station where tourists can seek the ultimate tranquillity and peace. However, the city is also studded with beautiful and famous shopping markets that offer unique items to take back a memorable part of your trip.
1. Tibetan Handicrafts Market
For all the travelers who love purchasing selective pieces and great craftwork, the Tibetan Market is a must to visit in Dalhousie. The market offers you a unique collection of carpets, bags, shawls, jewelry, and much more. Don't forget to use your bargaining skills while purchasing souvenirs.
Location/Address: Moti Tibba, Gandhi Chowk, Dalhousie
Best thing to buy: traditional handicrafts, woolen clothes, Tibetan rock paintings, etc.
2. Banikhet Bazaar
Banikhet Bazaar is surely a paradise for all the shopaholics. The market offers a great collection of clothes and souvenirs at affordable prices. Here you will find different shops offering you everything to satisfy all your needs. Also, if bargaining is your skill, then this is the place to use it up.
Location/Address: Banikhet, Dalhousie, Himachal Pradesh.
Best Things to Buy: clothes and souvenirs at a low price with good quality.
3. Gandhi Chowk Shopping Plaza
One of the most popular places to visit in Dalhousie when it comes to shopping is Gandhi Chowk. The bustling market offers an abundance of shops and restaurants serving typical North-Indian food that offer a captivating shopping experience. From traditional handicrafts, electronic devices to scenic views of valleys in the backdrop, this market has it all.
Location/Address: M.D.R. 49, Moti Tibba, Dalhousie, Himachal Pradesh (176304)
Best Things to Buy: Traditional handloom, handicrafts, and electronic gadgets.
4. Bhuttico
Bhuttico is one of the oldest and most popular Dalhousie shopping places. This shopping destination is famous for its Kullu shawls and authentic raw wool material. If you are someone who is quality conscious, then Buttico is the perfect place to shop for all the items you need.
Location/Address: G.P.O. Road, Distt Chamba, Himachal Pradesh
Best Things to Buy: Women especially love this place because it is famous for pashmina, lambswool, woollen shawls, and exotic fabrics.
Best Romantic/Cozy Hotels For Amazing Stay In Dalhousie
Dalhousie beauty is surely unmatchable from any other destination in District Chamba. It is a perfect place to enjoy a loving and cozy vacation with your partner. Some numerous stays and accommodations will lure you with their great services and stunning mountain views.
1. Hotel Dalhousie Heights
Hotel Dalhousie Heights is at Lover's Lane with magnificent mountain views rooms. The hotel is spread over the most beautiful land cover in Dalhousie. It is one of the most popular honeymoon hotels in Dalhousie, where you can enjoy top-notch facilities.
How to reach: Very close to the bus terminal or you can book a cab.
Facilities: The hotel has an indoor swimming pool, a sauna, and fitness zones, an in-door, and kids play area, and a conference hall.
Charges: Maharaj suit will be around INR 16,000, and super deluxe will be INR 13,000.
2. Hotel Grace Mount
Hotel Grace Mount is one of the most favorite luxury hotels and is the best place to stay to enjoy Dalhousie scenery at its best. The hotel not just offers a pleasant stay but also provides private sitting areas so that you can spend quality time with your loved ones. The hotel also offers many adventure sports activities like quad biking, nature trail, etc.
How to reach: You can choose bus or cab services.
Facilities: Children Activities, Free internet, Business Centre with Internet Access, Free breakfast
Charges: INR 5,000 to INR 6,500.
3. Alps Resort
All of Dalhousie's famous places are very close to the Alps resort. This stunning stay property offers splendid areas filled with Oak trees and fabulous views all around. The hotel provides top comfort services and that too at a budget-friendly price. Take your loved ones here and enjoy a serene getaway amidst lovely deodar trees.
How to reach: All modes of public transport.
Facilities: They have pool tables, treehouses, and even in-door gaming areas to keep you occupied.
Charges: Standard rooms are INR 2,000, and suit rooms will be around INR 4,000.
FAQs
Q: Is it safe to travel to Dalhousie now?
Ans: yes it is completely safe to travel to Dalhousie. However, you must follow all the covid protocols for everyone's safety.
Q: How long should I spend in Dalhousie?
Ans: To cover all Dalhousie tourist places, you should plan a trip of at least 3-4 days. It will give you plenty of time to explore all of its places.
Q: Will it be very cold during winter in Dalhousie?
Ans: The temperature will even go down to 0.5 degrees Celsius during December in Dalhousie. It is better to pack a decent amount of woolen clothes if you are planning a Dalhousie trip in Winters.
Q: Are there any temples in Dalhousie city?
Ans: Bhulwani Mata Temple in Bara Pathar, Khajji Nag Temple, Bhalei Mata Temple, Chamunda Devi Temple, Pohlani Devi Temple, Laxmi Narayan Temple are few famous spiritual locations in the city.
Q: What is the other name for Khajjiar?
Ans: Due to the mesmerizing beauty and stunning vistas, Khajjiar is also titled Mini Switzerland of India.
About MyTicketsToIndia
MyTicketsToIndia is a reputable travel agency that offers the lowest prices on flights to Dalhousie and a reasonable Dalhousie tour package. Just share your requirements with them, and they will come up with a perfect travel deal for you.
Girish Sharma is the CEO of a leading travel company named Myticketstoindia, established in 2012. Being a versed travel expert since 12 years, he shares his peerless voyage expeditions along with interesting travel destination ideas and news updates for the travelaholics across the globe. He is the member of TAAI, Travel Agent Association Of India and his firm has got recognized with the reputed IATA accreditation and became the Inbound Flight Booking Portal of the Year. Loyalty & honesty towards the clients and vendors, have always been the key behind his successful walk of life.. read more