Diljit Dosanjh Made Waves As The First Punjabi Singer To Perform At The Coachella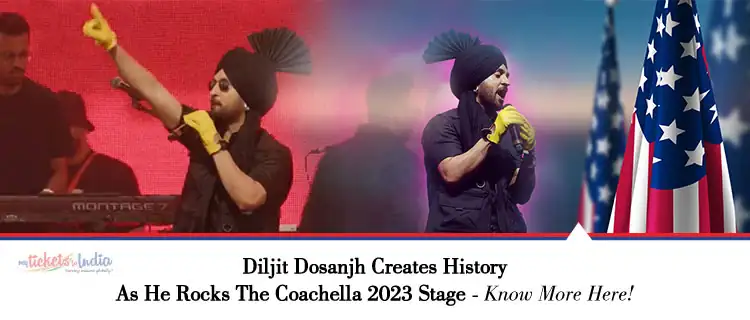 Diljit Dosanjh has established himself as a global force to be reckoned with. He has now also made history by becoming the first Punjabi singer to perform at the prestigious Coachella Valley Music & Art Festival 2023. The singer and actor, dressed in a traditional Punjabi outfit, made the audience dance to some of his super famous Punjabi songs. Needless to mention, he absolutely owned the stage during his debut performance.
Coachella is an annual music and arts festival held in April in California. Featuring performances by various world-famous musicians and artists from a wide range of genres, as well as art installations and sculptures, the festival attracts music fans from all over the world.
Post Shared By Coachella On Instagram
Coachella's official social media handles shared a sneak peek of the multihyphenate's electrifying performance on Sunday, April 16th, 2023, which has left fans and music lovers alike thoroughly impressed. In the clip, Diljit Dosanjh looked dapper clad in a traditional Punjabi outfit (black Kurta-Tamba) and turban. He performed many of his hit songs and gave the audience an evening to remember. Here's a glimpse of the post visit – https://www.instagram.com/reel/CrFYCjQA-TS/?utm_source=ig_embed&utm_campaign=loading
Diljit Dosanjh also shared some glimpses of the behind-the-scenes activities of the music festival. Dressed in a floral co-ord set, the actor-singer looked at ease as he performed a soundcheck on stage. Sharing the post, Diljit simply wrote – "Sound Check #coachella."
American music producer, DJ Diplo was also seen grooving to Diljit Dosanjh's performance at Coachella. A video of the same was shared on Instagram stories by Diljit with the folded hands emoji.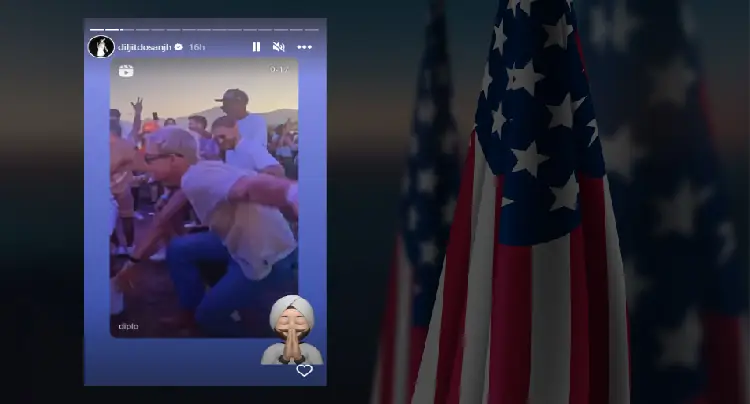 Several Indian Celebrities and Fans Felt Proud Of Diljit's Milestone
Fans reacted with lots of love for the singer, talking about how he made India proud. Bollywood celebs took to their Instagram to congratulate the singer for sharing the moment of joy and happiness they felt after Diljit's performance.
Kareena Kapoor Khan is all praise for Diljit Dosanjh's Performance At Coachella – Calls him 'OG'. On April 16th, 2023, the actress took to her Instagram account and lauded her 'Udta Punjab' co-star, Diljit Dosanjh, for his Coachella performance. She shared a video of his performance and wrote – "The OG, uffff". Diljit re-shared it on his Instagram story with a folded hands emoji. Arjun Kapor, an Indian actor, also referred to Diljit as the 'G.O.A.T' on his Instagram story. Famous Indian actress Alia Bhatt also expressed happiness over Diljit taking Punjabi culture to new heights. She shared Dosanjh's performance reel and wrote – "EPIC!!!!!". Take a look at some of the stories shared by various celebrities –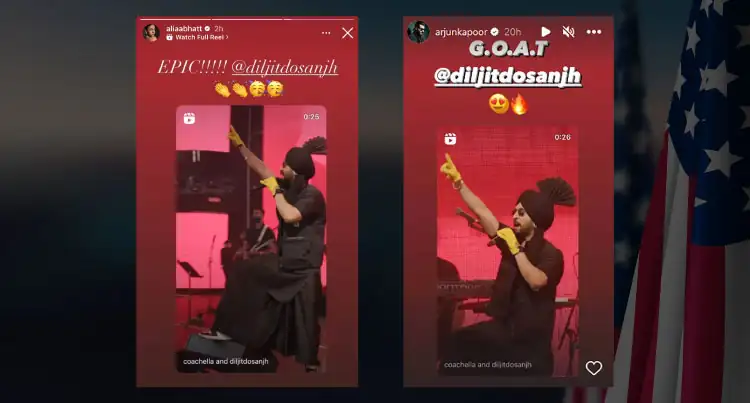 Bollywood Hungama, a Bollywood entertainment website, also shared a tweet about Diljit's Coachella performance on its official Twitter account.
#DiljitDosanjh creates history as he becomes the first Punjabi singer at #Coachella; Indian stars express pride@diljitdosanjh https://t.co/IC3yLWHcBk

— BollyHungama (@Bollyhungama) April 17, 2023
Fans' Reaction – Diljit's performance received a lot of love on the internet. One fan wrote in the comments – "Historic night in California and proud, inspiring, moment for Punjab and the entire diaspora worldwide". Other fans commented – "History my brother! So proud of you and the entire team on and off stage. Represent." and "My brother, on behalf of the entire diaspora – the haters, the lovers, and everyone in between, THANK YOU! You have broken a very important barrier for all Punjabi artists."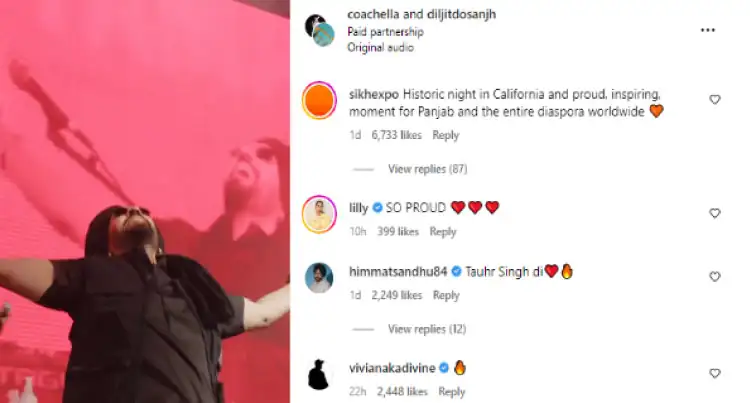 Other Famous Personalities Performing At Coachella 2023
Indian singer and actor Diljit Dosanjh and Pakistani singer and composer Ali Sethi are among the South Asian acts making their festival debut this year, performing alongside international acts such as BLACKPINK, Kid Laroi, Labrinth, Charli XCX. Jai Paul, Jai Wolf, Frank Ocean, Joy Crookes, and Underworld. Ali Sethi is known for his famous composition "Pasoori" which made headlines last year as the most searched song in 2022.
Conclusion
Coachella Valley Music & Art Festival 2023 has definitely managed to grab eyeballs for all the right reasons. The diversity and inclusivity at Coachella are appealing to fans all over the world and we can't even begin to express how happy and proud this makes us and all the Indians. All we (as Indians) have to say is – "Chak De Fattey!"
Well, that's it for now!
Stay tuned with us for more such updates regarding famous Indian events & performances in the USA. Check out our portal – IndianVibes now for other interesting blogs! IndianVibes, a sister portal to MyTicketsToIndia, is an initiative to keep Indianness alive in all those who have been settled in the USA, leaving their homes behind.
Speaking of MyTicketsToIndia, we are a leading air-ticketing agency that specializes in booking USA to India flights (and back) at affordable rates. So, if you happen to book air tickets to India, you know which site to visit, right? Until then, take care! :))