Can Planes Fly In Thunderstorms?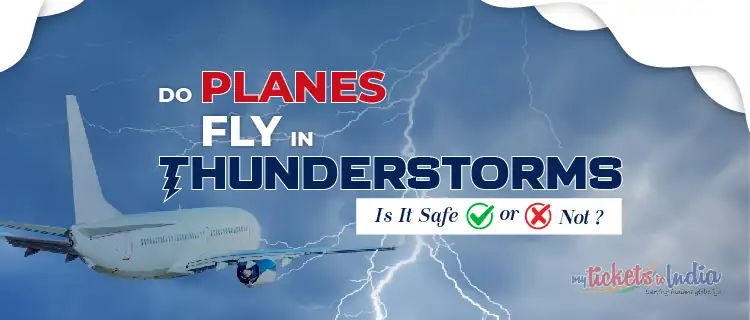 Last Updated on Aug 24th, 2023 by Renu Dahiya, Leave a Comment
Thunderstorms are one of the most dangerous weather phenomena that pilots can encounter. They contain powerful updrafts and downdrafts, which can easily knock an aircraft out of the sky. Imagine, you've got a flight booked for the next morning, and you've just read on the news about the potential for thunderstorms at the airport. Will your flight get canceled? Can planes fly in thunderstorms? Before you tie your hair into knots for your flight, read through this piece and get some in-depth insights on what goes into determining whether or not a plane can fly during a thunderstorm.
Do Planes Fly In Thunderstorms?
Yes, planes can fly during a thunderstorm. But, there are many factors to consider when determining the alternate route of the aircraft, take-off, and arrival procedures. Long story short, don't get too mad at the airport officials if they cancel your flight – they only have your safety in mind. Flying in severe weather conditions can be dangerous and should only be done if absolutely necessary. Thunderstorms can cause severe turbulence, making it difficult to fly. Fortunately, these are limited to a small area, making it easier to circumnavigate.
What Factors Experts Consider Before Allowing A Plane To Fly During A Storm
Many factors are being analyzed by the experts before deciding whether or not to cancel a flight – or dozens of flights, as is often the case. But, what exactly are the deciding factors as to whether or not a plane will fly during a thunderstorm? Check out below –
Runway Conditions
It is the most common factor that causes delays or cancellations of flights. If a plane cannot safely land or take off due to a storm at either the departure or arrival airport, then it is a no-go. If the storm is in full swing at your departure location, you will likely have to wait it out until safer traveling conditions emerge.
Intensity of Storm
It also depends on the intensity of a storm. If it's heavy rain, but nothing too dramatic, then you probably won't face any issues. If, however, you are getting several inches of rain in an hour, coupled with the chance of high winds, hail, or worse, then no. you are probably not going to want to take off from the runway.
Wind Shear
Wind shear means when the direction or velocity of air suddenly changes. It is very common in thunderstorms and another major reason why your planes might not fly in thunderstorms.
Size
The girth or width of the storm itself is also a major factor to consider while deciding whether can a plane fly in a thunderstorm. Planes typically try to stay at least 20 miles away from large storms. If an alternative route is feasible, it will be taken which means a slightly longer travel time for the passengers.
Lightning
While this might be the most visually spectacular phenomenon, it is actually not that troublesome for airplanes. An airplane acts as a Faraday cage, protecting passengers from shock and also allowing a lightning strike to travel virtually in one ear and out the other with minor to no damage to the plane itself.
Turbulences
Harsh and sudden movements of air within a storm are a big NO for airplanes. These changes in pressure and severity can push an airplane around like a child's plaything, not affording the pilot the control needed to safely navigate the aircraft and keep passengers comfortable in the process.
Hail
Hail storms can cause damage to the plane's outsides, windows, and more, and can be a huge distraction when navigating through a thunderstorm.
Other Dangerous Weather Conditions
It is not just the thunderstorms that pilots have to watch out for. In fact, in most situations, a thunderstorm is not enough reason to cancel or delay a flight. Pilots often find ways to navigate around a storm, rather than passing through it. But, below mentioned other weather conditions present high danger for airplanes trying to land or take off –
Ice on the runway
Snow
Intense Rain
Fog
High Wind
Can Airplanes fly in Snow & Rain?
Answering the question, "Can airplanes fly in snow & rain" is more complicated than it sounds because of the potential range of severity of rainy conditions and the variety of aircraft types. Rain and snow alone rarely stop aircraft from operating normally. Some airports are known for excellent snow-removal capabilities and can continue to operate in conditions that would close other facilities. Additional weather elements that typically accompany rain & snow, such as wind gusts, thunderstorms, mist, and fog are more likely to keep airplanes grounded. Pilots have to tailor their planning and procedures for each individual flight and the weather conditions that might affect it. To know more about 'do flights get canceled due to snow', you can check out our guide here and find detailed information.
Can Planes Fly Through A Tornado?
Flying through a Tornado is one of the most dangerous things that a pilot can do. A tornado contains powerful winds and debris, which can easily knock an aircraft out of the sky. For this reason, it is not advisable to fly near or through any tornadoes. These also produce a lot of turbulence which can be very dangerous for an aircraft. Pilots should always steer clear of tornadoes by about 20-30 nautical miles.
Can Planes Fly In Strong Winds?
Strong winds can be very dangerous for pilots and cause aircraft to lose control. Pilots should avoid flying in high winds whenever possible. If the wind speed exceeds 30 knots, it is not safe to take off or land. Flying in turbulence is also not recommended when the wind speeds are high. Furthermore, it can be quite unsettling for passengers and can cause the aircraft to sway back and forth. Many important factors are taken into consideration to handle these kinds of situations such as the type of aircraft, pilot experience level, forecasted weather considerations, etc. For more detailed information, go through our piece 'how bad do winds have to be to cancel flights?' here.
Conclusion
What if you have booked your flight like San Francisco to Bangalore flights and suddenly the weather conditions get bad? You will be worried about your flight and your safety. However, just trust the judgment of your pilot and the airport staff. Sure, you might be upset that your flight is delayed or canceled due to bad weather – but that's a thousand times better than having to deal with a scary situation up in the air when there's not much to be done but to hold on to your hat and hope for the best. But, don't fret! You will reach your destination safely. For more clarifications, you can check out our guide to the chances of a plane crashing here. It will help vanish all your fears.
Frequently Asked Questions
Q: Can planes fly in the low clouds?
A: Flying under low cloud cover is discouraged for a private pilot because it severely limits the pilot's visibility. But, if you are a pilot with an instrument rating, then you are legally allowed to fly under low cloud cover.
Q: Can a private pilot fly in bad weather conditions?
A: The answer to this question is both yes and no. A private pilot can fly in bad weather conditions, but these are restrictions. For instance, a private pilot cannot fly in meteorological conditions (IMC).
Q: Can commercial planes fly in bad weather conditions?
A: Yes, commercial airliners can fly in bad weather conditions. But, the pilot must use caution when flying in these conditions. These flights get canceled only if there are any unavoidable situations and extreme weather conditions.
That is almost everything you must know about planes flying in thunderstorms. So, the next time you face a similar situation, skim through this post and prepare yourself accordingly. Have more queries? Do let us know in the comment section below, our team will resolve all your doubts as early as possible.
Looking for pocket-friendly deals for your next flight bookings? No worries, we are here for you! MyTicketsToIndia is a preeminent flight-booking agency that is dedicated to providing incredible deals and offers on flights from USA to India and vice versa. Our travel experts offer 100% transparency in their services and do not charge additional prices from our customers. We are associated with some of the top airlines which helps us create the most reasonable deals for you. You will definitely save huge with us!
Renu Dahiya is a passionate writer who worships her profession. Her love for writing has encouraged her to pursue her career as a writer. Her friends call her a "travel worm" and always come to her to know some interesting traveling tips and destinations. Renu is a repository of knowledge about traveling who knows which place should be visited in which season. Oh yes, she is insanely in love with dancing too. Writer, traveler and dancer, a perfect combination! Without a doubt, she is a complete package.