Places to Visit in Leh-Ladakh for the Modern Traveler
Posted on Wednesday, September 8th, 2021 by MTI Team
About Leh Ladakh
Imagine snow-capped mountains and crystal clear lakes with the perfect spectacular beauty of blue sky! Well, it's not a dream! A beautiful and heavenly destination in the northern part of India, Ladakh gives a unique feeling of delight with scenic views to all vacationers, every year. The extensive range of hiking routes will satisfy your soul and augment your senses. Here you can create great memories at some of the most beautiful sites and stunning attractions.
History of Ladakh
Dards, an Indo-Aryan race, were the earliest peoples of Ladakh. Migrants of Skardu, Tibet, and close by parts such as Purang, Guge settled in Ladakh.
Elevation, population, and total area of Ladakh
Ladakh is a Union Territory of India that spans an area of nearly 59,146 kilometers and it is about 25400 feet in terms of elevation. It has a population of over 2.7 lakhs, and its temperature remains 12 degrees Celsius throughout the year.
What is Ladakh famous for?
Ladakh is primarily famous for its exquisite mountainous landscape and valleys. Adventure enthusiasts from different parts of the country and world visit this gorgeous place to take part in several adventurous activities such as camping, hiking, trekking, and visiting popular tourist attractions of the city. It is also very famous due to its ancient monasteries, lofty mountains, and alpine lakes.
Interesting facts about Ladakh
Ladakh has the highest natural ice hockey rink. It is also the land of the unusual twin-humped Bactrian camels. The Bailey Bridge of Ladakh, situated between the meandering Suru and Dras rivers is considered the highest bridge in the world.
Places near Ladakh
Diskit Monastery, Nubra Valley, Siachen Base Camp, Tso Kar Lake and Markha Valley trek are a few Ladakh best places.
Best time to visit Leh Ladakh
The weather of Leh, Ladakh can be divided into three seasons, i.e. summer (April to June), monsoon (July to September), and winter (January to March).
If you are looking to plan a trip to Leh then make sure that you choose the time between April to June. These months are perfect to travel to Leh and witness pristine icy lakes, brown mountains and beautiful valley views. During this time, you can find the temperature quite warm and preferable for exploration.

How to reach Ladakh
Traveling to capture Ladakh beauty is itself a fun experience. If you have selected Ladakh as your next destination for a vacation, here are a few options to reach there:
By flight: This is the fastest and easiest way to reach Ladakh. You can book a flight to Kushok Bakula Rimpochee Airport in Leh, Ladakh. Make sure you vouch for a good online travel agency to get affordable flight tickets.
By train: You cannot access Ladakh location by train directly. But, you can book a train for Jammu Tawi station in Jammu. After reaching Jammu, you can take a cab or a bus to reach Ladakh.
By bike: The motorable roads of Leh-Ladak make it easy for the travellers to visit this place via road. To visit Ladakh by bike, make sure that you submit all the required documents, such as your driving license, a valid ID proof, a letter of consent from parents, and Rs 10000 as a security deposit before the Manali Bike Trip 2021.
Top 10 places to visit in Leh Ladakh
For many, Ladakh is a dream place as it offers lots of leisure experiences and adventure opportunities. Ladakh is full of beautiful lakes, monasteries, and palaces. The clean air, mountainous landscapes, and Tibetan culture really excite the vacationers coming from various parts of the country. Below are the 10 perfect places to visit in Leh, Ladakh.
1.Pangong Tso Lake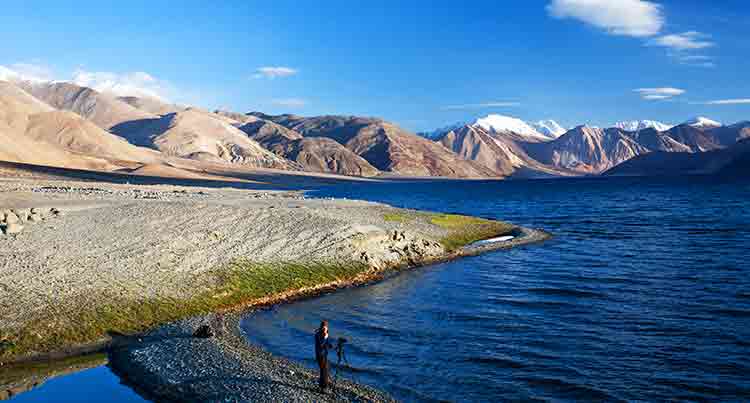 Pangong Tso Lake is one of the most popular lakes in Ladakh that is located at an elevation of nearly 4350 meters. It is also the highest saltwater lake in the world. The name Pangong Tso Lake is derived from the Tibetan word "Pangong Tso" meaning "high grassland lake". This lake is also famous to change color, appearing blue, red, green at various periods.
2. Thiksey Monastery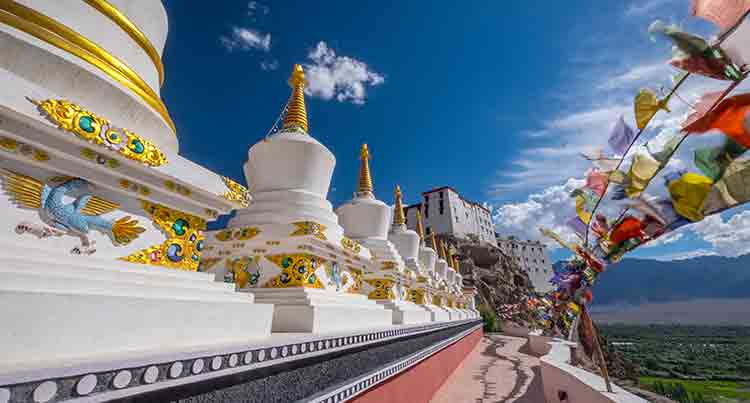 One of the top Leh Ladakh tourist places, Thiksey monastery one of the most beautiful buddhist monasteries and largest monastery was constructed in 1330 AD. It lies on the north of the river Indus on a hilltop. The monastery is less than 20 kilometers away from Leh town. Inside the Thiksey monastery, there is Lakhang Nyerma, a temple devoted to Goddess Dorje Chenmo. Besides Lakhang Nyerma there are many other temples within the monastery complex. Jama Masjid, Royal Leh Palace, Shey Monastery and Palace, and altitude. However, with its immaculately calm atmosphere, it would be a disgrace to overlook this site. Korzok Monastery, TsoMoriri Wetland Conservation Reserve, and Tso Moriri Lake View Point are a few nearby attractions.

3. Shanti Stupa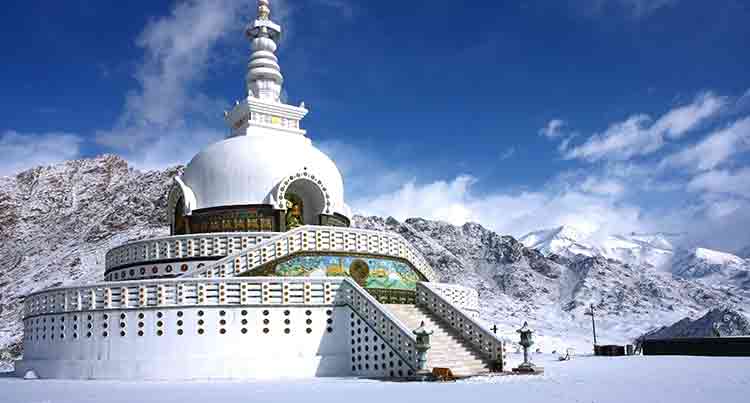 Shanti Stupa of Ladakh is located on a hilltop in Chanspa. It is a place filled with utmost serenity and you will surely get peace of mind while being here. This is usually a perfect place for many vacationers owing to its high spectacular tourist site due to the view that it gives of the whole of Leh. The walls within the Chorten have panels portraying the life of Lord Buddha. Shanti Stupa can be an ideal destination if you are coming here with your entire family.
4.Tso Moriri Lake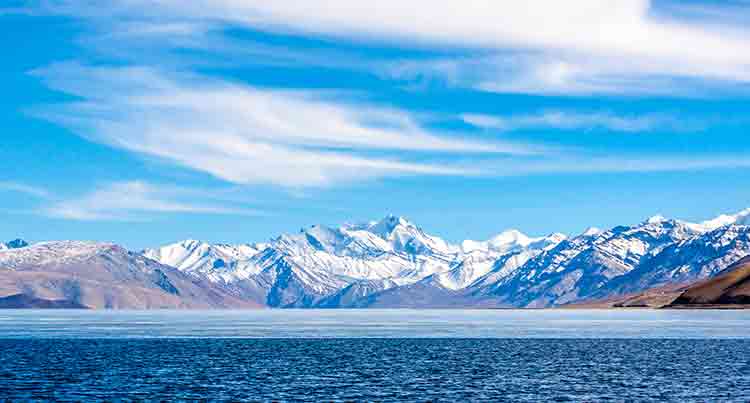 Tso Moriri Lake is located in the Changthang region of Ladakh. It is among the most attractive, scenic, and sacred high elevation lakes in the country. This lake is about 15000 feet above sea level. It is crystal clear and here, you can easily spend some time in self-introspection while sitting around panoramic views of barren mountains.
5.Chadar Trek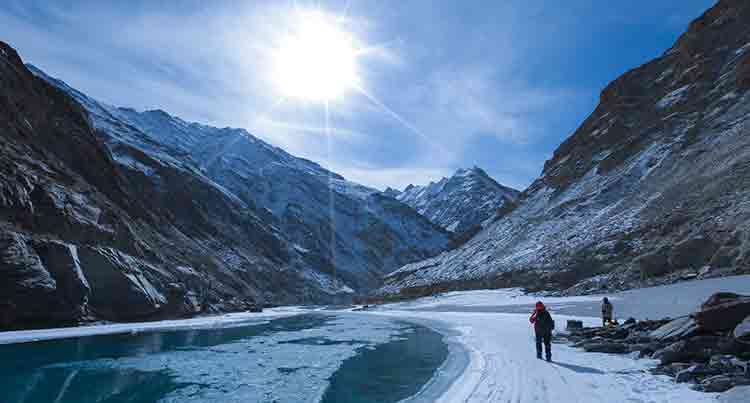 The thing that makes the Chadar Trek so popular attraction among the locals, as well as tourists, is that you can stroll on the frozen Zanskar river when the rugged Himalayan range encircles you. It surely is an exciting experience to stroll on Frozen river. Do add this place to your bucket list while planning a Ladakh Sightseeing Tour.
6. Khardung-la Pass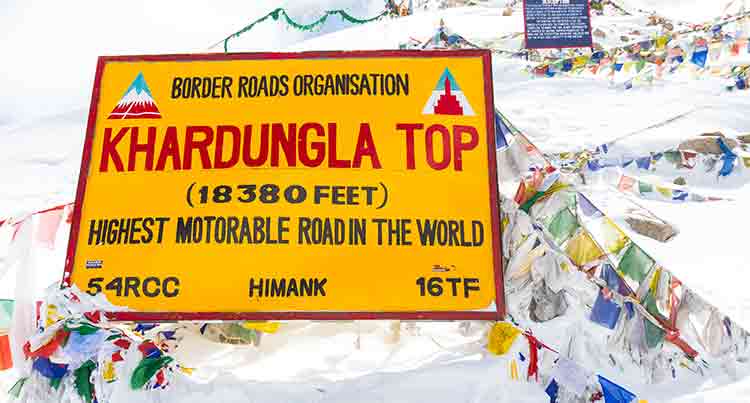 Khardung-la Pass is an access to the Nubra and Shyok Valley. Also, it is among the most elevated motorable landscapes in the world. Surprisingly, the roads were opened in 1988 for vehicles to use the Khardung-la Pass. Himalayans and Cruisers are considered to be the finest ways to travel here for witnessing the rugged beauty of the trip.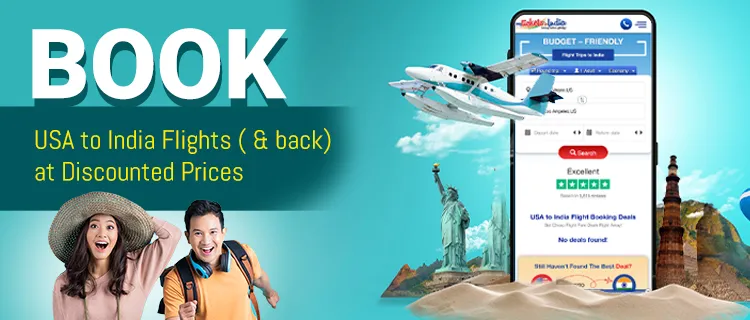 7. Markha Valley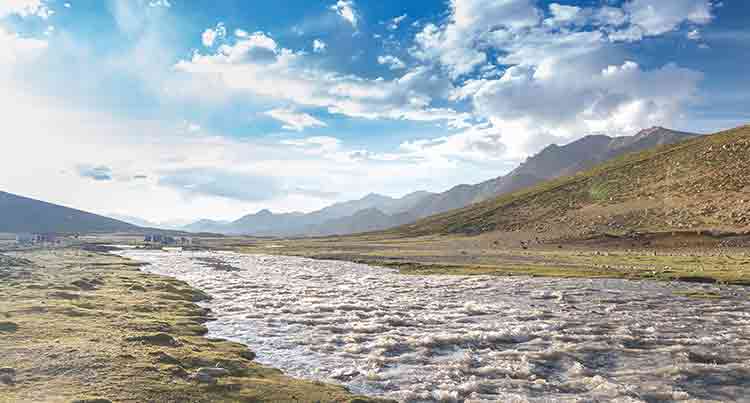 Ladakh sightseeing is surely incomplete without Markha Valley. If you like camping, then this place is for you. Here you can trek up many astonishing spots like Markha, Hankar, and Skiu. After reaching the summit, you can chill out with some magnificent tents, bonfires, etc. Markha valley is among the most famous treks in Ladakh. You will surely have a wonderful experience at Markha Valley of Ladakh.
8. Nubra Valley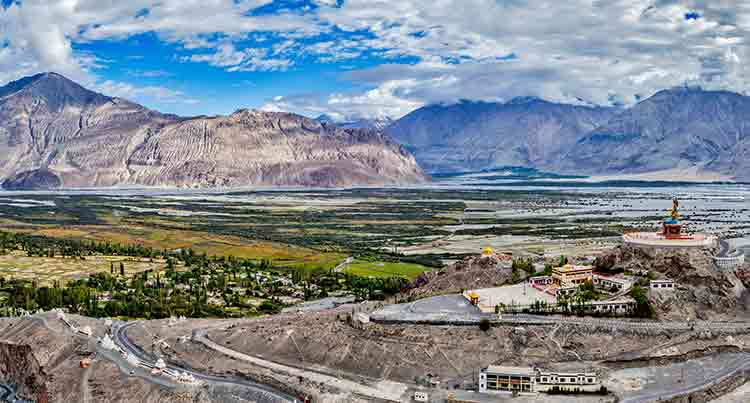 Nubra Valley is a well-liked tourist spot for its double-humped and white-sand deserts. This valley is definitely among the must-visit destinations in Ladakh. Besides the picturesque hills and stunning views of the Karakoram range, the convergence of the Siachen and Shyak rivers also makes Nubra valley an exquisite Leh Ladakh trip. Here you can find many budget hotels. Hotel Snow Leopard is one of the best accommodation options to stay in Ladakh.
9. Namgyal Tsemo Monastery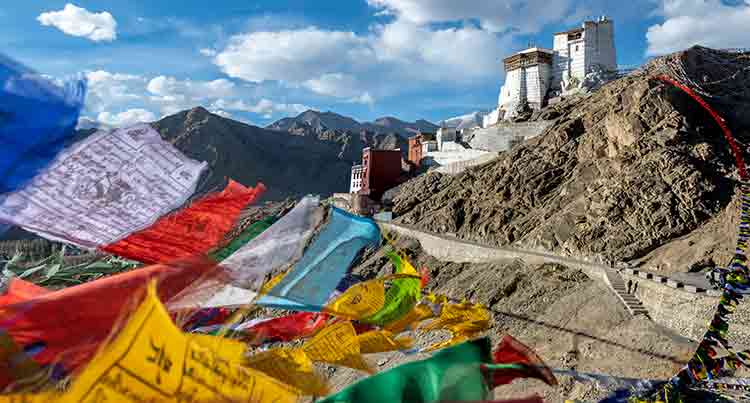 Namgyal Tsemo Gompa monastery in Leh in Ladakh was established in the early 5th Century and it is famous for its 3-storey high solid gold statue of Maitrieya Buddha. The monastery is located on a hilltop behind the Leh palace from where you can witness some of the best panoramic outlooks of the nearby countryside, and the quietly flowing indus river, and the snow-capped summits of Zanskar range.
10. Zanskar Valley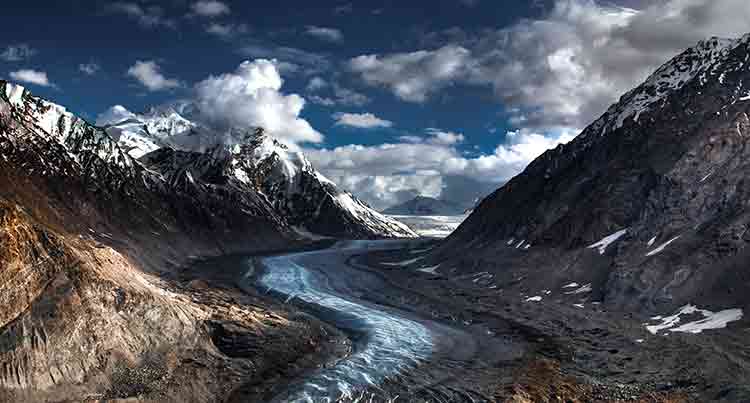 The snow-covered steep landscapes of Zanskar Valley beckon vacationers to hike on when they are overlooked by the clear blue sky. Unsurprisingly, Zanskar Valley is famous amongst the top-rated sites to visit in Ladakh. Zanskar has many striking hamlets such as Zangla and Padum which are worth visiting. Still, Zanskar is mainly famous for its spectacular Frozen River Trek which is accessible during the cold months.
Top 7 Adventure Sports Activities in Ladakh
As one of the most craved places among tourists, Ladakh preserves a site that offers all the amenities of natural life. Also, it offers some great alternatives for adventure sports activities. If you are planning a group Ladakh Backpacking Tour then you must try some of these exciting adventure sports with your entire gang to add joy to your trip.
1. River rafting in Indus and Zanskar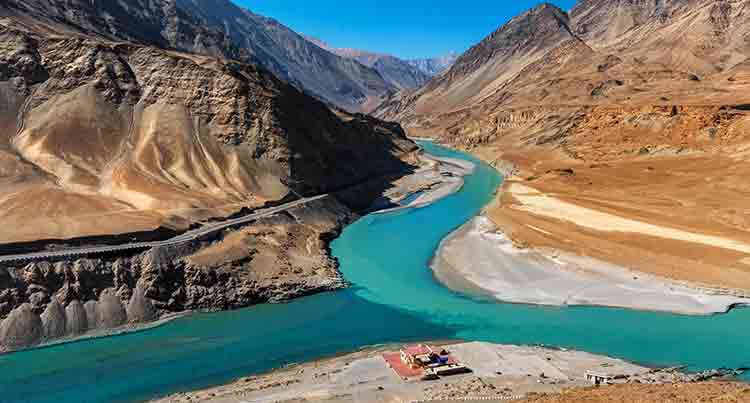 Apart from exploring Ladakh beautiful places, you can enjoy some of the most exciting adventure sports here. River rafting is one of the best adventure sports to experience in Ladakh. You can perform rafting on river Zanskar and river Indus. You may decide to set up a camp close to the rafting site or stay in a hotel adjacent.
2. Quad biking in Nubra Sand Dunes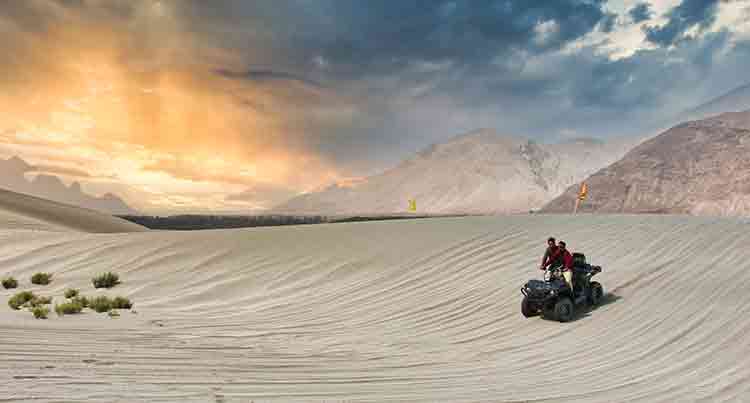 To some folks, biking in Leh Ladakh can be just an adventure sport, but for others, it is the most delightful experience of a lifetime. Each year, many riders visit to explore this pleasing come down on a trip. Taking your bike in Ladakh through the criss-cross surface is a great experience for everyone.
3. Trekking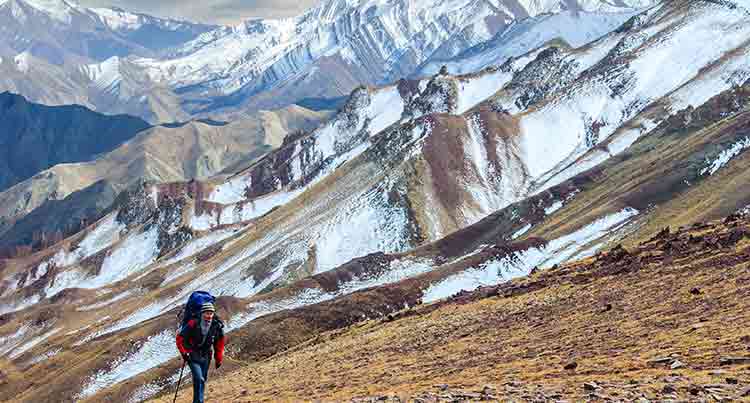 You can have a delightful experience of trekking in Leh, Ladakh. Ladakh has different hikes for everybody. Trekking in the Chadar trek can be one of the most challenging experiences for tourists when exploring the best Ladakh tourist places.
4. Mountaineering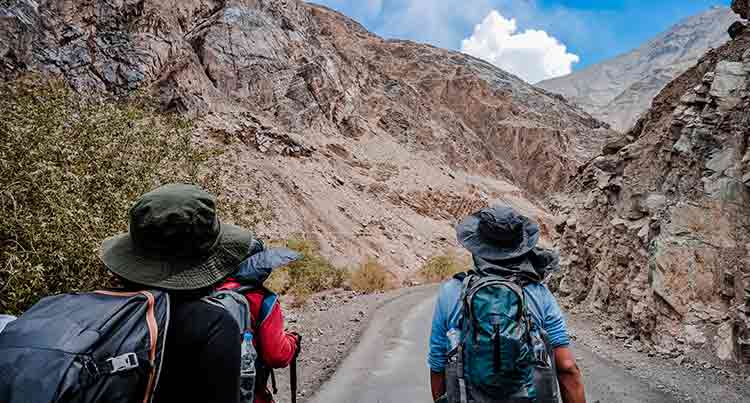 Mountaineering is surely among the most exciting adventure sports worldwide. For those who like climbing the snow-capped hills, Ladakh can be the ideal place. The Himalaya range in Ladakh offers several hilltops that are perfect for both professional climbers and amateurs.
5. Camel Safari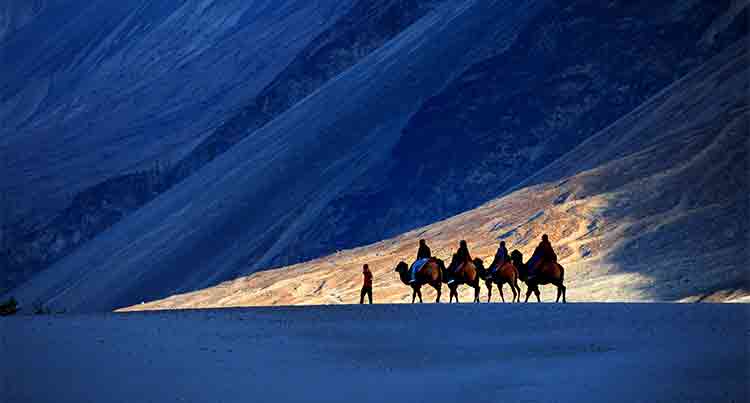 Camel Safari is a unique way to witness the sterilized classiness of Leh, Ladakh owing to the presence of a double-humped camel. You can visit Nubra Valley for having the best Camel Safari in Ladakh. Bactrian Camel Rides is also famous in Hunder and Dixit valley.
6. Jeep Safari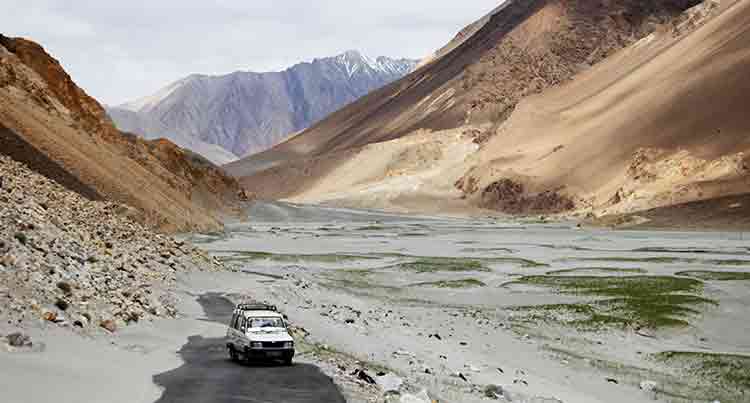 There are numerous places to visit in Leh, Ladakh ranging from high passes to old monasteries. One of the finest ways to explore Ladakh famous places is via a Jeep Safari. Nubra Valley, Dah Hanu, Tso Moriri, Manali-Leh Freeway, Pangong Lake, and Suru valley are a few places the tourists can explore when on a Jeep Safari.
7. Ice Hockey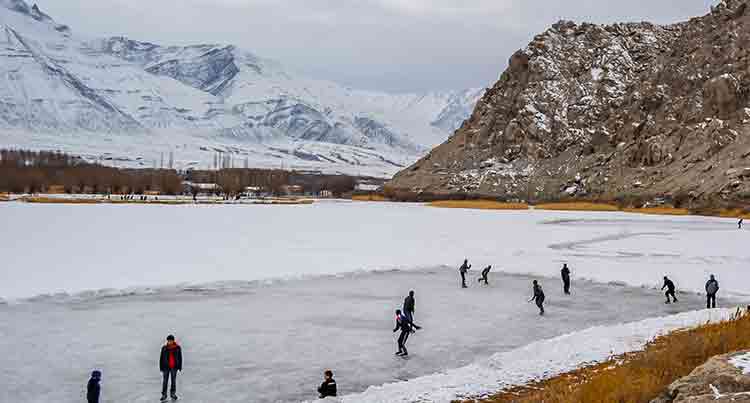 There are several things and Ladakh places to visit when on a Leh Ladakh tour. Ice Hockey in Ladakh is a well-known activity to take part in. During the cold season, Karzoo Ice Hockey Rink sees a refreshing and festive environment. The natural ice is ideal for skating during the winter months (December, January, and February).
Top 5 shopping places in Leh
1. Zanskar arts
Zanskar arts deals in bedsheets, Kashmiri carpets, silver ornaments, and Buddhist artifacts.
2. Moti Market
The Moti Market sells items like silver jewelry and traditional Turquoise Ladakhi of the finest quality.
3. Dalai Lama Charitable Trust Handicraft Emporium
Here you can buy local items such as Kashmiri carpets, woolen items, Pashmina shawls, and traveling hookahs.
4. Tibetan Market Main Bazaar
Situated at the end of the main Leh market, the Tibetan market offers many souvenirs, clothing, and artificial jewelry.
5. Leh Main Market
Leh Main market primarily deals in warm clothes as well as pashmina.
FAQs
Q: What places can I explore during my Leh Ladakh trip?
Ans: There are several places to visit in Ladakh, including Markha Valley, Magnetic Hill, Diskit monastery, Chang La Pass, Hemis Monastery, Alchi Monastery and Lamayuru Monastery.
Q: Why is Ladakh popular among travelers?
Ans: Leh Ladakh is mainly popular for its mountainous terrain and longing valleys.
Q: What is the ideal occasion to travel to Ladakh?
Ans: Summer season (April-June) is the ideal occasion to visit Leh Ladakh.
Q: Can we travel to Ladakh at the moment?
Ans: The answer is yes, Leh Ladakh is absolutely safe for vacationers at present.
Q: How many days do I need to explore the top-rated Leh Ladakh sites?
Ans: You may need to plan a 10-12 day Leh Ladakh trip for exploring all the top-rated sites.
Q: What is the ideal way to plan a Leh Ladakh tour?
Ans: For planning a Ladakh trip, you must look for the most affordable Leh Ladakh tour packages.
Q: What documents are needed during a bike tour to Ladakh?
Ans: If you are travelling to Ladakh on a bike, you need to submit valid ID proof, your driving license, a letter of consent from your parents, and Rs 10,000 as a security deposit.
Q: In which month the winters are at their peak in Leh Ladakh?
Ans: January is the coldest month in Leh Ladakh. My Tickets to India is acting as a one-stop solution for every traveler intending to travel under budget. Whether you want customized travel packages or affordable flight booking deals, count on its team.
Girish Sharma is the CEO of a leading travel company named Myticketstoindia, established in 2012. Being a versed travel expert since 12 years, he shares his peerless voyage expeditions along with interesting travel destination ideas and news updates for the travelaholics across the globe. He is the member of TAAI, Travel Agent Association Of India and his firm has got recognized with the reputed IATA accreditation and became the Inbound Flight Booking Portal of the Year. Loyalty & honesty towards the clients and vendors, have always been the key behind his successful walk of life.. read more