Explore 5 Must-See Places in Varanasi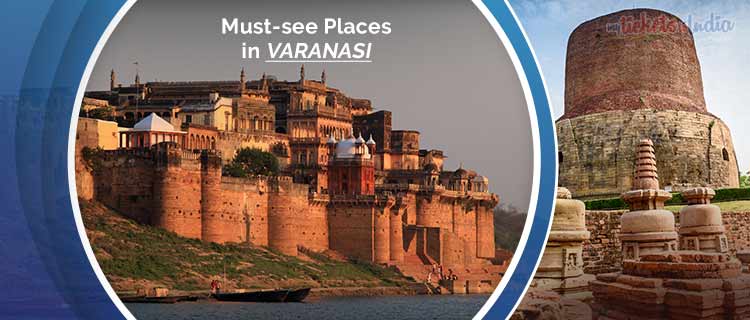 Posted on Tuesday, September 28th, 2021 by MTI Team
About Varanasi
Varanasi, also known as Banaras and Kashi, is the oldest city in the world. It is situated in Southern Uttar Pradesh near the bank of the divine and holy River Ganga. For hundreds and thousands of centuries, the ancient city of Varanasi has attracted millions of tourists from all across India and abroad. Here you will find ancient and beautiful domes, temples, ashrams, ghats with a fascinating style of architecture. There are small and narrow lanes which will take you to the shops with the best known beautiful Banarasi Sarees. Varanasi city is filled with colors and intimate rituals that will help you see the reality of life and death.
How to Reach
By Air: You can make a Varanasi trip by air. You can get the shortest route for the flights to Varanasi from the Indira Gandhi International Airport present in Delhi.
By Train: Varanasi is a major railway junction connecting many major cities. You can book your Varanasi tour packages along with the tickets for a fun trip.
By Road: Varanasi is connected with many good motorable roads. There is an excellent public transport service in the city as it is joined by two highways NH-8 and NH-19, from Delhi.
Best Time to Visit
The best time to visit this fantastic Indian city is during the winters. The winter starts in November and remains till February. Visit the city during winters and explore Varanasi's famous places as the weather is pleasant. Discover Varanasi's beauty and witness the rich culture.
5 Must-See Places in Varanasi
Varanasi is a holy city and the best place for those who want to see India's deep-rooted rich cultures and traditions. Varanasi is a popular tourist attraction for thousands of pilgrims every day who come to visit different famous temples and Ghats. Varanasi is the most exciting city that an enthusiast can explore. You must make a list of Varanasi places to visit to travel to every tourist spot in the city.
1. Sankat Mochan Mandir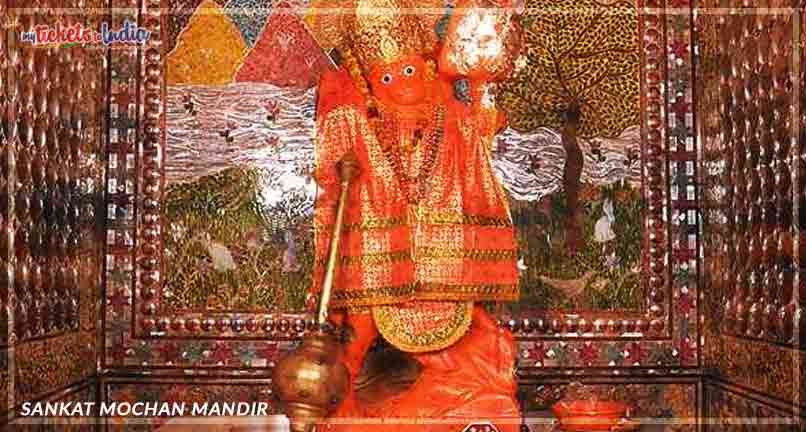 Sankat Mochan Mandir is a site that every pilgrim must visit once. The Sankat Mochan Hanuman Temple is located near the bank of the River Assi. It is the temple of the glorious Lord Hanuman and is one of the ancient Hindu shrines in Kashi. Visit the holy shrine and offer some besan laddu along with marigold flowers and acquire the Lord's blessings. The best time to visit this place is on the auspicious occasion of Hanuman Jayanti. The morning aarti starts at 4 am and in the evening begins at 10 PM. The fact about this temple is that it is one of the oldest and holiest shrines of Lord Hanuman.
Address: Saket Nagar Colony, Varanasi, Uttar Pradesh 221005, India
Timings: 5 am to 10 pm
2. Dhamek Stupa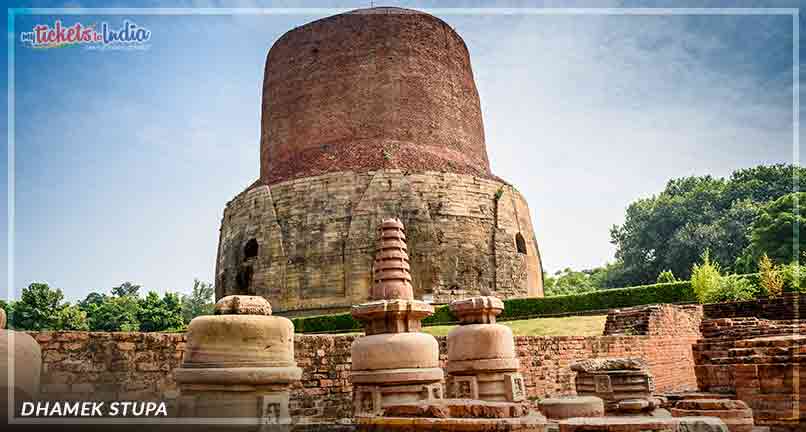 Varanasi portrays the potent culture of Hinduism. However, you can also witness the Buddhist culture only 12 kilometers away from the city. It is located in the small village of Sarnath. You can spot massive stone and brick structures and a huge stupa built around 1500 years ago. History buffs and devotees believe that Buddha came to this place to give his first speech.
Address: Dharmapala Road, Singhput, Sarnath, Varanasi
Timings: 10 am to 4:30 pm (closed on Fridays)
3. Kashi Vishwanath Mandir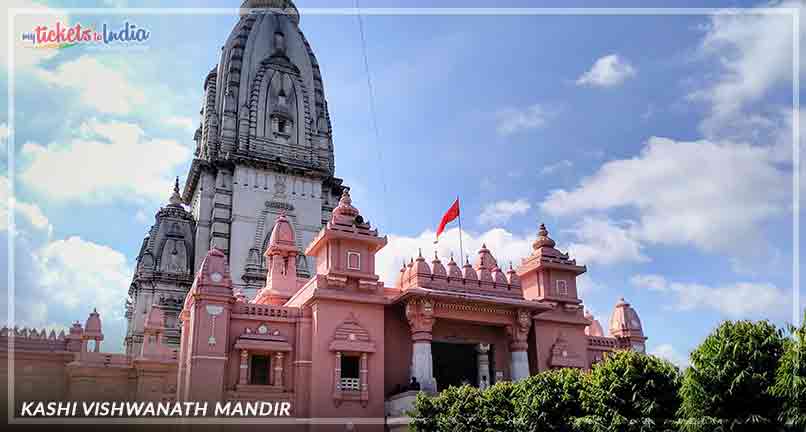 Indeed one of the best places to visit in Varanasi, the temple is situated on the banks of the sacred river, the River Ganges. Kashi Vishwanath Temple is considered one of the 12 holy jyotirlingas of Lord Shiva across India. Visit this fascinating temple with a golden dome and a gold spire on the top of it. It is considered one of the 12 sacred temples of Lord Shiva. Witness the holiest activities during the time of Maha Shivratri by visiting this temple.
Address: Lahori Tola, Varanasi, Uttar Pradesh
Timings: 5 am to 10 pm
4. Bharat Mata Mandir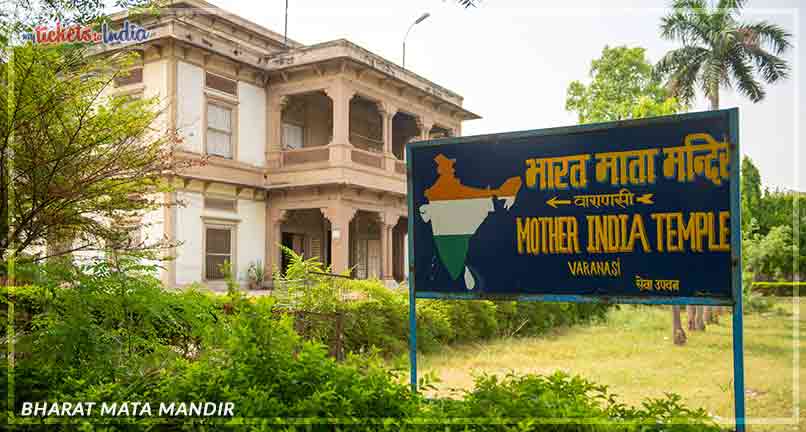 A temple that is solely dedicated to Mother India. The temple was built by Babu Shiv Prasad Gupta in the 19th century, who was a freedom fighter. The temple displays a relief map of the country as an idol to worship. This temple is dedicated to Mother India, and the best time to visit this temple is during Republic and Independence Day.
Address: Cantt Road, Guru Nanak Nagar Colony, Chetganj, Varanasi, Uttar Pradesh
Timings: 9:00 am to 8:30 pm
5. Ramnagar Fort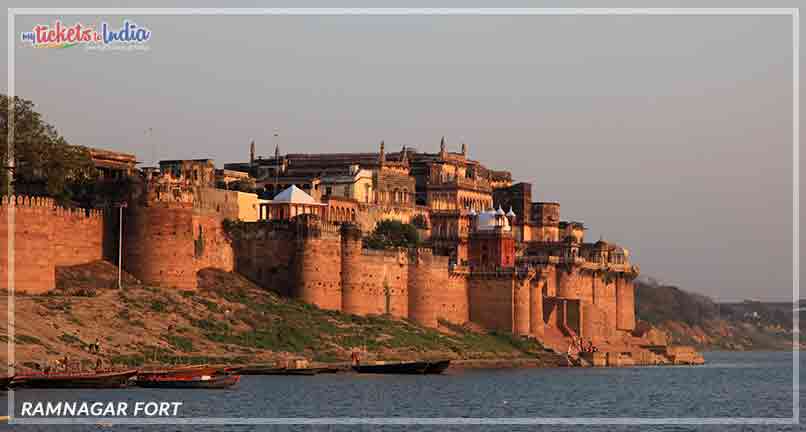 India is popularly famous for having iconic forts, and Varanasi is one of those destinations. The Ramnagar Fort was constructed in the 18th-century, is one of the best places to visit in Varanasi. It is nothing less than an archeological treasure for the tourists visiting this city. Now, it is standing as a museum, showcasing antique weapons, vintage automobiles, and one iconic astronomical clock of more than 150 years old.
Address: Mirzapur-Varanasi Road, Purana, Ramnagar
Timings: 10 am to 5 pm
5 Must-Visit Ghats in Varanasi
Varanasi is worldwide famous for its Ghats and grand aartis. You must look and enjoy some of the best sights in this place to make your trip memorable. The enthusiasm you will feel here is unmatchable. These ghats are Varanasi's best places to visit!
1. Assi Ghat
It is the southernmost ghat of Varanasi, Uttar Pradesh. The ghat is situated on the two holiest rivers of India, the Assi River, and the Ganges River. The place is famous for the large gathering for its maha Aarti conducted in the evening every day. One of the best Varanasi tourist places that you can travel to. This place is highly famous for the pilgrims offering the river to the lingam of Lord Shiva located under a peepal tree.
Location: Shivala, Varanasi, Uttar Pradesh 221007
Time: The morning aarti starts from 5:30 am, and the evening one starts at 9:00 pm
2. Manikarnika Ghat
The religious significance of Manikarnika is where the earring of burning goddess Sati was fallen when Lord Shiva was carrying her. It is one of the oldest ghats in Varanasi. Every day hundreds of pilgrims travel to this site to witness the beauty of Indian culture. It is famous as the main cremation ground of the city in Hindu culture.
Location: near Lalita Ghat, Ghats of Varanasi, Lahori Tola, Varanasi, Uttar Pradesh 221001
Time: Opens 24 hours
3. Dashashwamedh Ghat (Dasaswamedh Ghat)
One of the oldest ghats that are considered the most sacred place in the city of Varanasi. Here you can witness the great Aarti every day with the chanting chorus of mantras in unison and rhythmic clanging of brass cymbals. Dashashwamedh Ghat is the best place to experience the unforgettable sight. Dasaswamedh Ghat is famous for Ganga aarti with a holy fire ritual.
Location: Dashashwamedh Ghat Road, Ghats of Varanasi, Godowlia, Varanasi, Uttar Pradesh 221001
Time: Open 24 hours, but the Ganga aarti starts at 7:00 pm every day
4. Ahilyabai Ghat
Varanasi scenery of burning ghats is where you see most of the bodies cremated in the holy land. It is a ritual where people perform the last rituals to end the cycle of life. If you are curious and robust enough, you can visit Ahilyabai Ghat and see the scene with your own eyes. It is famous for providing a funeral to the dead people to help them get salvation.
Location: Dashashwamedh Ghat Road, Ghats of Varanasi, Bangali Tola, Varanasi, Uttar Pradesh 221001
Time: opens 24 hours, but prefer going in the morning hours
5. Rana Mahal Ghat
The ghat is located on the southern end of Dashaswamedh Ghat. It was built in 1970 by Rajput Maharana of Udaipur. The Rana Mahal Ghat is known to have splendid Rajputana architecture. The place has an ethereal beauty which you must see once. It is popular for having iconic Rajputana architectural beauty.
Location: D21/20, Bangali Tola, Varanasi, Uttar Pradesh 221001
Time: Prefer going in the morning hours to avoid problems
4 Things to do in Varanasi
1. Taste the Street Food
If you are a total foodie, then Varanasi is a good place for you. Here you can eat many unique and delicious food items at a very affordable cost. You can start with the breakfast of Kachori Sabzi at Ram Bhandar. There is also a Kachori Gali to try different cuisines; Baati Chokha is another option for a lip-smacking morning start.
2. Take a Dip in the Holy Ghats
River Ganges is considered to be the holiest and the divine water body in Hindu Religion. You can take a dip or bath in the sacred water; there are a total of 84 ghats in Varanasi. You can step into any of the ghats and dip into the Ganges River. You can also enjoy boat rides and feel the divine nature of the mystical rivers.
3. Participate in Holistic Activities
Varanasi is incomplete without the Temples and Ghats; you will find a small temple where daily local prayers and rituals are performed at each crossroad. Varanasi is the most visited holy site by both Indians and foreigners. You can participate in various ghat aartis and get connected with the god. It is going to make you feel spiritual.
4. Do Shopping
Shopping in Varanasi is the best thing you can do while strolling around in the city. The area is famous for its banarasi silk sarees and ornate jewels. You can visit the market and buy some of the most beautiful zari thread work saree with intricate patterns. The main shopping areas which you can explore are Thatheri Bazaar, Vishwanath Lane and Godowilla.
FAQs
Q: How many days are enough for a Varanasi trip?
Ans: To enjoy and see all the great places in Varanasi, 3 to 4 days are more than enough. In these many days, you'll be able to explore all the main sites of Varanasi.
Q: What is the state of Varanasi famous for?
Varanasi is famous for its silk and brocade production; they use gold and silver threads to prepare different clothing outfits. The city is the hub of temples and ghats, and it is considered the holiest city for the Hindu religion.
Q: At what time can I enjoy Ganga aarti in Varanasi?
Ans: The Ganga aarti takes place at 6:30 pm in summers and 7:00 pm in winters. The duration of the Aarti is about 45 minutes.
Q: How many Ganga ghats are present in Varanasi?
Ans: There are 88 ghats present in Varanasi on which different religious rituals are performed every day.
Q: How can I travel to Varanasi by train?
Ans: There are two main railheads in Varanasi: the Varanasi junction and the Kashi railway junction. You can make your travel booking at either of these junctions.
Choose MyTicketsToIndia to Avail Lowest Airfares to Varanasi
MyTicketsToIndia is a well-established leading flight booking service portal that aims to provide its customers with budget-friendly airfares to Varanasi. We are thrilled to serve you suitable deals and discounts to make your trip to Varanasi pocket-friendly! Kindly get in touch with the travel experts of MyTicketsToIndia to avail of exciting offers!
Girish Sharma is the CEO of a leading travel company named Myticketstoindia, established in 2012. Being a versed travel expert since 12 years, he shares his peerless voyage expeditions along with interesting travel destination ideas and news updates for the travelaholics across the globe. He is the member of TAAI, Travel Agent Association Of India and his firm has got recognized with the reputed IATA accreditation and became the Inbound Flight Booking Portal of the Year. Loyalty & honesty towards the clients and vendors, have always been the key behind his successful walk of life.. read more