The Fool Tarot Card Meaning: For Travel, Love, Career & More
Are you wondering if now is the time to take a leap of faith? Do something new? Get your groove back? So, if the Fool tarot card has appeared in your reading, the answer is definitely 'YES'! Just trust yourself, be confident and jump to win this world. But, don't make decisions blindly and in a hurry, of course. Here, let's know about the Fool tarot card meaning when it appears upright and reversed, and what it says about the different aspects of life such as travel, love, money & more.
Description & Meaning Of The Fool Tarot Card
Meaning: The Fool, the very first Major Arcana tarot card, is all about the very first step of a new journey. It signifies beginnings and represents you, embarking on this beautiful journey. It is also known as the 'Joker Tarot Card' and '0 the Fool' tarot card, the number before numbers.
Rachel Pollack points out in her book that the number zero is like an egg, full of life, getting ready to hatch. But we don't know what is inside the egg yet. It means that this card is nothing, a blank canvas, awaiting action, awaiting projection. This is not about conscious will, and knowing or having a set and specific goal. It represents the first step. It's bold, but it is not related to setting intentions or showing steely resolve (that comes later, for example in the next cards, the Magician, and the Chariot Tarot Card, among others).
Description of the Fool Tarot Card: The Fool tarot card depicts the beginning of a new and adventurous journey of an ambitious person. He is completely ready, willing, and super excited for a new adventure and to conquer the world. Whether this is his first time out in the world or just the latest of a series of adventures, he greets each new experience with a childlike sense of wonder and enthusiasm. There will definitely be hurdles along the way, but you know what? His determination and confidence to reach heights of success will let him overcome each and every obstacle like a pro. With arms open wide and feet abounding in nature, he has a vibrant enthusiasm for what's to come.
His hope, represented by the sunrays, combines with the need to seek something new, symbolized by the waves in the back. With the flower in his hand to guide him and his wand to protect him, he feels his toes slide past the threshold of his current reality. And, the small dog near his heel harries him or tries to warn him of a possible misstep. With eyes closed the fool dances with open arms, suggesting that he is not afraid of falling or making mistakes. He knows he will stand tall and face all the obstacles like a warrior.
The Fool Tarot Card Keywords
Before heading to the upright and reversed meaning of the Fool Tarot Card, let's take a look at some important keywords connected to this card –
Predictive The Fool Tarot Card key meanings: New direction, a new path, open to possibilities, Spontaneity, a quest for something
The Fool Upright key meanings: New beginnings, travel, adventures, fresh opportunities, enthusiasm, optimism, having faith, and being spontaneous
The Fool Reversed key meanings: Carelessness, distraction, recklessness, lacking experience, rash or overly impulsive choices, and irrationality
Element: Air
Numerology: 0
Yes or No key interpretations – Yes
This card appearing in your tarot readings is like the 1111 angel number appearing frequently in your life.
Tarot Card The Fool Upright Meaning
When we receive the Fool tarot card in an upright position, it is a message to open up to fresh beginnings, to step bravely forth, and to dance to the beat of our own drums. It says that it is not a time for thinking about 'buts' and 'what ifs', it is time for frolicking into your new unknown journey with confidence and lightness. It shows that the time has come to enthusiastically turn towards your new future and take a divine leap of faith in order to claim the reward that this card is offering. This card is all about just not giving a damn. Being absolutely in the moment, here, now, ready to start. And that is definitely the bravest thing of all.
Here, let's know what the Fool upright tarot card says in the context of different aspects of life like travel, love, and career.
The Fool Upright – Travel Meaning
The Fool upright in travel reading means a journey is about to start that will allow you to explore something bigger, something greater. Others may try to stop you with their negativity and hate comments. And, we can understand that it can be very difficult and scary to trust yourself when the rest of the world is saying 'No, don't be stupid, just turn back, it's very dangerous!' But, don't let this negativity stop you to start this beautiful journey. The world is a magical place, and it is yours, a place to explore, to name, and to discover over and over. Just go ahead and conquer this universe!
The Fool Upright – Love Meaning
The Fool Tarot love (upright) reading represents a starting of a new relationship with the prospective partner or an invitation to harness an existing one with a new direction or zest for life. It means that you shall have a spontaneous, exciting, and romance-full love life. It can be a message to commit to your partner, make your soulmate safe, or take a leap of faith. If you're single then ask that person out, make that commitment, move in together, and say yes. Those who are already committed should be more experimental in order to bring some fresh life into their relationship.
The Fool Upright – Career Meaning
The fool upright implies the new opportunities in your career, the start of a new professional journey to achieve something or to become something you always wanted to. Every dream achieved begins with the seemingly 'foolish' notion that there is something epic to explore and to become. This child-like optimism comes from deep within your knowings, and it reminds you that you can achieve the magical or extraordinary things that you've been dreaming about.
The card asks you to place trust and faith in the unseen, allow yourself to be guided by curiosity, and move beyond self-doubt and fear of failure. And, in return, you will find yourself on a journey that is more rewarding, richer, challenging, wilder, freer, and more fun. It depicts that 'you' plus 'opportunities and the mystery of life' is a magical combination. You are all set to go somewhere good and achieve something extraordinary that you've never dreamt of.
Just place your faith in the Universe and in your own self.
Tarot Card The Fool Reversed Meaning
The fool in reverse position depicts a message that you must not fear, and handle everything intellectually and confidently. If you're confused in making a decision between two opportunities, the Fool's appearance in the reverse position is a symbol that the option most unknown to you can lead you to both knowledge and fulfillment. You should definitely focus on your future but also live for right now. Just don't let your fears and obstacles stop you from experiencing new things and adventures. Keep your eyes open and observe everything. Your beliefs about the people around you or about the world just change along the way. Focus on your journey and enjoy traveling because the journey is even more beautiful than the destination.
Let's take a look at the meaning of the Fool reversed card in different areas of life – travel, love, and career.
The Fool Reversed – Travel Meaning
In a travel reading, the Fool reversed implies that you may feel scared to begin a new journey. We can understand that it can be hard for you, not knowing what is on the other side! What if you fall? What if there's no one to catch you or hold you? And, so many more doubts. The Fool in reverse position shows your lack of confidence and fear to walk on a path full of obstacles.
But that is exactly what this is about. Don't second-guess what is on the other side, just move forwards, despite your fears. Remember that you do not have to have all the answers and information in order to act. In fact, it guides you that the less you know, the better and more exciting your journey will be!
The Fool Reversed – Love Meaning
If you're single and the Fool card appears in a reverse position, it implements that something is holding you back to accept the kind of love you want. It shows that there shall be blocks in your way when making a new connection. And, if you are already in a relationship, it means you are highly uncertain about your lover/partner and fear getting into commitments with them.
In the case of new love, the Fool reversed love reading depicts that this relationship may not end walking down the aisle of everlasting commitment, it invariably is short-term. But, don't lose hope, your determination, loyalty, efforts, and true love will make your relationship work out. Just be with your partner, make him/her feel special, and have faith in your love.
The Fool Reversed – Career Meaning
The fool reversed meaning in the career and profession arena is that you don't know how to actually use your energy in the right way. It also warns you about the ways you might suffer if you don't stop right here and reevaluate all the plans and ideas you have regarding your professional or work life. But, it definitely does not mean that you should not begin with a new journey or avoid it. Just evaluate all the things and go ahead. You may not feel ready. You may not be ready, but there is magic in the air and the Universe is waiting to support you with infinite opportunities and guidance. Remember that this is not about having your mind made up, but being ready to learn.
It also indicates that you are highly unsatisfied with what you are currently doing and get boring vibes from it. So, it demands a change. Consider new opportunities and act accordingly. You will definitely reach heights of success.
The Fool Yes or No Tarot Guide
If you are going through any tough situation or are struck by a dilemma getting a one-card pull is always helpful. As per the Fool tarot guide, answers to your direct questions will depend on the position of the card, means –
The Fool Upright Yes or No Guide – If the card comes up in the upright position, it indicates 'Yes' as an answer.
The Fool Reversed Yes or No Guide- If the card comes up in the reverse position, it indicates 'NO' as an answer.
Like with all cards, its ultimate meaning will depend upon the position in the spread it has shown up, what the surrounding cards are (the Magician, the Chariot, or the World Tarot Card), what the context of the situation is, who is asking the question, and what the overall question of the reading is. Whether reversed or upright, the Fool Card's final message will be up to you to decide intuitively. Just trust your first gut instinct, you will know which one is right, don't second guess yourself.
Conclusion
The Fool tarot card is about beginnings of all kinds, it is a major travel card. It depicts new starts in your life, a new job/home/relationship, and a new spiritual journey where you will learn more about your inner self. Long story short, it shows the start of a major personal transition. Whether you want to begin a project you've always wanted to do, send that pitch, get a new haircut, or climb that hill, the Fool is your cheerleader in all cases. "Just go for it, my friend!", this card says joyfully, giving you a wave from the road.
Remember only one thing you're not going to get anywhere if you're always afraid of failing. Just be confident, trust your gut, trust the Universe, and take that step.
Well, that's almost everything about the Fool tarot card meaning in different domains of life like travel, love & career.
Craving to learn more about the other tarot cards? We, at IndianVibes, have guides to the Six of Swords tarot card, the Chariot tarot card, the World tarot card, and the Three of Wands Tarot Card. Check them out now. Happy reading!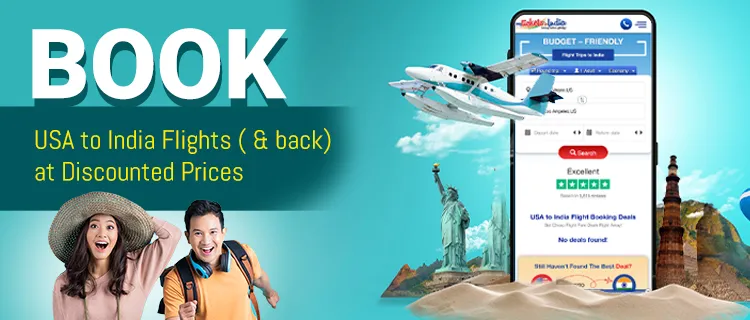 Speaking of IndianVibes, it is an initiative taken by MyTicketsToIndia to keep the Indian-Americans connected to their culture and country. We keep them updated almost about every new update through our portal.
If you didn't know, MyTicketsToIndia is a leading travel agency that offers great deals on the cheapest cheap India flights and vice versa. So, now you know whom to contact to start your new journey and make your travel budget-friendly. We'd love to help you begin a new journey towards success and happiness!