Top 7 Places To Visit in Agra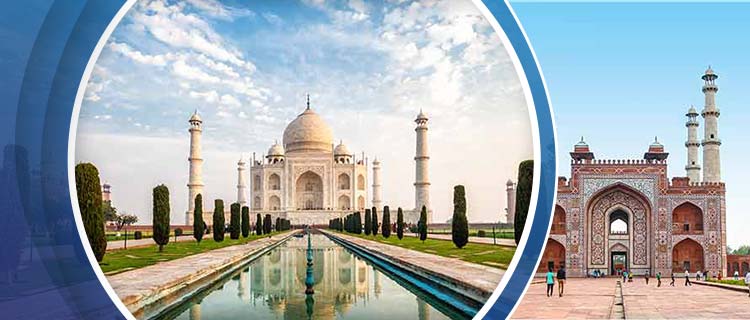 Posted on Tuesday, September 7th, 2021 by MTI Team
About Agra
Home to one of the world's most famous seven wonders, the Taj Mahal, Agra is a beautiful city that is full of mesmerizing historical wonders and Mughal architecture. It is a major tourist destination in North India because of its numerous Mughal-era buildings and a notable number of UNESCO World Heritage Sites. Agra city is also included in the famous Golden Triangle Circle (Delhi Agra Jaipur) along with Delhi and Jaipur. Therefore many people who travel to the north usually travel to these three cities together. The historical city Agra is full of legacies, period horizons, history, and lots more, which entices travelers worldwide.
How To Reach Agra?
By Air: You can fulfill the wish of your Agra trip by traveling via air. The closest airport for flights to Agra is in Delhi. Indira Gandhi International Airport, you can hire a cab or taxi to reach Agra from there.
By Train: As Agra is located in the middle of main train routes. Many Agra tour packages offer train tickets from Delhi, Jaipur, Kolkata, Mumbai, etc. Many trains operate regularly from these cities to Agra. Agra Metro route is currently unavailable
By Car/Bus/Bike: Agra is well connected by state and roadways buses. There are two bus terminals in Agra. Those traveling by car or bikes can take the NH 2 route from Delhi and NH 11 route from Jaipur to reach Agra.
Best Time To Visit Agra
To witness the awe-spiring Agra beauty, it would be best to plan your visit during the Autumn & Winter season. October to March is the best time to visit Agra's famous places as the weather is pleasant and perfect for sightseeing activities.
History of Agra
Agra is an ancient city from the times of Mahabharata. That is also the reason why travelers find so many historical places to visit in Agra. The city has two histories, out of which one dates back to Mahabharata, and the next goes to Sikandar Lodhi and the Mughals.
7 Destinations To Explore In Agra
The ancient Agra scenery has something for every travel enthusiast. Be it a family vacation trip, a solo trip, a group vacation, or a honeymoon, Agra offers numerous popular tourist attractions that make this city a magnificent one. With so many diverse places to visit in Agra, the city never ceases to be interesting. Read on further to visit the best attractions in Agra. 
1.Taj Mahal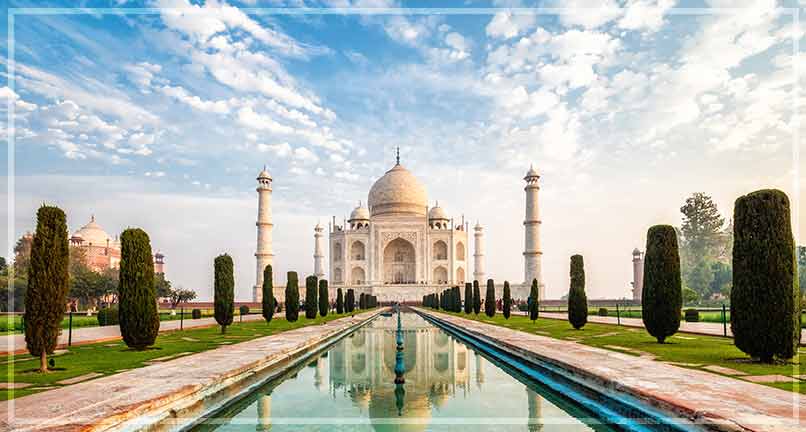 One of the world's seven wonders, the Taj Mahal is one of those sights that come amongst the top Agra tourist places. It is also known as the icon of love and is considered the epitome of Mughal Architecture in India. Taj Mahal is dedicated to Shah Jahan's favorite wife, Mumtaz Mahal. Take a walk inside the Taj mahal, and you will get to witness ornate architecture and alluring designs on walls all around.
Location: Dharmapuri, Forest Colony, Tajganj, Agra, UP 282001
Timings: 6:00 am o 6:30 pm every day except Friday
Entry Fee: Rs 50 For Indians and Rs 1300 rupees for Foreigners
2. Agra Fort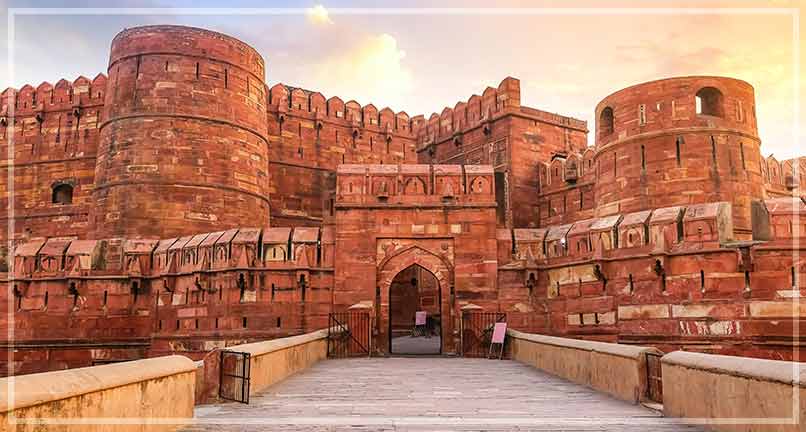 Agra Fort was one of the most imperative forts during the Mughal era. It is one of the best and finest places to visit in Agra today. It is also designated as a UNESCO World Heritage site. As you walk inside the fort, you should explore places like Diwan-i-Khas, Khaas Mahal, etc.
Location: Agra Fort, Rakabganj, Agra, UP 282003
Timings: 6:00 am to 6:00 pm every day
Entry Cost: Rs 40 for Indians and Rs 550 per person for foreigners
3. Itimad-ud-Daulah's Tomb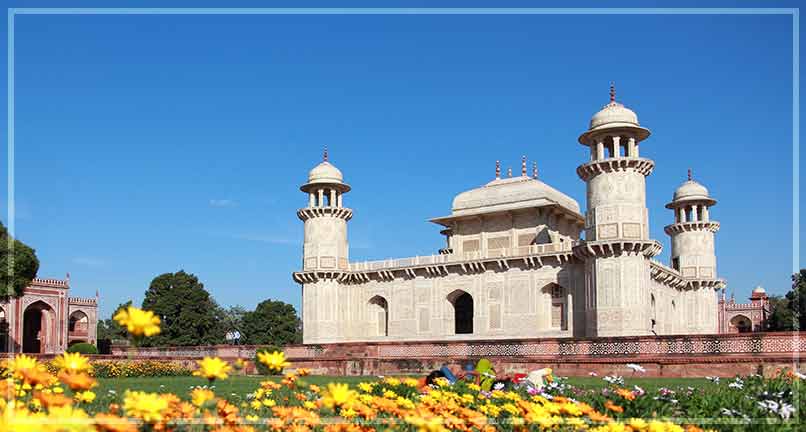 Another top sight that lists in Agra beautiful places to visit is Itmad-Ud-Daulah's Tomb. It is one of the finest attractions in Agra. This place is a must-visit if you love historical architecture as its special intricate carvings will entice you for sure. It is also made of white marble and is also known as Baby Taj. Nur Jahan built the -Ud-Daulah's Tomb in 1628. Don't miss the semi-precious stones engraved in geometrical patterns in the tomb.
Location: Moti Bagh, Agra, UP 2822006
Timings: 6:00 Am to 6:00 PM
Entry Fee: Rs 20 per person for Indians and Rs 210 per person for Foreign tourists
4. Mehtab Bagh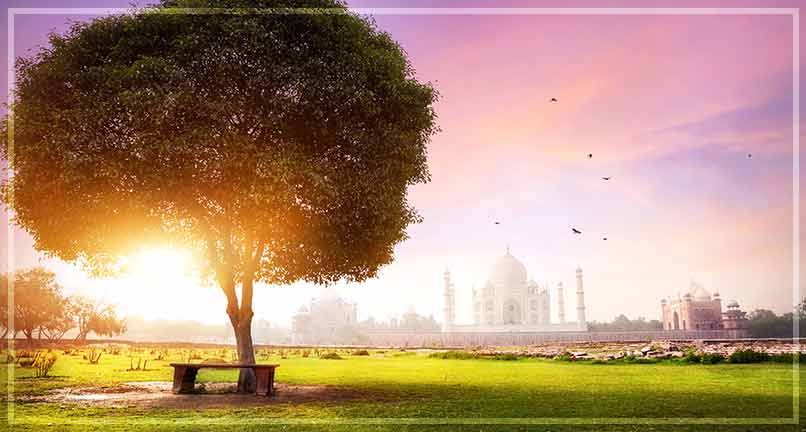 Mehtab Bagh in Agra stands at the North of the Taj Mahal and Agra Fort. It is one of the hidden treasures and popular tourist destinations in Agra and is often missed by tourists. It is also said that the garden had a spot where Shah Jahan would watch the moonlit Taj Mahal. It is an ideal place for witnessing surreal views.
Location: Taj Mahal, Dharmapuri, Forest Colony, Nagla Devjit, Agra, Uttar Pradesh 2822001.
Timings: 6:00 am to 9: 00 PM Every day
Entry Cost: Rs 15 per person for Indians and Rs 200 per person for Foreign tourists
5. Fatehpur Sikri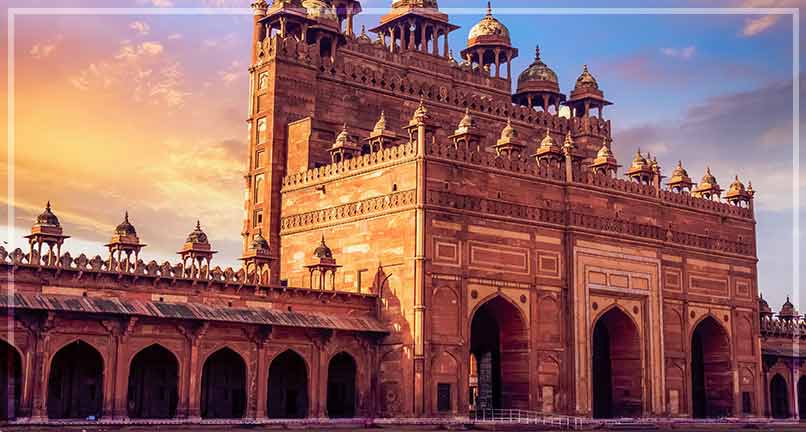 Fatehpur Sikri is a town in the Agra district, which was once the capital of the Mughal Empire. The town was built and established by Emperor Akbar. It was later abandoned in 1610. The entire architecture is built with red sandstone and glazed tiles and has many significant parts of exploring. Don't forget to explore the Buland Darwaza that is 54 meters in height and will surely leave you amazed.
Location: Fatehpur Sikri, 37 Km away from Southwest Agra city
Timings: 6:00 am to 6:00 pm (every day except Fridays)
Entry Cost: Rs 10 for Indians and Rs 250 per person for foreigners
6. Akbar's Mausoleum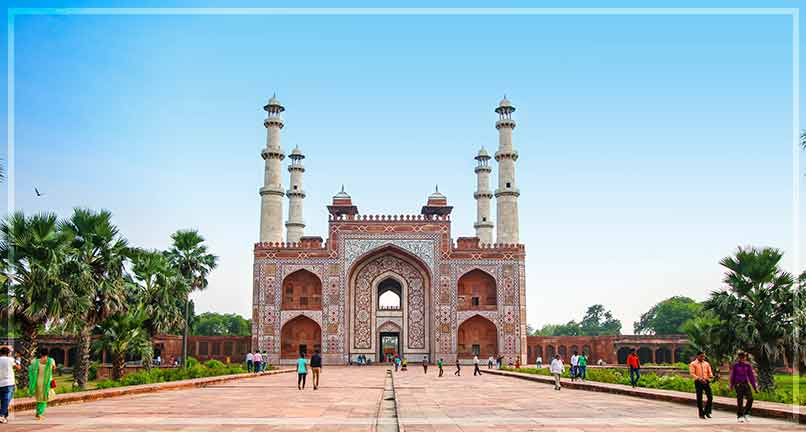 Add on another place to your list of places to visit in Agra that is Akbar's Mausoleum. It is a complex of buildings, a marvelous historical monument that is popular amongst tourists. Akbar, who ruled the Mughal kingdom for years, remains can be found here. The structure is also surrounded by Mughal Gardens, home to deer, antelope, monkeys, and even a few peacocks.
Location: Sikandra, Agra, Uttar Pradesh
Timings: 6:00 am to 6: 00 pm
Entry Cost: Rs 25 for Indians and Rs 310 for foreigners
7. Musamman Burj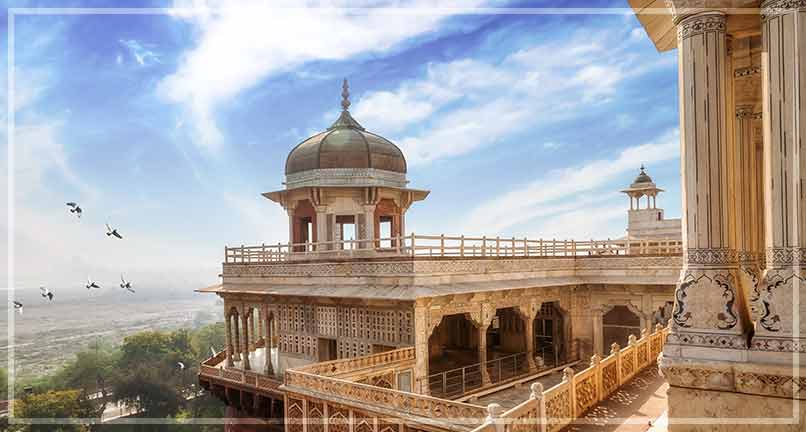 Musamman Burj was built by Shah Jahan for his beloved wife and favorite queen Mumtaz. It is also said that at first that this marble monument was built by Emperor Akbar's workers but was demolished by Emperor Jehangir to make a new double-storeyed building.
Location: Close to Diwan-e-Khas in Agra Fort
Timings: 7:00 am to 6:00 pm
Entry Cost: Rs 30 for Indians and Rs 300 for foreigners
Best Traditional Food/Sweets To Try In Agra
If you are a food-loving traveler then a visit to Agra would be incomplete, if you do not try these famous culinary delights of this city. Here are some food delights you should not miss in Agra.
Agra scenery for food is most famous for its sweet delicacy that is Petha. It is one of those sweet delights that will stay with you forever. Made from white pumpkin, this century-old sweet dish is one of the most famous amongst all tourists.
Paranthas are mainly reminiscent of the Mughal era and are simply to die for in Agra. They are served with creamy yogurt and vegetable mashes. If you want to know the best places to try paranthas in Agra, then you should visit Rambabu Parathe vale.
One of the most simple yet the most delicious cuisines in Agra is Bhalla. They are also known as Aloo Tikki is a special dish that is served with tangy and spicy chutneys. It is one of the best street foods in Agra, and the best place to try it is in Sadar Bazar.
5 Best Hotels To Stay In Agra
Agra is a famous tourist location and thus it has plenty of accommodations and stays suitable for every type of traveler. Some of the top-rated hotels in Agra are:
1. The Oberoi Amarvilas
It is amongst the famous five-star hotels in Agra and is located very close to many tourist destinations in Agra. This property offers free parking and free wifi facilities in every room.
Charges: Rs 24,000 to Rs 30,000 (depends on your room type)
Address: Taj East Gate Road, 282002, Agra India.
Facilities: Swimming pool, free wifi, family rooms, free parking, restaurant and bar
2. Trident Agra
Trident Agra is a perfect hotel that is located very near to all Agra tourist places. The hotel follows all the safety measures and offers top-notch facilities to its visitors.
Charges: Rs 5,800 to 15, 500 (depends on your room type)
Address: Fatehabad Road, 282001, Agra, India
Facilities: Ocean view rooms, garden area, outdoor pool, free wifi, free parking.
3. Anupama Guest House
The beautiful Anukpama Guest House is a perfect accommodation if you are on a budget-friendly Agra trip. It is a three-star guest house that provides air-conditioned rooms with other facilities.
Charges: Rs 1000 to 2000 (depends on your room type)
Address: P 27 Taj Nagri Phase 1, 282001 Agra, UP, India
Facilities: Airport shuttles, non-smoking rooms, free wifi, family rooms, free parking
4. Courtyard by Marriott Agra
Great five-star property in Agra is the Courtyard by Mariott. It is one of the closest hotels to the Taj Mahal and provides you top-notch facilities.
Charges: Rs 5,000 to 10,000 (depends on your room type)
Address: Taj Nagri, Phase II, Fatehabad Road, Taj Ganj, Agra, India
Facilities: Air-conditioned rooms, mini bar in rooms, free parking, airport shuttle, swimming pools.
5. ITC Mughals
ITC Mughals is a popular accommodation in Agra that is located on 23 acres of lush greenery. It features luxury accommodation and is very famous amongst honeymoon travelers.
Charges: Rs 8,000 to 15,000 (depends on your room type)
Address: Taj Ganj, Agra, India
Facilities: Swimming pools, non-smoking rooms, room service, spa, free parking
FAQs
Q: How can I spend less on my Agra Trip?
Ans: You can plan a budget-friendly trip to Agra by traveling in local transport instead of booking cabs for sightseeing activities.
Q: What are the most romantic places to visit in Agra?
Ans: The most romantic Agra tourist places are Taj Mahal, Mehtab Bag, Taj Nature Walk, Ram Bagh,Jahangiri Mahal, Moti Masjid, Mumtaz Mahal, and Mariam's Tomb.
Q: What are Agra's best places to explore during the rainy season?
Ans: You can go on an Agra food tour, visit Jama Masjid, explore the beautiful Mehtab Bagh, explore Humayun's Mosque, walk around the garden complex of Khas Mahal, and visit the famous Sadar Bazaar.
Q: Which is the most famous restaurant in Agra?
Ans: The most famous restaurant to visit after visiting all Agra tourist places is Dasaprakash in the Rakbanj Area of Agra.
Q: What is so special about Agra?
Ans: Agra is an ancient city that comprises many UNESCO World Heritage Sites. And all of them are located in quite a prominence from each other.

MyTicketsToIndia is the top-rated travel agency that offers you the lowest prices on flights to India. They will also help you plan your Agra trip in the best way possible. Get in touch with them today and relish a memorable vacation in Agra.
EXPLORE MORE TOURIST SPOTS In India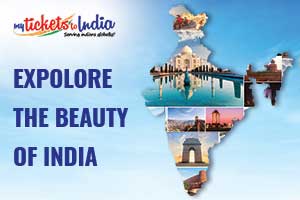 Travelling India:
Tourism is booming in incredible India, one of the oldest civilizations in the world. Tourists from across the globe flock to India to explore the variety of tourist attractions India has, from the Taj Mahal in Agra to the Juhu Beach in Mumbai. Brimming with rich culture and heritage, myriads of scenic natural wonders, historical monuments, a variety of delicacies; the fascinating ancient land is among the most
popular tourist destinations in India
that deserve to be on your bucket list.
Girish Sharma is the CEO of a leading travel company named Myticketstoindia, established in 2012. Being a versed travel expert since 12 years, he shares his peerless voyage expeditions along with interesting travel destination ideas and news updates for the travelaholics across the globe. He is the member of TAAI, Travel Agent Association Of India and his firm has got recognized with the reputed IATA accreditation and became the Inbound Flight Booking Portal of the Year. Loyalty & honesty towards the clients and vendors, have always been the key behind his successful walk of life.. read more