Upcoming Indian Events In USA That You Shouldn't Miss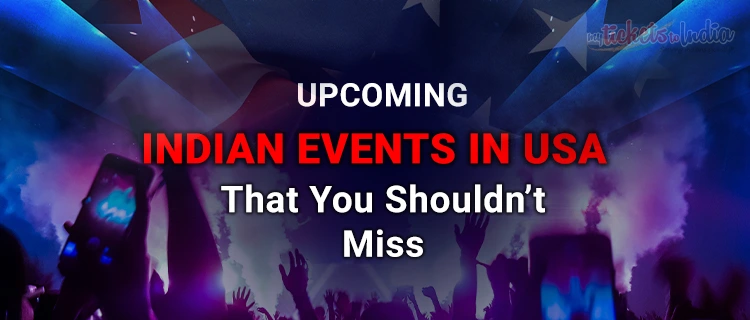 The feeling of missing out on the Indian trending events is itself a dagger slicing through the heart. Adding to that, if an Indian in America misses upon the few chances to connect to their homeland, it is even sadder. But hey! With MyTicketsToIndia's sister portal – IndianVibes – we are here to make sure 'THAT' doesn't happen.
For starters, here's a 2023 Indian event (in the US) calendar that you can save the dates for attending and have a gala time. We're listing a few events all the way from Maryland, New Jersey, Chicago, and New York.
The way Indians crave rooting to their homeland and its culture is precious, and all your homies out there can now ease up on your tracking research through this piece of information. As with the list of Indian events, you can enjoy the Indian vibes, just like you used to back at home.
Indian Events In America
The success rate of such events clearly depicts how much the Indians love to be a part of such get-togethers. Of course, the previous years amidst the pandemic have not been easy for anyone! Staying away from family, within the four walls, and barely socializing can take a toll on anybody's emotional space. But, with the levering down of cases and strengthening up of precautions, every citizen can mildly get back to their usual routine.
So, buckle up your socks to be a part of the most happening Indian events (in the US), and level up your updated game with the details given below.
| Sr. No. | Event | Date | Venue |
| --- | --- | --- | --- |
| 12 | Atif Aslam | 22 Sep 2023 – 05 Nov 2023 | Across USA |
| 11 | Shreya Ghoshal | 22 Sep 2023 – 08 Oct 2023 | Across USA |
| 10 | Falguni Pathak | Sep 2023 – Oct 2023 | Across USA |
| 9 | Diljit Dosanjh | 16 Apr 2023 & 23 Apr 2023 | Coachella Valley Music & Art Festival 2023 – California, US |
| 8 | AP Dhillon | 11 Dec 2022 – 14 Dec 2022 | California, US |
| 7 | Falguni Pathak | 2 Sep 2022 – 22 Oct 2022 | Across USA |
| 6 | Neha Kakkar | 29 April 2022 | Oxon Hill, Maryland |
| 5 | Guru Randhawa & Kanika Kapoor Concert | 25-26 March 2021 | New Jersey, US |
| 4 | Kanika Kapoor Event | 12 March 2021 – 1 April 2021 | New York, US |
| 3 | Holi in the New York City- Cruise | 19 March 2022 | New York, US |
| 2 | Mala's Odissi at All Indian Dance Festival | 22 January 2021 | New York, US |
| 1 | Indian Classical Music Concert: Gaurav Mazumdar | 15 January 2021 | Chicago, US |
12. Atif Aslam (September-November 2023)
Prepare to be enchanted by the mesmerizing voice of Atif Aslam, one of Pakistan's most iconic and beloved singers, as he embarks on his highly anticipated live concerts across the United States. Atif Aslam's soulful and captivating vocals have garnered a massive following, not only in India and Pakistan but also among music enthusiasts worldwide. Don't miss the opportunity to witness Atif Aslam's live concerts up close and personal. Secure your tickets today!
Date: September – November 2023
Time: 6;30 PM or 8:00 PM onwards
Venue: Across USA
11. Shreya Ghoshal (September-October 2023)
Be ready to be mesmerized by the melodious voice of Bollywood's singing sensation, Shreya Ghoshal, as she embarks on her highly anticipated live tour across the United States. Her enchanting vocals have won hearts around the world, and now, fans in the USA have the chance to experience Shreya Ghoshal's live concerts up close and personal. Secure your tickets early and get ready to be transported to a world of music and emotion.
Date: September – October 2023
Time: 7:00 PM onwards
Venue: Across USA
10. Falguni Pathak (September-October 2023)
Get ready to celebrate Navratri like never before as the "Dandiya Queen" herself, Falguni Pathak, brings her high-energy Garba Dhoom live events to the United States. Falguni Pathak is renowned for her soul-stirring Navratri performances that have enthralled audiences for years, and now, she's set to create magical memories with her fans across the USA. Here's to know about all Falguni Pathak's upcoming performances. Book tickets early to secure your spot at these iconic Navratri celebrations.
Date: September – October 2023
Time: Between 4:00 and 8:00 PM
Venue: Across USA
9. Diljit Dosanjh (April 2023)
Prepare to be enthralled as the Punjabi music sensation, Diljit Dosanjh, graces the Coachella Festival stage with his electrifying performance. Known for his soulful melodies and charismatic stage presence, Diljit Dosanjh has garnered a massive fan following not only in India but also worldwide. Now, he's all set to bring his signature blend of Punjabi music and contemporary sounds to the prestigious Coachella Festival in the USA. Know about all the Diljit Dosanjh's live concerts here.
Date: April 21, 2023
Time: 6:45 PM onwards
Venue: Coachella Valley Music and Arts Festival, Empire Polo Club, Indio, California, USA
8. AP Dhillon (December 2022)
AP Dhillon, the rising Indo-Canadian music sensation, is set to electrify the stage in a highly anticipated concert in the United States. Known for his unique fusion of Punjabi and British music influences, AP Dhillon has taken the music world by storm with his catchy tunes and energetic performances. Get all the details on AP Dhillon's upcoming shows here. Secure your tickets today to ensure you're part of this epic event.
Date: 11 December 2022 – 14 December 2022
Time: 7:00 PM onwards
Venue: California, USA
7. Falguni Pathak (September & October 2022)
If you belong to the Gujarati community and Garba has been your first love, it's time for you to rock-n-roll. That's because Falguni Pathak is on a tour in the USA and has her shows lined up for September and October 2022. We have compiled every detail on Falguni Pathak's upcoming shows so it's easier for you to attend one. However, here are the details in a nutshell.
Date: September-October 2022
Time: Between 6 and 8 PM
Venue: Across USA
6. Neha Kakkar (June 2022)
Another Hindi music singer who is renowned for her talent overseas, Neha Kakkar, is finally booked for a US concert show in Oxon Hill. The singing sensation has reached such a height of success from scratch and is immensely appreciated for her work. So, all the Indians in America here's a chance for you to be a part of this fantastic event. Hurry! Book your tickets today before the seats last.
Date: Jun 12, 2022
Time: 8:30 PM onwards
Venue: The Theater at MGM National Harbor, 101 MGM National Ave, Oxon Hill, MD, United States of America
5. Guru Randhawa & Kanika Kapoor Concert (April 2022)
In continuation to Guru Randhawa and Kanika Kapoor's musical tour, the renowned artists will also be performing in this city for their fans who can manage better to come to this location than other places. The concert already seems like a fun affair and is gathering interest and attention on a very huge level. So, if you're a fan of Bollywood and Punjabi music and wish to be part of this event before it goes out of hand, book your tickets today. Kindly note that the organizers are very strict about the Covid precautionary regulations. So, you can only be part of this event if you're fully vaccinated. Make sure you carry the vaccination certificate along and wear a mask throughout the event.
Date: April 1, 2022
Time: 8:00PM -11:15PM (EDT)
Venue: Nassau Coliseum, 1255 Hempstead Turnpike, Uniondale, NY – 11553
Event Organiser: Prria Haider productions global
4. Kanika Kapoor Event (March 2022)
Kanika Kapoor is all ready to set the stage on musical fire along with her singing partner for the evening, Guru Randhawa. Apparently, this event is a part of several events that the two artists have streamlined as their concert tours in the US from 12 March 2022- 1 April 2022. While the Indians are very excited to be part of the evening, the artists themselves express their exhilaration as they'd get a chance to perform for their people in a foreign land.
Date: March 12, 2022
Time: 7:00 PM onwards
Venue: Ritz Theatre, 1148 E. Jersey Street, Elizabeth, NJ 07201
Event Organiser: Glitz Events
Date: January 15, 2022
Venue: 1925 South Michigan Avenue, Chicago IL 60616, US
Event Organiser: South Asia Institute (SAI)
3. Holi in the New York City- Cruise (March 2022)
After the long halt of pandemic years, the US is all set this time to merge in the colors of Indian Holi festivities. With the colors being 100% and neon, it will not just be safe but also fun. The event will last upto 4 Pm in most probability. The 'party' is strictly for fully vaccinated 21+ age adults. Do not miss the complimentary thandai shots at the entrance gate.
Date: March 19, 2022
Time: 12PM onwards
Venue: Pier 40, 353 West St, New York, NY 10014, US
Event Organiser: DIYA CARE in association with E4U
Organiser's Contact Number: (908) 538- 9157, (848)702 3130
2. Mala's Odissi at All Indian Dance Festival (January 2022)

The event will showcase the poetry with pure dance segments based on classical Odissi Guru Mayadhar Raut technique by none other than the dance professionals 'Mala and Dancers'. The performance shall be a recreational presentation of Guruji's original dance choreography.
The interested readers are requested to attend the event while strictly following the current COVID protocol. Also, do not forget to carry your vaccination proof document and state ID along.
You can get your tickets by dropping an email to Mala School of Odissi Dance at malaodissi@gmail.com.
Date: Jan 22, 2022
Time: 2PM onwards
Venue: Carnegie Hall, 881 7th Avenue, New York,, NY 10019, United States
Event Organiser: Mala's School of Odissi Dance
1. Indian Classical Music Concert: Gaurav Mazumdar (January 2022)
What would be a better way to get into the essence of Indian heritage than an Indian classical music evening? Yes, you heard that right! A mesmerizing night is streamlined for all of you to enjoy. The night will be graced with the presence of Grammy-nominated sitar maestro Gaurav Mazumdar. Sh. Mazumdar has been an artist for thirty years now and performs globally. Once a disciple of the legendary sitarist Ravi Shastri, renowned for creating cross-cultural fusions.
Previously, SH Gaurav has performed with global artists like Daniel Hope, Philip Glass, Kenny Werner, and George Harrison.
In the upcoming event, the sitarist will also honor his celebrated mentor, Sh Ravi Shastri, aka "godfather of world music," as he'll play a few musical recordings.
Well, that's it!
The opportunity is right at your current country's doorstep in various locations. MyTicketsToIndia is here with its sister portal where you can book cheap tickets to India from USA, IndianVibes, to update you with the most popular and witness-worthy. So, do not miss the opportunity to be a part of these events and live a part of India in the US.
The list of these events will be updated regularly, so make sure you keep a tap on the information every now and then and plan your 2022 calendar accordingly. Indian Vibes is a sister portal to MyTicketsToIndia, seeking to bring the Indians in America closer to their homeland by keeping them informed about India's trending event. Subscribe to the page blogs regularly and never miss an update.