The Star Tarot Card Meaning – Travel, Career, Love & More
Feeling messed up or lost? Get a tarot reading to clarify specific steps that will take you out of this mess and get you back onto the right path. Tarot Reading will help you look within yourselves to understand your emotions, the reasoning behind your words and conduct, and the source of your conflicts. It can surely be a guiding light in the fog of confusion when you can't see your next step clearly. And, if the Star Tarot Card appeared in your reading, it clearly indicates to be hopeful and positive. Read on to dive deep into the Star Tarot Card meaning (upright and reversed) and what it indicates about the different areas of life i.e. travel, love & career.
The Star Tarot Meaning & Description
Meaning – The Star card during a tarot reading signifies how positive changes are on their way and that you will soon be closing a hard and difficult chapter in your life. It is a reminder of the fact that the world is full of goodness and depicts inspiration, hope, growth, and positivity after the big storm.
The Star Tarot Card is undoubtedly one of the most beautiful and meaningful cards to receive in a tarot reading despite what's happening in your life. Long story short, the card shows that all is well now and represents a time of calm and harmony.
Description & Interpretation – The Star Card represents a naked woman standing at the edge of a small pool. She is holding two containers of water: one in her Left hand and one in her right hand. The woman's left hand represents subconsciousness, with the water nourishing the earth and continuing the cycle of fertility. The lush green land around her seems to say that it is working. The other container pours the water onto dry land. The woman has one foot in the water, representing her spiritual abilities and inner strength. The other foot on the ground represents her practical abilities and common sense.
Behind the woman, there is a large shining central star, representing her core essences, surrounded by seven small stars which indicate the chakras. There is also a bird in the tarot card depicting the holy ibis of thought.
The Star Tarot Guide – Keywords
Predictive The Star Tarot Card key meanings: Inspiration, Growth, Hope, Healing, Spiritual Journey, Shine, Positivity
The Star Upright key meanings: Faith, New Opportunities, Peace, Creativity, Hope, Calm, Inspiration, Renewal, Contentment
The Star Reversed key meanings: Despair, Lack of Inspiration, Monotony, Hopelessness, Lack of Faith, Boredom, Negativity
Element: Air
Yes or No key interpretations – Yes
Just like an 1111 angel number represents hope, growth, and positivity, appearing the Star card in a tarot reading indicates the same in your life.
The Star Upright Meaning
It's time to shine like a star.
When the Star Tarot Card appears in an upright position, it indicates that you are heading towards the good times in your life and the umpteen new opportunities will come your way. This card follows The Tower Tarot Card, one of the Major Arcana Tarot Cards, which shows the chaos and destruction in life. But, what happens once the smoke in the sky clears? You can see everything clearly, you can see the stars again, and your future will start looking more optimistic and less daunting. So, just get ready to embrace a new and positive change in your life, whether related to love, career, finances, travel, or anything, all of your troubles will soon be a thing of the past.
Here, let's know what the Star Tarot Card means in the context of different aspects of life – love, career, and travel.
The Star Upright – Love Meaning
The Star Tarot love (upright) represents that you and your partner will enter a new phase of your relationship. You both will feel a greater level of emotional intimacy toward each other. The card indicates that it is the right time to make a commitment, whether through moving together, marriage, or even expanding your family (if you are thinking about it). Are there any issues in your relationship? Don't worry! The Star upright represents that all your problems will start fading soon and you will see a significant improvement in your bond.
Single? The Star card is giving you a signal that someone special will come into your life very soon. And, in the case of heartbreak, the card is indicating that you are ready to move on from your past baggage that could have wrecked your love life in the past. You are ready for something new and more loved.
The Star Upright – Career Meaning
In a career reading, the Star Tarot Card upright indicates a positive sign that all things are going to turn out in your favor soon. Many new and amazing opportunities are coming your way, do some soul-searching to choose what's right for you at your core. If you are facing a difficult problem to solve at work or in your business, the Star is a sign that you must think outside of the box. Show more creativity and all your work issues will be easily resolved. Just like the Fool Tarot Card, this card also represents – something better than what you have now on the horizon.
So, are you ready to expect change and growth in different ways – maybe more responsibilities, a bump in pay, new processes, more clients, or even a whole new job of your interest? We wish you all the very best, just go and conquer this world!
The Star Upright – Travel Meaning
The Star upright in travel reading represents growth. It is depicting travel in search of what you are seeking spiritually or career-wise. And, going on a trip to some beautiful place will surely help you to find your inner peace. So, if you are a traveler or are passionate about exploring the world or want to expand your career, now is a great time to double down on your wishes and explore what new destinations come to your mind.
It indicates exploring a brand new place for the first time and not knowing much about it until actually gaining experience there and finding your inner peace. This can apply to long-distance travel or going on an adventurous road trip to a destination you have never explored before.
Meaning Of Reversed Star Tarot Card
The Star reversed shows that you have lost hope. It doesn't depict that you will not regain hope again; in fact, it's quite opposite. When a reversed Star Tarot Card appears, it tells you to introspect and identify where you might be lacking, and why you are being overly self-critical, or fearful towards something you may have initially found joy in. It's very normal that if we become afraid of something, we easily lose hope. That's why, the Star card is asking you to find a way to overcome that, to ask you to lean on the light of the star which is guiding you forwards towards a positive and more bright future.
Let's know the meaning of the reversed Star Tarot Card in love, travel, and Career.
The Star Reversed – Love Meaning
While love reading if the Star Tarot Card appears in the reverse position, it shows that you may be feeling hopeless about ever finding love, or resolving issues with your significant other. It is also indicating that we misinterpret another person's feelings towards us and are disappointed accordingly. So, the card is asking you to nurture hope, allow yourself to be more positive again, and welcome the opportunities for love into your life.
The Star Reversed – Career Meaning
The Star reversed in career reading represents perhaps you are out of work, struggling to find a job that suits you, or facing any other issues in your work life. In the long run, such grievances harm your well-being and health. You should consider a career/job change if suggestions for improvement are not heard or implemented by your superiors. Here, the card is telling you to not lose hope and to change your attitude to focus on what you have already achieved and what you actually want in your life. You'll surely be better able to make the right career decisions for you moving forwards.
The Star Reversed – Travel Meaning
If the star reversed appears in a travel reading, it means that you are afraid of beginning a new journey. It's understandable, that it can be hard for you, not knowing how to start, what if you get lost or fail. Don't worry! It's nothing, you are just losing your hopes and confidence in starting a new journey. All the Star card needs you to do is gain your hopes again, start believing in yourself, and have more confidence in yourself. Just remember that there is nothing in this world that you cannot achieve. So, go to your favorite destination and explore your inner self or the spiritual side of yours for more calmness and peace in your life.
The Star Tarot Yes or No Guide
If the Star Tarot Card shows up in a 'yes or no' reading, this may leave you confused as to how to interpret this card correctly. But, don't worry! We are here to clear all your doubts.
During the 'yes or no' tarot reading, if the Star card appears in the upright position, then it definitely means 'YES' to your questions. It depicts the new beginnings in your life. You are all ready to shed the old and embrace new amazing opportunities to enter your life. Whether your questions are related to travel, a long-distance relationship, a new job, etc., the outlook is positive.
If the star card appears in reverse position, it also means 'yes' to your question but comes with a disclaimer. It wants you to have more confidence and faith in yourself and your abilities to reach your aims and dreams. The appearance of the Star Tarot Card, whether upright or reverse, is a clear sign that you are made to do something great and extraordinary. The only fact is that, in a reverse position, it indicates that you are feeling insecure and less confident about yourself. You just need to attract more positivity in your life that will surely help you to change your mindset.
Conclusion – The Star card is clearly signifying that the hard work you have been doing on yourself is about to pay off. You just have to be optimistic and confident. It is giving you a signal to go and explore yourself by leaving your comfort zone, to achieve heights of success. Now is the time to move ahead, to know your inner self by heading to your favorite destination. Just book your tickets and take off – leave your past behind to make your future more beautiful and meaningful.
The Star Tarot Card is indeed a very strong card for both new career opportunities and travel, especially if it comes up with the Chariot Tarot Card, the 5 of Wands, the Moon Card, and the World Tarot Card.
Remember that no matter what challenges life throws your way, you know that you are always connected to the divine and pure loving energy. Your angels are helping you overcome your obstacles.
That's almost everything about the Star Tarot Card and what it says about different aspects of life.
If you enjoyed this blog and would like to browse some more pieces like the Three of Wands Tarot Card or Six of Swords Tarot Card, then we have got you covered.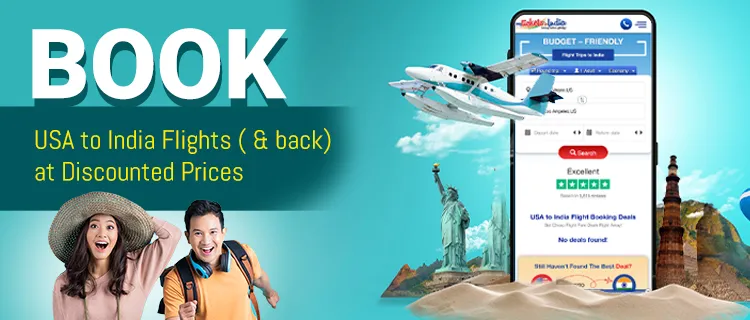 IndianVibes (launched by MyTicketsToIndia) keeps the Indians in the USA connected to the soul of their homeland and its culture. And, our team is working round-the-clock to fulfill this motive, one post at a time!
Insight – MyTicketsToIndia is a reputed flight-booking agency that offers incredible deals on airfare to India and back. We can be your guide for your travel in search of your inner self and success. Whenever you're ready and plan to travel, just reach out to us and speak to our travel agents. We'll book your air tickets at the cheapest prices.