Dussehra 2023 In USA: A Celebration Of Good Over Evil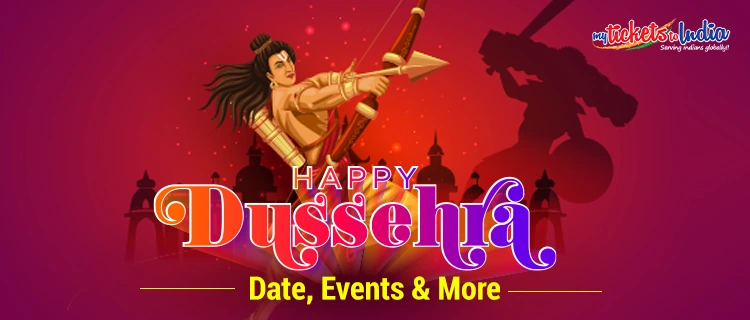 As the Indian community in the United States continues to grow, the celebration of traditional festivals like Navratri, Dussehra, Karwa Chauth, Diwali, etc. has become an essential part of staying connected to their homeland. Dussehra, also known as Vijayadashami, is a joyous occasion that marks the victory of good over evil. Here, we'll know when and where Dussehra 2023 will be celebrated in the USA, the significance of this festival, its rituals, and the auspicious Muhurat timings –
When Will Dussehra 2023 Be Celebrated In USA?
Dussehra falls on the 10th day or Dashami tithi of the Hindu month of Ashwin, which typically occurs in September or October. After Navratri 2023, Dussehra will be celebrated on October 23rd, Monday in USA.
Dussehra 2023 Muhurat
USA (Central Time Zone)
Vijayadashami on Monday, October 23, 2023
Dashami Tithi Begins – 07:14 AM on Oct 23, 2023
Dashami Tithi Ends – 04:44 AM on Oct 24, 2023
Vijay Muhurat – 02:22 PM to 03:05 PM
Aparahna Puja Time – 01:39 PM to 03:48 PM
India (Indian Standard Time)
Vijayadashami on Tuesday, October 24, 2023
Dashami Tithi Begins – 05:44 PM on Oct 23, 2023
Dashami Tithi Ends – 03:14 PM on Oct 24, 2023
Vijay Muhurat – 01:58 PM to 02:43 PM
Aparahna Puja Time – 01:13 PM to 03:28 PM
Related Topic: – Sharad Navratri Celebrations
Why Is Dussehra Celebrated? | History & Significance
Dussehra marks the end of the nine-day celebration dedicated to Goddess Durga, who represents the power of the divine. Dussehra is also called Vijayadashami (or Dashain), the Day of Victory. Some people celebrate Dussehra to remember the story of Goddess Durga defeating a fierce monster called Mahishasura. Others connect it to the epic battle of the Ramayana.
The main message of Dussehra is that goodness and righteousness victory over evil. People offer prayers for prosperity and good health on this day.
After Dussehra, the celebrations for Diwali 2023 will begin. Diwali comes twenty days after Dussehra and is one of the most important and widely celebrated festivals. It honors the return of Lord Rama to his home after defeating the demon king, Ravana.
Dussehra/Vijayadashami Celebrations In India
During Ganga Dussehra, people visit special places like Prayagraj/Allahabad, Garhmukteshwar, Haridwar, Rishikesh, and Varanasi to take part in the main rituals such as immersing themselves in the holy waters of the Ganga River. Varanasi, in particular, is famous for its lively Ganga Dussehra celebrations.
Here are some of the key traditions and customs people follow during Dussehra:
Ramlila Performances
Burning of Raavan's Statue
Worshiping the Goddess Durga
Worshiping of Weapons
Many people actively participate in the custom of bathing in the Ganga River. The mesmerizing Ganga Aarti ceremony is also performed at the Dasaswamedh Ghat, where lamps are lit, and hymns are sung to honor the river and seek its blessings.
Reserve your flights to Varanasi for the most special Dussehra celebrations.
Related Topic: – Ganesh Chaturthi Celebration
Dussehra 2023 Cevents & Celebrations In USA
Get answers to your "Dussehra celebration near me" questions below –
Dussehra In California, USA
Dussehra Diwali Dhamaka
Date – 21st October 2023, Saturday | 12:00 PM to 11:00 PM (PDT)
Address – Alameda County Fairgrounds, 2005 Valley Avenue #Gate 8 Pleasanton, CA 94566 United States
Organizer – Association of Indo Americans
Check out the popular routes below to book your flights from India to San Diego, California at low prices –
Dussehra In New Jersey, USA
Grand 25th Dussehra in New Jersey
Date – 21st October 2023, Saturday | 1:00 PM to 8:00 PM
Address – Lake Papaianni Park, 100 Municipal Blvd, Edison, NJ 08817
Organizer – Indo American Festival Inc.
Get your flights from India to Newark, New Jersey booked today. Check out the famous routes below –
Dussehra In New York, USA
Grand 8th Dussehra in New York
Date – 22nd October 2023, Sunday | 1:00 PM to 8:00 PM
Address – 630 LidoBlvd, Lido Beach, New York
Organizer – Indo American Festival Inc.
Here are the popular routes for India to New York flights you can choose from –
Related Topic: – Guru Gobind Singh Jayanti
At IndianVibes, a sister portal to MyTicketsToIndia, we're dedicated to bridging the gap between Indians living in the USA and their homeland. We understand the importance of keeping you informed about the latest updates and cultural celebrations.
If you're looking to celebrate Hindu festivals in India with your family, MyTicketsToIndia can assist you in booking affordable flights from USA to India and back.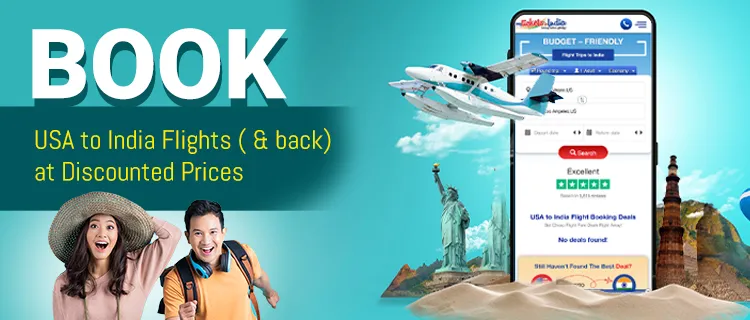 We work 24/7 and are just a call or live chat away to help you plan your journey and stay connected to your homeland, no matter where you are in the world.
Related Topic- Other Festival Events