Ganesh Chaturthi 2023 – Where, When, & How Is It Celebrated In USA
Last Updated on Sep 25th, 2023 by Heena Ganotra, Leave a Comment
Ganesh Chaturthi (or Vinayaka Chaturthi) is an Indian festival that marks the birth of the elephant-headed Hindu deity – Ganesha. Kids in India and abroad love this God's avatar so much that he is lovingly referred to as "Gannu Bhaiyya".
Why is this Godly figure's birthday a big deal? Let's understand.
What is Ganesh Chaturthi?
Ganesh Chaturthi is when Lord Ganesha's idol is brought home to pamper the God and make him happy.
He is brought home on the fourth day after the new moon of the month of Badrapada (as per the Hindi Calendar). We observed the new moon of the Badrapada month on September 14, 2023. Hence, the fourth day from this would be September 18, 2023.
However, there's a twist.
When is Ganesh Chaturthi in 2023?
Ganesh Chaturthi 2023 is falling on September 19, 2023. It will continue till September 28, 2023.

Why is it not September 18, 2023? We'll tell you –
Ganesh Chaturthi 2023 Start and End Date
Ganesh Chaturthi 2023 begins at 12:39 p.m. on September 18th (IST) and ends at 1:43 p.m. on September 19th (IST).

For US citizens, Ganesh Chaturthi 2023 begins at 3:09 a.m. on September 18th (EST) and ends at 4:13 a.m. on September 19th (IST)
The shubh muhrat (auspicious time) to place the idol of the lord Ganesha is on September 19th, specifically from 11:01 am (IST) (1:31 am EST) to 1:28 PM (IST) (3:58 am EST). Hence, September 19, 2023.
Ganesh Chaturthi 2023 Visarjan Date
Ganesh Visarjan is when the devotees bid the Lord's idol goodbye by either dissolving the murti in the water or immersing it in a water body.
While Ganesh Chaturthi is a 10-day long festival, the visarjan date isn't fixed. One can keep Lord Ganesha for 3, 5, 7, or complete 10 days.
Visarjan In USA
Since people in the USA are moving towards sustainable development, many have gold or silver idols of the Ganesh. They simply sprinkle water/ganga jal on the murti, symbolizing Visarjan. Others take eco-friendly dissolvable murtis to celebrate Ganesh Chaturthi in USA.
Devotees wear traditional clothes to showcase their Indianness and culture with pride.
How is Ganesh Chaturthi Celebrated?
Before the idol is brought home, the house is cleaned and made spik and span.
During the installation of the Ganesh idol, a raised stage or platform is adorned with flowers, kumkum, and sandalwood paste.
After Lord Ganesha is brought home with great pomp and show, he is offered prayers, flowers, fruits, and modak (laddoos – an Indian round-shaped sweet dish).
Offerings – Twenty-one blades of Druva grass, Twenty-one modaks, and Twenty-one of the sweet of Panch Khadhya are offered to Ganesha.
"Haar chadhe, phool chadhe, aur chadhe mewa, ladduon ka bhog lage sant kare sewa." This is a line from Ganesh Aarti that gives a clear picture of what is to be done and how is the lord to be served.
Why is Ganesh Chaturthi Celebrated?
It is believed that Chattrapati Shivaji Maharaj (the founder of the Maratha Empire) commemorated the festival to encourage nationalist sentiment among his subjects during their war with the Mughals.
However, after the fall of Peshwas, the festival couldn't be celebrated after the British officials banned political/religious assemblies.
The festival was later revived by Lokmanya Bal Gangadhar Tilak who recognized Ganesha as an ideal figure who could bring people together for their war for freedom.
Vinayaka Chavithi In India
While the Indians in USA celebrate the festival with great fervor, nothing can match the festivities that happen in India. The dhol, the nagaras, the flower petal shower, the religious processions, the feel, the vibe… it's unparalleled. Here are the top 5 destinations where Ganesh Chaturthi celebrations are similar to a grand million-dollar wedding –
Vinayaka Chavithi In USA
Today, the Ganesh Festival has crossed borders through students and businessmen migrating to USA. Hence, Vinayaka Chavithi USA holds significant importance. If you are a die-hard devotee who considers Lord Ganesh to be a true friend, family member, or guru, you can observe the celebrations in USA at the following places.
Philadelphia, Pennsylvania
Philadelphia Ganesh Festival is the biggest celebration in the US. Organized primarily by the Marathi community of the states, the festival witnesses over 10,000 people. Celebrations include cultural programs, bhajan singing, and a colorful procession on the day of Visarjan.
San Francisco Bay Area, California
The Bay Area Telugu Association (BATA), Maharashtra Mandal, and Hindu Swayamsevak Sangh jointly organize a 10-day Ganesh Utsav at the Fremont Hindu Temple. It is a major event wherein, after ten days of celebrations, the idol is immersed in the Pacific Ocean near the Golden Gate Bridge in San Francisco.
Chicago, Illinois
Sai Samstag, a Hindu society preaching the philosophy for Shirdi Sai Baba, organizes one of the biggest Ganesh Utsav in the US State of Illinois. The community organizes bhajans, devotional drama, story narration, and much more.
**Ganesh Utsav is also celebrated in other US states of Florida, California, and New York but they happen at a smaller scale.
Is there more you want to know? Drop a comment and we'd love to share the details.

And in case the festivities surrounding Ganesh Chaturthi 2023 are tempting enough to make you book your flights to India from USA, we are here to help.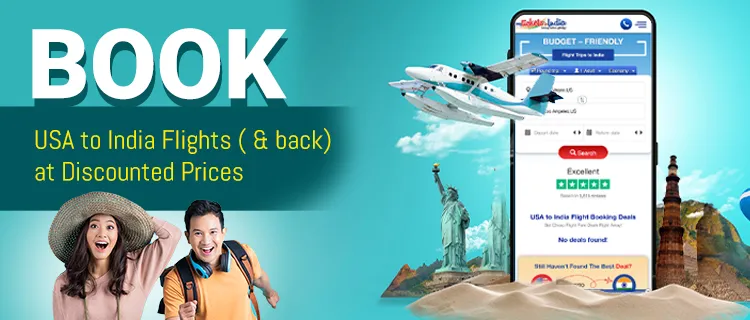 MyTicketsToIndia is a leading flight-booking platform that offers the cheapest fares along with superlative services. Our 4.8 Trustscore on Trustpilot is testimony to the same. Since we are available 24/7, you can either give us a call or join the live chat and we'll get back to you within seconds.
About Heena Ganotra | View Posts
A writer by both passion and profession, Heena Ganotra is "half agony, half hope" but all heart. And oh, she has been a book lover from the start! Her love for books is what convinced her to make a career in the wonderful world of words. She loves what she does and is out-and-out a satisfied soul with a wish to spread happiness like herpes. Insight- Some say she is living the best life anyone could because she reads, writes, travels, and makes merry. They're right because what else does one really need! :)