Top Destinations to Explore in Imphal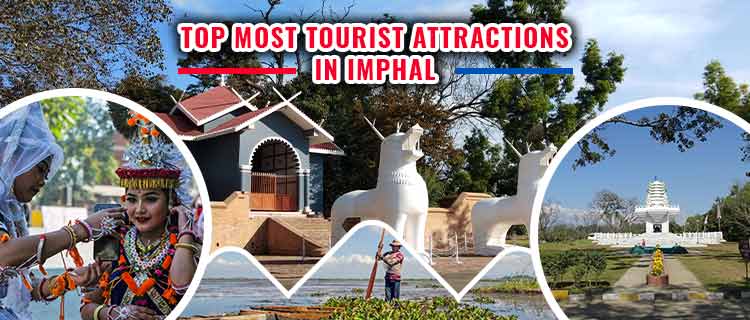 Posted on Monday, September 20th, 2021 by MTI Team
About Imphal
Imphal, the capital city of Manipur, is politically and economically one of the most important cities in Northeast India. If you are in dire need of a vacation then Imphal city is the perfect option for a pleasurable trip ahead. A land full of scenic beauty and natural landscapes would surely mesmerize you. You will also be able to witness the ancient cultural and historical places in and around Imphal. It is the capital of Manipur, which boasts of its cultural and tribal ethnicity. Visit this cultural city bustling with national and international tourists throughout the year. You will also be able to enjoy some amazing delicacies, particularly the street foods in Imphal. Explore the hidden treasures of the city with the help of your tour guide. Plan your trip with the best amenities so that you have a memorable journey ahead.
How To Reach Imphal
By Air: You can book your flights to Imphal any time of the year and get the best prices. Imphal International Airport is 7 kilometers to the south of Imphal. You can book direct flights from Netaji Subhash Chandra Bose International Airport to Imphal and vice versa.
By Train: If you are planning your trip by train, you will need to book your tickets to Imphal station, coded as IMPAL. It is a moderately busy railway station, which serves people on a 24/7 basis.
By Road: Imphal is also connected with the major North Indian cities via roadways, particularly the NH 102. Plan your journey by car, bus, or bike in a constant stretch to Imphal's city center.
Best Time To Visit Imphal
Imphal is a popular tourist destination throughout the year, mainly considered as an abode of nature by tourists. The ideal time to visit Imphal is from September to April. The autumn weather remains favorable for quick regular trips around the city as such. The major attractions in Imphal are also noteworthy to view during this time of the year.
Top 12 Must-See Attractions In Imphal
Imphal, the city of North East India hosts many unexplored tourist spots that are a treat to the eyes. Whether you love mountains, lakes, natural beauty, or historical sites, the city has all the natural wonders covered for you. This is a complete paradise for nature lovers. The ecstatic landscape holds myriad picturesque views for its admirers throughout the year.
1. Kangla Palace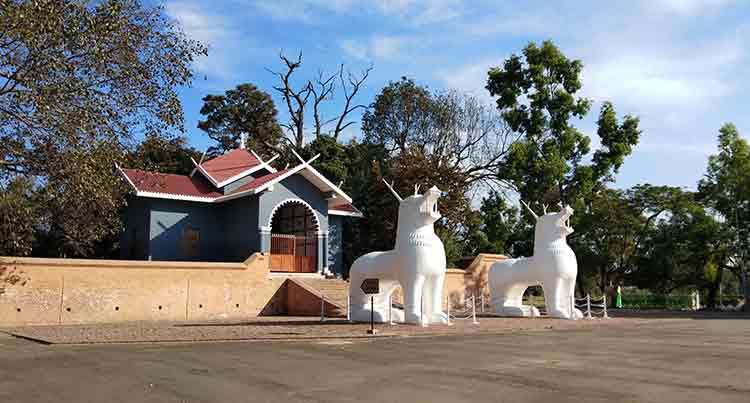 The Kangla Palace at Imphal is among the best Imphal tourist places throughout the year. Previously it used to remain on the Western and Eastern sides of the Imphal river. Now, it is in ruins, mostly on the western part of the river. Kangla means "dry land," and it used to be the ancient seat of the Meetei rulers of Manipur. You can explore the various mysteries of the Kangla Fort complex by visiting the interiors like common halls and assembly places. The dense forests of the beautiful valleys around the palace are also popular scenic places to visit.
Located In: Kangla, Imphal, Manipur 795001
How to reach: By car 
Entry fee: Free
2. Imphal War Cemetery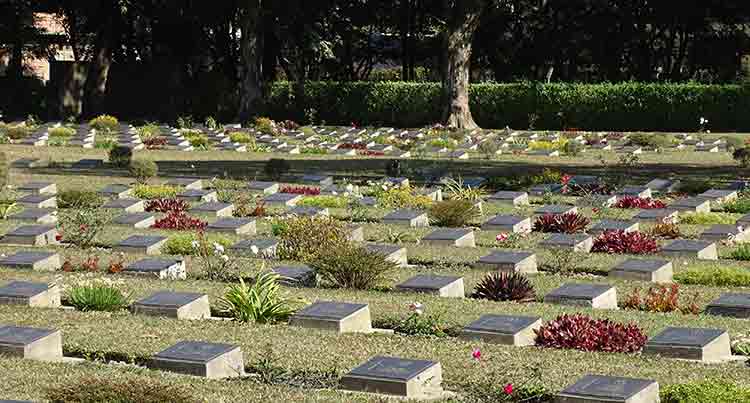 It is a popular tourist attraction, surrounded by lush greenery all around. The symmetry contains almost 1600 burials of soldiers who died in the Second World War. It is a place reserved only for British combatants. Imphal war cemetery is successfully managed under expert supervision by the Commonwealth War Graves Commission. Visit this place during the day for a better experience. Learn more about the rich historical past, especially during the Second World War and Hitler's reign.
Located In: RWFW+M8C, Kabo Leikai, Imphal, Manipur 795001
How to reach: By bus or car from Imphal city center
Entry fee: INR 20
3. Manipur State Museum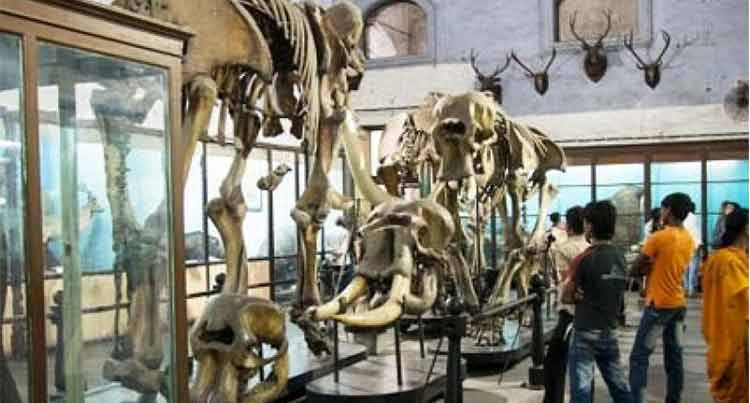 Know all about the rich cultural past of the people of Manipur by visiting the Manipur State Museum. It is open from 10 a.m. to 4 p.m. throughout the year. However, the Museum remains closed on Mondays and second Saturdays, as well as general holidays. Hire a tour guide for your trip to the Museum. You will be able to know all about the historical past of Manipur.
Located In: Kangla, Imphal, Manipur 795001
How to reach: By cab
Entry fee: INR 30
4. Shree Govindajee Temple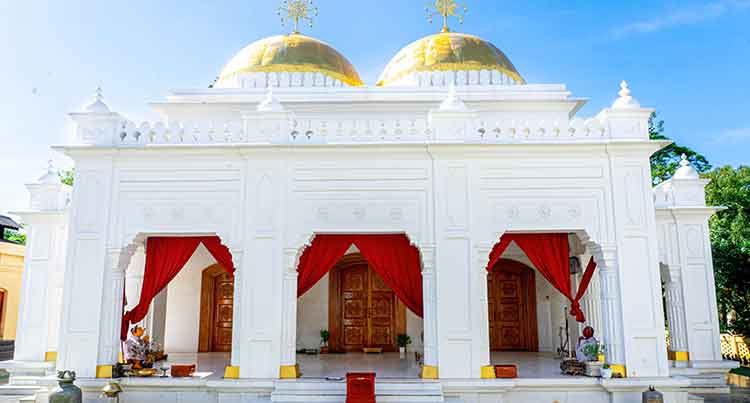 It is one of the best places to visit in Imphal, located very close to the Kangla Fort. The temple represents the ancient Vaishnava cult in Manipur. Visit during the daytime, and enjoy the unique arti. You will also get a special prasad at 11 a.m. inside the temple premises. You can also visit the Ima Keithel or Ema Keithel, an all-women market run exclusively by women sellers and owners. The other famous markets are located close to the temple as well. The popular pilgrimage destination is a must-visit for religious and non-religious people alike.
Located In: Imphal
How to reach: Car
Entry fee: Free
5. Centuries-old Polo Game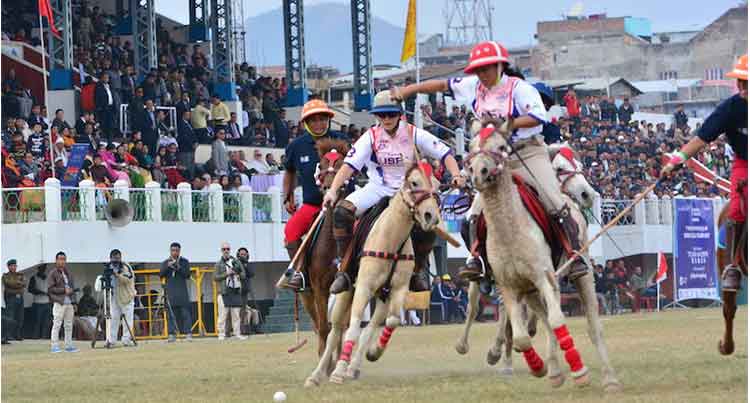 This ancient Polo ground in Manipur is the birthplace of the Polo game in India. It is among the popular Imphal places to visit, especially a must-visit place for sports lovers. The place resonates with the rich history of Manipur related to the national and international level of sports. Visit during the early hours to get to know more about the details of the game.
Located In: Paona Bazar, Imphal, Manipur 795001
How to reach: By car or bus
Entry fee: INR 50
6. Three Mothers Art Gallery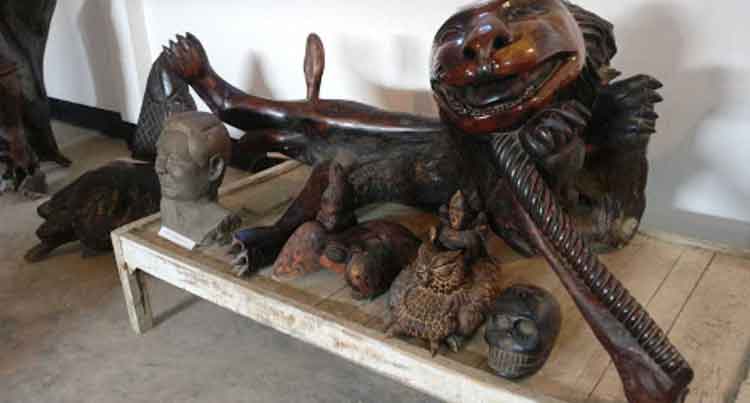 Established in 1978, this gallery resonates with the rich cultural and architectural history of Manipur. The three mothers symbolize the mother who gave birth to us, our motherland, and our mother tongue. It will take less than an hour to explore various architectural patterns inside the gallery.
Located In: Thangapat Mapal Palace Compound, Imphal East, Manipur
How to reach: Bus
Entry fee: INR 35
7. Moirang Village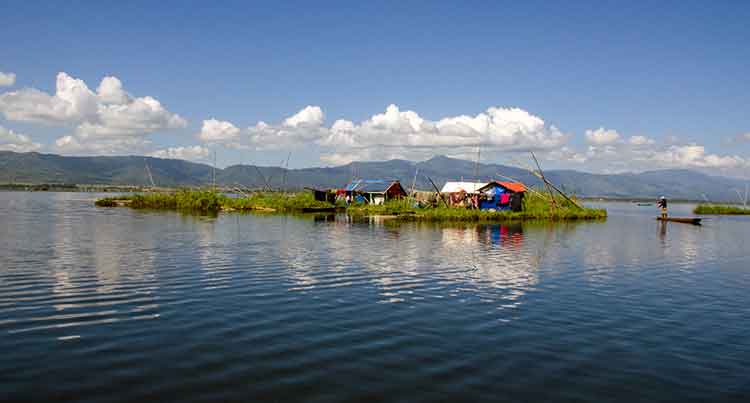 This village is located 45 km south of Imphal city. The first tricolor flag was hoisted here in 1944. You can take a car and travel for an hour from the city to visit this village. It has amazing natural landscapes to fall for. You can also get access to various handwoven items and other items of special interest here.
Located In: Manipur
How to reach: Car or bus
Entry fee: Free
8. Sirohi National Park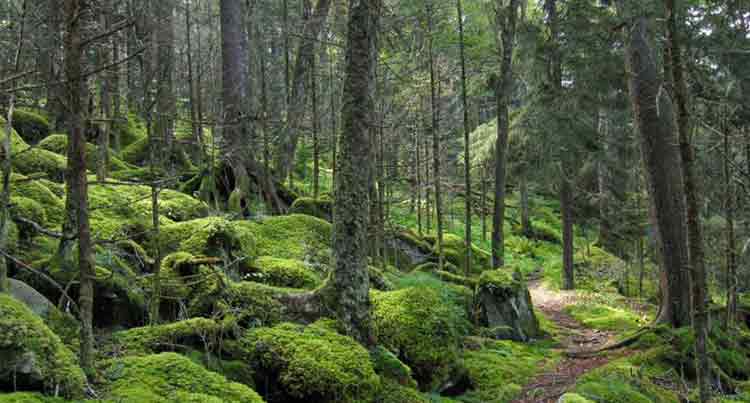 The Sirohi National Park was established in 1982 and is a popular tourist spot in Imphal. Among the host of animals that reside here are tigers, leopards, and tragopans. Visit this place with your kids to have a wonderful experience. You will also be able to witness amazing creative programs held throughout the year.
Located In: Imphal-Jessami Rd, Shirui, Manipur 795142
How to reach: Car 
Entry fee: INR 20
9. Keibul Lamjao National Park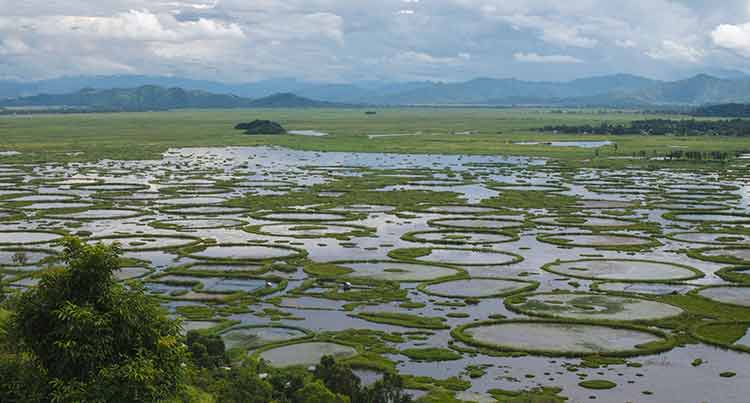 The only floating national park in the world is located on Loktak Lake. It is home to the brow-antlered deer, hog deer, jungle cat, and several migratory birds as well. Although it can be visited throughout the year, it is advised to not venture to the Park during rainfall. Tourists can visit any day of the week between 9 AM to 6 PM. 
Located In: Keibul Lamjao Rd, Manipur 795133
How to Reach: In the car or bus.
Entry Fee: Free
10. Sekta Archaeological Museum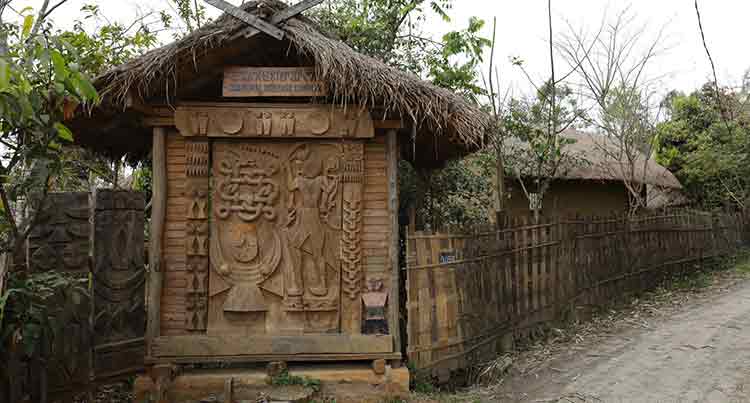 The Sekta Archeological Museum is an open-air museum that contains unique collections of ethnic cultures in Imphal. Visit during the daytime as the museum closes at 4:30 p.m. The museum has a vast collection of unique secondary burial finds. You can also hire a good tour guide to know more about the Museum in detail. It is one of the most intriguing Imphal tourist places to visit.
Located In: Sekta Awang
How to reach: Bus or cab
Entry fee: INR 25
11. Loktak Lake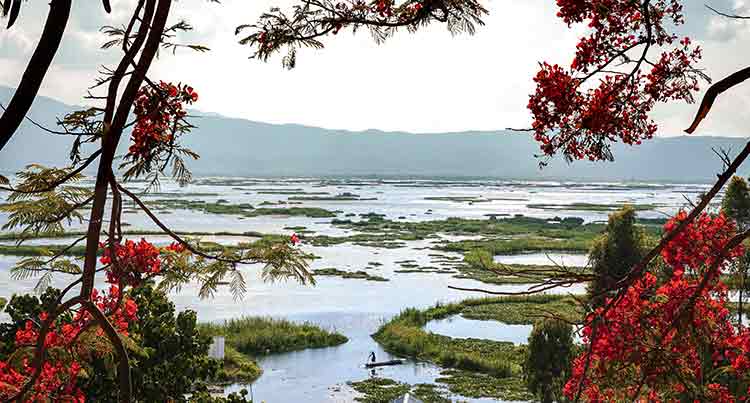 The lush green landscape, along with the floating waters, is a delight to the eyes and is thus considered to be one of the tourist hotspots. You can also visit the lake at night to have a glimpse of the city lights. It is the largest freshwater lake in India, where you can opt for boating and other rides. Get a close view of the Imphal beauty by visiting this lake close to the city streets.
Located In: Bishnupur District, Imphal
How to reach: Car, 48kms from Imphal
Entry fee: Free
12. Khonghampat Orchidarium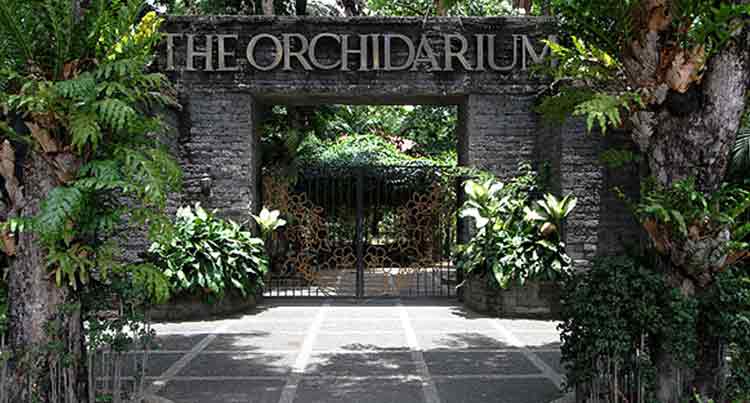 The exquisite orchid garden located in Imphal is maintained by the State's Forest Department and is indeed a picturesque destination. Visited by tourists across the globe, the flora & fauna is a treat to the eyes, mind, and soul. The best time to visit is during the spring season i.e, April to May which is the blooming season.
Located: On National Highway 39 and is 7 kilometers from Imphal City. 
How to Reach: Public Transport 
Entry Fee: Free
Six Best Scenic Locations For Weekend Stay In Imphal
Even if you are planning for a relaxing and peaceful stay in and around Imphal, there are no dearth of options. Nature enthusiasts will find a special attraction related to the various sight scenes in Imphal. You can easily plan an intimate and cozy weekend stay at one of these less-explored places of interest.
1. Senapati
It is a popular tourist stay near Imphal, mainly showcasing the amazing mountain landscapes. You will also get to explore the Senapati district close to the Imphal famous places. It is a land of butterflies. Book a favorable stay here and enjoy your trip to a truly beautiful destination of Imphal.
How to reach: Daily bus services are operating between Imphal and Senapati on the NH-2 road. It takes less than two hours to reach Senapati.
2. Ukhrul
One of the popular hill stations of Imphal is located at an elevation of 3,114m, Ukhrul is connected with the state capital via NH 202. You will be able to enjoy the mesmerizing sunrise and sunsets from your hotels here. It is a beautiful place, full of greenery and amazing landscapes.
How to reach: By taxi or car from Imphal via NH-202.
3. Andro
It is a town and Nagar panchayat in the east of Imphal. If you plan your stay at Andro village, you will get to see the rich cultural heritage of Manipur tribes. It is a scheduled caste village, which enriches the natural beauty of the northeast even more.
How to reach: 21 km from Imphal, via Napet Palli. Bus, subway, and cars operate daily.
4. Chandel
Chandel is approachable from Imphal by road and train. You can easily stay here and witness the amazing landscapes. The prices are also affordable, along with a warm stay. Explore the mountainous regions from Chandel, right from the comfort of your room.
How to reach: Regular bus services via NH-102.
5. Tamenglong
It is a famous town in the Naga hills of Manipur. The distance between Imphal and Tamengong is about 145km. You can get there by car or bus. If you wish to enjoy a pleasant and calm stay at Manipur, this is the place to be.
How to reach: Use car, bus, or taxi services via NH-137.
6. Dzukou Valley
Also called the valley of flowers is famous for one flower, in particular, the Dzukou Lily. Located at the borders of the states of Nagaland and Manipur in Northeast India, it offers the most spectacular landscapes. A morning trek to the valley is advised. The valley is lined with handicraft stores where tourists can collect local souvenirs. The distance between Imphal to Dzukou Valley is approximately 85 kilometers.
How To Reach: Take a private bus or train.
FAQs
Q: Is Imphal a safe place to visit?
Ans: Owing to the world war view of Imphal, many people consider it to be unsafe still now. However, it is a misconception that you must do away with. You can have a safe and secure trip to Imphal along with your family and friends.
Q: Which couple-friendly places are worthy of being visited in Imphal?
Ans: The Imphal best places to visit as a couple are Kangla Fort, Khuga Dam, Bishnupur District, and Imphal Gardens.
Q: Does Imphal receive snow?
Ans: The weather stations report no major annual snow. However, certain places like Shirui village receive light snowfall during the winters.
Q: How many days to reserve for the Imphal trip?
Ans: To book your trip, know about the Imphal places to visit. Three to four days are enough for a detailed trip.
Q: Do I need a tour guide in Imphal?
Ans: If you book a tour guide for Imphal, you will be able to know about each tourist place in detail. Or else, you can explore the places on your own for a basic idea as well.
If affordable flight bookings are your concern, then MyTicketsToIndia is your savior! Opt for the leading online travel agency in Rochester and get hold of the lowest airfares and best deals on your dream destination. Customize your trip according to your preference for an unforgettable travel experience and stay at Imphal. Select from the variety of tour package, book, and get ready to fly with utmost comfort.