Places You Must Visit While You Are in Indore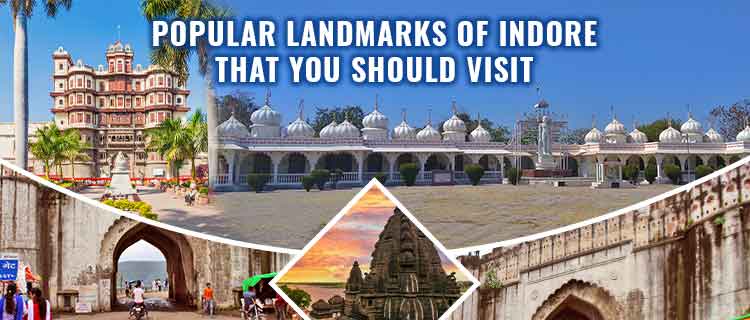 Posted on Tuesday, September 21st, 2021 by MTI Team
About Indore
With a unique magnificence and mixture of history and detailed architecture, Indore is a popular city and the capital of Madhya Pradesh. It is located mainly in the west-central part of India. The ancient European architecture blended stylistically with the 20th-century style of architecture and designs are noteworthy here. The Holkar Dynasty had its establishments in Indore, which is why it turned into a major historical center as well. Indore city is famous for its parks, museums, and other places of interest. There are various tourist spots in and around Indore which you can visit along with your family and friends. The glorious palaces, temples, and Gardens have a rich historical past.
Having an age-old affair with food, the ancient town of Madhya Pradesh is a treasure trove adorned with dense forests, misty fountains, rocky cliffs, stunning Afghani architecture, and religious spots. It truly is a perfect blend of everything Indian and thus becomes a must-visit destination for all!
How To Reach Indore?
By Air: You can easily book your flights to Indore at a favorable time of the year, especially in the later months. The international Indore airport in Indore is called Devi Ahilya Bai Holkar Airport.
By Train: You can also book train tickets to Indore junction from a favorable place. There are a host of special and express trains available from any part of India. You can book your direct or indirect trains accordingly.
By Road: You can also reach Indore by car or bike, or bus. The NH-3 passes through Indore, and you can select suitable connections for your trip ahead.
Best Time To Visit Indore
The ideal time to visit Indore is from October to January. The weather is pleasant. The annual programs in Indore also take place during this time of the year. You need to book your tickets early to get the best deals on your flight prices.
7 Popular Landmarks Of Indore That You Should Visit
Indore is the cleanest city filled with beautiful architecture, ancient treasures, and picturesque landscapes. You will be able to enjoy a fun and engaging family trip here by visiting Indore's beautiful places.
1. Kanch Mandir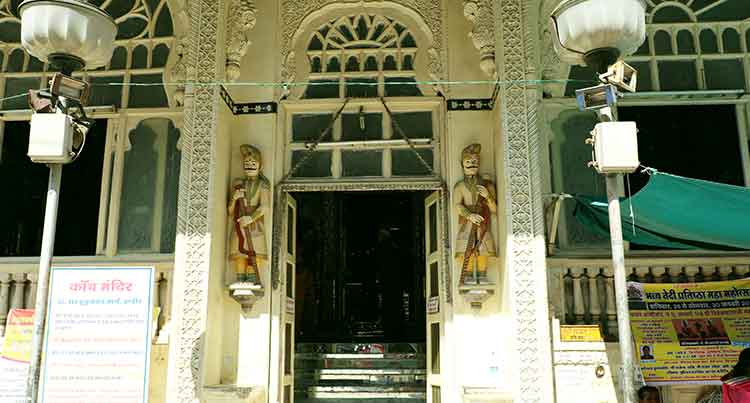 This temple has unique works with glass and mirror, which is sure to mesmerize you. It is a famous religious place for the Jain community and was built in the 20th century. . The Jain temple consists of an idol of Lord Mahavira. You can pay your respects by visiting the temple, especially during the daytime.
Located In: Kaanch Mandir, Opposite Kaanch Mandir, Itwaria Bazar, Indore, Madhya Pradesh 452002
How to reach: You can reach via cab, bus, taxi, etc.
Entry fee: Free
2. Lalbagh Palace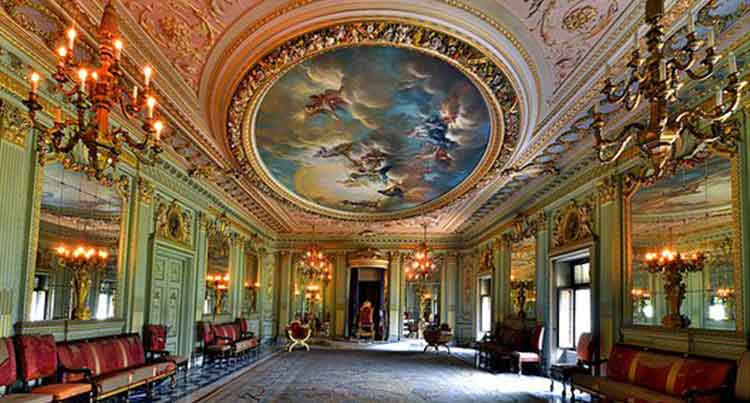 It is one of the most famous and important places to visit in Indore. The Lal Bagh Palace resonates with the rich cultural history of the city's ancient tradition. It was the primary seat of the Holkar dynasty, which has a peculiar similarity with the architectural styles of Buckingham Palace of the United Kingdom, bejeweled with French Gardens. A must-visit place for a history buff!
Located In: Nai Duniya, Revenue Colony, Indira Nagar, Indore, Madhya Pradesh 452007
How to reach: By car or bus
Entry fee: INR 10 per person
3. Rajwada Palace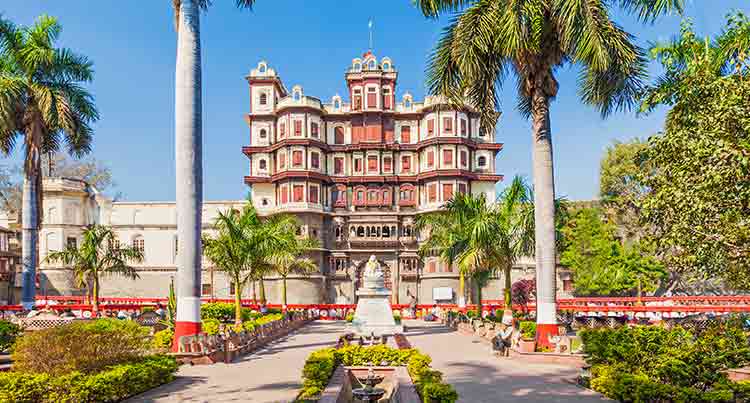 It is also a famous palace built by the Holkars almost two centuries ago. Another part of the place has a famous temple, with picturesque landscapes. The lush greenery, along with a great ambiance, makes it popular among the Indore places to visit to learn the rich history that Indore has.
Located In: Rajwada, Indore, Madhya Pradesh 452002
How to reach: Walking distance from major hotels in Indore
Entry fee: INR 10
4. Krishnapura Chhatris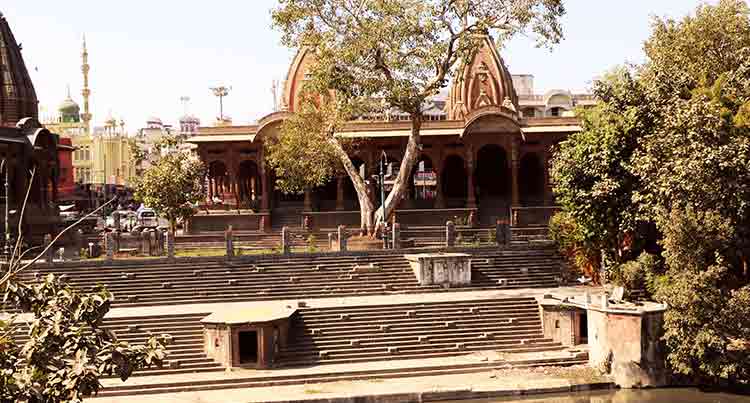 There are three Chhatris in total here. They have been built in the memory of the Holkar dynasty rulers. The ancient architecture paralleled with the amazing natural landscape makes it a popular tourist attraction. There are lots of picture-friendly places in and around Krishnapura Chhatris.
Located In: Mahatma Gandhi Rd, Rajwada, Maharaja Tukoji Rao Holker Cloth Market, Indore, Madhya Pradesh 452007
How to reach: Bus
Entry fee: Free
5. ISKCON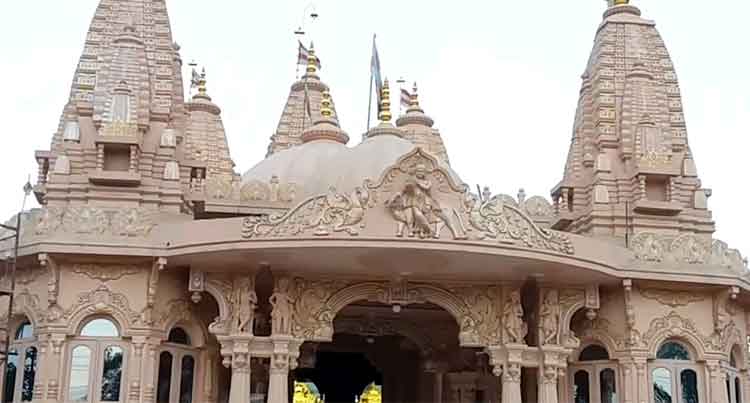 The International Society For Krishna Consciousness or ISKCON in Indore is a popular temple. There are lots of international devotees who visit this place regularly. The prasad timings are offered during the daytime, mainly from 11 a.m. to 1 p.m. You will also get access to a library and museum inside the temple premises.
Located In: Near Advance Academy School, Hare Krishna Vihar Colony, Indore, Madhya Pradesh, India
How to reach: Cab
Entry fee: Free
6. Gandhi Hall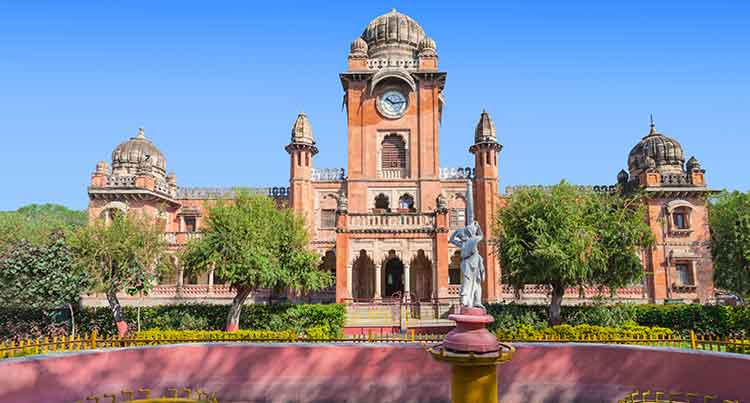 Built in the memory of Mohandas Karamchand Gandhi or Mahatma Gandhi, this building is a famous tourist attraction in Indore. It is made of red sandstone and white marble, which makes it even more attractive. To get a better view, you can visit the Gandhi Hall during the daytime, as the adjacent garden is also a common picnic spot. It is open from 10 a.m. to 8 p.m. This place deserves to be on your travel itinerary!
Located In: M.G. Road, Near Regal Cinema, Indore
How to reach: Auto-rickshaws or public buses
Entry fee: INR 20
7. Indore Museum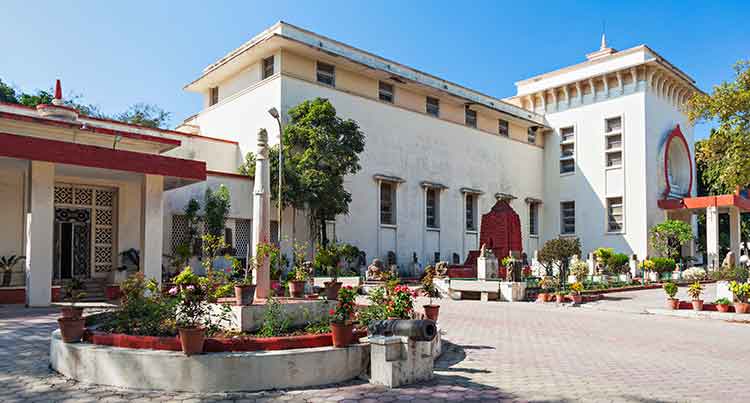 This place consists of a host of ancient as well as modern architectural marvels which has an indulging aesthetic appeal. You will also get to know about the rich cultural history of Indore as and when you visit this museum. It is a family-friendly place with green trees and an activity park, henceforth becoming a popular picnic spot. To know the details, you can also hire a tour guide to visit inside the museum.
Located In: Near GPO Square, Navlakha, Indore, Madhya Pradesh, 452001
How to reach: Bus
Entry fee: Free for all
Five Famous Street Foods Of Indore
Indore location has ideal spots to satisfy your hunger cravings. Various street thalis in Indore located at every nook and corner are delicious and relishing to taste. Here are some of the popular local street foods to try in Indore:
1. Garage
Also known as purple yam, it is a popular salt-based food product. The Indori style Garadu makes use of cumin, oil, and turmeric for added flavors.
Where to try: Enjoy the best Garage in and around Sarafa Bazar.
2. Dahi Bale
These lentils dropped in dahi and mixed with chutney are delicious. You will be able to taste a fantastic mix of various flavors. One plate contains enough for two people, so order accordingly.
Where to try: Try these at Joshi Dahi Vada Wala.
3. Bhutte Ki Kees
While you visit the famous Indore tourist places, you also need to try this famous street food. It is boiled and grated corn mixed with various flavors and masala. It is a unique mix of ingredients that make it popular even among the locals in Indore.
Where to try: Vrindavan Restaurant, Sarafa Bazar.
4. Egg Banjos
It is mainly a spicy and salty omelet pressed between two soft ones and served with a mixture of sauces. You will love the mixture of added flavors, along with some sweet and salty side dishes.
Where to try: Try this at Johnny's Hot Dogs.
5. Khopra Patties
It is a crunchy potato patty mixed with coconut filling and tangy chutney. The sudden rush of flavors with added tanginess is sure to satisfy your hunger cravings while you experience the Indore beauty around.
Where to try: You can try it at Vijay Chaat House in Indore.
Five Places To Do Parties In Indore
If you want to find the perfect spot in Indore to spend the night in amusement, there are no dearth of options for you. The pubs and hotels provide stunning views, especially at night. Indore is an ideal destination to enjoy the nightlife, and indulge in some fun and frolic.
1. Trance the pub
You will have a great food and drinks experience here. It is a sin to miss out on the food paradise of Indore! It is among the Indore famous places to visit and relax. The soothing music and the amazing Indore scenery all around will enchant you.
Located In: 3A, PU3, Opposite Orbit Mall, Gemini Mall, AB Road
How to reach: Cab
Price range: INR 1500 for two
2. Fireball Pub
This pub is very close to the city's central place. You will easily get access to some amazing fun and frolic here. Get hold of the best delicacies to try in Indore by visiting this pub.
Located In: B-522, Pulak City, Silicon City, Indore, Madhya Pradesh 453331
How to reach: Car
Price range: INR 1000-1200
3. 10 Downing Street
It is one of the most authentic and Indore best places to visit. You will get to witness some amazing bands playing good music while you treat yourself to local flavors of food. You can easily reach here and spend the night along with a cozy and comfortable dinner.
Located In: Second Floor, Malhar Mega Mall, AB Rd, Scheme No 54, Indore, Madhya Pradesh 452010
How to reach: Bus
Price range: INR 1000
4. Mustang Lounge
If you are a fan of nightlife and splashing waters around, this place might work the best for you. Located close to the central places to stay in Indore, Mustang Lounge hosts regular festivities. You will be able to witness iconic street-style music here.
Located In: Khasra No. 19/2, Village Khajrana, MR 10 Road, near Radisson Hotel, Indore, Madhya Pradesh 452001
How to reach: Any public transport
Price range: INR 1000
5. Club Ego
If you want to try some amazing delicacies along with fun and music, this club is the best in Indore. It is one of the most common Indore places to visit, especially during the night.
Located In: 10th Floor, 1001, Shekhar Central, AB Road, Manorama Ganj, Indore, Madhya Pradesh 452018
How to reach: Cab
Price range: INR 1200 with alcohol
FAQs
Q: How is the weather in Indore?
Ans: Indore has a humid, subtropical climate with cool weather. You can choose the winter to travel to Indore for the best experience.
Q: What are the famous delicacies to try in Indore?
Ans: Poha and Batla Kachori are some of the famous foods in Indore. You can try them along with Kaju Katli as your sweet dish. The popular shops to try these dishes are located in and around Janapav Hill also known as Janapav Kuti. With famous delicacies, one can also visit the Hindu goddess of food at Annapurna Temple.
Q: Does Indore have popular markets selling unique items?
Ans: Sarafa Market, Sitlamata Bazar, and Heritage Market are some of the famous markets to visit in Indore. You can also visit Chappan Dukan to get the best prices for exquisite items like Persian carpets
Q: Can I plan a family-friendly trip to Indore?
Ans: Yes. There are many Indore tourist places to visit with family and relatives. Make a list of family-friendly places to visit in Indore.
Q: Which historical places to visit in Indore?
Ans: Central Museum, Indore White Church, and Lal Bagh Palace are some of the places in Indore featuring historical essence at their best. History lovers will get to view certain unique items of the prehistoric period.
Get Effective Deals With MyTicketsToIndia
MyTicketsToIndia is a popular online travel agency in Rochester that can help you book your flights to Indore with effective deals. You will also get hold of the best Indore tour packages whenever you wish to visit the iconic city. Plan your trip along with the help of expert supervision here.
Girish Sharma is the CEO of a leading travel company named Myticketstoindia, established in 2012. Being a versed travel expert since 12 years, he shares his peerless voyage expeditions along with interesting travel destination ideas and news updates for the travelaholics across the globe. He is the member of TAAI, Travel Agent Association Of India and his firm has got recognized with the reputed IATA accreditation and became the Inbound Flight Booking Portal of the Year. Loyalty & honesty towards the clients and vendors, have always been the key behind his successful walk of life.. read more