Discover The Enthralling Landmarks of Mahabaleshwar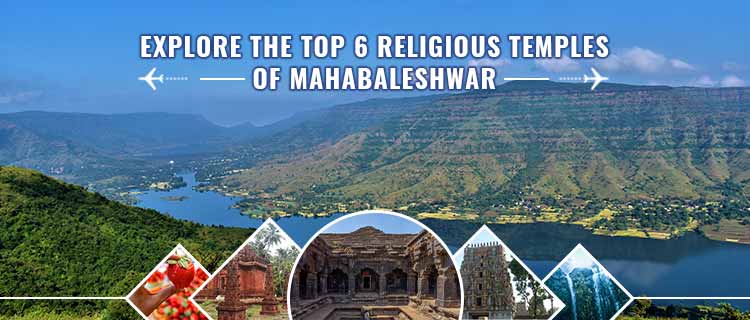 Posted on Monday, September 27th, 2021 by MTI Team
About Mahabaleshwar
Make yourself all set to explore the alluring and spectacular places to visit in Mahabaleshwar. Enjoy pleasant weather and get around a couple of pilgrimage spots. Get a great sightseeing experience at some of its major locations like Babington Point, Arthur's Point, Krishna Temple, Panchgani, Kate's Point, and Pratapgad Fort. Popularly known as the Queen of all hill stations, Mahabaleshwar is situated at an elevation of 1372 meters in the center of Sahyadri Hills. It is one of the exquisite cities, which offers various opportunities to travelers. So, without having any second thoughts, book your air tickets and get started with the journey!
How to reach Mahabaleshwar
By Air: Pune Airport is the nearest airport to Mahabaleshwar. The airport is located at a distance of about 131 Kilometers from Mahabaleshwar. Regular flights function from major cities such as Nagpur, Delhi, Bangalore, and Jaipur.
By Train: Mahabaleshwar does not have a train station of its own. The nearest train station is Wathar that is around 60 kilometers away from the hill station.
By Road: There are frequent bus services available from nearby towns like Nasik, Satara, Mumbai, Pune, and Panchgani to Mahabaleshwar. You can also choose to travel via car, bike, etc., at your convenience.
Best time to visit in Mahabaleshwar
December to February is ideal for exploring Mahabaleshwar places. During this season, the temperature is usually around 10 to 24 degrees Celsius. Mahabaleshwar remains pleasant most of the time. However, the best weather for sightseeing is the summer season is from March to June.
Explore 6 top places of Mahabaleshwar
1. Mahabaleshwar Temple
One of the most admired temples and Mahabaleshwar beautiful places, the temple is dedicated to Lord Shiva. This religious site is located just about 6 kilometers away from the city center. Mahabaleshwar Temple was built in the era of the Chandra Rao More Dynasty. There are 5 self-originating Shiva lingam or Jyotirlingas temples in the state; still, the Mahabaleshwar temple is viewed as one of the most famous temples in Maharashtra.
Address: Satara, Mahabaleshwar, Maharashtra, 412806, India
Timings: 05:00 am to 12:00 pm and 04:00 pm to 09:00 pm
2. Venna Lake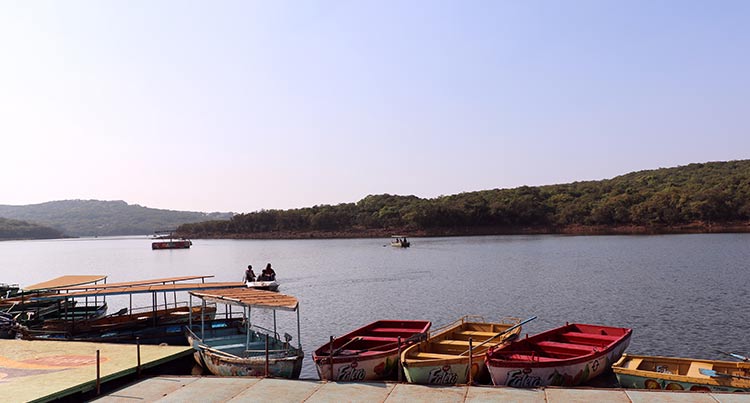 Venna Lake is a beautiful lake and one of the most beautiful places to visit in Mahabaleshwar. It is a manmade lake that offers paddleboats and rowboats to visitors. The lake spans over 28 acres. It was constructed in the early days to supply a source of water to the nearby township. This place generally remains jam-packed. Venna Lake is a haven for nature enthusiasts. The little ones can enjoy several rides here, like the merry-go-round, and many more.
Address: Mahabaleshwar, Maharashtra 412806
Timings: 8 AM to 8 PM
3. Mumbai Point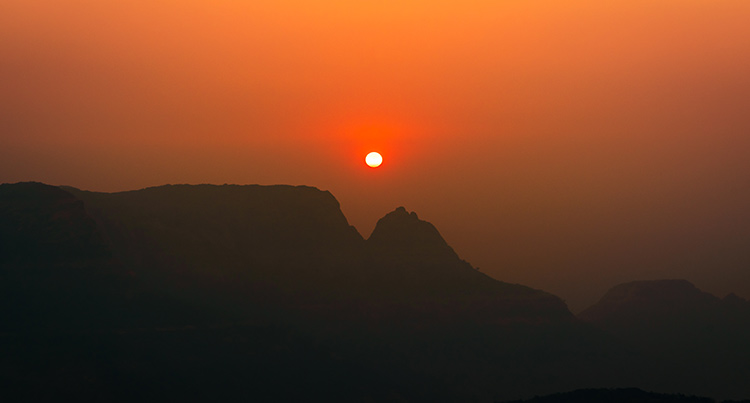 Mumbai Point is just about 3 kilometers from Mahabaleshwar Bus Stand. It is also known as Sunset Point, or Bombay point by the locals. From here, you can witness the impressive sunset over the valleys. It is best to visit Mumbai point in winter. Capture the real Mahabaleshwar beauty by visiting this amazing site.
Address: WJ8M+JCC, Mahabaleshwar, Maharashtra 412806
Timings: 6 AM to 6 PM
4. Chinaman's Falls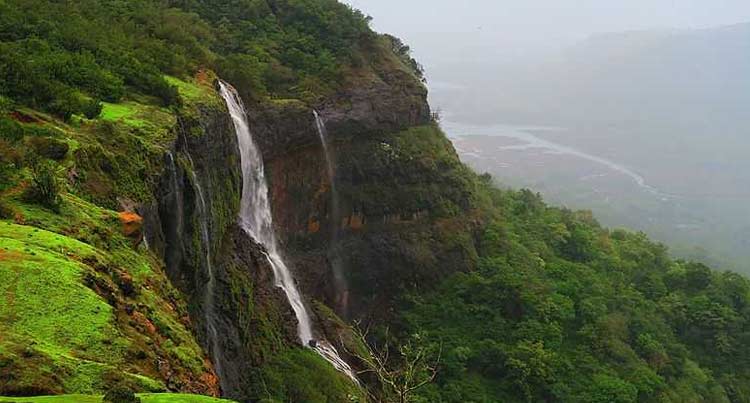 Chinaman's Falls is one of the key Mahabaleshwar tourist places. It is among the top waterfalls in the state of Maharashtra. This waterfall in Mahabaleshwar runs from 2 distinct points and mixes into a single stream. Your trip to Mahabaleshwar is incomplete if you do not visit this beautiful site.
Address: South of Koyna Valley, Mahabaleshwar.
Timings: 6 AM to 6 PM
5. Pratapgarh Fort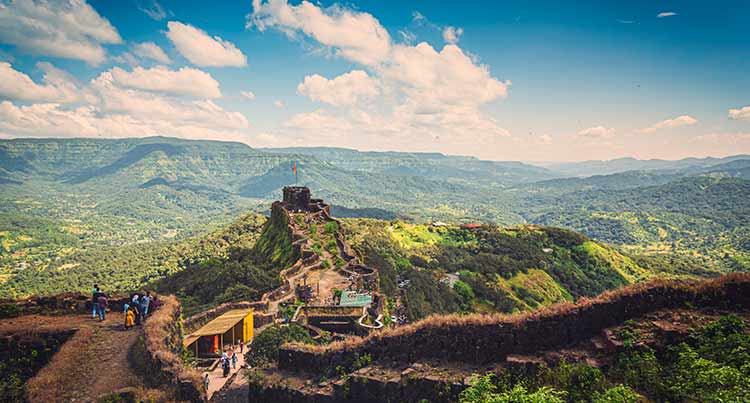 The enormous Pratapgarh Fort was constructed by Shivaji in the year 1656. It also comes in the list of Mahabaleshwar famous places. The fort is situated on Mahad Road. A battle with Afzal Khan happened, making it one of India's major forts Pratapgarhg fort is only 81 kilometers from Satara. Inside the fort, you can find several things such as chambers, long dark pathways, ponds, etc. Entry inside the fort is free.
Address: Maan Rd, Hinjawadi, Pune, Maharashtra 400033
Timings: 7 AM to 6 PM
6. Wilson Point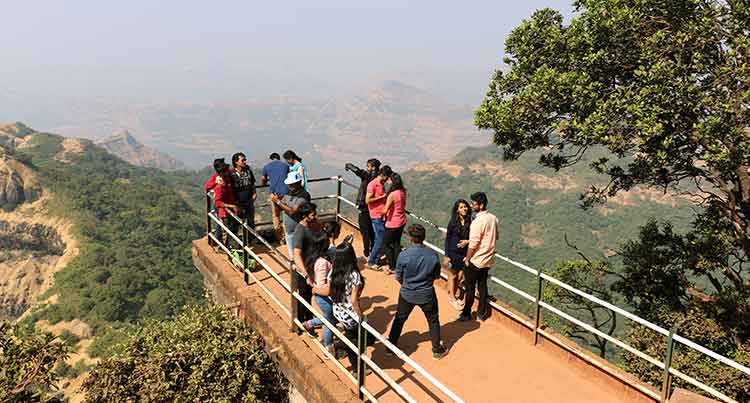 One of Mahabaleshwar's highest points is the Wilson Point. This site is only 2 kilometers from the Mahabaleshwar Bus Stand. This place was formerly known as Sindola Hill. The Point is located at a height of around 1439 meters. From here, you can see the city's most alluring sunrise.
Address: 2 Kilometres away from Mahabaleshwar Bus Stand
Timings: 6 AM TO 8 PM
5 Beautiful hill stations near Mahabaleshwar for a weekend getaway
1. Panchgani
Panchgani is one of the best Mahabaleshwar places to visit for a long weekend. It is located at the height of 1334 meters. It is only a short drive from Mahabaleshwar. The best time to visit Panchgani is between September to May. To reach this amazing hill station, you can hire a private taxi or your own vehicle. Here you can take part in several adventure sports such as paragliding or boating.
Distance: 18 kilometers away from Mahabaleshwar
Nearby places to explore: Kamalgad Fort, Table Land Viewpoint, and Harrison's Folly
2. Raigad
Raigad is said to be the home to the tomb of Chhatrapati Shivaji (Maratha Ruler). One of the major attractions of the hill station is the Raigad Fort. Here you can explore many important sites like Madhe Ghat and the Jagadishwar Temple. The best time to visit Raigad is the months between November to March.
Distance: 127 kilometers away from Mahabaleshwar
Nearby places to explore: Kihim Beach, Morbe Beach, Kondana Caves, and Shri Varad Vinayak
3. Lavasa
Lavasa offers visitors some of the best scenic views. The architectural style and town planning of Lavasa is inspired by the Italian city of Portofino. You can visit Lavasa at any time of the year. To reach Lavasa, you can rent a taxi or bus. The hill station offers several watersports and bird watching activities.
Distance: 162 kilometers from Mahabaleshwar
Nearby places to explore: Lakeshore Watersport, The Promenade, and Tikona Fort
4. Bhandardara
The quiet lakes, exquisite waterfalls, and lofty peaks make Bhandardara a perfect place for nature enthusiasts. This hill station is worth visiting for those seeking to spend some time in the arms of nature. Enjoy a nice picnic and leisure time at Randha Falls, or visit Ratangarh Fort to learn about the great Shivaji Maharaj. It is best to visit Bhandardara between July to March. You can take a train to Igatpuri. It is the closest train station to Bhandardara that is only 45 kilometers away from Bhandardara.
Distance: 294 kilometers from Mahabaleshwar.
Nearby places to explore: Umbrella Falls, Randha Falls, Arthur Lake, and Ratanwadi Village are a few places that you can explore when in Bhandardara
5. Lonavala
Lonavala is a very famous hill station in Maharashtra. There is something for all sorts of visitors in Lonavala. July to September is considered the best time to visit Lonavala. You can hire a private car or taxi to reach Lonavala. Bungee jumping, trekking, and camping are a few of the famous things to do in Lonavala.
Distance: Lonavala is only 178 kilometers from Mahabaleshwar.
Nearby places to explore: Tungarli Lake, Rajmachi Fort, and Bhushi Dam.
3 Exquisite Resorts to Stay Near Mahabaleshwar
1. Regenta Place Green Leaf, Mahabaleshwar
The resort gives a delightful retreat from the tedious life. This resort is an ideal place to enjoy a great time with your entire family. The amenities provided here include clean rooms, king-sized beds, responsible staff, delicious food, Free-Wi-Fi, and laundry services.
Charges per day: 7000 INR to 9000 INR per day/night
2. Hotel lake Paradise
Hotel lake Paradise is a 3-star boutique hotel in Mahabaleshwar. This hotel is both couple-friendly and pet-friendly. Venna Lake, Kate's Point, and Lingmala Waterfall are some attractions nearby Hotel Lake Paradise. The hotel offers numerous amenities, from complimentary breakfast and free internet to air-conditioned rooms and free parking.
Charges as per day: 1500 INR to 2500 INR per day/night
3. Evershine Resort
The resort is situated very close to some major tourist spots of the hill station. Also, it is surrounded by lush green valleys speckled with strawberry fields. The amenities offered by Evershine Resort include an outdoor swimming pool, family rooms, free internet, free parking, a restaurant, etc.
Charges as per day: 10000 to 11000 INR per day/night
FAQs
Q: Can we explore all the major sites of Mahabaleshwar in one day?
Ans: You will need at least three days to explore all the major places in Mahabaleshwar.
Q: Where can we find the best hotels in Mahabaleshwar?
Ans: You can find several first-rate hotels on Mahabaleshwar-Panchgani road.
Q: What makes Mahabaleshwar a special place?
Ans: Its dense evergreen jungles, old temples, waterfalls, and rivers make Mahabaleshwar a special place.
Q: Which month is the coldest in Mahabaleshwar?
Ans: July is the coldest month in Mahabaleshwar.
Q: Which food is very famous in Mahabaleshwar city?
Ans: Maharashtrian Puran Poli is the most popular dish found in Mahabaleshwar.

MyTicketsToIndia is a reputed and reliable travel agency in India. Book your flights to Mahabaleshwar if you want a heavy discount on airline tickets. Reach out to our travel experts and get amazing Mahabaleshwar tour packages.
Girish Sharma is the CEO of a leading travel company named Myticketstoindia, established in 2012. Being a versed travel expert since 12 years, he shares his peerless voyage expeditions along with interesting travel destination ideas and news updates for the travelaholics across the globe. He is the member of TAAI, Travel Agent Association Of India and his firm has got recognized with the reputed IATA accreditation and became the Inbound Flight Booking Portal of the Year. Loyalty & honesty towards the clients and vendors, have always been the key behind his successful walk of life.. read more