Must-Visit Exciting Places to Explore in Mussoorie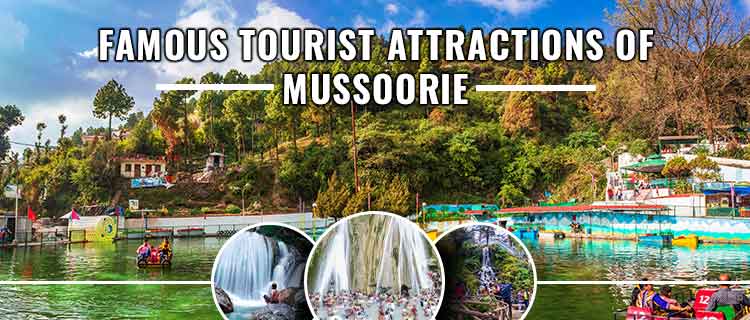 Posted on Thursday, September 16th, 2021 by MTI Team
About Mussoorie
Picturesque mountains in the backdrop, gushing waterfalls, twinkling cityscapes during the night, and beautiful Himalayan ranges all around make Mussorie one ideal summer escape destination. Mussoorie city is located almost 35 km from the doon valley and is beautifully nestled in the foothills of the Himalayas. The beautiful sights of Mussoorie welcome every visitor to let them fend off their summer blues. This quaint and tranquil hill station offers travelers every type of experience, making it ideal for all types of travelers. Whether you want to enjoy boating on Mussorie lake or want to go for a trek to Nag Tibba or visit the past through Mussoorie Heritage Centre, this beautiful hill station has it all. If you are planning a Mussoorie trip, then be prepared to fall in love with the majestic mountains of this hill town.
How To Reach Mussoorie?
By Air: If you want to book flights to Mussoorie, the nearest airport to Mussoorie is Jollygrant Airport in Dehradun. Direct flights from Mumbai and Delhi are available till Dehradun. Local taxis and buses from the airport can be hired to reach Mussoorie.
By Train: Dehradun Railway Station is located around 36 km away from Mussoorie. There are numerous trains from different cities that serve Dehradun city. From there you can board cabs or taxis to reach Mussoorie.
By Road: The ideal way to reach Mussoorie is by road. There are numerous state and private buses from nearby cities like Delhi, Dehradun, and UP, Uttrakhand. The roads and highways are also well constructed so you can easily commute via your car or cab as well.
Best Time To Visit Mussoorie
The perfect time to explore the true Mussoorie beauty is during the summer season. That's because the summer months from April to June offer visitors a respite from the scorching sun and time to unwind in the lap of natural beauty. Also, visitors who want to see winter Mussoorie scenery can visit this hill station during winters. Both the seasons have their charms, and it depends on you which season you want to experience. It is advised to not visit Mussoorie during the rainy season as it would be perilous to travel during heavy landslides.
7 Best Places To Explore In Mussoorie
There is no dearth of options when it comes to Mussorie's beautiful places to visit. Mussoorie has everything in its bag, from romantic attractions to adventurous ones, no matter what type of vacation you are on.
1. Kempty Falls
Kempty Falls is one of the top Mussoorie famous places and is a popular tourist attraction in the city. It offers visitors to enjoy majestic and beautiful landscapes of the hill station and natural splendors all around. The gushing sound of a waterfall can be heard from a distance, and after reaching there, you will surely get mesmerized. One should also visit Bhatta Falls, an ideal picnic spot.
Location: Ram Gaon, Tehri Garhwal District
Things To Do: Splash in the cool refreshing water
2. Gun Hill Point
Gun Hill Point is the second highest peak in Mussoorie and is one of the most popular Mussoorie tourist places to visit. It is a must-visit tourist spot in Mussoorie. It is located around 1.7 km from mall road and if rock climbing piques your interest, you can easily reach it by a small uphill trek. Here you can enjoy spectacular views of Garhwal Himalayan hills and other parts of the doon valley.
Location: Mall Road, Landour, Mussoorie
Things To Do: Trekking, idea picnic spots for families,
3. Lal Tibba
Beautifully located on Depot Hill in Landour, Lal Dibba is just 6 km from the city center. It is also one of the highest viewpoints and is also one of the best places to visit in Mussoorie. The vantage point offers gorgeous views of Mussoorie's best Himalayan treks. The telescopes installed here also let you soak in the beauty of the green valley from up close.
Location: Bazaar Road, Landour, Mussoorie-Dehradun road.
Things to do: see stunning views from the telescope, cable car ride,
4. Jharipani Falls
Another famous waterfall you should see in the Mussoorie location is Jharipani falls. It is about 7 km from Mussoorie city and is located in a very secluded area. The scenic beauty of Jharipani Falls makes it an ideal and beautiful picnic spot. You will also find many rare varieties of flowers blooming on the site.
Location: Happy Valley, Dehradun-Mussoorie Road,
Things To Do: Click good pictures, appreciate the scenery, trekking,
5. Company Garden
Company Garden is located at a distance of 3 km from the Mussoorie mall road. It is a perfect place to enjoy Mussoorie beauty at its best. The company garden was laid down by Dr. H Fackner and is an ideal place to spend quality time with friends and family. You can also enjoy boating on the artificial lake.
Location: Bazaar Road, landour, Mussoorie
Things To Do: Boating, walking trails, bird-spotting, beautiful fountains
6. Sir George Everest's House Museum
One of the most famous places to visit in Mussoorie is Sir George Everest's museum. It is a mesmerizing location where Welsh geographers stayed here for three decades. It was built in the year 1832. From this museum, travelers can enjoy stunning views of Aglar River Valley and its lush green trees all around the house. The George Everest House has become a historical landmark of Uttarakhand.
Location: Khanij Nagar
Things To Do: Spot scenic views of snow-capped mountains.
7. Happy Valley
As Mussoorie is a serene hill station, it is filled up with picturesque spots at every corner. Just like its name Happy Valley is another happy spot in the Municipal Garden of Mussoorie. The valley is located very close to the Tibetan temple and where Mussoorie's geographical boundary ends. It is one of the best places to visit in Mussoorie, especially if you are a nature enthusiast and enjoy stunning panoramic views.
Location: Mussoorie Range
Things To Do: Go for a nature walk, click pictures, enjoy Maggi at the high point
5 Top Adventure Activities To Enjoy In Mussoorie
Mussoorie city is famous for its numerous adventure activities as well. While there are plenty of adventure activities to do in Mussoorie, there are certain things you cannot miss out on. Here are few exciting activities that you should try out in Mussoorie:
1. Trekking
Mussoorie city is well known for its trekking trails and attracts many travelers for an awesome adventure trip. Some of the most famous treks you can try to include Nag Tibba Trek, Dhanaulti, and Mossy Falls in Barlow Ganj. All the trekking trails are beautifully covered with oak and deodar trees enchanting travelers with their prime beauty.
2. Boating
If you want to enjoy boating, then Mussoorie Lake is one of Mussoorie's best places to visit. It offers visitors a superb boating facility with scenic views of surrounding valleys in the backdrop. You can also enjoy boating at lake Mist which is a new spot to enjoy boating in Mussoorie.
3. Sky Walk Adventure
If you want to experience some adrenaline rush on your Mussoorie trio, then Skywalk is one of the best activities you can try. You will be attached with a supporting wire, and with the help of rope and harness, you will be walking on a single rope. It is a thrilling activity and is perfect for all daredevil travelers.
4. Wildlife Safari
A wildlife safari would be a perfect treat for all wildlife lovers. Benog Wildlife Sanctuary is one of the top Mussorie tourist places to visit to enjoy wildlife safari. The sanctuary offers rich flora and fauna with dense forests of old pines and cedar trees. You can also spot magnificent views of Banderpunch peaks from this location.
5. Zip Swing
Zip Swing in Mussoorie is one of the most adventurous and loving things to enjoy at this hill station. Zip Swing activity offers you both fun and thrill altogether, which makes this activity a must-try for everyone. You will be harnessed and attached with a wire to make you swing high above at 80 ft. Quite exciting? Isn't it.
3 Best Luxury Places To Stay In Mussoorie
If you are planning a Mussoorie trip, you must stay at the best accommodation that offers you a laid-back retreat. Not just this, how about a location that is quite close to all the best places to visit in Mussoorie. Enjoy this special hill station with extraordinary hideouts.
JW Marriott Mussoorie
JW Mariott Mussoorie offers travelers the luxury retreat in the heart of the Himalayas. It is the ideal location to pamper yourself in the lap of grandeur. The resort rests amidst the lush green valleys of Mussoorie and offers deluxe hotel rooms. The resort also offers transport facilities to visit all of Mussoorie's beautiful places.
What's So Special: Full-Service Spa, Fitness center, Enchanting views
Tariff: INR 15,000 per night onwards
Club Mahindra Mussoorie Resort
Do you want to wake up to snow-capped mountain peaks of the Himalayas? If yes, then book your stay at Club Mahindra Mussoorie resort. The famous resort offers stunning natural vistas and delicious food, which makes it even more satisfying. Whatever's your need, this resort has it all.
What's So Special?: Open-air restaurant, Close to lal tibba, trekking tours,
Tariff: INR 6,000 Per night onwards
The Claridges Nabha Residence
For an alluring haven stay, The Claridges Nabha Residence is one of the best places to stay in Mussoorie. Located amidst dense forests, green valley, this stay makes for your perfect hideout. The Claridges is a perfect stay place for couples who want to spend moments of serenity together.
What's so special: Separate lounge rooms. Vanity areas, the multi-cuisine, Victorian bar
Tariff: INR 10,000 per night onwards.
Kassandra Palace
One of the best places to stay in Mussoorie is Kasmanda Palace. The shimmering yellow-white mansion is a perfect hideout space in the hill station. It is a perfect summer retreat for travelers who want to experience royal pleasures along with natural delights around.
What's So Special: Magnolia Restaurant, badminton court, gothic architecture
Tariff: 7,200 Per night onwards
The Amber Vermont Estate
One of the best luxury resorts in Mussoorie is The Amber Vermont Estate. The stay offers traditional English cottage stays with all modern amenities. It is by far one of the best luxury properties to stay in with family and friends. The best part about this resort is its location amidst the beautiful areas of Mussoorie.
What's So Special: pool table, board games, Suite rooms, Croquet
Tariff: INR 8,300 per night onwards
FAQs
Q: What are Mussoorie's famous places to book resorts for a staycation?
Ans: Popular places like Camel Back road, Cloud's end, Lal Tibba are the most popular places to book resorts for a staycation.
Q: Which are the most ancient temples to visit in Mussoorie?
Ans: Jwala Devi temple, Choepelling Temple, Bhadraj Temple, Shedup Choepelling Temple, and other Buddhist temples are the most beautiful and ancient temples built in the form of Tibetian architecture that you can visit in Mussoorie.
Q: Can you suggest some of the places to visit in Mussoorie for foodies?
Ans: If you are a foodie, you must visit restaurants ad cafes like Kalsang, Little Llama café, Café By the Way, Char Dukan, and many more.
Q: How many days are enough for the Mussoorie trip?
Ans: A short weekend getaway is more than enough to explore all places to visit in Mussoorie.
Q: Where can I enjoy shopping on a budget in Mussoorie?
Ans: If you enjoy shopping, then Mussoorie offers great shopping markets. Some of them are Kulri Bazaar, Library bazaar, and Mall road. You can shop from handcrafted pieces, woolen clothes to wooden handicraft items.
MyTicketsToIndia is a popular online travel agency that offers reasonable prices on flights to Mussoorie and Mussoorie tour packages. If you are planning a Mussoorie trip, check out the various travel deals and offers available on the website. You surely are in for an authentic retreat. With MyTicketsToIndia, you will be assured of nothing but the best travel arrangements.
Girish Sharma is the CEO of a leading travel company named Myticketstoindia, established in 2012. Being a versed travel expert since 12 years, he shares his peerless voyage expeditions along with interesting travel destination ideas and news updates for the travelaholics across the globe. He is the member of TAAI, Travel Agent Association Of India and his firm has got recognized with the reputed IATA accreditation and became the Inbound Flight Booking Portal of the Year. Loyalty & honesty towards the clients and vendors, have always been the key behind his successful walk of life.. read more