Top 6 Places To Visit in Nagpur on Your Next Holidays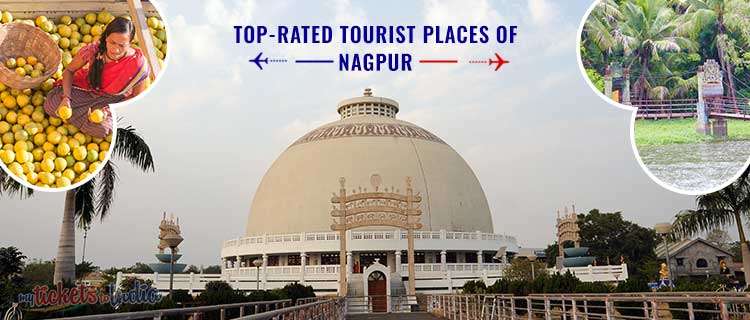 Posted on Thursday, September 23rd, 2021 by MTI Team
About Nagpur
The beauty and grandeur of Nagpur have never failed to amaze any of its visitors! Nagpur city is the third-largest in India, located in the central part of Maharashtra. It is also considered to be the winter capital of the state of Maharashtra, known to attract the majority of tourists during the later part of the year. Enjoy the scenic Nagpur beauty and natural landscape views of Nagpur scenery by visiting the popular tourist destinations here. It forms an important part of the Vidarbha region of Maharashtra, imbibing the rich Maratha culture at its core. You will get to witness an amazing amalgamation of rural and urban heritage and lifestyle in and around Nagpur. Plan a pleasurable family trip here, and visit the less-explored places in the Nagpur region.
How to reach Nagpur Location
To tour around Nagpur's famous places, you can choose from several options to travel to Nagpur. Here are a few of them which you can select for a memorable trip ahead.
By Air: Book your flights to Nagpur by choosing Dr. Babasaheb Ambedkar International Airport as your destination. It is located in Sonegaon, 8km southwest of Nagpur.
By Train: You can also book your train tickets to Nagpur Junction Railway Station. It is well connected with the other cities in and around Maharashtra.
By Road: Nagpur is well connected with major cities by NH-361. You can travel by bus, car or bike, as the road is well maintained and fit for regular journeys.
Best Time To Visit Nagpur
Plan your Nagpur trip around October to March. The weather remains pleasant, with the minimum temperatures dropping to 10 degrees Celsius. The winters are generally cool and mild, making it the best time to visit the Nagpur beautiful places.
6 Top-Rated Places In Nagpur
While you visit Nagpur, there will be no dearth of options for you regarding popular tourist places. Visit the pleasurable Gardens, parks, monuments, and other buildings of historical and national importance. Witness the amazing natural landscape in the lap of nature along with the intrinsic places which are unique in their way.
1. Deekshabhoomi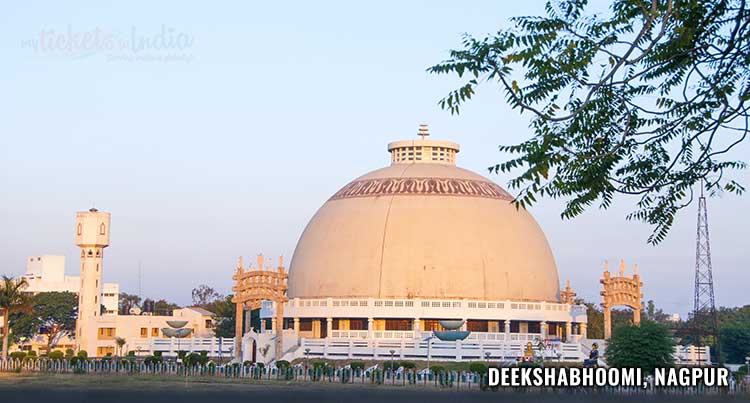 Also called the Dhammachakra Stupa, it is a peaceful place that was built in memory of Dr. Ambedkar. He was strongly influenced by Buddhism and converted to it along with 60,000 other followers. It is a relatively new Buddhist monument built in 2001, which is also the largest stupa in Asia. The white-washed marble Buddhist Stupa stands erect across vast acres of land.
Things to do: Click pictures around the place, especially of the bronze statue of Lord Buddha
Location: Ambazari Road
Time to visit: Open all-day
Nearby places to explore: Ramtek Fort Temple, Amba Khori
2. Ambazari Lake and Garden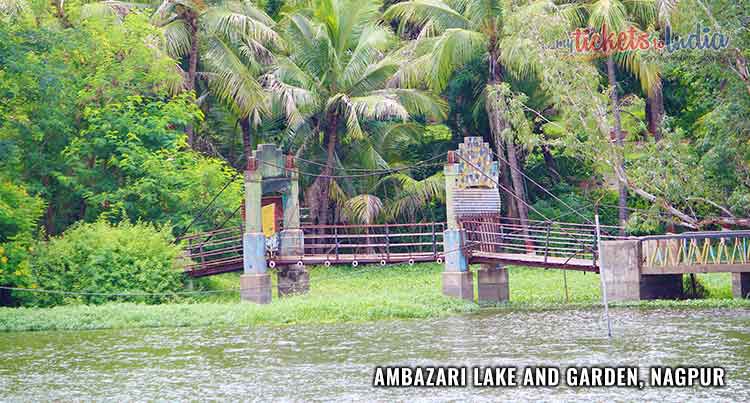 The largest lake in Nagpur is the Ambazari Lake which is full of splendid views and amazing natural beauty. Adjacent to the lake is a mesmerizing garden with unique flora and fauna. You will also get to view the beauty of a musical show here, mainly in the evenings. It is like an added sightseeing opportunity that you will have while you visit Ambazari Lake.
Things to do: Photography, picnic, relaxation, boating
Location: Ambazari
Time to visit: 10 a.m. to 6:30 p.m.
Nearby places to explore: Dadasaheb Kumbhare Parisar, Akshardham Temple
3. Raman Science Center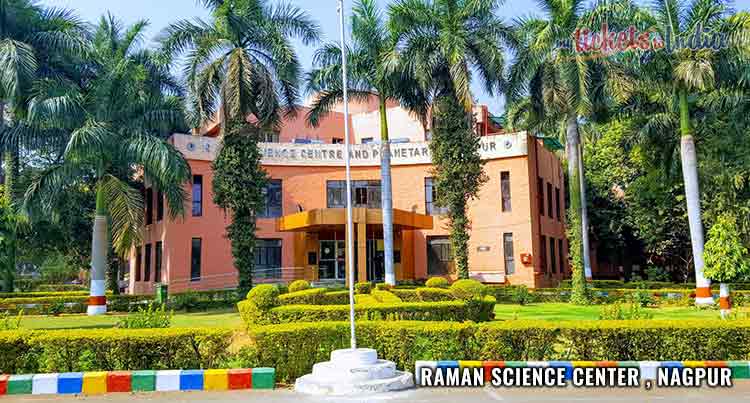 Raman Science Center is one of the best Nagpur tourist places. It is an interactive science center that is affiliated with Mumbai's Nehru Science Centre. The planetarium, information galleries, along with major attractions inside the center, are a delight to watch and witness. You will be able to book your tickets for unique adventurous shows which regularly take place at the science center.
Things to do: Watch science shows, visit the activity center
Location: Opposite Gandhisagar in Subhash Road
Time to visit: 11.30 a.m. to 7 p.m.
Nearby places to explore: Gandhi Sagar Lake, Koradi Temple, Dragon Palace
4. Jama Mosque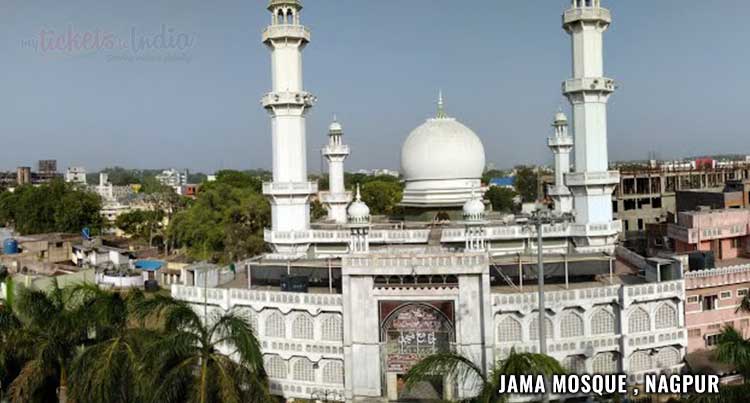 It is the largest mosque in Nagpur, which is uniquely built in white marble. There is a dome in the center with four minutes guarding the sides. You can meditate and soothe your soul inside the mosque while you pay your respects here. Visit the adjacent garden to explore unique varieties of flora and fauna.
Things to do: Experience the quiet ambiance around, pay your respects at the mosque.
Location: Mominpura
Time to visit: 5 a.m. to 7 p.m.
Nearby places to explore: Dragon Palace Temple, Navegaon National Park
5. Sitabuldi Fort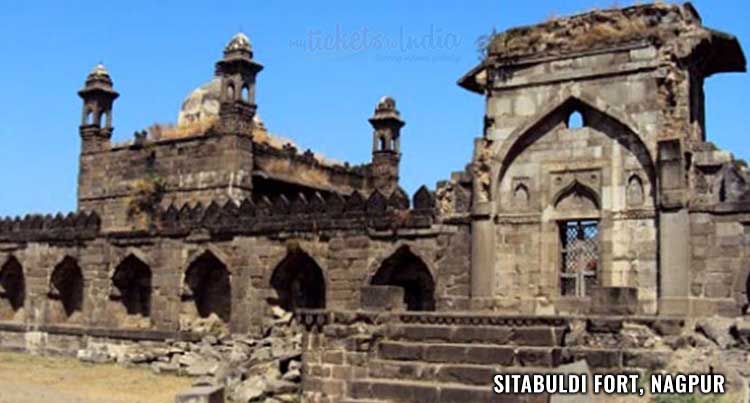 This fort is the most sought-after fort and one of the best places to visit in Nagpur. It was the battleground of the war between the kingdom of Nagpur and the British in the Third Anglo-Maratha war. It is now available for public viewing only on national holidays like Independence Day and Republic Day.
Things to do: Explore the arms and ammunition used by ancient kings and emperors. It also features exclusive items belonging to the Indian Army.
Location: Madha Colony
Time to visit: Open all day (during holidays)
Nearby places to explore: Maharajbagh Zoo, Madha Colony, Japanese garden
6. Shri Swaminarayan Mandir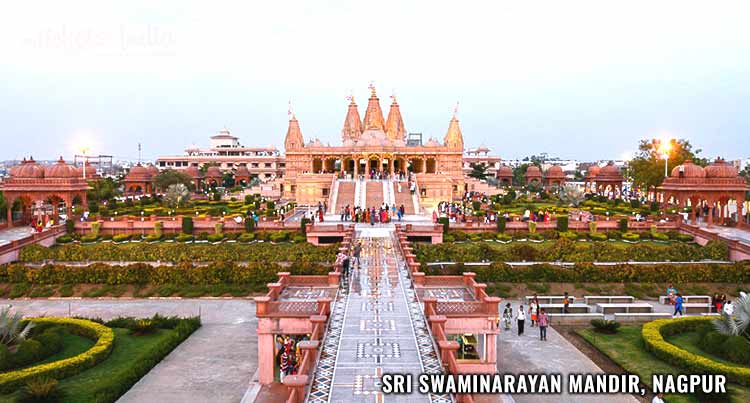 This temple offers picturesque views along with much-needed serenity. The green carpet inside the temple is soothing to watch and pleasing to the eye. You can also meditate here, in front of the idol of the Hindu Lord Narayana.
Things to do: Meditate, explore the garden and amazing landscape
Location: Middle Ring Road, Wathoda
Time to visit: 6 AM to 12 PM & 4 PM to 8:30 PM
Nearby places to explore: Vayusena Nagar, Krazy Castle Aqua Park
Explore Five Most Beautiful Sunset Points Of Nagpur
Nature and peace lovers will find sunsets way more beautiful than other timings of the day. In Nagpur, you can get hold of the best mesmerizing sunsets at the following places. Book your trip to these places before anything else, and enjoy an amazing natural landscape with beautiful scenery all around.
1. Futala Lake
The Futala Lake is spread across over 60 acres of land, adding to the natural beauty and attractiveness of the entire place. The colorful fountains, lush greenery, and amazing flora and fauna will enchant you in every way. You can spot a variety of species of birds here. If you visit at night, you will be able to experience the unique amalgamation of city lights here.
Best time to visit: End-summer
Location: Vayusena Nagar
Entry fee: Free
2. Waki Woods
If you love to be in nature's lap amidst a wonderful landscape, this is the right place for you. Waki Woods is popular among the Nagpur places to visit, where you can watch the mesmerizing sunset and enjoy street food along with your family. You can also visit the nearby places at night to enjoy nature at its best.
Best time to visit: Evening time, especially during the autumn season
Location: Waki, Maharashtra
Entry fee: INR 10
3. Ambazari Lake
It is the largest among 11 lakes in Nagpur, providing the best views of sunset for tourists. Visit the garden beside the lake to get an excellent view of amazing flora and fauna. The lake is well guarded, and seating arrangements have been made in abundance. Spend quality time with your family and friends by visiting this late during the evening.
Best time to visit: 5.30 p.m. to 6.30 p.m.
Location: Ambazari
Entry fee: Free
4. Khekranala
It has an ideal location along the Chindwara road in Nagpur. You will also get to witness some excellent natural views while you ride to this place. Enjoy the unique and pleasant sunsets here while munching at your favorite street foods in Nagpur. The stalls are easily accessible here, and the food is fresh and tasty.
Best time to visit: 6–8 p.m.
Location: 65 km north of Nagpur
Entry fee: Free
5. Chikhaldara
The ideal picnic spot is a beautiful hill station in the Amravati district of Maharashtra. The place offers beautiful scenery and pleasant views, which is best witnessed during the evenings. Watch the amazing sunsets in one of the most popular Nagpur tourist places. You can also book affordable hotel rooms and watch the scenery around.
Best time to visit: 6 p.m. to 7 p.m.
Location: Chikhaldara, Amravati
Entry fee: Not needed
Visit these Four Places To Enjoy The Nightlife In Nagpur.
Nagpur is also a popular tourist destination, owing to the amazing nightlife here. It is said that the city never sleeps, and so do the local people and tourists here. If you wish to enjoy the amazing nightlife in Nagpur, visit the below-mentioned Nagpur famous places for a memorable time ahead.
6. Longitude
Longitude bar is a fine dining place and good for relaxation. It also has an amazing view to offer for its customers regularly. You can enjoy the musical events and delicious food here, along with your family.
Timings: 4 p.m. to 11 p.m.
Location: Opposite MIHAN Flyover, Wardha Rd, Nagpur, Maharashtra 441108
Average cost: INR 1000
7. Spot 9 Restro Lounge
This lounge offers the best services when it comes to amiability and delicious food options. You will be able to enjoy the best nightlife in Nagpur when you visit the Spot 9 Restro Lounge. Make sure that you spend some quality time here along with your friends and family and relish the food available.
Timings: 5p.m. -12 a.m.
Location: Gokulpeth, Nagpur
Average cost: INR 750 for two
8. 10 Downing Street
Being a restaurant cum bar, this place offers the best services when it comes to enjoying the nightlife in Nagpur. The ambiance is perfect for family, couples, as well as friends. Enjoy the musical events and other activities throughout the night.
Timings: 12.30 p.m. to 10 p.m.
Location: Lokmat Square, Dhantoli, Nagpur
Average cost: INR 1000-2000
9. Rhythms and Blues
Enjoy the best delicacies, especially the local foods of Nagpur here. The popular menu, along with regular activities, make the place one of the best Nagpur places to visit. You will also get to converse with the locals and get a taste of amazing flavors here.
Timings: 11 a.m. to 12.30 a.m.
Location: Sadar Bazar
Average cost: INR 1500 for two
FAQs
Q: Does it often rain in Nagpur?
Ans: Nagpur mainly has a tropical savanna type of climate. Dry conditions prevail almost throughout the year, so there are very few chances of rainfall when you visit Nagpur.
Q: Which famous street foods to try in Nagpur?
Ans: Tarri poha, samosa, and Matka biryani are some of the popular street foods to try when you are in Nagpur. Choose famous shops near Sitabuldi Fort and Ambazari Lake to try these delicacies.
Q: Where to stay in Nagpur for an effective trip?
Ans: Dattatreya Nagar, Abhyankar Nagar, Amravati Road, and Wardhaman Nagar are some of the safest places to stay in Nagpur.
Q: Which religious places to visit in Nagpur?
Ans: There are many religious Hindu temples to visit in Nagpur. Some of them include Sai Baba Temple, Shri Ganesh Mandir Tekdi, Telankhedi Hanuman Mandir, Swaminarayan Mandir, and Balaji Temple. You can also visit Koradi Temple, Dragon Palace Temple, Akshardham Temple, and Ramtek Fort Temple.
Q: Why is Nagpur famous?
Ans: Nagpur is the third-largest Indian acuity, mainly famous for the immense production of sweet oranges. History lovers and nature lovers will also find the surroundings in the city and Nagpur's best places very pleasing and attractive.
Visit Nagpur At Budget-Friendly Rates With MyTicketsToIndia
Looking for affordable flights to the top-rated destinations in Nagpur? At MyTicketsToIndia, the leading flight booking portal, customers are served with exclusive offers of air travel deals. Kindly get in touch with our travel experts to plan your trip with effective guidance to make your dream journey unforgettable!
Girish Sharma is the CEO of a leading travel company named Myticketstoindia, established in 2012. Being a versed travel expert since 12 years, he shares his peerless voyage expeditions along with interesting travel destination ideas and news updates for the travelaholics across the globe. He is the member of TAAI, Travel Agent Association Of India and his firm has got recognized with the reputed IATA accreditation and became the Inbound Flight Booking Portal of the Year. Loyalty & honesty towards the clients and vendors, have always been the key behind his successful walk of life.. read more