Top Most Famous Places to Explore in Port Blair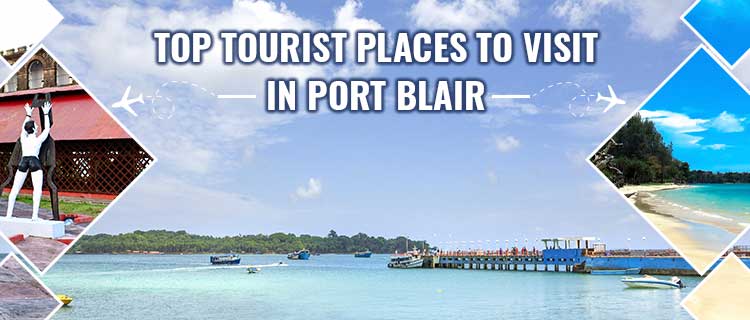 Posted on Wednesday, September 22nd, 2021 by MTI Team
About Port Blair
Port Blair city offers it all, whether it's clear blue water, brown thickets, cultural history, trekking into the greens, and everything else. The capital city of Andaman Islands flaunts an abundance of natural scenic beauty, which are not just gorgeous but awe-inspiring as well. This alluring destination also hosts numerous attractive locations and locales. Port Blair is also one of the favorite destinations for beaches as it has some of the most excellent beaches. From shimmering clean beaches, must-visit museums, coral reefs, and old relics of colonial power, the Port Blair location consists of everything that has the power to entice the traveler in you.
How To Reach?
By Air: If you are thinking of booking flights to Port Blair, then Veer Savarkar International Airport connects the Port Blair location to major cities of India. It is located just 2 km away from the city center.
By Water: There are Jetty's available in Port Blair. It offers its services to Havelock Island and other major attractions as well. Ferries can also take you to other island cities in prominence.
Getting Around In Port Blair
Getting around In Port Blair city is quite easy. There are many commuting options available for visiting Port Blair's major tourist attractions. It includes tourist taxis, bike rentals, private ferries, and public transport services.
Best Time To Visit Port Blair
The best time to explore Port Blair's best places is whenever you are ready. However, the best weather to plan your visit to Port Blair is during the summer season and winter season. The months from October to May are ideal for planning a Port Blair trip to enjoy visiting tourist places, different water sports activities, and relaxation. Summer months are also perfect for bird watching and scuba diving.
7 Places To Visit In Port Blair
Port Blair city is an alluring tourist destination that boasts attractive tourist destinations. All these destinations let travelers dip in colonial power, history, and lots more. So make the best of your trip by visiting every popular tourist attraction.
1. Cellular Jail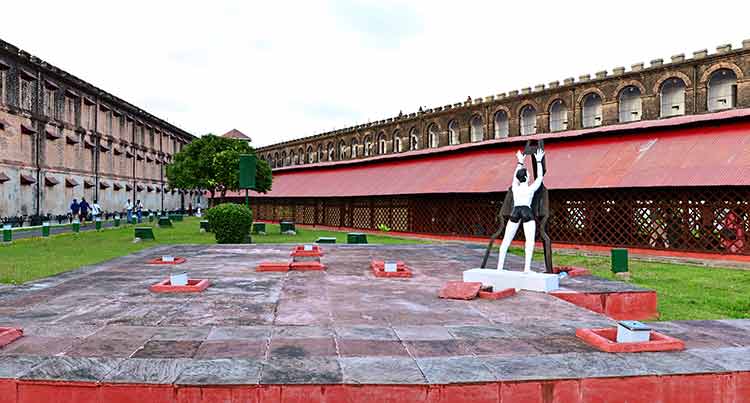 Cellular Jail is also popularly known as Kalapani, is amongst Port Blair's famous places. It serves as a testimony to the gruesome colonial era. This national monument is famous for its association with the Indian Freedom Struggle. The solitary cells in Cellular jail were once used to exile and execute political prisoners.
Timings: 9:00 am to 12:00 pm and 13:00 pm to 16:15 pm
Entry Fees: INR 10 (Adults)
2. Corbyns Cove Beach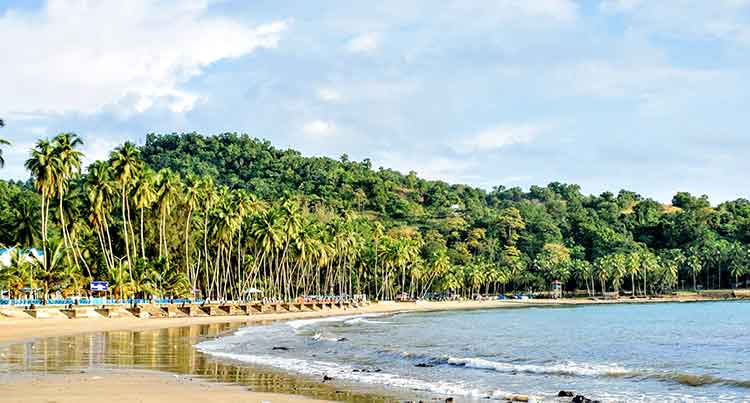 If your sole reason to plan a Port Blair trip was its beaches, then Corbyn's Cove Beach is one of the city's most quaint and tranquil beaches. The entire sandy beach area is surrounded by palm trees, swaying coconut trees, and white sands. It is an ideal location to enjoy water activities like swimming, jet skiing, and sun-basking.
Timings: All through the Day
Entry Fees: NA
3. Samudrika Marine Museum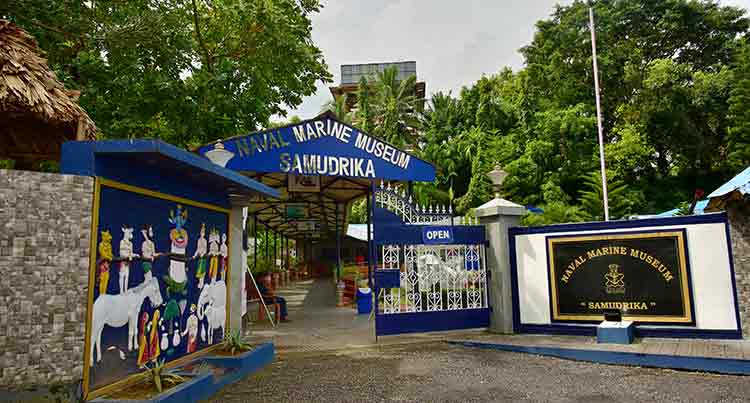 Samudrika Marine Museum is an ideal place for all history buffs and nature lovers. It should be definitely on your tourist places to visit in Port Blair. The museum offers informative studies into the pasts of islands, marine lifestyle, and archaeology. One of the most interesting things to see here's the skeleton of a Blue Whale fixed at the entrance.
Timings: 9:00 am to 14:00 pm
Entry Fees: INR 50
4. Wandoor Beach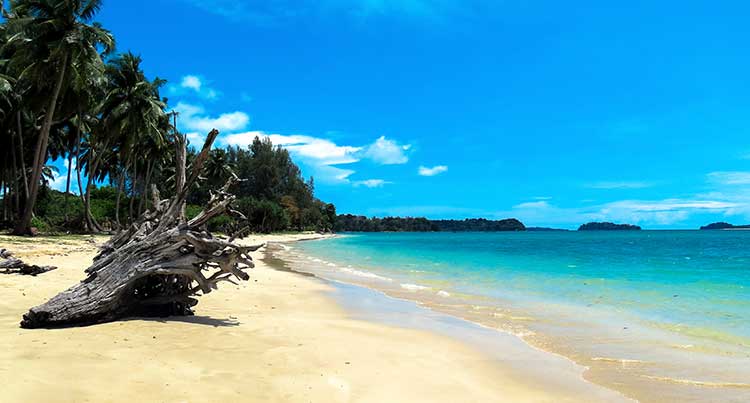 One of the best places to visit in Port Blair is Wandoor Beach. The beautiful beach is famous for its idyllic charm and tranquillity. It is a perfect getaway to Mahatma Gandhi Marine National park and also offers numerous water sports activities. Snorkeling, scuba diving, and glass-bottom boating-like activities can be enjoyed here.
Timings: No fixed timings
Entry Fees: NA
5. Mount Harriet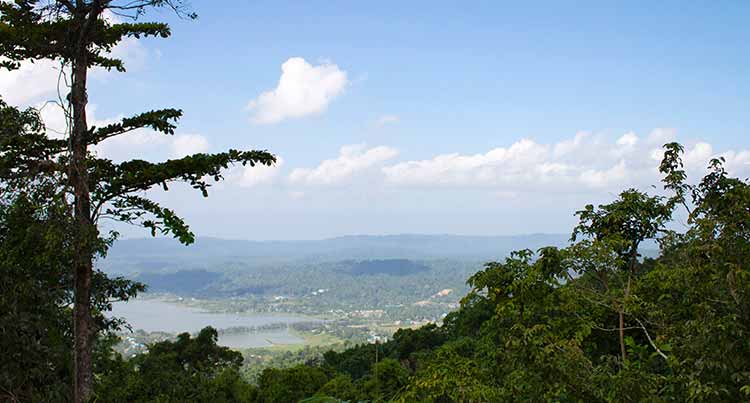 The highest point of Mount Harriet in South Andaman is Mount Harriet. It is yet another Port Blair best place to visit via a ferry rise. The scenic ross islands in the backdrop make this location even more beautiful and visually appealing. It is one of the finest tourist destinations for trekking for an exhilarating experience.
Timings: No Fixed Timings
Entry Fees: Free
6. Rajiv Gandhi Water Sports Complex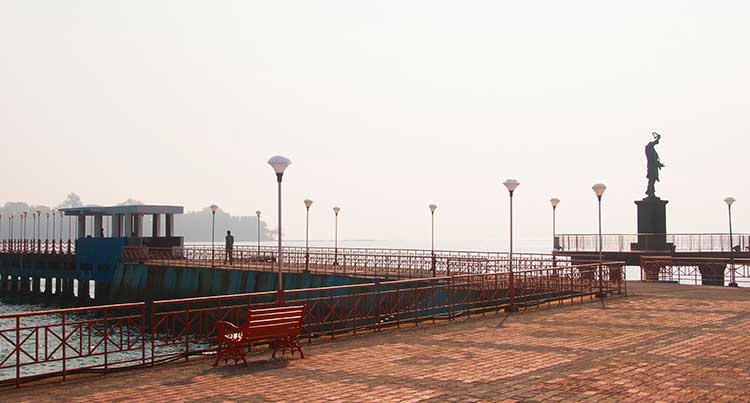 If you want to have some fun and enjoy some exciting activities and games in Port Blair, then this is the best place for you. Rajiv Gandhi Water Sports Complex was specially opened to offer tourists delightful activities and experiences. Here you can enjoy thrilling water sports activities like speed boats, banana boat rides, and lots more.
Timings: 10:00 am to 6:30 pm
Prices: INR 550 (Depending on the activity)
7. Anthropological Museum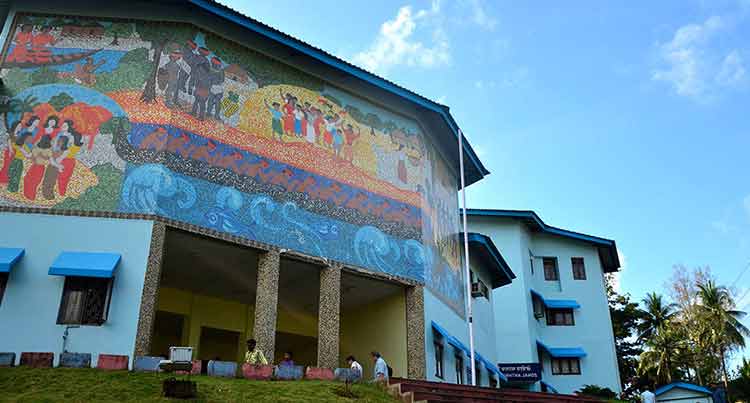 The zonal Anthropological Museum in Port Blair is one of the best museums to visit in town. The museum shares information about the island's local tribes, which are believed to be the oldest in the world. If you are someone who loves gaining new knowledge, then the Anthropological Museum is a must-visit.
Timings: 9:00 am to 1:00 pm
Entry Fees: INR 10 (Adults)
5 Famous Dishes You Should Try In Port Blair
Andaman &Nicobar Islands food culture has a fusion of Indian culture along with the unique touch of local peoples. The seafood dishes in Port Blair are revitalizing and exotic at the same time. So do include going on a food tour when you are in Port Blair.
1. Fish Curry
Fish curry is a famous dish in Port Blair. As the city is quite close to the sea area, you can get many options for fish right here. All the seafood lovers need to taste the various fish curry in Port Blair. The fish curry has a very unique, tangy, and spicy flavor.
Where To Eat: Royal Palace Restaurant
2. Macher Jhol
Macher Jhol is another famous mouthwatering dish that all visitors love. The true Port Blair scenery can be experienced by tasting the famous Macher Jhol. It contains different items like coriander seeds, chilies, turmeric powder, and fish.
Where To Eat: Blue Sea and Anju Coco
3. Prawn Curry
Are you a prawn fish fan and crave it? If yes, then be prepared to taste the best prawn curry in Port Blair. The creamy coconut milk curry will surely tickle your taste buds in the best way. It tastes best when it is served with rice.
Where To Eat: Mandalay Restaurant
4. Tandoori Fish
Since Port Blair's location is on an island, therefore it offers an outstanding range of tandoori food dishes. Out of which, Tandoori fish is one of the most relishing dishes other than crab and Sardines. It is served with another relishing spicy bbq chutney which enhances the taste.
Where To Eat: Full Moon Café
Top 4 Resorts For Weekend Getaway In Port Blair
There are plenty of resorts in Port Blair that are no less than a heavenly treat for travelers. If you are planning a weekend getaway, then make sure you stay in these well-maintained resorts.
1. TSG Grand Resort
Hotel TSG Grand is a group of hotels that is a symbol of elegance and hospitality. It is a spectacular destination in Port Blair when it comes to staying. It provides guests with the best in service and accommodation. This wonderful business class hotel offers visitors top-notch facilities.
Price: INR 3,500 onwards
Amenities: well-trained staff, free parking, 24×7 room service.
2. Palm Grove Eco Resort
Palm Grove Eco Resort is one award-winning resort for promoting eco-tourism in Port Blair. If you want to stay close to Port Blair's best places, then this is the ideal place for your stay. The resort offers top-notch facilities in the most eco-friendly ways.
Price: INR 3,000 to 8,000
Amenities: restaurant, air-conditioned rooms, free parking
3. Fortune Resort Bay Island
The search for the best resorts in Port Blair ends here. Fortune Resort Bay Island is beautifully located amidst the pristine blue waters of the Bay of Bengal. The rooms have amazing sea views, and this hotel is amongst Port Blair's best hotels.
Price: INR 10,000 onwards
Amenities: terrace area, spa, private swimming pool
4. Sun Sea Resort
Sun Sea Resort is one another best places to stay in Port Blair. The best part about this resort is its close prominence with various islands like Long island, viper island, Neil Island and Rangat. It also offers transport services to help you visit all of Port Blair tourist places easily.
Price: INR 3,500
Amenities: multi-cuisine food court, best views from rooms, free wifi, and parking
FAQs
Q: What is one experience that no visitor should miss out on the Port Blair trip?
Ans: One experience that no traveler should miss on their Port Blair trip is the light and sound show at Cellular Jail. This very thing will take you down the historical lane of India's past.
Q: What are some of the unexplored places to visit in Port Blair?
Ans: The best-unexplored destinations for tourists include Butler Bay Beach, Mundapahar, and Jolly Buoy Island.
Q: What are some of the nearby islands of Port Blair?
Ans: The nearby islands of Port Blair are Smith island, Buoy Island, Bay Island, Parrot Island, and Kathal Island.
Q: Are there any shopping places in Port Blair?
Ans: Yes, there are many markets and clothing shops in Port Blair from where you can shop souvenirs and things you need. Some of them are Andaman Handicraft Emporium, Sagarika Government Emporium, and Aberdeen Bazaar.
Q: How many days are enough to explore all of Port Blair's beautiful places?
Ans: You should plan your Port Blair trip at least for 7-10 days. It will give you enough time to visit all of Port Blair's tourist places.
Q: What should I shop in Port Blair?
Ans: You can purchase hand-made jewelry, handicrafts, and handloom products during your trip to Port Blair.
About MyTicketsToIndia
The top-ranked online travel portal, MyTicketsToIndia, offers budget Andaman Flight Deals at the lowest price possible. Concerned about the flight fares? Relieve yourself of the stress of planning a trip and start packing to Andaman & Nicobar Islands. We aim to make budget travel possible in the most comforting ways possible! Trust in us to make your dream journey memorable.
Girish Sharma is the CEO of a leading travel company named Myticketstoindia, established in 2012. Being a versed travel expert since 12 years, he shares his peerless voyage expeditions along with interesting travel destination ideas and news updates for the travelaholics across the globe. He is the member of TAAI, Travel Agent Association Of India and his firm has got recognized with the reputed IATA accreditation and became the Inbound Flight Booking Portal of the Year. Loyalty & honesty towards the clients and vendors, have always been the key behind his successful walk of life.. read more