Top 5 Tourist Places To Visit In Raipur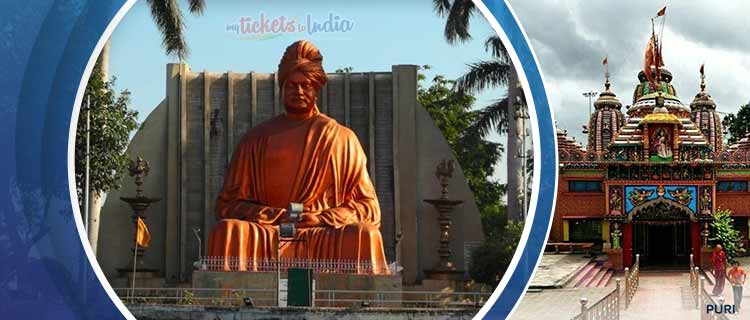 Posted on Tuesday, September 28th, 2021 by MTI Team
About Raipur
Want to get culture, history, and beauty served on a single platter? If yes, then nothing's better than Raipur. Raipur city is the capital city of Chhattisgarh state of India, located in the center of the country. It is a popular tourist place consisting of historical and religious sites. The city is named after the ancient Kalchuri ruler Brahmdeo Rai. Raipur has a rich heritage, along with scenic beauty to fall for. Explore the dense forests, waterfalls, parks, museums, and other places of popular interest in Raipur. It is also called the "rice bowl of India," as hundreds of rice varieties are grown here throughout the year.
How To Reach Raipur Location
By Air: Book your flights to Raipur in Swami Vivekananda International Airport. Here, various national as well as international flights operate to and fro regularly.
By Train: The Raipur Junction Railway Station is well connected with other parts of India. You will get affordable tickets to Raipur from eminent cities like Mumbai, Delhi, Kolkata, Bangalore, and others.
By Road: You can also travel to Raipur by bus, car, or bike using the Raipur Bilaspur Expressway or NH-130.
Best Time To Explore Raipur Beautiful Places
The ideal time to visit Raipur is from October to March. The weather is suitable for effective tours in and around the city. The summers are very hot in Raipur, so try to avoid them as much as possible. You will be able to experience the Raipur beauty at its core by visiting during the winter season.
Explore These 6 Magnificent Locations In Raipur
While you are in Raipur, you must explore Raipur's famous places to have a memorable trip. The city consists of eminent museums, waterfalls, forests, water bodies, and other popular tourist destinations. Know the details about the rich history of Raipur by visiting the iconic spots here.
1. Solar Energy Park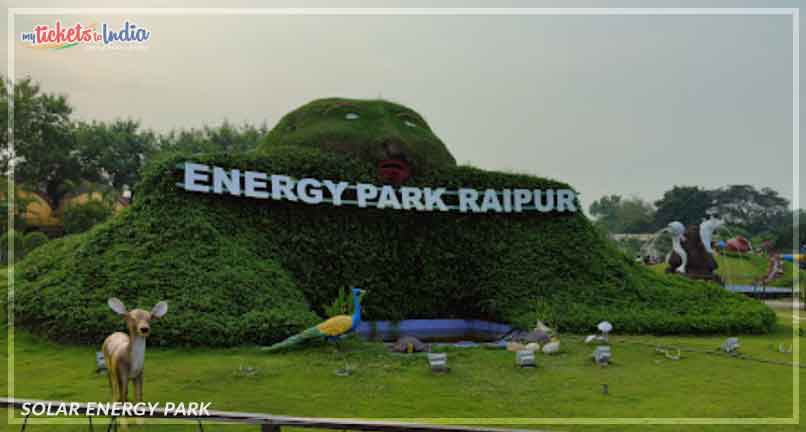 Also known as Urja Park, this is an energy education park. It reflects the various methods of energy conservation, especially solar energy. You will be able to learn about the uses of renewable energy sources. It is one of the famous tourist spots, especially for science students.
Location: Mana Road, Raipur, India
Timings: 10 a.m. to 6 p.m.
Things to do: Visit the musical fountains, view the energy-related science shows.
2. Mahant Ghasi Memorial Museum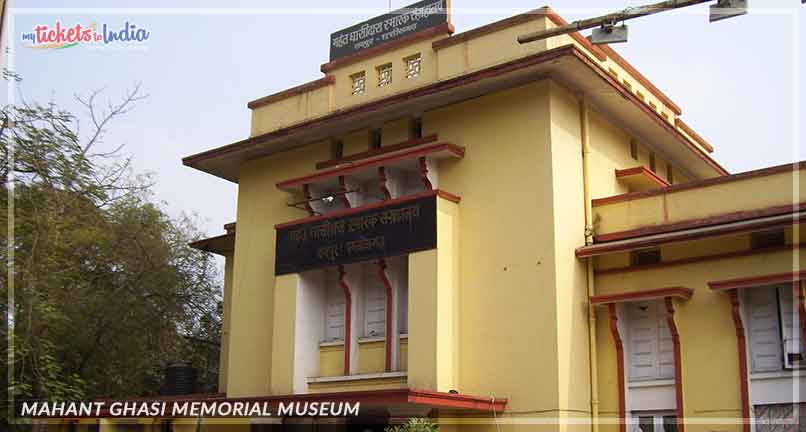 This Museum portrays the rich history and culture of Raipur. You will find numerous items inside the museum which are over 5000 years old. Witness the tribal instructions, coins, swords, and other items related to the ancient history of Raipur here. It is among the best Raipur places to visit.
Location: Ghadi Chowk, Raj Bhavan Rd, Civil Lines, Raipur, Chhattisgarh 492001
Timings: 10 a.m to 5 p.m.
Things to do: Explore the museum and the gardens beside it
3. ISKCON Raipur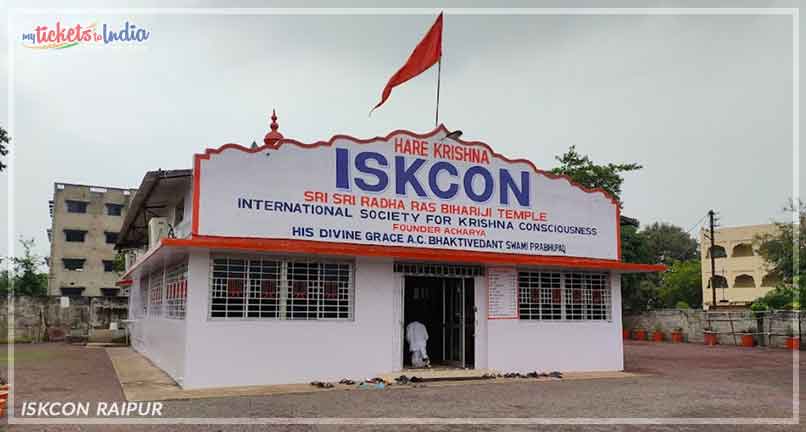 The International Society for Krishna Consciousness or ISKCON in Raipur is a popular Raipur tourist place. It is a soothing place where you can meditate and learn more about the Hindu Gods and Goddesses, especially Lord Krishna. You can also visit this temple during the daytime, to receive the delicious prasad and bhog items.
Location: Great Eastern Road Opp. Maharishi Vidya Mandir Alopi Nagar, Chhattisgarh 492001
Timings: 6 a.m. to 8 p.m.
Things to do: Pay your respects at the temple, enjoy delicious street foods.
4. Banjara Mata Temple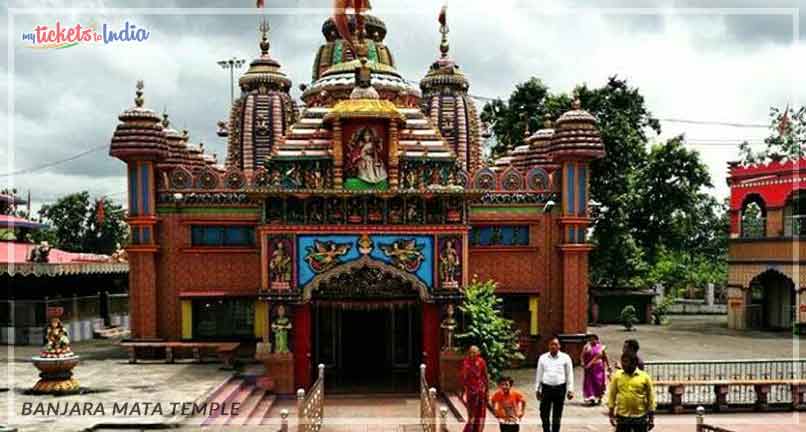 This famous temple is dedicated to Banjari Mata, a popular deity in Raipur. You can visit during the daytime and offer your respects to the Goddess. The night view of this place is also worth a watch, in case you want to witness the amazing Raipur scenery.
Location: Raipur, Chattisgarh
Timings: 6 a.m. to 7.30 p.m.
Things to do: Visit during Navratri or Dussehra for the best experience
5. Swami Vivekanand Sarovar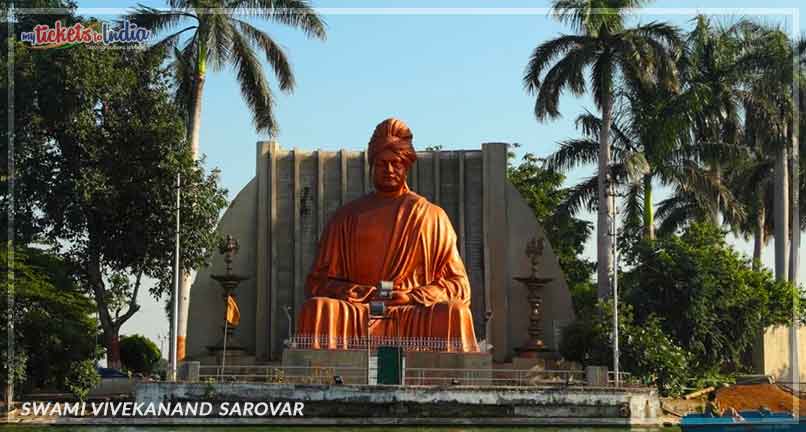 Swami Vivekanand Sarovar is among the Raipur famous places to visit. The serenity and calmness enrich the ambiance here. It is also a popular place for couples as well as families. The place projects the best panoramic views in Raipur. Pack a lunch and check out the ideal picnic spot of Raipur!
Location: Vivekananda Sarovar, Budhapara, Raipur, Chhattisgarh 492001
Timings: 6 a.m. to 9 a.m. and 3 p.m. to 8 p.m.
Things to do: Relax the sides of Burha Talab, enjoy the scenery.
6. Town Hall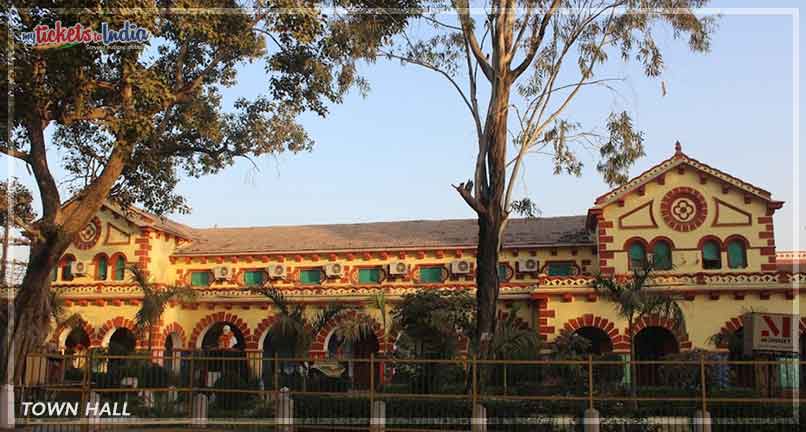 The erstwhile Jubilee Hall was built in 1889. It is a popular historical place in Raipur that projects the post-independence struggle of India. It is a government office now and not subject to regular tourist viewings. You can only visit this place with prior permission from the government officials in Raipur to learn about the cultural history of Raipur.
Location: Raipur, Chattisgarh
Timings: 10 a.m. to 6 p.m. (Restricted entry)
Things to do: Witness the ancient architecture and history of Raipur
5 Best Street Foods You Should Try In Raipur
It is quite impossible to ignore the delicacies in Raipur while you visit this place. There are a host of Indian dishes to try, along with numerous other street foods with people flocking the food stalls. They are very popular in Raipur, both among the locals as well as the tourists.
1. Boree Baasi
It is an amazing street food item available in Raipur, made of rice, water, and some pickles. Enjoy it with sliced onions, and you will never forget the taste in your life. It is one of the cheapest street foods to try in India.
Where to eat: Netaji Hotel, Khana Kothi
Prices: INR 80 per plate
2. Aamat
Originally known as the Sambar of Bastar region, this street food is made of mixed vegetables. It is cooked in bamboo shoots, which keeps the flavor intact. Enjoy the amazing flavors of aamat while you travel around the Raipur places to visit.
Where to eat: near Hajra Waterfall, Somnath Temple
Prices: INR 100
3. Muthiya
Muthiya is a famous street food item in Raipur, which is made from steamed rice. The original flavors of the spices are intact, and the dumplings are delicious to taste. It is also a famous breakfast recipe among the rural and urban people in Raipur.
Where to eat: Gangrel Dam, Naya Raipur Central Park
Price: INR 150
4. Farra
It is made of rice flour, steam at medium temperatures, and shallow fried. Enjoy it with some chutney and sauce, and you are going to love the flavors, especially the Smoky flavor.
Where to eat: Naya Raipur, near Mahamaya Temple
Prices: INR 100
5. Cheela and moong dal vada
The cheela is made of rice flour, served with some chutney, and no filling inside. The vada is deeply fried, and it is made up of moong dal, which gives it the best taste. Try these at one of the famous street food plazas in Raipur's best places.
Where to eat: Shops near Jatmai Temple, Nandan Van Zoo
Price: INR 250
5 Places To Enjoy The Nightlife In Raipur
Raipur presents some of the most excellent views for tourists, even at night. You can experience the Raipur nightlife at the various cafes and restaurants, as well as pubs and bars. Enjoy the events and functions here with your friends and family while you experience some memorable journeys to the best places to visit in Raipur.
1. Telibandha Talab
It is a major tourist attraction in Raipur, portraying the best natural views and pleasant atmosphere. Visit the Telibandha Talab in the evening, and watch the sunset. You will get unparalleled views of the water body along with the natural landscape.
Famous for: Sunset, natural views
What to do: Relax, have amazing street food.
Charges: Free
2. 10 Downing Street
This pub in Magneto Mall is the best place for exploring the nightlife in Raipur. Portray your unique dance moves with amazing music and ambiance to fall for. The food is also delicious and relishing at this place. Visit during the evening for the best experience.
Famous for: Delicious food, ambiance
What to do: Dance, enjoy the music.
Charges: INR 1000 for two
3. VIP Club
The VIP club in Raipur is one of the best places to explore at night. You will get hold of amazing delicacies here, along with the best bar facilities. The evenings are reserved for unlimited music, fun, food, and dance. Visit with your friends and have a relaxing time here.
Famous for: Restaurant serving delicious food, pub, and bar
What to do: Eat Indian food, enjoy the music.
Charges: INR 1000-3000
4. Babylon Inn Raipur
It is one of the best places to stay in Raipur, while you plan your trip in this city. The hotel also provides entertainment facilities every evening, especially for the tourists. Admire the amazing landscape, along with the delicious food that is served here.
Famous for: Room facilities, music, and functions
What to do: Enjoy the views, amazing food options.
Charges: INR 2000
5. Tito's Disco
Tito's Disco is a popular place in Raipur where you can stay up all night and enjoy the amazing nightlife. It hosts various musical events and functions throughout the year. The tourists who visit Raipur often flock to Tito's Disco as a group, especially during the weekends.
Famous for: Dance, music
What to do: Enjoy the food, relax and feel the beats of popular music.
Charges: INR 500-1000
FAQs
Q: How is the climate of Raipur?
Ans: Raipur has a tropically hot and humid climate. The summers are hot, and winters are pleasant, owing to Raipur's proximity to the Tropic of Cancer.
Q: Where to shop in Raipur?
Ans: The City Center Mall, Ambuja City Center, and Magneto are some of the places to shop for exquisite items in Raipur. Get the best and most beautiful decorative lights and home decor in these markets.
Q: Which religious places to visit in Raipur?
Ans: There are a host of Hindu temples to visit in and around Raipur. Some of them are Kevalya Dham Jain Temple, Jatmai Temple, Kankali Temple, Rajiv Lochan Mandir, Hatkeshwar Mahadev Temple, Maa Bamleshwari Devi Temple, and Ganga Maiya Temple.
Q: Why is Raipur famous?
Ans: Raipur is the capital of Chhattisgarh, with many important steel plants. It also consists of ancient temples and Terracotta industries.
Q: How to get around the tourist places in Raipur?
Ans: Buses, auto-rickshaws, cab, rail, and bikes form the basic modes of transport in Raipur. You can opt for any one of them to reach the popular Raipur tourist places.
Visit Raipur At Affordable Ranges With MyTicketsToIndia
Looking for the best online travel agency that can help you book cheap flights to Raipur? We at MyTicketsToIndia can help you with super amazing deals and the lowest airfares possible! Yes, you are not dreaming! We aim to provide our customers with the luxury of booking flights affordably. Consult with our travel experts and book Raipur flights according to your preferences. We wish you enjoy a pleasurable trip with the assistance of MyTicketsToIndia.
Girish Sharma is the CEO of a leading travel company named Myticketstoindia, established in 2012. Being a versed travel expert since 12 years, he shares his peerless voyage expeditions along with interesting travel destination ideas and news updates for the travelaholics across the globe. He is the member of TAAI, Travel Agent Association Of India and his firm has got recognized with the reputed IATA accreditation and became the Inbound Flight Booking Portal of the Year. Loyalty & honesty towards the clients and vendors, have always been the key behind his successful walk of life.. read more