8 Top Tourist Places to Visit in Rishikesh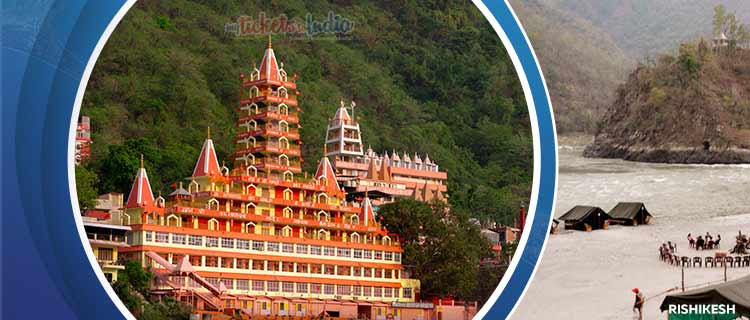 Posted on Wednesday, September 29th, 2021 by MTI Team
About Rishikesh
Rishikesh is situated in Uttarakhand's Tehri Garhwal region that lies along the bank of the Holy River Ganga. The city is ancient and has many Hindu mythological legends associated with Lord Vishnu and Lord Bharat. Rishikesh is a beautiful place that has lofty Garhwal mountains surrounding it. The city looks stunning between the riverside promenades, acres of forests, clear blue skies, and lush mountains. It is a site that is synonymous with grand temples, rituals, yoga ashrams, architectural marvels, and many more. Every year the Rishikesh city is visited by thousands of tourists to experience peace and excitement by performing activities.
How to reach Rishikesh
By Air: Jolly Grant Airport is the closest airport from the city, situated 21 kms away in Dehradun. You can book your flights to Rishikesh via this route to travel. Dehradun and Rishikesh are connected with well motorable roads.
By Rail: Rishikesh has a very good railway network; it connects to many major cities and towns through the Rishikesh Railway Station. One can hire a taxi service or book a cab from outside the station.
By Road: Rishikesh is well connected to motorable roads, here the buses and taxis are easily available. Rishikesh lies on National Highway 58, from where you can also reach Muni ki Reti and other Rishikesh tourist places.
Best time to visit Rishikesh
The best month to visit and explore the Rishikesh Beauty is in the Winter months, from October to February. During these months, the weather is cold, but it makes the trip great. The cold temperature and sunny days will help you explore the area in a better way than usual.
Top 8 Places to Visit in Rishikesh
Rishikesh is a sacred city that is visited by hundreds of people every day to see and explore the untouched beauty of the Hindu religion and culture. You can visit here and see some of the most famous Rishikesh beautiful places to make your trip great.
1. Tera Manzil Mandir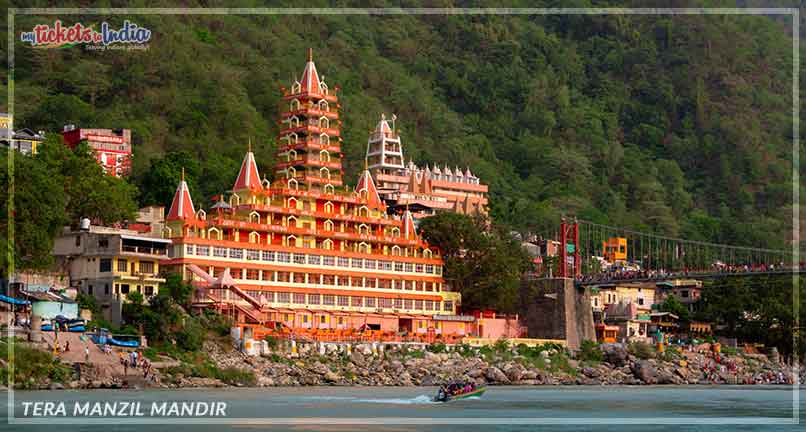 Also known as Trimbakeshwar Temple, the Tera Manzil Mandir is a thirteen-story temple situated on the banks of Ganga. The temple is located opposite Lakshman Jhula. It is popular for its enthralling architecture and panoramic view of the landscape. It comes under the main places to visit in Rishikesh
Famous for: it is famous as it has many idols of Hindu gods and goddesses which many people come to pray.
Location: Near Laxman Jhula, Rishikesh
Timings: 6:00 am to 9:00 pm.
Things to do: Sightseeing the nearby area, praying to deities of different gods and goddesses.
2. Laxman Jhula
It is an iron suspension bridge that is built over the sacred and holy Ganga river in Rishikesh. Laxman Jhula is 450 feet long, and it connects Pauri district to Tehri. It is one of Rishikesh's best places to visit and see something unique. Visiting Laxman Jhula will be an unforgettable experience as it offers mesmerizing views of natural beauty like the gigantic mountains of Garhwal Himalayas and other stunning landscapes that are to die for!
Famous for: It is famous for its panoramic view of the River Ganga and different temples around it.
Location: On the way to Trimbakeshwar Temple, Rishikesh.
Timings: 5:00 am to 10:00 pm.
Things to do: You can walk over the holy river Ganga and see the panoramic and beautiful view of the place.
3. Triveni Ghat
Triveni Ghat is a sacred Ghat which means the confluence of Three. It is the biggest ghat to visit in Rishikesh and is known for its optimistic and spiritual setting.
Famous for: It is worldwide famous for its enchanting Ganga Aarti that takes place every evening.
Location: Mayakund, Rishikesh
Timings: 9 am to 8 pm, and the Ganga aarti timings are 6:00 pm – 7:00 pm every day.
Things to do: Attend the amazing Ganga aarti, sit on the bank and enjoy the cold water of the Ganga river, get into a steamer ride, visit nearby places like Beatles Ashram, Neer Garh Waterfall etc.
4. The Beatles Ashram
Also known as the Chaurasi Kutiya, the Beatles Ashram was founded by Maharishi Mahesh Yogi, who taught Transcendental meditation. The rishi invited the rock band The Beatles to this alluring ashram, and from there, it became famous.
Famous for: The rock band "The Beatles" came here to learn about meditation and made their album called "The White."
Location: Rajaji National Tiger Reserve Park, which is 1 km away from Ram Jhula Bridge,
Timings:10:00 am till 5:00 pm every day.
Things to do: Learn to perform many different yogic asanas, explore the site, photograph unique and beautiful things around.
5. Neelkanth Mahadev Temple
Neelkanth Mahadev Mandir is the holy and sacred temple known to be one of the most popular Lord Shiva temples. TThe Neelkanth Temple is surrounded by three valleys Manikoot, Brahmakoot, and Vishnukoot.
Famous for: It is known to be an ancient temple of Mahadev and has very attractive and vibrant architecture.
Located in: Located in the Nar Narayan mountain range, which is adjacent to Swargashram.
Timings: 9 am to 5 pm
Things to do: Visit the temple and see the beauty, perform various fun activities like bungee jumping, Murman Bridge, Paragliding etc.
6. Byasi
It is a small village located at the bank of river Ganga. It is known for its water sports as the river's flow is consistent, which assists the smooth facilitation of water activities. From here, you can view the beautiful Rishikesh Scenery.
Famous for: Various adventurous activities like Rafting and Camping
Location: Between Devprayag and Rishikesh on the National Highway 58
Timings: The water sports are done in the early mornings and afternoons.
Things to do: Perform various activities like Camping, Rafting, kayaking etc.,
7. Rishikund
It is the holy pond in Rishikesh, which the Kubz saint built. Goddess Yamuna blessed the place. It is a calm place to visit and relax. A lot of people come here to pay devotion to Goddess Yamuna every year!
Famous for: The reflection of the Raghunath Temple situated nearby.
Location: Near Raghunath Temple, Rishikesh
Timings: 24 hours
Things to do: Sit near or swim in the hot water spring of Rishikund, visit the temple and explore the area.
8. Vashishta Cave
Vashishta Gufa is an ancient cave where the great sage Vashishtha used to meditate. It is known as the Sage Vashishtha was the human son of the Lord Brahma. It is a perfect place for history buffs due to the amazing history associated with it.
Famous for: Being a place for deep meditation. It also has a shivling near the caves.
Location: On the Badrinath Road, Rishikesh.
Timings: 7:00 am to 4:30 pm
Things to do: You can perform meditation in peace and visit the temple situated near it.
6 best adventurous outdoor activities to do in Rishikesh
Though Rishikesh is known to be a religious tourist place, it is also for the ones who are a fan of adventure! Popularly called the adventure capital of India, there is an array of adventure activities that you can try to wake up your adventurous soul by visiting Rishikesh's famous places.
1. River Rafting
It is the most popular and adventurous water activity performed in Rishikesh. The boat lashes against the rapid waves gushing through the mountains of rocks. River rafting is fun and can enhance your trip if you are an adventure lover.
Safety tips:
Wear a favourable outfit for the activity.
You should be comfortable after sitting on the boat.
Make sure you are wearing a life jacket.
Hold your notable paddle with utmost focus.
Where to do it/ companies who provide it: Adventure Rishikesh India, Outbound Adventure, Rafting camping.
Charges per person: Starting from INR 1000 (may vary based on the distance traveled during the activity)
2. Bungee Jumping
Bungee Jumping is a sport for the ones who love adventure. In this, the tourists have to jump from the higher ground with a flexible rope tied to their ankles to stop them above the ground.
Safety tips:
Wear casual clothing that doesn't interfere with the harness attached to you.
Make sure that the harness is attached to your ankles properly without making you uncomfortable.
Make sure you don't have any health conditions like hypertension, diabetes and epilepsy.
Keep your body relaxed while jumping, as the stiff body can cause severe spine injury.
Where to do it/ companies who provide it: Jumping Heights, Adventure Rishikesh India and Rafting Camping Rishikesh
Charges per person: INR 400 -INR 500 per person
3. Mountain Biking
Mountain biking is an off-road bicycle riding sport that is done usually on rough terrains or rocky roads with special mountain bikes. It is a fun activity for the ones who are madly in love with adventures and something thrilling.
Safety tips:
Go for a ride by always wearing the correct riding gears
Don't forget to wear a helmet
Always try to control your speed when there are steep ends.
Before riding go for a walk and check the terrain.
Where to do it/ companies who provide it: It is done in the rocky terrain of Rishikesh and is provided by the Adventure Rishikesh India, red chili adventure.
Charges per person: INR 300 – INR 600
4. Cliff Jumping
It is an exciting adventure sport performed by jumping from the end of a cliff in the river. It is the best sport if you love to explore and try new things. The activity is thrilling but is done under the strict supervision of guides.
Safety tips:
Never try to jump alone from the cliff
Always wear sport shoes or sneakers
Keep the body in streamlined position while jumping
Ask someone and make sure the water is not deep enough
Where to do it/ companies who provide it: Adventure India and Red chili Adventure
Charges per person: INR 1700 – INR 4000.
5. Trekking
Trekking in Rishikesh is a form of walking where you can explore and enjoy the beautiful and amazing scenery of Uttarakhand. In Rishikesh there are many places which you can see and make your trip the most cherishable one. Mountain climbing is one of the adventure activities that adventure enthusiasts and other tourists alike love to do.
Safety tips:
Get the updates about the weather of the area where you are going to trek.
Carry your essential trekking essentials.
Don't forget to take your flashlights and extra batteries.
Don't leave your trekking group and the designated trail
Where to do it/ companies who provide it: Adventure India and Outbound adventures
Charges per person: INR 1000 – INR 3000
6. Flying Fox
Flying fox is an adventure where you glide through the majestic mountains several meters above the ripping river. It is an activity where you are tied with the strong steel cables attached from a harness or pulley.
Safety tips:
Wear proper footwear like sport shoes or sneakers.
Wear proper casual clothing that includes trousers or shorts.
If you have long hair tie them properly before starting the activity
Check the harness is attached to you properly before starting,
Where to do it/ companies who provide it: Jumping Heights, India thrills, and Adventure India
Charges per person: INR 100 – INR 1500.
FAQs
Q: Is it safe to travel to Rishikesh Uttarakhand in the time of pandemic?
Ans: Yes, if you are fully vaccinated and wear a proper mask, you are safe in Rishikesh.
Q: What kind of weather can I expect in Rishikesh?
Ans: In summers, the weather is hot, and scorching heat waves are there. In winter, Rishikesh has cool weather. It is advised to avoid visiting Rishikesh in the summer months.
Q: Is swimming allowed in the River Ganga in Rishikesh?
Ans: Yes, swimming and taking a dip in holy water are allowed. Many ghats are allocated for swimming and other religious purposes
Q: From where I can book my rafting or other sports tickets?
Ans: In the Rishikesh location, several service providers offer adventure sports activities like Hiking, rafting, bungee jumping, etc. you can book the tickets via online booking or phone call.
Q: Are there Taxi services available in Rishikesh, Uttarakhand?
Ans: Yes, the Taxi services are available in this city. You can opt for the services if you want to see the major attractions in Rishikesh.
About MyTicketsToIndia
MyTicketsToIndia is a renowned tour and travel agency that provides you with the best services and lowest possible prices on flights to Rishikesh. Kindly contact MyTicketsToIndia to find suitable deals and flights according to your preferences for your next air travel to Rishikesh! We would be thrilled to serve you!
Girish Sharma is the CEO of a leading travel company named Myticketstoindia, established in 2012. Being a versed travel expert since 12 years, he shares his peerless voyage expeditions along with interesting travel destination ideas and news updates for the travelaholics across the globe. He is the member of TAAI, Travel Agent Association Of India and his firm has got recognized with the reputed IATA accreditation and became the Inbound Flight Booking Portal of the Year. Loyalty & honesty towards the clients and vendors, have always been the key behind his successful walk of life.. read more