Make a Visit to Spiti Valley to Explore these Beautiful Places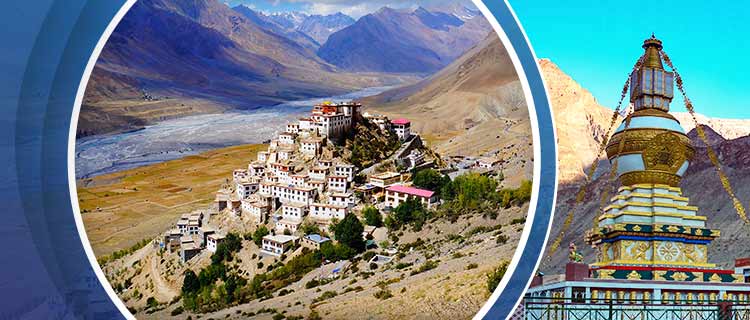 Posted on Wednesday, September 22nd, 2021 by MTI Team
About Spiti Valley
Beautifully enveloped amidst the mighty Himalayas, Spiti Valley is a beautiful hilly destination that is embedded with high-altitude roads, picturesque villages, and tranquil valleys. This cold desert destination is a dream destination for many travelers. Besides everything from snow-capped mountains, there are umpteen exciting places at the Spiti Valley location. From mountain passes, surreal landscapes, challenging treks to ancient monasteries, beautiful valleys, Spiti Valley is one of the best destinations to visit in India. It is a heaven for adventure seekers and nature lovers because Spiti Valley has no dearth of activities. So, if you are planning a Spiti Valley trip, be prepared to fall in love with Lahaul & Spiti district at first sight.
How To Reach
By Air: If you are planning to make bookings for flights to Spiti Valley. Then Kullu airport is the nearest airport. Travelers can board taxis, cabs, or state bus services from the airport to reach their destination.
By Train: Shimla is the nearest railway station. Individuals can hire cabs, jeeps to reach Spiti directly from there. Some bus services are also available.
By Road: In literal terms, Spiti can best be reached by roads. The roads in the Spiti Valley location are open throughout the year. Traveling via road to Spiti Valley is one of the best experiences anyone could ever have.
Best Time To Visit
The motorable roads that lead to Spiti Valley beauty are open throughout the year. However, the best time to visit Spiti Valley city's scenic villages and lofty mountains is during the summer season. The summer months from May to October are the best months to plan your Spiti Valley trip. It is the only time when the roads are clear of ice. However, adventure lovers can also plan a winter expedition to Spiti Valley to witness the cold desert land.
9 Most Rated Places To Visit In Spiti Valley
If you don't believe heaven resides on earth, you must explore Spiti Valley's surreal and mesmerizing views in Himachal Pradesh. From ancient Buddhist monasteries, snow-capped mountains to picturesque lakes, there are plenty of Spiti Valley beautiful places to visit.
1. Tabo Monastery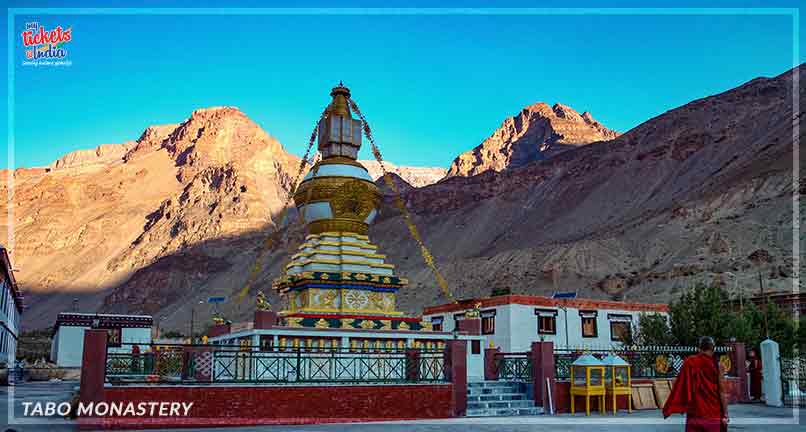 Tabo Monastery is one of Spiti Valley's famous places to visit. It is very popular for its majestic silk paintings and is one of the ancient places to visit in Spiti Valley. It has nine temples and multiple stupas, which are the key attractions of the monastery. One thing which is worth seeing here is the different stucco sculptures of Bodhisattvas.
Best Time To Visit: May to October
Nearest Airport: Kullu Airport
Famous For: Temples, ancient paintings,
2. Chandratal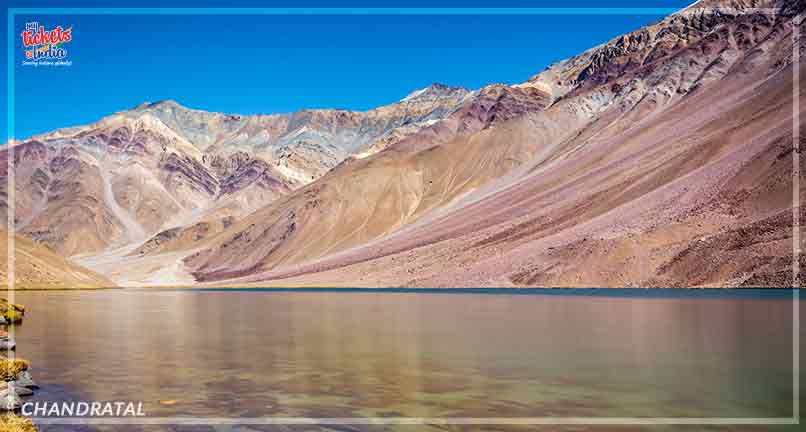 If water bodies bring alive the travel blogger in you, then a visit to Chandratal is a must. It is one of the most mesmerizing beauties to visit in Lahaul, Spiti Valley. The crescent-shaped lake, Chandratal is an idyllic destination for photographers and travel bloggers. The sparkling scenic and pristine beauty around the lake will surely leave you spellbound.
Best Time To Visit: June to September
Nearest Airport: Bhuntar Airport
Famous For: beautiful valleys, blue waters.
3. Gandhola Monastery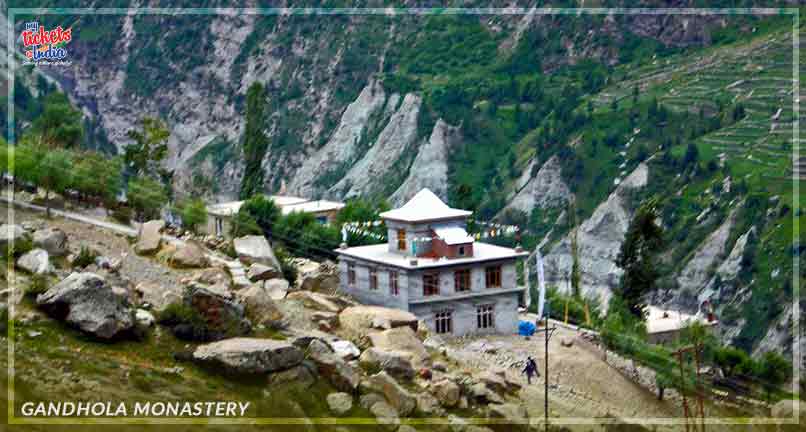 Gandhola Monastery is one of Spiti Valley's best places to visit. The monastery was founded by Padma Sambhava and is almost 800 years old. The monastery is specifically known for its idols and shrines. Gandhola Monastery offers a simple and basic landscape, yet it has a great heritage value.
Best Time To Visit: May to October
Nearest Airport: Kullu Airport
Famous For: Historical aspects, picturesque mountains
4. Suraj-Tal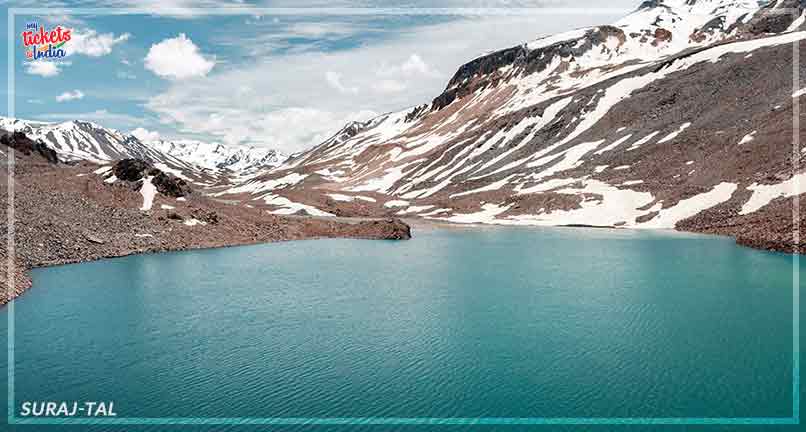 Suraj Tal, which is in simple words, means the Sun lake. It is one of the most attractive Spiti Valley tourist places when it comes to photography in Lahaul and Spiti districts. It is located very near to Baralacha Pass and is often visited by nature lovers and ardent trekkers. This spectacular lake offers surreal landscapes during the summer season that is no less than a visual treat.
Best Time To Visit: May To October
Nearest Airport: Bhuntar Airport
Famous For: Trekking, photography, sightseeing
5. Key Monastery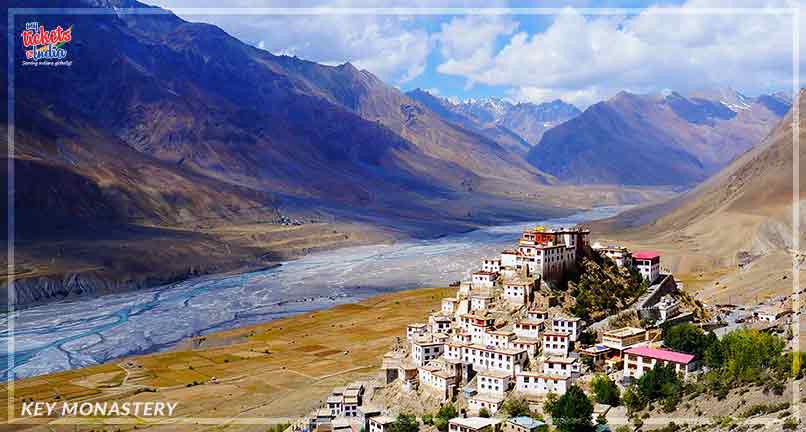 Kye Gompa or Key Monastery is one of the most popular places to visit in Spiti Valley. Beautifully located near the Spiti River, this monastery is located at an altitude of 4112 m. It is one of the biggest gompas where you can spot ancient books, murals, manuscripts, and Buddha shrines.
Best Time To Visit: May To September
Nearest Airport: Bhuntar Airport
Famous For: Chinese interiors, assembly hall.
6. Kunzum Pass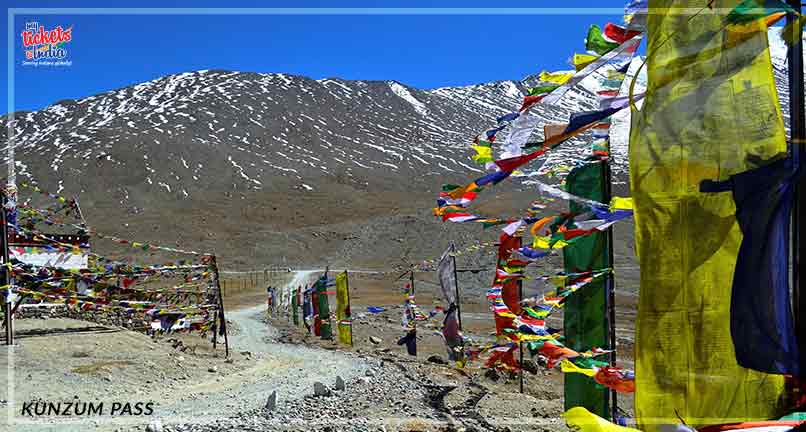 Kunzum Pass is a trekker's paradise and is beautifully snuggled up in the Kunzum range. The Kunzum mountain pass bridges the Kully valley and Lahaul-Spiti Valley all together. The entire village offers awe-inspiring vistas of the Chandrabhaga Range. If you love trekking, you can also enjoy a small hike from Chandrataal lake to Kunzum Pass.
Best Time To Visit: June To September
Nearest Airport: Bhuntar Airport
Famous For: Chandrabhaga views, Devi temple, Buddhist flags
7. Nako Lake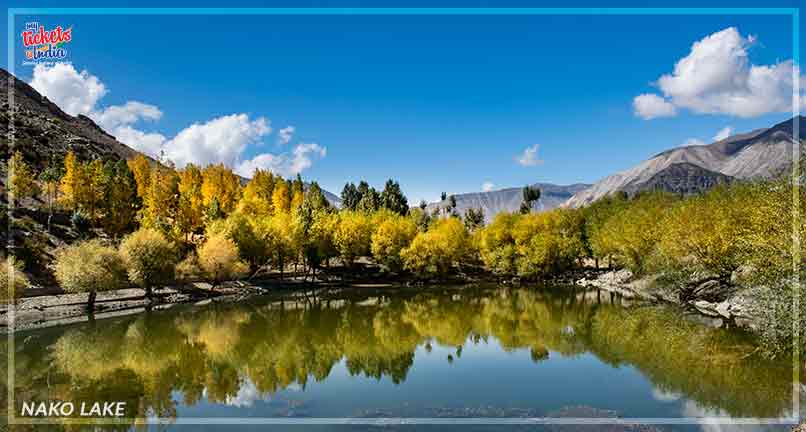 Nako lake is one of the most picturesque lakes you will ever come across. The appealing pristine beauty of Nako lake is covered by greenery all around. The heartwarming beauty of this lake will keep you hinged throughout your visit. You can also visit the amazing temples that are based on Buddhist teachings and are famous for their historical aspect.
Best Time To Visit: April to October
Nearest Airport: Shimla Airport
Famous For: Sightseeing, hiking,
8. Losar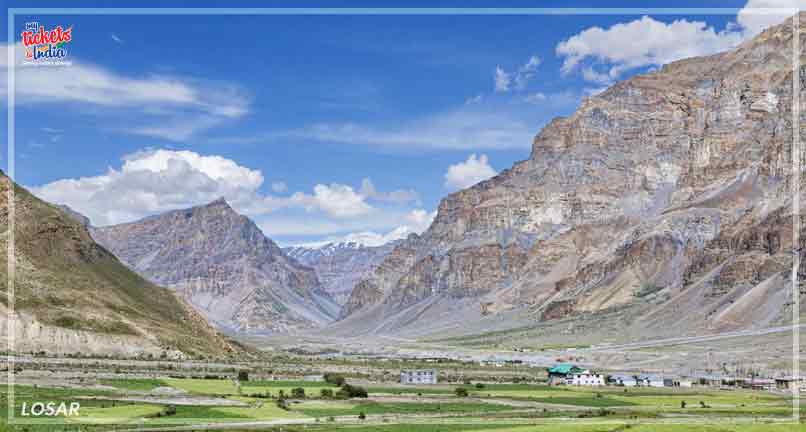 Losar is one of the must-visit places in Spiti Valley. Located right next to the Indo-Chinese border, Losar is one of the most pristine villages in Spiti. It is completely untouched by tourism, and thus the mesmerizing beauty of this area is still completely retained. If you are thirsty for some sizzling waterfalls, sparkling lakes, and rivers, then visit Losar for sure.
Best Time To Visit: March to June
Nearest Airport: Bhuntar Airport
Famous For: waterfalls, view of Indo-Chinese border
9. Keylong Market
Now, after visiting all the serene landscapes, mountains it's time to treat yourself to a great shopping experience. The famous Keylong market in the Lahaul-Spiti district is a must. Here you can purchase a variety of woolens and many authentic designed jewelry, stones, and ceramic items.
Best Time To Visit: May to October
Nearest Airport: Bhuntar Airport
Famous For: Woolen clothing accessories, ceramics
Best Camping Locations In Spiti Valley
Camping is surely a favorite activity for adventure lovers, and in Lahaul Spiti, you will find numerous options. There are various towns, villages, and many ideal locations to enjoy peaceful camping amidst jagged mountains and picturesque lakes.
1. Chandrataal
Chandra Taal is one of the best places to visit in Spit Valley when it comes to camping. It is a highly recommended campsite that completes your Spiti expedition in the best way. The highlight of the camping is the magnificent views of glaciers and peaks of CB ranges from there.
2. Bhaga River
Bhaga River is another great camping location in Spiti Valley. It is a famous spot to enjoy a bonfire and drinks with friends along the riverside Bhaga. One of the best parts about this camping location is the calming noise of the river and the stargazing opportunity at night.
3. Sangla
Sanga is a popular camping site in Spiti Valley which has a long stretch between Karcham and Chitkul. Here you will find numerous campsites along the banks of River Baspa. Many travel enthusiasts choose Sangla for their camping expedition in Spiti.
4. Nako
When it comes to camping, Spiti Valley's beautiful places cannot disappoint you. One of them is the very famous Nako. Every traveler might have surely heard of Nako's beautiful scenery. With the best campsites, adventure activities, and treks, Nako is one camping location that should not be missed.
Thrilling Activities To Enjoy In Spiti Valley
Enjoy Wildlife Spotting at the scenic Pin Valley National Park. It is home to some of the rarest species of wild Himalayan animals like snow leopards, ibex, and lots more. Another best thing you can enjoy here is its trekking trails, which are a delight for visitors.
One of the prime things to enjoy in Spiti Valley for a thrilling experience is enjoying a ride on Yak. Enjoying Yak safaris in Spiti Valley is one of the most popular and famous ways to explore the entire region.
If you are someone who is into adventure activities, then Rafting is one of the most thrilling things to enjoy on your Spiti trip. River rafting activity is available in Pin and Spiti river with a backdrop of rocky hills. This is a one-time experience of life you should not miss.
Fossil Hunting is another quirky yet most amazing activity to enjoy in the Spiti location, especially if you are a history lover, as you can find various fossils around the Hikkim and Langza area.
Enjoy stunning scenic views from the high mountain Baralacha Pass. This is a long pass that connects Lahaul district with Ladakh in Jammu & Kashmir. The most scenic and panoramic views surround the entire area you will ever see that will surely leave you spellbound.
FAQs
Q: What are some of the ancient villages I can visit in Spiti Valley?
Ans: The villages you can visit on your Spiti Valley trip are Langza village, Dhankar village, Tashigang village, and Tabo village
Q: Are there any trekking locations in Spiti Valley?
Ans: Yes, there are numerous options in Spiti Valley when it comes to trekking. Some of them are Chandratal trek, Pin Parvati trek, and Pin valley park trek.
Q: How many days are enough to go on Spiti Expedition?
Ans: You should plan your Spiti Valley tour packages for at least eight days. That's because it takes almost five days in total to reach Spiti via Kinnaur and come back from the Manali area.
Q: How much does a trip to Spiti cost?
Ans: A Spiti Valley tour would cost you around 15,000 to 25,000, depending upon your package and mode of transport.
Q: What are some of the most famous monasteries to visit in Spiti valley?
Ans: The most famous Spiti Valley monasteries you should visit include Tabo Monastery, Sakya Tangyud Monastery, Dhankar Monastery, Key monastery, etc.
About MyTicketsToIndia
MyTicketsToIndia is the leading online travel agency in Rochester, USA that aims to provide its customers with lucrative discounts on flights to Spiti Valley and thrilling Spiti Valley tour packages. With us, you can avail the best travel deals as per your preferences. Get in touch with our travel experts today and experience Spiti Valley within budget!
Girish Sharma is the CEO of a leading travel company named Myticketstoindia, established in 2012. Being a versed travel expert since 12 years, he shares his peerless voyage expeditions along with interesting travel destination ideas and news updates for the travelaholics across the globe. He is the member of TAAI, Travel Agent Association Of India and his firm has got recognized with the reputed IATA accreditation and became the Inbound Flight Booking Portal of the Year. Loyalty & honesty towards the clients and vendors, have always been the key behind his successful walk of life.. read more