Top 6 Destinations to Explore in Surat
Posted on Wednesday, September 29th, 2021 by MTI Team
About Surat
Experience the glorious history and beautiful attractions of Diamond City, Surat. Nature lovers can get a glimpse of natural Surat beauty and enjoy various activities at the time of the festive season. Here you can experience a different atmosphere during festivals like Makar Sankranti, Navratri, and Diwali. The picturesque coastal town of Surat is situated in Gujarat. Surat is among the liveliest cities in the country, and it is known by many other names such as "The Diamond City," "Silk City, "Green City, and many more. Surat is also a center for the textile and diamond industry. Other than that, it is also considered one of the cleanest cities in the country. Explore some of the best places to visit in Surat city.
How to Reach Surat
By train: The train station in Surat is located in the eastern central part of the city. A large number of trains operate from the city and connect with several other Indian cities. The train station is connected to all the main cities, including Mumbai, Vadodara, Ahmedabad, and Delhi.
By flight: The airport in Surat is on the outskirts of the town. Surat Airport has made the city more reachable for vacationers.
By road: You can reach Surat city via road. Several frequent buses are functioning from the city of Surat. The buses are linked to many major Indian States, including Madhya Pradesh, Rajasthan, Maharashtra, and Delhi.
Best Time to Visit Surat
October to February is considered to be the ideal time to explore Surat's best places. The weather during these months remains cool, and the temperature ranges from 15 degrees Celsius to 29 degrees Celsius. January is the coldest month, and March is the hottest month in Surat.
6 Popular Places to Visit in Surat
1. Dumas Beach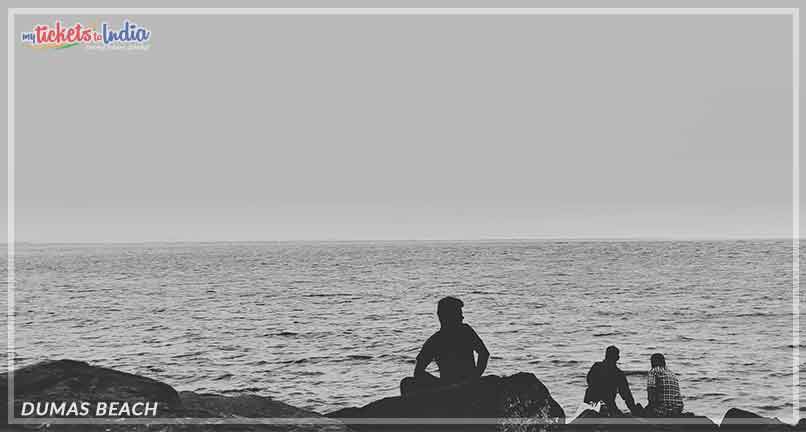 Dumas Beach is one of Surat's famous places, which is also considered a haunted beach destination. It is a popular tourist attraction situated alongside the Arabian Sea. Many travelers come to visit this place and enjoy astonishing scenic views of the city. One can indulge in various activities at the beach, and the popular ones are boat rides, horse ride, and camel ride. The black sand of this beautiful beach is one of the prominent reasons why many travelers visit this place. As per the reports, locals have heard cries and weird noises after sunset, so make sure you leave the place after dusk. 
Location: Konkan Coast, Arabian Sea.
Entry fee: None
Timings: 6 am to 7 pm
2. Sarthana Nature Park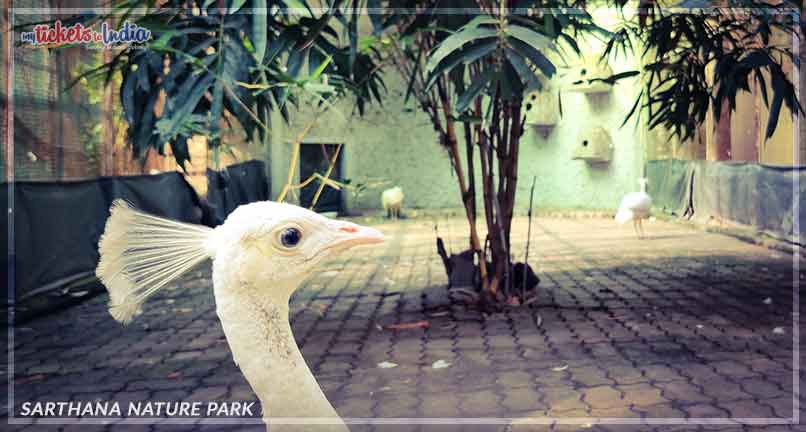 Sarthana Nature Park is one of the top-rated Surat places to visit. The park is covered with lush greenery and dotted with trees of Casuarina, Eucalyptus, Mango, etc. The primary aim of the park is to spread awareness about wildlife preservation and save endangered and extinct species of animals. The Sarthana National Park was built in 1984, which is over 81 acres. You can spot various animal species here, such as peafowl, deer, bred lions, and Bengal tigers.
Location: Sarthana Jakat Naka, Surat, Gujarat 395006
Entry fee: 15 INR for Indians & 50 INR for foreigners
Timings: 10 am to 6:30 pm
3. Dutch Garden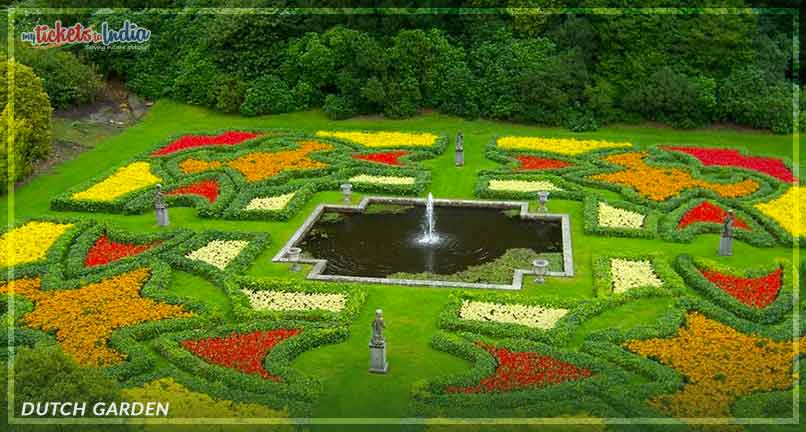 Dutch, one of the beautiful gardens of Surat is situated in Nanpura. It is built in European style, and it provides a lovely leisure space to both locals and vacationers. It is a popular tourist destination in the city of Surat. Apart from its exquisiteness, Dutch Garden has a great history of attracting and fascinating visitors. This park is perfect for long early morning walks and is an ideal picnic spot.
Location: Dutch Garden Rd, Nanpura, Surat, Gujarat 395001
Entry Fee: None
Timings: 8 AM to 12 PM and 3 PM to 11 PM.
4. Amaazia Water Park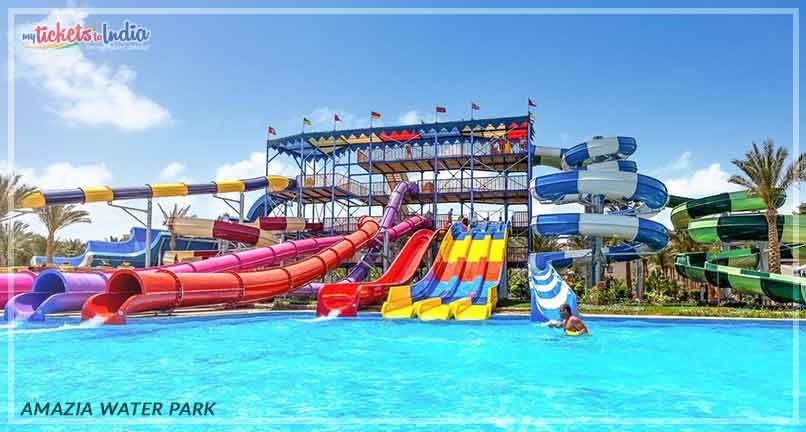 Amaazia Water Park is a fantastic amusement park in Surat with many marvelous rides. It is best to visit during the summer season. Amaazia Amusement Park is also considered one of the largest water parks in Asia. Don't miss out on adding Amaazia to your bucket list while planning a trip to Surat.
Location: Canal Road Parvat Patiya, Magob, Surat, Gujarat 395010
Entry Fee: 800 INR for children and senior citizens, INR 1000 for adults, and IN
Timings: 10 AM to 6 PM (All days)
5. Snow Park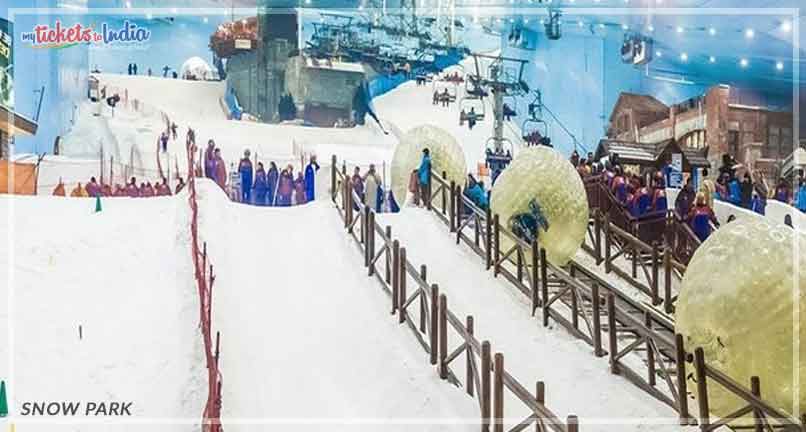 Snow Park, Surat is the most preferred hang-out spot for the locals and one of the biggest attractions for tourists visiting Surat. Here you can enjoy various adventurous activities at opportunities such as ice slides, snow sledding, snow caves, etc. The temperature at the Snow Park is -5 degrees Celsius. It is a prime attraction and an ideal destination if you want to spend some quality time with your kids.
Location: Dumas Road 3rd Floor, Rahulraj Mall, Surat, Gujarat 395007
Entry fee: INR 400 to 600
Timings: 12 AM to 11 PM.
6. Surat Fort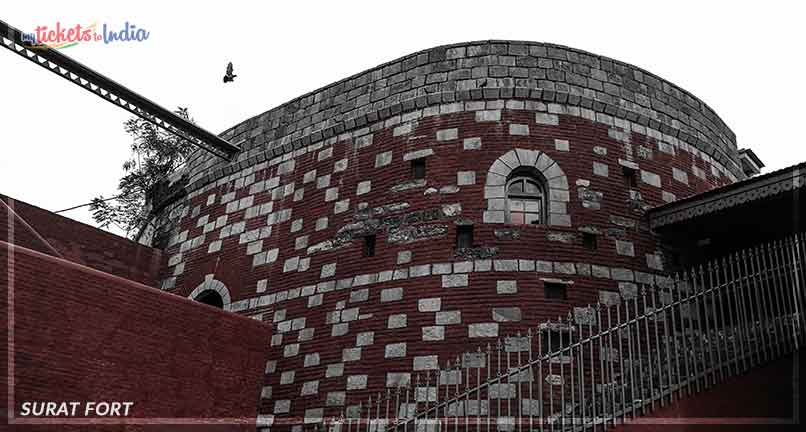 Surat Fort or Old Fort is another prime attraction in the city of Surat. King Sultan Mahmood III constructed this fort. The main objective of this fort was to defend against the Portuguese. At present, it is among the most prominent historical sites in Surat.
Location: Near Dakka Ovara, Makkai Pull, Chowk Bazar, Surat, Gujarat 395003
Entry fee: INR 20 for 3 to 16 years, INR 40 for 17 to 60 years, and INR 20 for above 60 years
Timings: 10 am to 6 pm (closed on Monday)
5 Famous Shopping Markets
1. Shanivari Market
As the name implies, Shanivari Market is a marketplace in Surat where people can buy things only on Saturdays. Shanivari Market in Surat gets open from 6 AM in the dawn. You may find the place a little crowded if you arrive late, however, it is one of the popular destinations for shopaholics. Some famous items to buy from here are georgette cotton, linen, cotton, and silk. Apart from that, you can also purchase second-hand pieces of furniture.
Address: Chowk Bazaar, Surat, Gujarat 395003, India
2. Universal Textile Market
Universal Textile Market is one of the prominent markets of Surat City. It is famous for selling ornamented sarees to several Middle East Countries. This place has more than 4000 shops. Some of the famous items you can buy from here are lehenga, cotton fabrics, suits, designer sarees, fancy clothes, and many more.
Address: 1019 C/D Universal Textile Market Ring Road, Kamela Rd, New Textile Market, Surat, Gujarat 395002
3. Sahara Darwaja
Sahara Darwaja in Surat is another wholesale market that sells traditional clothing, mainly for ladies. It is one of the renowned textile markets in Surat. You can find numerous wholesale retailers selling designer clothes at affordable rates. Visit Sahara Darwaja if you look for dresses like salwar kameez, sarees, and other fabrics in bulk.
Address: Ring Road, Sahara Darwaja, Surat, Gujarat, India, 395010
4. Old Bombay Market
Old Bombay Market is a well-known marketplace in Surat, highly famous for wedding shopping. It is a one-stop destination, where you will find a wide range of clothes and qualities. It does not matter whether you are looking for plainclothes or designer clothes, you will do everything here. This place is nothing less than a paradise for shopaholics.
Address: Umar Wada, Surat, Gujarat 395101
5. Chauta Bazaar
Chauta Bazaar is another very famous shopping place in the city. It is also Surat's oldest marketplace. Here you can find almost everything from clothing to cosmetics, from groceries to utensils. Apart from that, there are many old shops where you can buy elegant jewelry pieces. Apart from that, you can buy footwear, spices and try some of the delicious eateries here.
Address: Chauta Bazaar, Bhagal Road, Surat, India.
5 Popular Street Foods You Should Try in Surat
1. Bhajiya
Bhajiaya is a popular dish in Gujarat. It is a spicy snack that the locals and tourists can find at every corner in the city of Surat. It is one of the popular foods that are available in every street of Surat. You can try varieties of bhajiya, including ratalu bhajiya, tamea bhajiya, aloo pakodas, and many more. Some of the famous places to eat are Bapa Sitaram Kumbhaniya Bhajiya, Shree Hanuman Bhajiya, Jay Khodiyar Kumbhaniya & Restaurants.
2. Ice Dish
About the dish
Ice Dish is a different form of the well-known ice gola that almost every Indian loves. This unique dish is dressed in vanilla ice cream, various flavors, and dry fruits. There are various places in Surat where you can try ice dishes. These include Jay Khodiyar Ice Cream & Dis Gola & Fast Food, Rajwadi Malai Gola Surat, and Radhe Krishna Ice Dish Gola & Fast Food.
3. Locho
Locho is another popular street food in the city of Surat. This dish is typically served with chutney and crispy sev. If you are a fan of crispy snacks, then this is the yummiest dish for you. Gopal Locho & Khaman House and Jalaram Locho stall are some best places to eat Locho in Surat.
4. Dhokla
The most popular dish in the state of Gujarat, Dhokla, is a salty cake that is prepared from Bengal gram flour. This fluffy dish is low in calories and high in protein. Although found in many food stalls of Gujarat, some famous places to try this eatery are Radhe Dhokla, Mr. Dhokla, Hare Ram Dhokla.
5. Undhiyu
Undhiyu is a mix of eight unique vegetables produced in Surat. This dish is prepared with red lentils seasoned with grated coconut, spices, and palm sugar in a mild sauce. Some of the best places to eat Undhiyu of Surat are Kansar-Gujarati Thali, Jalaram Khichdi Restaurant, and Sasumaa Gujarati Thali.
FAQ's
Q: What is the other name of Surat?
Ans: Surat is called by various names, such as The Diamond City, Green City, and Silk City.
Q: What are the major attractions that we can explore in the diamond city?
Ans: Amaazia Surat Water Park, Gavier Lake, Jawaharlal Nehru Garden, Dumas Beach, Surat Castle, Gopi Talav, Sardar Patel Museum, ISKCON Temple, Mulnayak Jain Temple are some top-rated tourist attractions of Surat.
Q: Which is the most famous Gujarati cuisine?
Ans: Dhokla, Undhiyu, Ghari, and Locho are a few snacks you can try when exploring Surat tourist places.
Q: Is it safe to travel to Surat city?
Ans: Due to a very low crime rate, Surat is considered a safe city for tourists.
Q: What is the cheapest way to reach the Surat location from Delhi?
Ans: The cheapest way to reach Surat is by train. A single train ticket to Surat would cost 500 to 600 INR.
About MyTicketsToIndia
Traveling to Surat on your mind? Get in touch with MyTicketsToIndia, a leading travel agency to provide you with the best-discounted rates on flights to Surat! Fly high with a budget-friendly flight booking and travel experts accompanying you at every step for every query of yours! We are just a call away from getting you suitable deals for your next trip!
Girish Sharma is the CEO of a leading travel company named Myticketstoindia, established in 2012. Being a versed travel expert since 12 years, he shares his peerless voyage expeditions along with interesting travel destination ideas and news updates for the travelaholics across the globe. He is the member of TAAI, Travel Agent Association Of India and his firm has got recognized with the reputed IATA accreditation and became the Inbound Flight Booking Portal of the Year. Loyalty & honesty towards the clients and vendors, have always been the key behind his successful walk of life.. read more