6 Most Famous Tourist Places To Visit In Trichy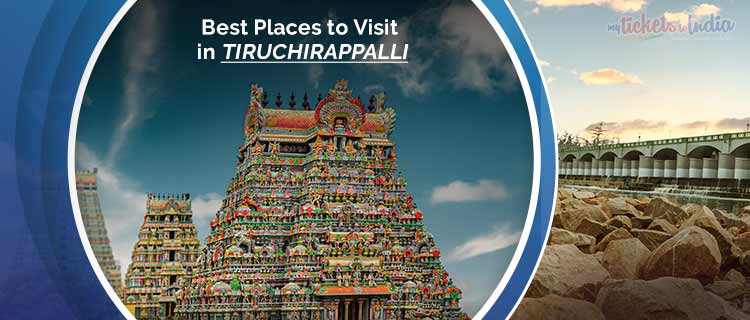 Posted on Friday, October 1st, 2021 by MTI Team
About Tiruchirappalli
Feel the magnificence of this gateway to several historical and pilgrimage places of Tamil Nadu. Tiruchirapalli, also known as Trichy, is situated on the banks of the Kaveri River. It is also Tamil Nadu's 4th largest city that attracts millions of travelers every year. You can experience a mild climate in Trichy, ranging from 24 Degrees Celsius to 37 Degrees Celsius. The locals of Trichy have a prosperous ancient cultural legacy. You, as a tourist, can get to explore many spectacular locations, beautiful churches, numerous temples, and historical sites during your Trichy trip.
How To Reach Tiruchirappalli
By Air: The airport in Trichy is about 5 kilometers from the town. The fastest way to reach the Tiruchirappalli location is via a flight to Tiruchirapalli International airport.
By Train: The train station in Tiruchirapalli links to various cities in South India, including Madurai, Chennai, Rameshwaram, Thanjavur, Tirupati. On the broad gauge, it connects cities like Coimbatore, Kochi, Mysore, Bangalore, Mangalore, and Kanyakumari.
By Road: Trichy can be reached by road. There is frequent bus service available from Central Bus Station. The tourists can hire private taxis or auto-rickshaws to reach Tiruchirappalli city.
Best Time to Visit
November to March is considered to be the best occasion to visit the city of Trichy. During this period, the tourists can enjoy pleasant, cool weather. You can also visit this place during festive seasons like Navratri to experience spiritual activities.
6 Places to Visit in Tiruchirappalli
1. The Rockfort Temple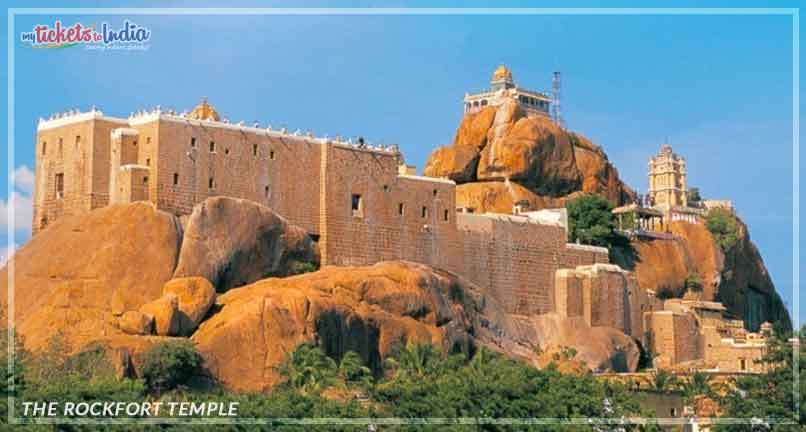 The Rockfort Temple of Trichy is a historical site constructed on an ancient rock. This structure is situated in Trichy, and the height of the rock on which it is standing is 273 feet. It is one of the essential temples that played a major role in the Carnatic wars. The temple has the prominent Ucchi Pillayar Temple, which was constructed in the 7th century. This temple was established by the Pallavas back in 508 AD. Plan your trip to this oldest structure fort, and make your journey exciting.
Entry Fee: 3 INR per head
Timings: 6 AM to 8 PM
Location: Tiruchirapalli Rock Fort, Tiruchirappalli, Tamil Nadu 620020, India
2. Sri Ranganathaswamy Temple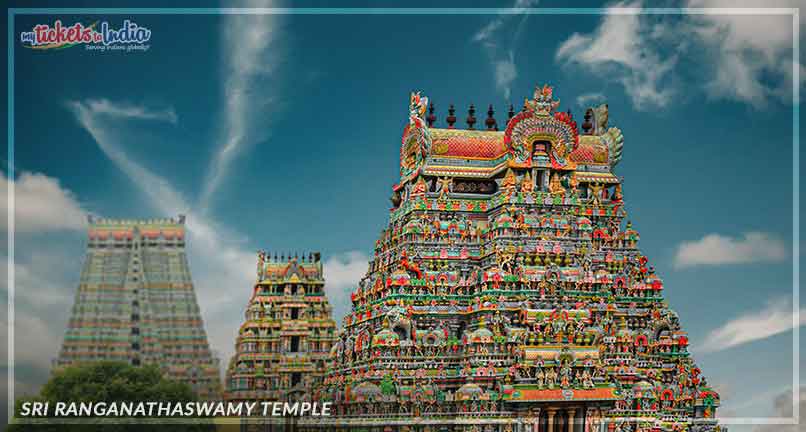 Sri Ranganathaswamy Temple is one of the Tiruchirappalli beautiful places. Dharma Varma Chola first constructed it, and later the temple vimanam got demolished by the Kaveri river flood. It was later on reconstructed by the Early Cholas King Killivalavan. The temple consists of 21 tower gateways. If you want to experience something spiritual, this is one of the best places to visit.
Entry Fees: 250 INR per head
Timings: 7:30 AM to 1 PM and 4 PM to 8 PM.
Location: VM7R+44P, Srirangam, Tiruchirappalli, Tamil Nadu 620006
3. Jambukeswarar Temple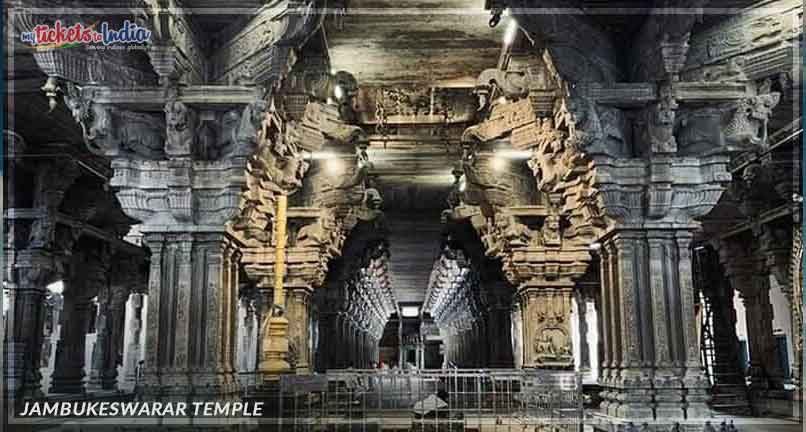 Jambukeswarar Temple in Trichy is one of the five Shiva temples and Tiruchirappalli famous places. It was constructed by Kocengannan, a Kochenga Chola. The temple is situated on Srirangam Island. It was built about 1800 years ago on Srirangam Island. The architecture, history, and the surrounding of this temple make it one of the prominent temples in the city.
Entry Fees: Free entry
Timings: 5 AM to 8:30 PM.
Location: Sannathi Street, Thiruvanaikoil, Srirangam, Tiruchirappalli, Tamil Nadu 620005, India
4. Chettinad
Chettinad is among the top places to visit in Tiruchirappalli in the Sivaganga district of Tamil Nadu state. If you want to experience the rich history of the Chettiars, then Chettinad should be there on your list. For photography buffs and history lovers, this is a perfect place.
Entry Fees: Free entry
Timings: 9 AM to 5 PM.
Location: 5QFH+RPH, Kanadukathan, Tamil Nadu 630103
5. Kallanai Dam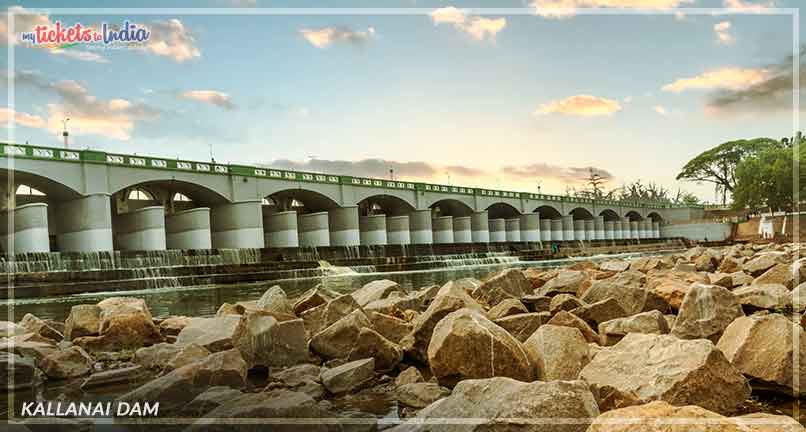 Kallanai Dam was built on the river Kaveri under the reign of King Karikalan of the Chola Dynasty. The dam is 329 meters in length and 20 meters in width. It is also called the "Grand Anicut." Visit this place, and explore the beauty of nature from close!
Entry Fees: Free entry, but the parking fee is 5 INR per person.
Timings: 10 AM – 6 PM
Location: Tiruchirappalli, Tamil Nadu 621003, India
6. Railway Museum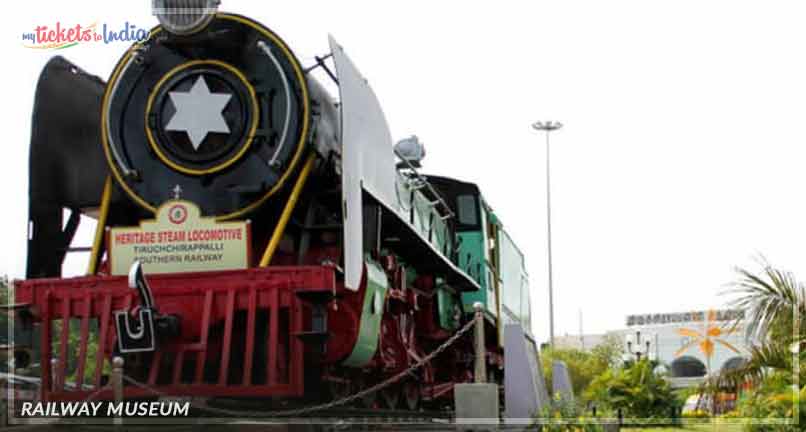 Trichy Rail Museum was constructed as a part of celebrations for the 150th Anniversary of the Indian Railways. You can witness both outdoor and indoor exhibits at the Railway Museum. You can find several documents from the British period in the indoor section. Besides, you will get an opportunity to explore the history of Indian railways, the first train operated through the country, and many more.
Entry Fees: 50 INR
Timings: 10 AM to 5 PM
Location: Bharathiar Salai, Bharathiyar Salai, Cantonment, Tiruchirappalli, Tamil Nadu 620001
5 Scrumptious Places to Eat in Tiruchirappalli
1. Kannappa Chettinadu Restaurant
Kannappa Chettinadu Restaurant serves one of the high-class traditional eateries. It is an in-house restaurant, one of the famous places where you can try Chettinad cuisine. Some of the best dishes you can try here are pepper, chicken, mutton biryani, idiyappam-paya, etc.
Address: 73A, Salai Rd, Thillai Nagar, Tiruchirappalli, Tamil Nadu 620018
Average Price: 4000 per person
2. Shri Sangeetas
Shri Sangeetas is a very popular eating place, mainly for vegetarians. The menu consists of numerous vegetarian dishes. The staff is welcoming, and the services are excellent. Pan Asian dishes and desserts are some of its must-try dishes.
Address: No.2, V.O.C, Road near Central Bus Stand, Tiruchirapalli, Tamil Nadu.
Average Price: 150 INR per person
3. DiMoRa
DiMoRa is one more outstanding restaurant in Trichy city. The restaurant has something for both vegetarians and non-vegetarians. BBQ chicken is one dish that you should try at DiMoRa. The menu also includes Italian, Chinese, and Indian cuisines. The ambiance is just amazing.
Address: No. B, 4th Floor Ambigai City Center, 29 & 30, Shastri Rd, Thillai Nagar, Tiruchirappalli, Tamil Nadu 620018
Average Price: 600 INR per person
4. Banana Leaf
One of the best family restaurants in Trichy, Banana Leaf, has an enormous menu. Crab soup, onion dosa, banana-chocolate dosa, cream soup, and Natuu Kozhi are some must-try dishes of Banana Leaf restaurant. Get a great dining experience with the whole family at Banana Leaf.
Address: Opposite Sriraj Agencies, No 2, Karur Bye Pass Road, Thillai Nagar-620018
Average Price: 150 INR per person
5. Ezham Suvai
Ezham Suvai in Trichy is a vegetarian restaurant. The ambiance is superb, and the quality of food is excellent. The menu consists of Jain, Gujarati, and Chinese cuisine. Paneer 65 is one dish that you try at Ezham Suvai restaurant of Trichy, Tamil Nadu.
Address: Tiruchirappalli, Tamil Nadu 620001, Cantonment, No-9, Collector Office Rd
Average Price: 250 INR per person
5 Best Places to Enjoy Local Shopping in Tiruchirappalli
1. Gandhi Market
Gandhi Market is one of the prominent markets of Tiruchirappalli, which is named after Mahatma Gandhi. It is a wholesale market, where farmers sell vegetables and other products. You will find various grocery shops here selling essential food products.
Location: Tharanallur, Tiruchirappalli, Tamil Nadu 620008
2. Chinna Kadai Street
Chinna Kadai Street is an ideal place to shop for the cheapest branded shoes and sandals. The market usually remains crowded every day, especially on Sundays. Visit Chinna Kadai Street to have an excellent shopping experience.
Location: Chinna Kadai St. Tiruchirappalli, Tamil Nadu 620002
3. Chinnar Bazaar
Chinnar Bazaar is well-known for selling a colorful variety of handicrafts and many other items. It is one of the best places for shopping in Tiruchirapalli. The streets around the market usually remain bustling throughout the day.
Location: Chinnar Bazaar and Big Bazaar Road, Trichy, Tamil Nadu, India
4. Flower Bazaar
Flower Bazaar has been a famous place for several years. Here you can come across a variety of lovely and colorful flowers. The visitors can get a feeling of a garden in the Flower Bazaar of Trichy city.
Location: No-25, N Devi St, Near Dr. Bens Hospital, Srirangam, Tiruchirappalli, Tamil Nadu
5. Poompuhar Handicrafts
Poompuhar Handicrafts offers some of the unique handicrafts and handlooms from the world. You can get a good discount on certain items at Poompuhar Handicrafts. Other Items sold here include brass oil lamps, sandalwood items, paintings, wood carvings, bronze icons, etc.
Location: 1, W Blvd Rd, Singarathope, Tharanallur, Tiruchirappalli, Tamil Nadu 620017
FAQs
Q: Which is the most famous temple in Trichy, Tamil Nadu?
Ans: Jambukeswarar Temple is a very famous Lord Shiva temple in Trichy.
Q: What is the most popular sweet in the city of Trichy?
Ans: Laddoos are one of the most popular sweets sold in almost every corner of the city.
Q: Which season is the best time to travel to Tiruchirapalli?
Ans: The best time to experience the Tiruchirappalli beauty is the cold season, from December to February. The temperature during this period stays between 19 degrees Celsius to 22 degrees Celsius.
Q: What are some of the must-visit tourist destinations in Trichy?
Ans: Kallanai Dam, Tiruchirapalli Rock Fort, Sri Vekkali Amman Temple, Sri RanganathaSwamy Temple, and Shri Vayalur Murugan Temple are some best Tiruchirappalli tourist places.
Q: What is the best way to reach Trichy?
Ans: Taking a flight to Tiruchirappalli is the best way to reach this city. You can also choose to travel via train to reach Trichy.
About MyTicketsToIndia
Put your trust in MyTicketsToIndia, the leading flight booking portal, and book flights according to your preferences to Trichy. We aim to provide our customers with 24×7 customer service, amazing deals, and discounts, and the lowest airfares to make your air travel budget-friendly and memorable!
Girish Sharma is the CEO of a leading travel company named Myticketstoindia, established in 2012. Being a versed travel expert since 12 years, he shares his peerless voyage expeditions along with interesting travel destination ideas and news updates for the travelaholics across the globe. He is the member of TAAI, Travel Agent Association Of India and his firm has got recognized with the reputed IATA accreditation and became the Inbound Flight Booking Portal of the Year. Loyalty & honesty towards the clients and vendors, have always been the key behind his successful walk of life.. read more