6 Tourist Places to Visit in Udaipur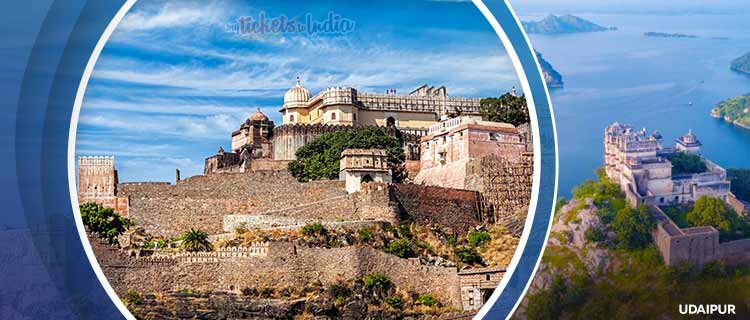 Posted on Thursday, September 30th, 2021 by MTI Team
About Udaipur
Udaipur is a beautiful city in Rajasthan, founded by Maharana Udai Singh II in 1559. Udaipur City features various historical sites along with artificial lakes and Royal buildings. Popularly known as the "City of Lakes," Udaipur is a famous tourist site with numerous adventurous activities. The camel rides along the desert lands are a unique sport and activity to try. You will also get a clear glimpse of the arid lands and varied climatic conditions. Make sure you visit the royal palaces, get fascinated by the folk dances, marble elephants, admire the beautiful gardens, and know about the rich cultural history of Udaipur. There are important places to visit in and around the city like Jagdish Temple, Gangaur Ghat, Udaipur Solar Observatory, Udaipur City Palace, Taj Lake Palace, Badi Lake, Marvel Water Park, Gulab Bagh, and many more.
How To Reach Udaipur Location
By Air: Book your flights to Udaipur at Maharana Pratap Airport. It is located about 22 km away from the main city of Udaipur.
By Train: You can also book your train tickets to Udaipur city railway station. It is connected to major cities in India like Jaipur, Mumbai, Kota, and Kolkata.
By Road: NH-58 connects Udaipur and other cities in Rajasthan with other important cities. The road extends up to Palanpur in Gujarat.
Best Time To Visit Udaipur Beautiful Places
You can visit Udaipur at any time from September to March. The winter season is ideal for regular tours and travels in and around the city. You will be able to experience Udaipur beauty at its best if you visit during this time. The summers are very hot in Udaipur, so try the harsh season.
Tour Around The 6 Majestic Places Of Udaipur
Explore the city of lakes like never before. If you are in Udaipur, you will get a host of places to visit as a tourist. The palaces and lakes offer the best Udaipur scenery. They are situated very close to each other, so accordingly plan your trip. Nature enthusiasts, art lovers as well as history freaks, will find Udaipur an interesting place to travel around.
1. Kumbhalgarh Fort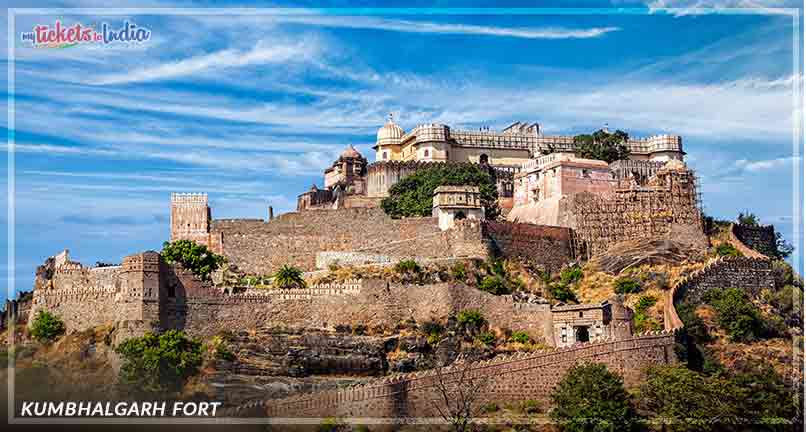 The iconic view of the fort is mesmerizing to view. The fort wall itself is built 30 km from the ground. A serene drive to the Kumbhalgarh Fort is full of surprises and scenic beauty, making it an important attraction among the famous Udaipur places. It was built in 1458 AD by Rana Kumbha.
Location: Kumbhalgarh, Rajasthan 313325
Ticket price: INR 15 (Indians), INR 200 (foreigners)
When to visit: 9 a.m. to 6 p.m.
2. Jag Mandir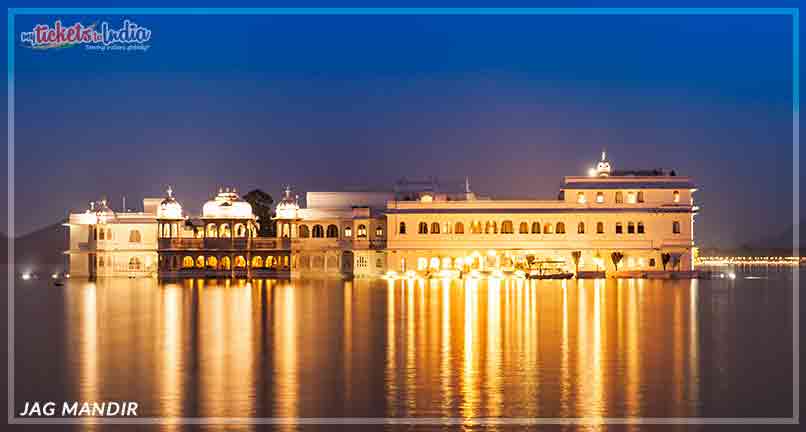 The Jag Mandir Palace was built on an island in Lake Pichola. It is famous for its architectural designs and grand interiors. The serenity of the place and the religious aspect of the Jag Mandir make it famous among the Udaipur places to visit. It was built in the 17th Century by Maharana Karan Singh II. It features ancient items of interest related to pre-independent India.
Location: Pichola, Udaipur, Rajasthan 313001
Ticket price: INR 325 (adults), INR 165 (children)
When to visit: 9 a.m to 7 p.m.
3. Jaisamand Lake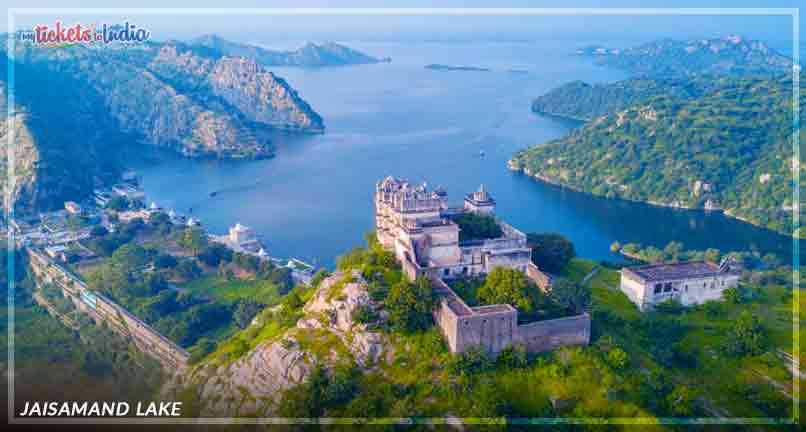 The Jaisamand Lake in Udaipur is the second largest artificial lake in the world. It is surrounded by the Jaisamand Wildlife Sanctuary, providing beautiful gardens, a cool breeze, and amazing landscapes to fall for. The lake covers a massive distance of 87 sq. km. It was built by the famous Maharana Jai Singh in the 17th century.
Location: 48 km from central Udaipur city
Ticket price: INR 30 for a boat ride
When to visit: 10 a.m. to 5 p.m.
4. Sheesh Mahal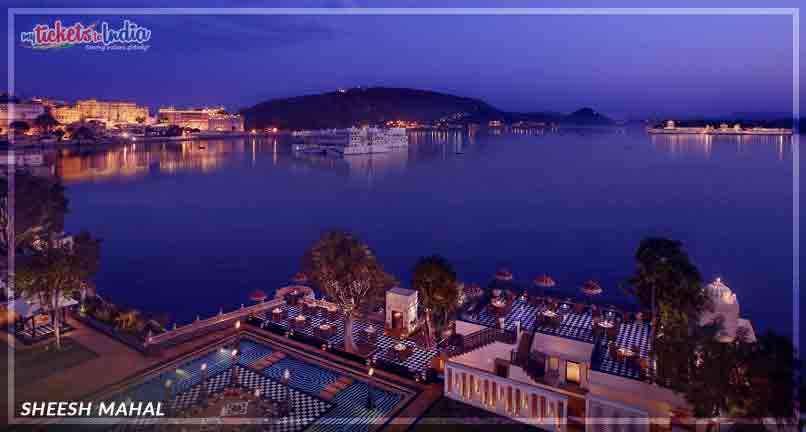 With the beautiful views of Pichola Lake, Sheesh Mahal provides fantastic dining opportunities in Udaipur. At one of the most popular heritage hotels of Udaipur, you will be able to taste every delicacy, along with the rich taste of Rajasthani flavors. Enjoy the amazing view along with tasty food in this famous restaurant located near the Udaipur best places. It was built by Shah Jahan, which was later converted into a dining place.
Location: Pichola, Udaipur, Rajasthan 313001
Ticket price: INR 1100
When to visit: 11 a.m. to 11 p.m.
5. Nathdwara Temple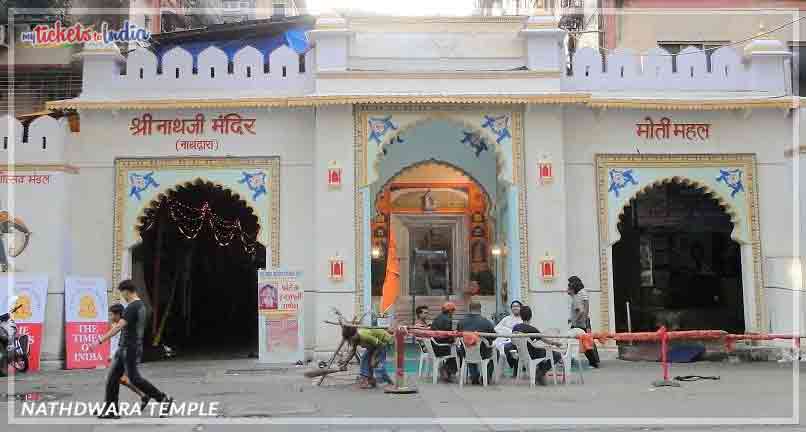 Located at the heart of Udaipur, this famous temple provides the best scenic beauty in the entire city. You will also be able to meditate here, as the place is very peaceful. Visit during the daytime to receive the auspicious prasad of the deity here. It was constructed by Srinathji.
Location: Nathdwara, Rajasthan 313301
Ticket price: Free
When to visit: 5 a.m. to 6 p.m.
6. Vintage Car Museum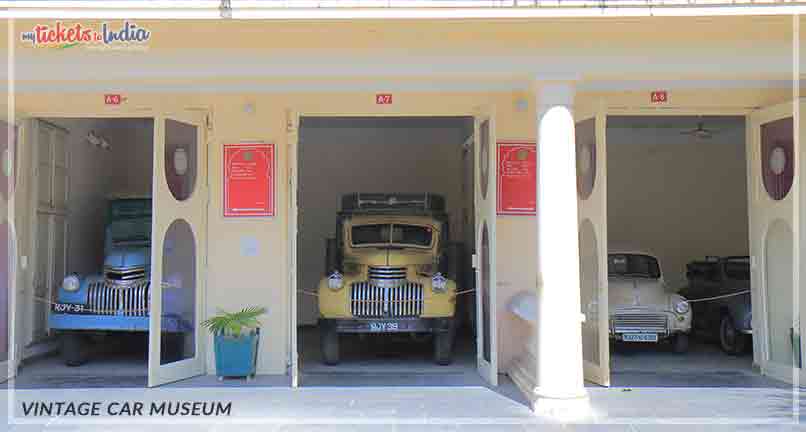 It is famous among the Udaipur places to visit, consisting of antique and heritage cars. There is a huge collection of cars, which will make every technological freak gain interest in no time. The classic car museum is relatively a new creation in Udaipur and an instant hit among the locals. It was inaugurated in the year 2000.
Location: Gulab Bagh Rd, near The Garden Hotel, Old City, Shakti Nagar, Udaipur, Rajasthan 313001
Ticket price: INR 250 (adults), INR 150 (children)
When to visit: 9 a.m to 9 p.m.
Top 5 Places To Enjoy Boating In Udaipur
Udaipur has many lakes that offer supreme quality boating services. Enjoy some quality time with your family, and explore the mesmerizing places around the lakes. Both normal and luxury boats are available in various places, so you can plan and book them in advance as well.
1. City Palace Lake
This majestic palace was built by Maharaja Sawai Jai Singh II in 1727. The architecture and interiors are splendid to watch whenever you visit. The lake beside the palace provides eminent facilities for boating, especially for tourists. The suggested time to visit this place is during spring afternoons.
Timings: 9 a.m. to 6 p.m.
Charges: INR 300
2. Lake Pichola
About the place: Lake Pichola provides one of the best natural landscapes and scenic views in Udaipur. Enjoy family boating on the artificial freshwater lake, and you will see some of the best stunning views of the surroundings. Get a panoramic view from the Pichola Lake of the entire landscape along with all four islands. The best time to visit this marvelous location is during the evening time.
Timings: 9 a.m. to 6.30 p.m.
Charges: INR 300 per hour
3. Ambrai Ghat
This Ghat was built by Maharana Jagjit Singh in 1743 AD. The Ghat provides various cushioned seats for leisure activities. You can also try boating at this place, along with the freshwaters splashing through the amazing landscape. The ideal time to explore this beautiful lake is late in the evening.
Timings: 10 a.m. to 10 p.m.
Charges: INR 900 for two
4. Fateh Sagar Lake
About the place: Try speed boating in Fateh Sagar Lake, and get hold of some stunning views around the water body. It is situated near the Moti Magri Hills, offering some of the best views in Udaipur. The boat rides will cover the entire Fateh Sagar Lake at one stretch, so it may take up to an hour to complete the ride. You can visit the Fateh Sagar Lake during the spring evenings for an amazing experience.
Timings: 9.30 a.m to 6 p.m.
Charges: INR 200
5. Dudh Talai Lake
Located near the Shiv Niwas Palace, the Dudh Talai lake is an important tourist spot in Udaipur. The amazing scenery, along with lush green landscapes, is a treat to watch. The lake offers regular boating services, where you can also ask for luxury boats for a pleasurable ride. Such famous attractions of Udaipur for couples also mark the destination as the romantic city of Rajasthan. As per our travel experts, the best time to tour this lake is during the sunset.
Timings: 10 a.m. to 8 p.m.
Charges: INR 150 (normal boat), INR 250 (luxury boat)
4 Famous Places To Enjoy Rajasthani Food In Udaipur.
You cannot miss the unique flavors of Rajasthani food while you are in Udaipur. Rejuvenate your taste buds with superb quality tasty food in Udaipur. Visit these famous places to enjoy the traditional Rajasthani food in all its essence.
1. Suvarna Mahal Hotel
This hotel ranks among the top places to visit in Udaipur with its authentic cuisines, specially reserved for dining. The hotel is located at Bhavani Singh Road, Udaipur, located 25 km from the airport. Some of the best dishes you can try here are Mawa Kachori and Mirchi Bada.
Opening timings: 12.30 p.m. to 3 p.m., 7.30 p.m. to 11.30 p.m.
Prices: INR 9000 for two
2. Chokhi Dhani
You will get to taste the amazing flavors that traditionally reflect the Rajasthani food quality. The address of this amazing place is – Plot NO. R – 9B, 1, Hansa Palace Rd, Tagore Nagar, Sector 4, Pooja Nagar, Hiran Magri, Udaipur. It is situated 24 km away from the airport. Some of the best dishes you can try here are Pyaaz ki Kachori and Laal Maas.
Opening timings: 11 a.m. to 11.30 p.m.
Prices: INR 500-1000
3. Shri Panch Bhog
It is a pure vegetarian restaurant in Udaipur. You will get to taste amazing delicacies famous in Rajasthan while you travel around the Udaipur tourist places. It is located in Sidhartha Nagar at Terminal 2 Airport road, Malviya Nagar in Udaipur. It is situated at a distance of 23 km from the airport. The best eateries you can try at one of the famous budget hotels are Mohan Thaal and Dal Baati Churma.
Opening timings: 11.30 a.m. to 11 p.m.
Prices: INR 700 for two
4. Mishthan Bhandar
This famous sweet shop sells unique sweet items in Udaipur. You can sit inside and have fresh sweets or takeaway food items as per your choice. It is situated in Hiran Magri in Udaipur. This sweet shop is situated at a distance of 28 km from the airport. Some of the fantastic dishes you can try here are mixed namkeen and long sev.
Opening timings: 7 a.m. to 8 p.m.
Prices: INR 500 (approximate)
FAQs
Q: What kind of climate does Udaipur have?
Ans: Udaipur has a hot semi-arid climate, with extreme temperatures during the summer and winter seasons. The city receives scanty rainfall throughout the year.
Q: Is it safe to travel to Udaipur?
Ans: Yes, it is safe to travel to Udaipur tourist places during any time of the year. There is high-pitch security guarding the city from time to time. You will also be able to enjoy the nightlife in Udaipur without any threat to your safety.
Q: Where to stay in Udaipur?
Ans: Some royal palaces like Shiv Niwas Palace and Taj Lake Palace in Udaipur have been luxurious hotels. You can choose one of them to have a pleasant stay in Udaipur. You can also select the best hotels near Ambrai Ghat and Bada Mahal, like Heritage Resort and Janak Niwas.
Q: Which are the best places to shop in Udaipur?
Ans: Chetak Circle, Bapu Bazar, and Bada Bazar are some places to shop in Udaipur. You will get exquisite items as well as handcrafted materials in these places at affordable rates.
Q: What language do the locals speak in Udaipur?
Ans: The local Rajasthani people in Udaipur speak in Mewari, Marwari, Wagdi, and Hindi languages. You can converse with the drivers and locals in English because most of them have learned the language in Udaipur.
Grab Effective Discounts With MyTicketsToIndia
Guess the only leading flight book portal service that can provide you with amazing deals and the lowest airfares? Yes! It is MyTicketsToIndia, the customer's favorite agency to book cheap flights! Book flights to Udaipur according to your preference and get in touch with our travel experts to avail of the best discounts ever!
Girish Sharma is the CEO of a leading travel company named Myticketstoindia, established in 2012. Being a versed travel expert since 12 years, he shares his peerless voyage expeditions along with interesting travel destination ideas and news updates for the travelaholics across the globe. He is the member of TAAI, Travel Agent Association Of India and his firm has got recognized with the reputed IATA accreditation and became the Inbound Flight Booking Portal of the Year. Loyalty & honesty towards the clients and vendors, have always been the key behind his successful walk of life.. read more