7 Stunning Tourist Places To Visit In Visakhapatnam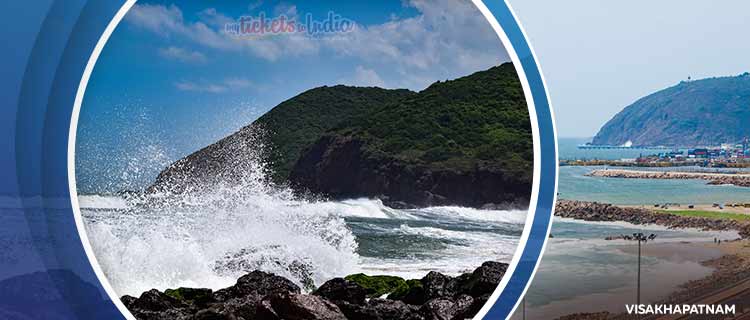 Posted on Tuesday, September 28th, 2021 by MTI Team
About Visakhapatnam
Visakhapatnam or Vizag is known to be the largest city in Andhra Pradesh. It is a place where you can find numerous tourist spots and activities to explore. Visakhapatnam city is also a beach town, surrounded by beautiful hill ranges, caves, lakes, temples, and deep valleys. The place has many tourist spots to offer, which will enthrall you with excitement, enrichment, and refreshment. Vizag city is one of the fastest economically growing cities in whole Asia. So, what are you waiting for? Plan your trip to this incredible city and enjoy the picturesque locations!
How to Reach
By Air: You can visit Visakhapatnam by booking air tickets; many flights to Visakhapatnam Airport are available, making your trip exciting and affordable.
By Train: Many good trains operate in the city from the main railway hubs. Other than that, Visakhapatnam metro is also available to commute to different parts of the city.
By Roadways: Visakhapatnam is connected to various major cities. You can choose to travel via road to make your trip fun and exciting.
Best Time to Visit
The best time to visit and experience the amazing Visakhapatnam beauty is between October to March. During this period, the weather remains pleasant, making it comfortable for you to explore Visakhapatnam's famous places and admire its scenic beauty.
7 Top Tourist Destinations to Visit in Visakhapatnam
No matter what experience you are looking for, this city has everything to offer. You can explore the beautiful sinking valleys, evergreen forests, war memorials, exquisite gardens, pristine beaches, and various museums. If you are a fan of cultural and spiritual places, Vizag has some of the most beautiful temples that you must visit. Now, book your air tickets, and have a look at these places to visit in Visakhapatnam for an unforgettable vacay!
1. Borra Caves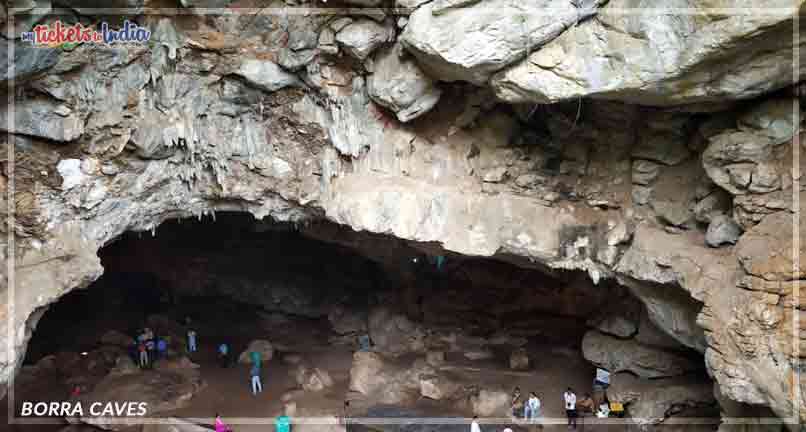 If you are a history lover, it is one of the must-visit Visakhapatnam tourist places. Borra Caves are located in the center of the Ananthagiri hills in Araku Valley. Many Lord Shiva devotees visit this place to pay their respect. It is one of the largest caves in the country, located 705 meters above the sea with a rich history to learn of. Plan your trip to witness the mysterious and evergreen beauty of the city!
Located in: Andhra Pradesh 531149
Entry fee, if any: Entry for adults is INR 60 and for children INR 45. If you want to carry your mobile phones or digital cameras, extra INR 25 to INR 100 charges will apply.
2. Yarada Beach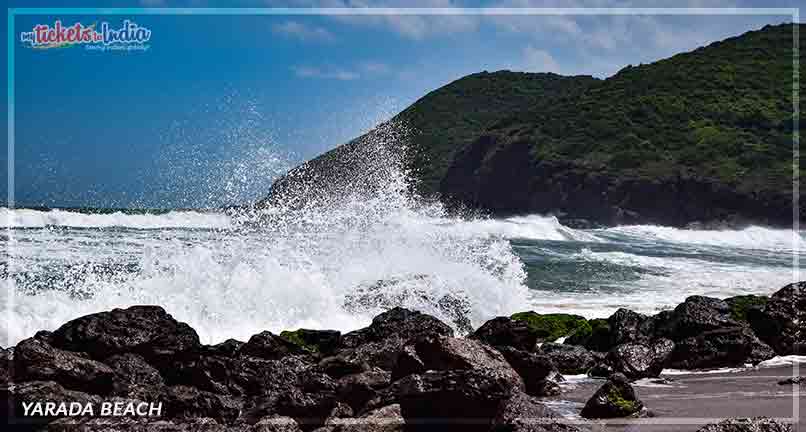 It is one of the most popular beaches in Vizag, surrounded by verdant hills and a lush green environment. If you want to escape and spend some time in the beauty of nature, it is one of the most peaceful locations. You can visit here with your friends, family, kids, etc., and enjoy picnics, sunbathing, and water activities like swimming. The beach is renowned for having crystal clear blue water and a picture-perfect location.
Located in: It is located near the Gangavaram beach and Gangavaram port
Entry fee, if any: INR 10
3. Bheemili Beach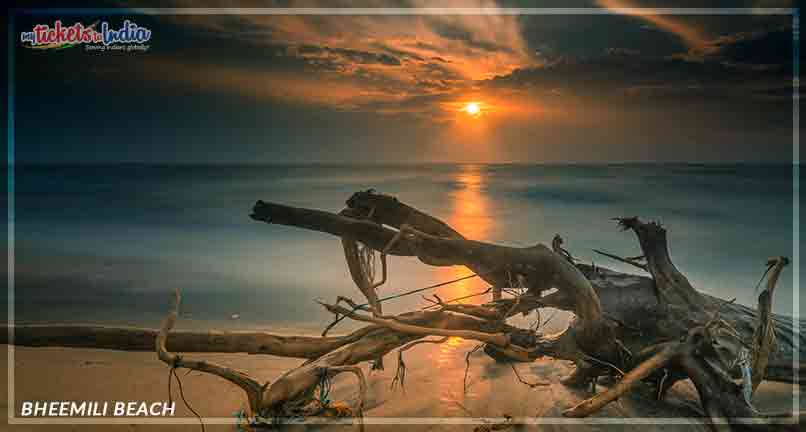 Also known as the Bhimlipatam or Bheemili shoreline. The beach is filled with widely stretched coconut tree plantations. The exciting part about this beach is that it is located where the Bay of Bengal and Goshtani rivers combine. You can also find several cemeteries and remaining forts constructed in the 17th century, which strongly reflect the Dutch era.
Located in: near Bheemunipatnam
Entry fee, if any: there are no entry fees
4. Gangavaram Beach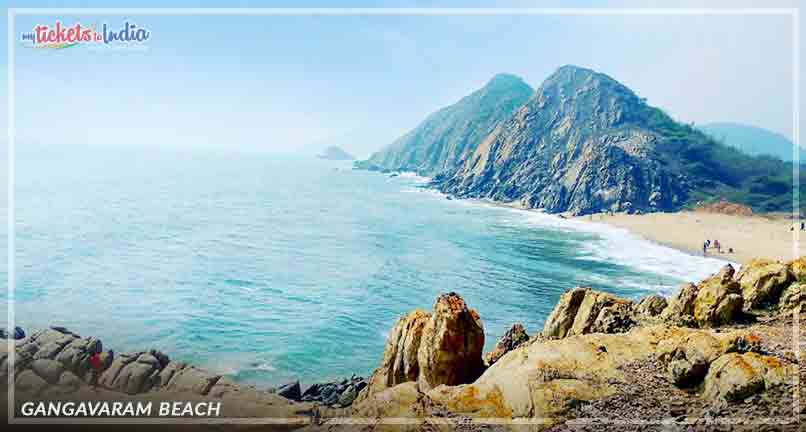 Gangavaram Beach is one of the most scenic beaches in the city. The beach is highly famous for being featured in multiple movies and tv shows. It has soft sands and a picture-perfect location that makes it one of the perfect spots for relaxing. Spend some quality time with your partner at this tranquil beach.
Located in: Near Visakhapatnam Steel Plant VSP
Entry fee, if any: Free for everyone
5. Indira Gandhi Zoological Park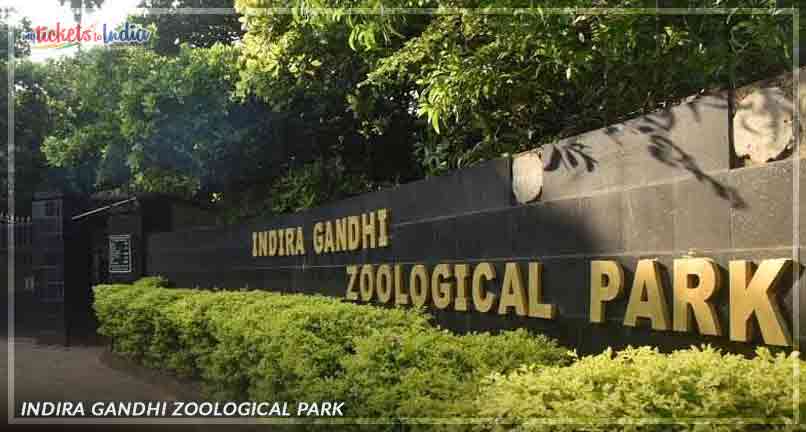 If you are a wildlife lover, then Indira Gandhi Zoological Park is a must-visit attraction for you. It was constructed in 1977, which is home to around 100 species of animals. It is located in the center of the Kambalakonda reserve forest in a dense, lush green environment. It is considered as one of the top Visakhapatnam tourist places that you should visit while you are in the city.
Located in: Kambalakonda Reserve Forest, Yendada, Visakhapatnam
Entry fee, if any: For adults INR 20 and children INR 10. Extra charges are applied to cameras and mobile phones.
6. Dolphin's Nose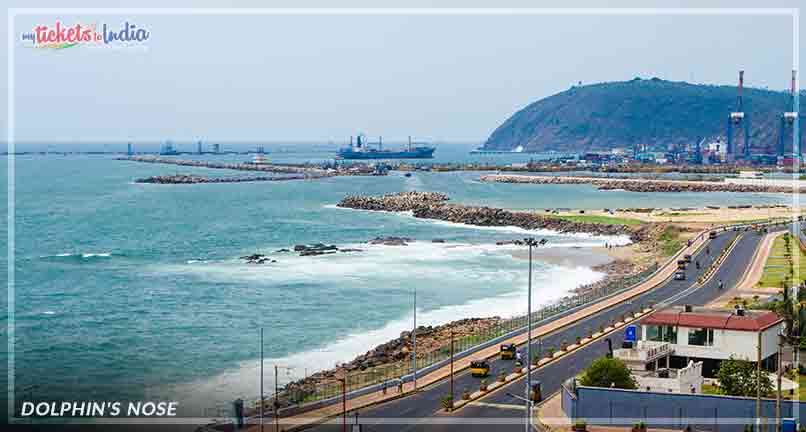 Dolphin Hills is an exquisite location that offers a view of the whole city. It offers some of the best breathtaking views. However, it is named Dolphin's Nose because there is a large rock viewpoint that looks like a Dolphin's nose. This place has many steep roads and long walks to explore, which is worth visiting.
Located in: Dolphin Hill, Visakhapatnam, Andhra Pradesh 530005
Entry fee, if any: Free for all
7. Lawson's Bay Beach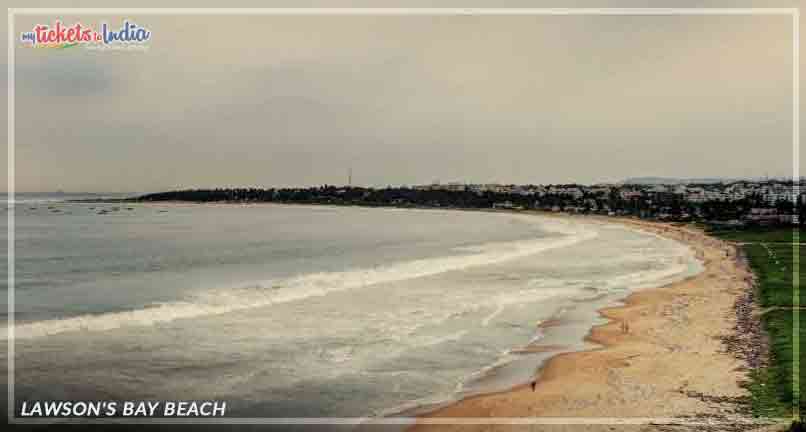 Lawson's beach is an extension of Ramakrishna Beach, which has a very serene vibe and is exotic. It is one of the most beautiful beaches, surrounded by greenery. Many tourists visit this place to spend time in nature and enjoy swimming and sunbathing. If you want to spend some peaceful time in nature's beauty, this place is for you. The cool breeze of the beach is surely going to lull you to sleep.
Located in: Andhra Pradesh, 530005
Entry fee, if any: Free for all
6 Weekend getaways from Visakhapatnam
If you want to take a refreshing break from your busy life, then spend your leisure time exploring Visakhapatnam's beautiful places. These are some of the fun and exciting places which will enrich your mood with freshness.
1. Yanam
It is the amalgamation of French and Telugu culture, also known as Quaint town in Puducherry. Here you will find stunning French structures and buildings along with the turquoise blue beach, where you can spend an amazing weekend with your friends, family, and loved ones. Some of the best things you can do here are visiting old churches, trying eateries from French restaurants, etc.
Where to stay: GVS residency, the Regency hotels are good lodging and staying options.
2. Lambasingi
Lambasingi is also known as Andhra Pradesh's Hamlet. It is a fantastic spot for those who love to explore and spend some time in nature. It is the best Visakhapatnam location to view incredible flora and fauna. Other than that, you can also pay a visit to some of the famous divine temples. It is a small village located in the Eastern Ghats of Chintapalli Mandal.
Where to stay: HariPriya gardens & resorts, The SBS inn
3. Papikondalu
The place is nestled up with lush green hills bounded by the Godavari river. It is a valley that offers a breathtaking view of the place. The whole region is covered with tropical rainforest making it a beautiful place for nature lovers. Some of the best places you can visit are Gandi Pochamma Temple, Papikondalu Hills, and Jamalapuram Temple. Papikondalu is located in Rajahmundry in Andhra Pradesh.
Where to stay: Devi Sridevi Lodge, River bay Resort, Sai Subhodaya Residency
3. Maredumilli
It is a serene location that offers panoramic views of natural beauty. It is an exotic place where you can see some of the breathtaking views. The magical ambiance will make your heart pop out of happiness and joy. Other best places you can visit here are Manyam Viewpoint, Jalatharanini Waterfalls, and Rampa Waterfalls.
Where to stay: Vanavihari Ecotourism, Birds Nest Resort, And Tourism
4. Rajahmundry
Rajahmundry is one of the prominent cities located at a distance of 190 km from Visakhapatnam. It is situated on the eastern bank of river Godavari. It is the best weekend getaway location, where you can spend your time exploring ISKCON Temple, Cotton Museum, Damerla Ramarao International Art Gallery, etc.
Where to stay: Akshay Residency, Hotel Shelton Rajamahendri, Sangam Residency
5. Gopalpur
Are you a beach lover? If yes, plan your trip and hit the road! Gopalpur is a famous weekend getaway location, which was once a busy seaport. Now it has become a major hub for various adventurous activities and beach festivals. The place is located in the Ganjam district of Odisha. Now, pack your bags, and spend an amazing weekend!
Where to stay: Mayfair Palmbeach Resort and OTDC Panthanivas
5 Trekking locations in Visakhapatnam – 300 Words
1. Katiki Waterfalls
It is a beautiful place where you can see the stunning waterfall gushing on the rock. The site is the best choice for adventure lovers as trekking here is one of the most challenging tasks. However, its flora and fauna is the major attraction of this place.
Distance: 4-5 km
Safety tips: The area is super slippery due to the waterfall. The trekkers must wear proper shoes and equipment to trek safely on the trail.
2. Kambalakonda
The place is a dry, evergreen dense forest. Here you will find heavy shrubs and scrubs. The destination is also perfect for a picnic spot with family and friends.
Distance: 1.5 to 2 km
Safety tips: general trekking instructions must be followed, like accompanying the group, etc.
3. Tyda Nature Camp
The place is also known as the Jungle Bells nature camp. It is a scenic destination packed with fun and adventurous activities. You can see some of the captivating views while trekking on this trail.
Distance: 4 to 5 km
Safety tips: Accompany your group, wear proper shoes or footwear, don't forget your support stick, don't carry heavy packages, etc.
4. Erra Matti Dibbalu
The area will give you a vision of the desert as here you will find Red Mud Hillocks. The place also has a geo-heritage tag attached. You can have an exciting track over these red paths and have fun with your friends and family.
Distance: 4.5 to 5 km
Safety tips: You must wear trekking shoes, backpacks must not be very heavy, and you should take some light sources along with you like flashlights.
5. Bojjannakonda
Here you will find many Buddhist giant structures which are located at the Sankaram near Anakapalle. It is a place quite far away from Vizag but worth visiting. Make your trek exciting by visiting this place.
Distance: 3 to 4 km
Safety tips: Carry lightweight backpacks, wear the proper footwear, always trek along with your fellow companions and guides.
FAQs
Q: Is Araku Valley Safe to visit?
Ans: Yes, it is a beautiful hill station in Andhra Pradesh. It is the perfect place for all nature lovers as here you can view the beautiful Visakhapatnam scenery.
Q: For whom is Vizag a perfect destination?
Ans: Vizag is perfect for those people who love nature. The city's filled with stunning vacation spots, including beaches, splendid attractions, serene surroundings, etc. There are many Visakhapatnam places to visit where you can experience the true beauty of this place.
Q: What things can I buy from Visakhapatnam?
Ans: Vizag has good shopping places that sell different ranges of products. You can buy souvenirs, jewelry, books, sandalwood sculptures, and drinks with an Aroma of coffee.
Q: what are the best places to visit in Visakhapatnam?
Ans: Some of the Visakhapatnam best places are Indira Gandhi Zoological Park, Waltair Uplands, Sagar Nagar Beach, and Tenneti park.
Q: Is Vizag worth visiting?
Ans: Absolutely Yes, the place has many spectacular views, making your trip the best trip ever. The city is filled with a green landscape and green surroundings.
Plan A Trip to Visakhapatnam with MyTicketsToIndia
Looking for a pocket-friendly flight to Visakhapatnam? Yet, nothing that matches your likes. Well, you should know that you have finally landed at the right destination! At MyTicketsToIndia, customers are provided with the best deals and affordable flight fares of their preferences. Kindly get in touch with our travel experts and book your flights to Visakhapatnam at the earliest and in the best possible way ever!
Girish Sharma is the CEO of a leading travel company named Myticketstoindia, established in 2012. Being a versed travel expert since 12 years, he shares his peerless voyage expeditions along with interesting travel destination ideas and news updates for the travelaholics across the globe. He is the member of TAAI, Travel Agent Association Of India and his firm has got recognized with the reputed IATA accreditation and became the Inbound Flight Booking Portal of the Year. Loyalty & honesty towards the clients and vendors, have always been the key behind his successful walk of life.. read more