Top 7 Tourist Places to Visit in Chandigarah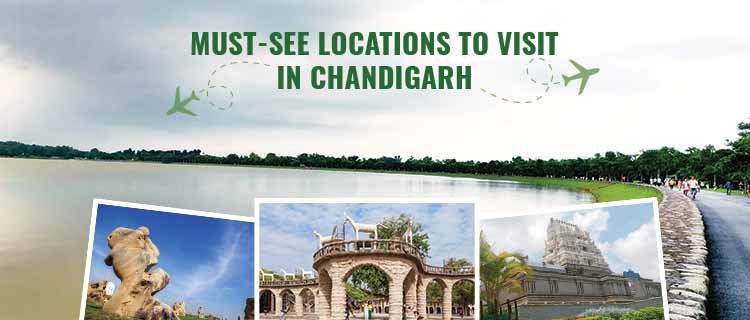 Posted on Friday, September 24th, 2021 by MTI Team
About Chandigarh
Chandigarh, India's most beautiful city, has a plethora of attractions for tourists. Chandigarh has the power to present itself to all worldwide travelers in how the rest of India aspires to be seen, symbolizing prosperity, and culture. Chandigarh is the joint capital of Haryana and is officially a state as a Union Territory managed by the federal government. As a border city, Chandigarh acts as the capital of both Punjab and Haryana, absorbing the cultures of both states. Chandigarh is one of the most well-planned cities in the country, with unrivaled architecture, beautiful gardens, and a peaceful atmosphere. The city itself is charming, and there are plenty of things to see and do in and around it. It is a paradise for nature lovers.
How to Reach Chandigarh?
By Air: Chandigarh Airport, about 12 kilometers of distance from the city center, serves as a hub for domestic flights connecting the city to the rest of the country. Chandigarh's flights are regularly available from Bangalore, Mumbai, Chennai, Delhi, Srinagar, and Ahmedabad. Getting flights to Chandigarh isn't tricky. Airlines such as Air India, GoAir, and IndigoAir, among others, fly to and from the airport, linking it to other Indian cities. From the airport, taxis can be taken to numerous locations within the city.
By Rail: The city center is about 8 kilometers from the Chandigarh train station. Trains frequently run between the railway station and many Indian cities. It is connected to New Delhi via the Jan Shatabdi, Shatabdi, and Himalayan Queen. Other significant trains connecting Chandigarh with other cities are the Paschim express, Chennai express, Sadbhavna express, and Kerala Sam Park Kranti.
By Road: Chandigarh's road system connects it to the rest of the country. From places such as Mussoorie, Shimla, McLeod Ganj, Dharamsala, Delhi, and Kullu, there are numerous direct buses accessible. Chandigarh and Delhi are connected by the National Highway 1, which takes 4 to 5 hours to travel.
Best Time to Visit Chandigarh
Chandigarh is located in India's north-western corner, near the Shivalik Himalayan range's foothills. It has a humid subtropical climate. Sweltering summers, chilly winters, and monsoons with variable rainfall are all characteristics of the region's climate. This means that the optimum & reasonable time to visit Chandigarh city is between September and November when the rains have stopped. It's also a good idea to organize your visit right before summer arrives to not miss out on the beauty of nature.
7 Must-See Places to Visit In Chandigarh
Chandigarh has long been a business hub and a wonderful place to call home. It's also a hidden treasure of a location, ideal for spending time with family, friends, alone, or that special someone.
1. Rock Garden Chandigarh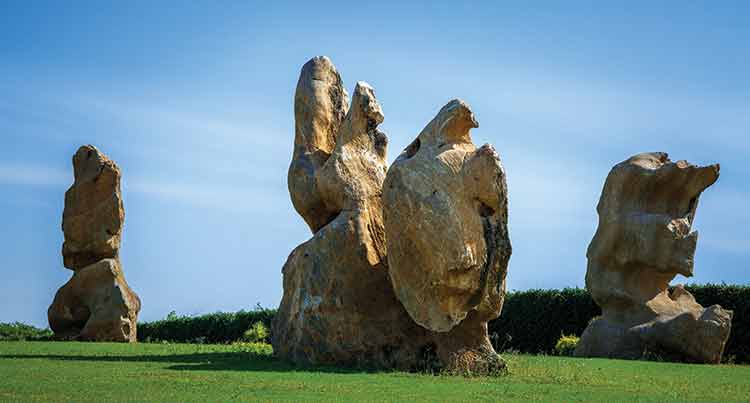 The Rock Garden, one of the many lovely Chandigarh famous places, is a large open-air exhibition hall in Chandigarh's sector. One of the major tourist attractions of Chandigarh features sculptures made from municipal and industrial trash that was planned and executed by Nek Chand, a former Chandigarh Road Inspector.
Timings: 9:00 AM – 7:00 PM (April- September), 9:00 AM – 6:00 PM (October- March)
Entry Fee Adults: INR 30
Entry Fee Children: INR 10
Location: The Rock Garden of Chandigarh Address: Sector No.1, Chandigarh, 160001, India
2. Zakir Hussain Rose Garden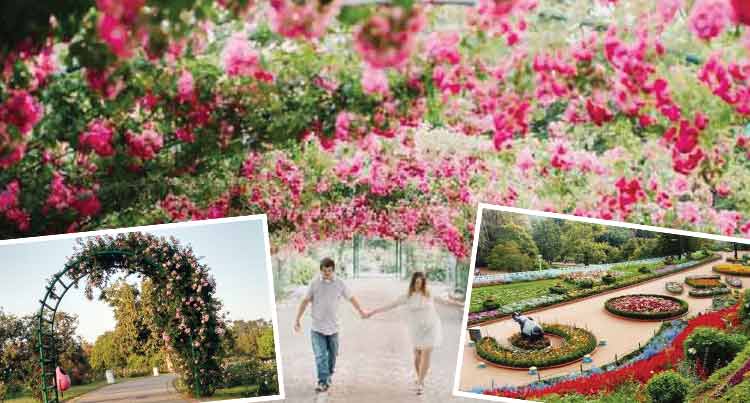 The Rose Garden is a floral exhibit with a wide variety of over 825 different flower kinds and 32,500 different trees and medicinal bushes. This park, also known as the Zakir Hussain Rose Garden after India's previous president, spans 30 acres of land and is covered with an astonishing assortment of flowers. The most significant time to visit Chandigarh's Rose Garden is February and March when the flowers are in full bloom. This is also when the Rose Festival takes place, so it's an excellent time to go, which captures the Chandigarh beauty.
Timings: 6:00 am to 10 pm
Entry Fee: INR 50 Per Person (For Adults and Children)
Address: Jan Marg, 16B, Sector 16, Chandigarh, 160016, India
3. Sukhna Lake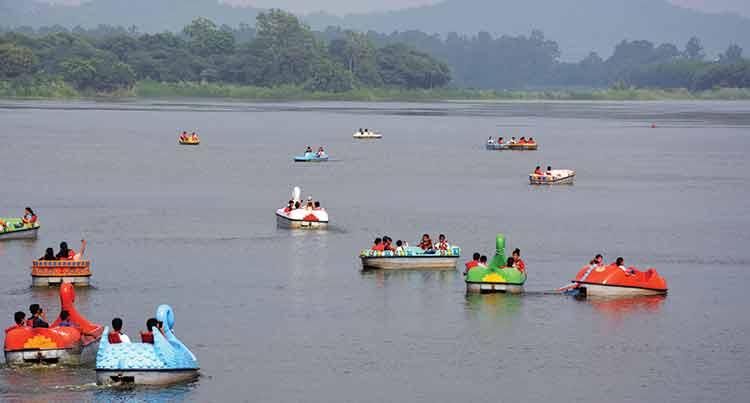 Sukhna Lake in Chandigarh is nestled at the foot of the Shivalik Hills and paints a lovely image of Chandigarh scenery. Sukhna Lake is an artificial lake that stretches over 3 square kilometers and is the only one of its sort in the city. The city's center of attraction was formed in 1958 by damming the seasonal Sukhna Choe (Stream) that runs down the Shivalik Hills. The beautiful lake attracts a steady stream of morning joggers and walkers who appreciate the fresh air and the beautiful blue water. Le Corbusier, the creator of Chandigarh, India's first planned city, predicted that Sukhna lake would be the center of people's wellness pursuits.
Timings: 5:00 AM – 9:00 PM (All days of the Week)
Entry Fee: Free
Address: Sector No.1, Chandigarh, 160001, India
4. Chattbir Zoo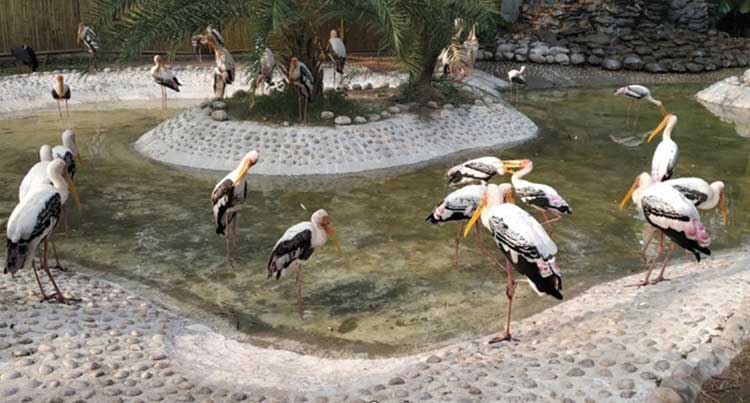 Mahendra Chaudhary Zoological Park, popularly known as Chhatbir Zoo, is a zoological park in Zirakpur, is one of the many Chandigarh beautiful places. A wide range of animals, birds, and reptiles can be seen in the Park. The zoo, which spans 202 acres, provides an open enclosure for the animals to maintain their native habitat. The Royal Bengal Tiger is the zoo's flagship attraction.
Address: Chattbir Zoo Rd, Chhat, Punjab 140603
Entrance Ticket Details for Chhatbir Zoo
Rs 5 (for children between 3-12 years)
Rs 20 (for 12 years and above)
Zoo excursion in a battery-operated vehicle Rs 50 per head for an hour.
Tiger Safari Rs 50 per head for 30 minutes.
Timings: Tuesday to Sunday: 09:00 am to 05:00 pm.
5. International Dolls Museum, Chandigarh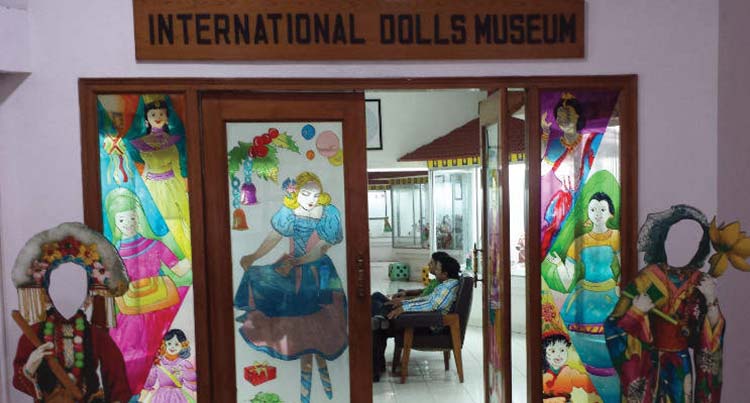 In 1985, the Chandigarh authorities collaborated with the Rotary Club of Chandigarh to construct the International Dolls Museum. The Indian Council of Child Welfare, Chandigarh, oversees the museum's operations. It was created to entertain the children. It includes 250 various fascinating dolls and puppets exhibiting the doll culture from nations such as Denmark, Germany, the Netherlands, Spain, Russia, and Korea, among others.
Timings: 10 am to 5 pm, Closed on Sundays and National Holidays
Entry Fee: Rs. 10 for Adults & Rs. 5 for Camera
Address: Bal Bhawan, Udyog Path, Sector 23B, Chandigarh, 160023
6. Le Corbusier Center