10 Famous Tourist Places to Visit in Chennai
Posted on Wednesday, September 15th, 2021 by MTI Team
About Chennai
Home to one of the second largest urban beaches in the world, Chennai is an Indian city that is purely steeped in cultural history and ancient works of art. The bustling Chennai city is home to beautiful beaches, British rule-era style of architecture, and some of the oldest temples in the world. As you plan a Chennai trip, be ready to get amazed by the wide range of culinary south Indian flavours and cultures that will surely entice the traveller in you. This loving breezy beach city has some of the warmest and purest soul people around. Whether you are planning a short trip or a long one, there are plenty of Chennai famous places to keep you indulged and interested.
How To Reach Chennai?
By Air: If you are thinking of reaching Chennai by booking your USA to Chennai flights, then Chennai International Airport is located at a distance of 7km from the main city centre.
By Train: Chennai has two main railway terminals. Chennai Central Station is the main serving station for the Chennai location. It is connected to major cities as well as to smaller towns across India.
By Road: Chennai location is one of Asia's largest bus stations and is well connected to major cities in Tamil Nadu. Chennai city is also well connected via highways so you can also commute through cars and cabs.
Best Time To Visit Chennai
The best time to visit Chennai is during the winter season. The months from November to February is the best time to visit Chennai. The temperature remains pleasant, and it becomes quite comfortable to explore all of Chennai tourist places. Otherwise, Chennai remains quite hot during the summers. Again, what might be hot for some can be okay for others. Hence, having an overview of the Chennai weather is important before planning your trip.
10 Top-Ranked Places To Explore In Chennai
For all the travellers who don't mind the hot sun but love to enjoy some warmth hearted people and love rich cultural backgrounds. Then Chennai is the city for you to spend your holidays. There are some mind-boggling destinations in Chennai which you should surely not miss.
1. Kapaleeswarar Temple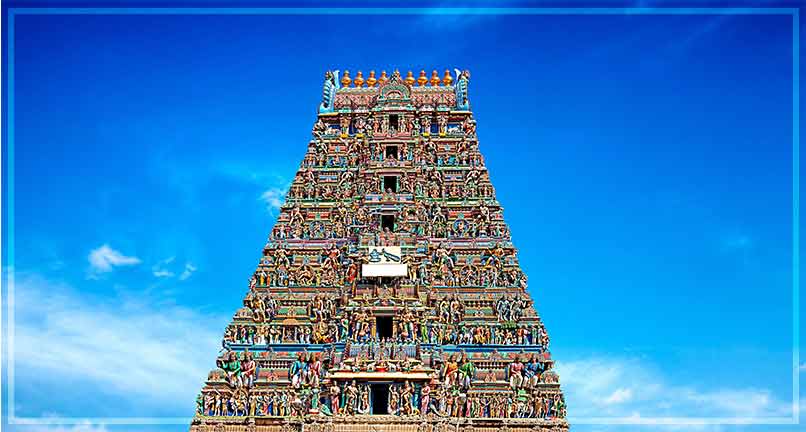 Kapaleeswarar Temple is one of the oldest temples with awe-inspiring architectural beauty. The true Chennai beauty resides only at this temple. The temple was built in the 7th century by Pallava kings. Kapaleeswarar Temple is one of the best places to visit in Chennai as it is a true example of Dravidian architecture.
Location: Within Chennai City
Timings: 5:30 Am to 12 Pm and 5:00 Pm to 9:00 Pm
Entry Fee: No entry fees
2. Valluvar Kottam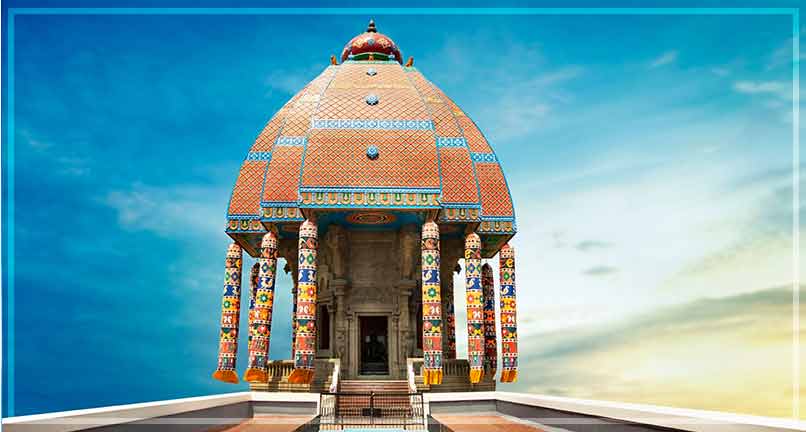 Valluvar Kottam is one of the most impressive Chennai tourist places located on the East Coast Road. It is dedicated to Valluvar and is an eminent part of Chennai's literature collection. This ancient monument was inaugurated in the 19th century and is one of the prime tourist attractions in Chennai. Don't forget to have a look at 133 chapters of the famous inscribed work.
Location: Valluvar Kottam High Road, Nungambakkam, Chennai
Timings: 8:30 Am to 5:30 Pm
Entry Fee: INR 3 for adults and INR 2 for Children
3. Mylapore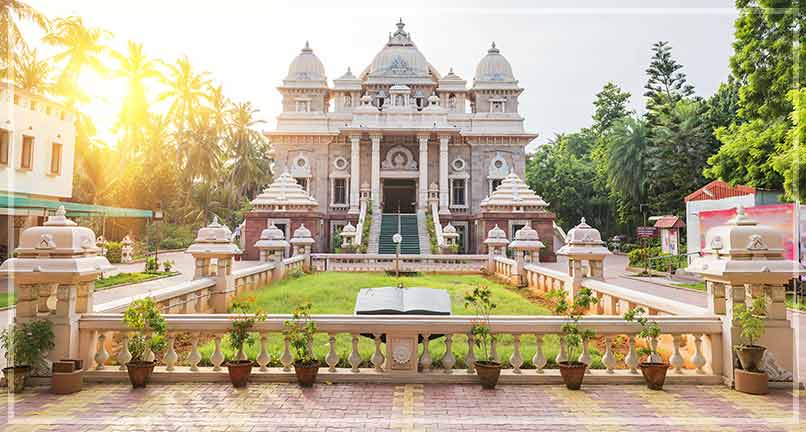 Mylapore is a neighbourhood that is perfect for every type of traveller because it has something for everyone. It is home to a plethora of Chennai places to visit that will entice the traveller inside you for all good reasons. It is one of the oldest residential areas and is a must-visit place during your South Chennai trip.
Location: Chennai, Tamil Nadu
Timings: All day long
Entry Fee: Free
4. Guindy National Park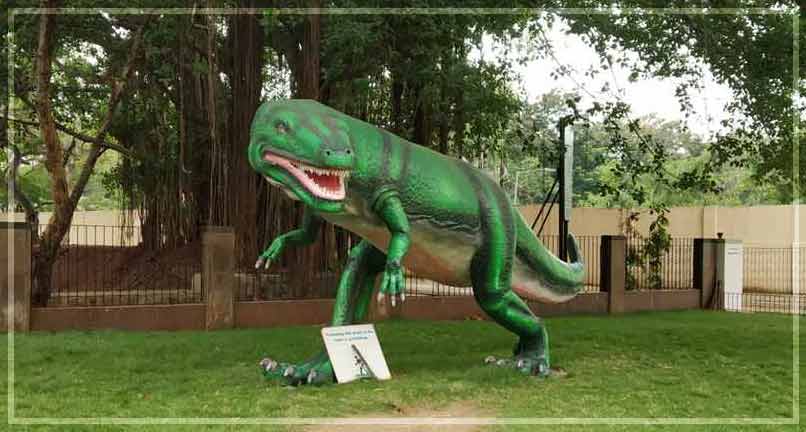 Love animals a bit too much? If yes, then a visit to Guindy National park is a must. Guindy National Park is one of the smallest national parks in India. It is listed amongst the top places to visit in South Chennai for all wildlife-loving travellers. Additionally, if you also love birdwatching, then bring your binoculars here and spot the numerous species of birds here. It is also famous for the Chennai Snake Park.
Location: Rangeguindy, Chennai, Tamil Nadu
Timings: 9:00 Am to 5:30 Pm
Entry Fees: INR 20 for adults and INR 5 for children
5. Birla Planetarium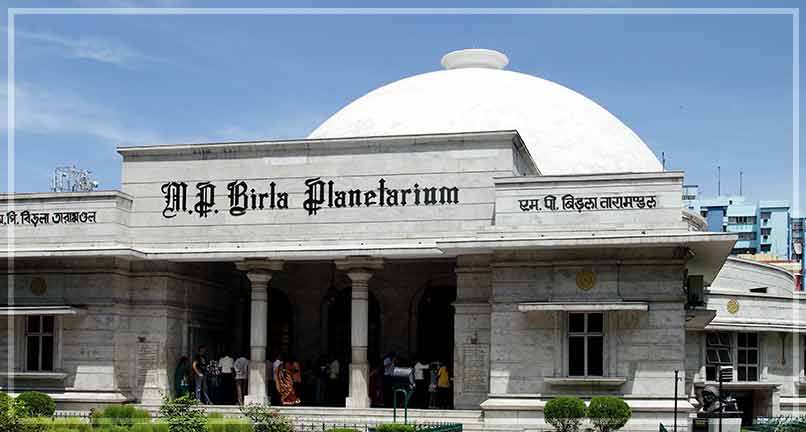 For all the travellers who get excited about stars, the moon, and planets, Birla Planetarium is one of the best places to visit in Chennai. This amazing large planetarium offers visitors impressive virtual tours, cosmic shows that will impress you in the most surprising ways. There are eight galleries in Birla Planetarium which are dedicated to different subjects of science.
Location: Gandhi Museum, Duraisamy Nagar, Kotturpuram
Timings: 10:00 Am to 5:45 Pm
Entry Fees: Adults (INR 30) Kids (INR 15)
6. Marina Beach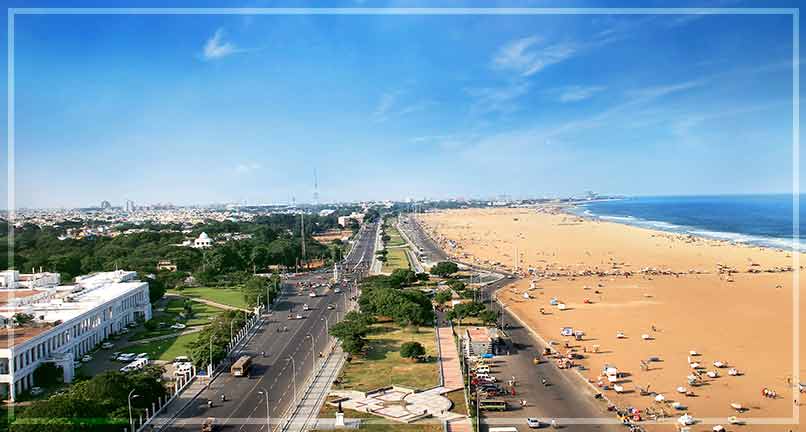 Marine beach is amongst Chennai's famous places and is surely a paradise for all beach lovers. It is one of the longest beaches in India as well as in the world. It also becomes a crowded beach during the peak season. The enthralling views of sunrise and sunset at the shore of Marina beach are surely something that you should not miss. You can also play games like volleyball, build sandcastles or swim throughout the day.
Location: Marina Beach, Chennai, Tamil Nadu
Timings: All through the day.
7. Thousand Lights Mosque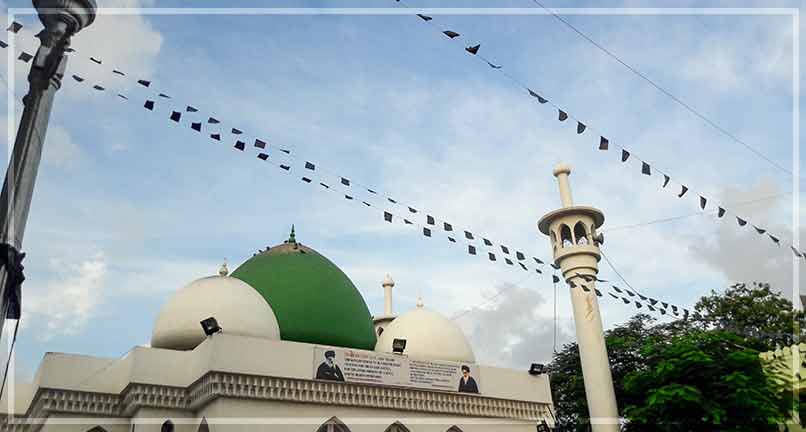 Thousand Lights Mosque is a revered place of worship for all the local Muslim population. It is believed that about 1000 lights were needed to light up the entire hall of this mosque during the earlier times. The major attraction of this mosque is its two minarets that are about 64 feet tall and exhibiting the wonderful architectural style of the medieval period.
Location: Peters Road, Peters Colony, Chennai
Timings: 5:30 Am to 8:30 Pm
8. Arignar Anna Zoological Park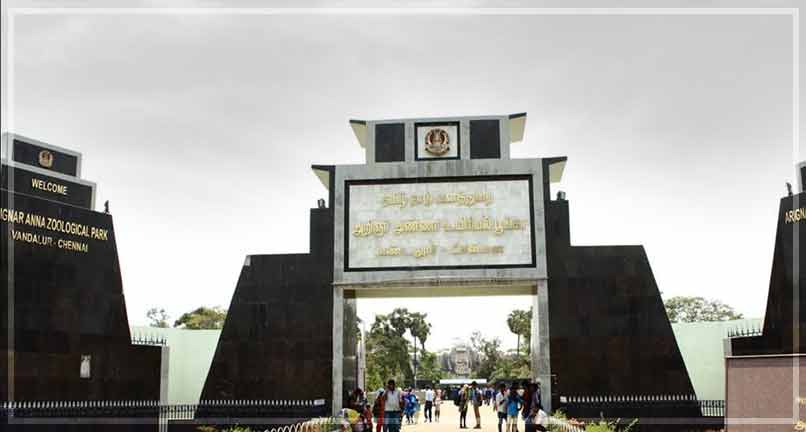 For all the animal lovers out there, Arinagar Anna Zoological park is one of Chennai's best places. This zoological park is home to more than 500 rare species of animals that are most endangered. Here you can enjoy lion safari and elephant safari. In addition to this, you can also spot other animal species like amphibians, insects, etc.
Location: Grand Southern Trunk Rd, Vandalur, Tamil Nadu
Timings: 9:00 Am to 6:00 Pm
Entry fees: INR 30 For Adults, INR 10 for Children
9. Swami Vivekananda's House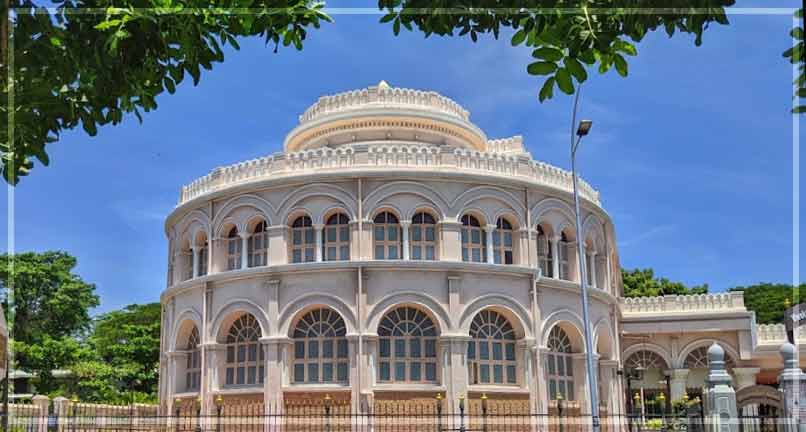 If you are interested in gaining knowledge regarding Indian culture and Swami Vivekanand, then this is the ideal place to visit. It is the main spot where Swami Vivekananda spent the most crucial days of his life. This historical spot in Chennai will fill your soul with complete positivity. There's also a special park area also called Vivekananda Park.
Location: Kanraj Salai, marina beach rd, Chennai.
Timings: 10:00 Am to 12:30 Pm and 3:00 Pm to 7:15 Pm
10. Fort Saint George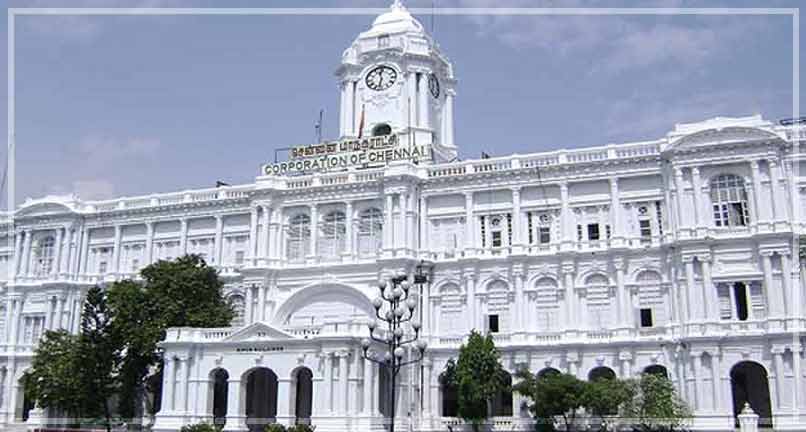 One of the most famous Chennai tourist places is Fort St. George. It is the true living example of British history in India. It is one of the main official buildings of the British empire in Chennai. The fort is a popular monument that was founded in the 16th century and now serves as a famous museum in Chennai today. The magnificent and architectural marvel of Fort St. George will surely make you appreciate British Artistry.
Location: Chennai, Tamil Nadu.
Timings: 9:00 Am to 5:00 Pm
5 Weekend Getaways from Chennai
Like any other coastal city, Chennai also greets its visitors with its fair share of delightful tourist destinations. Chennai city has numerous mesmerizing weekend getaways to help you enjoy a respite from the hustle-bustle of city life, which you should not miss.
1. Pondicherry
Pondicherry is famously recognized for the existence of Sri Aurobindo and Mother's Ashram. It serves as a great holiday destination for budget travellers because there is so much to see and enjoy here. From French quarters, picturesque locations to vintage-style colonial buildings, Pondicherry is amongst Chennai best places to visit.
How To Get There: Train is the easiest way to travel from Chennai to Pondicherry. You can also use your private vehicle to drive down to Pondicherry using ECR road.
2. Coorg
Coorg is one of the most popular one-day trip locations from Chennai. It is a popular hill station in South India and offers travellers numerous experiences. Coorg also offers many adventurous sports like trekking, camping, and rappelling. Don't forget to visit the highest peak, Thadiyandamol, to spot stunning vistas.
How To Get There: Coorg is easily accessible by road from most of the cities in Southern Karnataka.
3. Rameshwaram
Out of all Chennai beautiful places, Rameshwaram is considered one of India's holiest pilgrimage sites and ancient temples. It is the part of char Dham yatra (Badrinath, Puri, Dwarka, Rameshwaram). It is mainly known for the famous Ramanathaswamy temple, which also has the largest temple corridor in India.
How To Get There: Rameshwaram is well connected via train and road to major cities like Chennai, Coimbatore, Madurai, etc. City buses are also available.
4. Koli Hills
You might not have heard of Koli Hills, but it is one of the most beautiful tourist attractions with an abundance of picturesque views, natural beauty, and lots more. The lack of commercialization has saved the serenity of Koli Hills. From coffee to spice plantations to stunning emerald valleys, Koli Hills is a paradise for nature lovers.
How To Get There: Chennai is well connected to Koli Hills via NH45.
5. Ooty
Ooty is one of the most popular holiday destinations for a weekend trip from Chennai. Beautifully located in the Nilgiri Hills, Ooty offers breathes and spectacular beauty of nature all around. This hill station offers you a refreshing change from city centre dust and pollution life. From
How To Get There: It is 535 km from the metropolitan city, Chennai and is well connected by road. You can self-drive or hire a cab/taxi to get there.
FAQs
Q: What are the most famous temples that I should not miss out on during my Chennai trip?
Ans: There are many famous temples in Chennai. However, visiting the ones, you should not miss out on, including Parthasarathy Temple, Marundeeswarar Temple, Astalakshmi temple, Murugan Temple, and many more.
Q: Are there any beautiful churches in Chennai that I can visit?
Ans: Yes, there are numerous beautiful churches located in Chennai. Some of them are Santhome Church, Velankanni Church, and Saint Cathedral Basilica.
Q: What is so special about Chennai?
Ans: Chennai attracts many visitors that include both local and foreign tourists due to its great history, heritage, temples, and cleanest beaches.
Q: What are some of the best trekking trails in Chennai?
Ans: There are plenty of trekking trails in Chennai. But the most popular ones are the Tada Waterfall trek, Kumbakumari trek, and Kotagiri Trek.
Q: What beaches in Chennai are a must-visit for a first-time visitor?
Ans: The bustling city of Chennai offers numerous beautiful and popular beaches. However, some of the best popular beaches you should not miss out on are Akkarai Beach, Santhome Beach, Marina Beach, and Covelong beach that is famous for the blue waters.
About MyTicketsToIndia
MyTicketsToIndia is one of the most reliable online travel agencies that offer the lowest prices on flights to Chennai and Chennai tourism packages. On their website, you will find a plethora of itineraries and travel deals for your Chennai trip. Get in touch with them and relish a memorable vacation!
EXPLORE MORE TOURIST SPOTS In India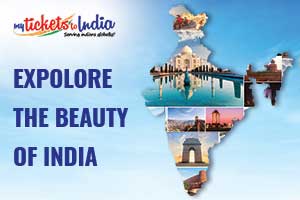 Traveling India:
The ancient land of diverse cultures, vibrant colors, and distinctive history welcomes travelers from across the glove to explore the top rated
tourist destinations in India
. It is time to pack bags, and gear up to explore the versatile land, India.
Popular USA To Chennai Routes
Atlanta To Chennai Flights
Austin To Chennai Flights
Boston To Chennai Flights
Chicago To Chennai Flights
DFW To MAA Flights
Detroit To Chennai Flights
Houston To Chennai Flights
JFK To MAA Flights
PHL To MAA Flights
Phoenix To Chennai Flights
Denver To Chennai Flights
MSP To MAA Flights
Seattle To Chennai Flights
SFO To Chennai Flights
Tampa To Chennai Flights
IAD To MAA Flights
RDU To MAA Flights
Priyanka Jadhav is a travel writer, who is inclined to explore different cultures and countries. When she is not writing, she is either reading fiction novels or surfing the internet for the next best place to add to her bucket list. Her interests piqued at a young age when she traveled across India and witnessed a variety of cultures, languages, foods, and people. If you're craving for an adrenaline rush, or need an instant travel update - Priyanka has a way with words to help you in every aspect possible. Bring quirky articles and the latest travel updates your way through MyTicketsToIndia, she aims to provide travelers with the necessary information possible.