Top 7 Destinations to Explore in Hyderabad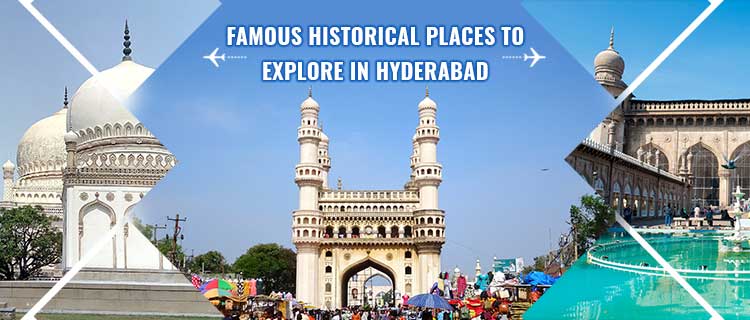 Posted on Wednesday, September 15th, 2021 by MTI Team
About Hyderabad
Hyderabad city is the enchanting and charismatic capital of the Indian state of Telangana. The Indian city dons many hats and offers numerous experiences to all its visitors. Hyderabad scenery boasts energetic history, glorious heritage, royalty, culture, and commerce altogether. Everything here blends so beautifully that you won't find any chaos in this bustling city. That's also the reason why travelers come from far away locations to explore this gorgeous city, eat and drink their ways and enjoy the city's eclectic offerings. From historical landmarks, museums, entertainment districts, and relishing food scenes, Hyderabad makes sure to delight every individual in its own ways.
How To Reach Hyderabad?
By Air: If you plan to book USA to Hyderabad flight, the nearest airport is Rajiv Gandhi International Airport. Regular flights are functional too and from major Indian cities of the country.
By Train: Hyderabad location is well connected to major Indian cities like Delhi, Chennai, Mumbai, Kochi, etc., by two railway stations Nampally and Kachiguda.
By Road: Regular services of state roadways and private buses are available from the city's main bus stand. Roads are also well inter-linked with important cities and states via national highways.
Best Time To Visit Hyderabad
Hyderabad location has different charms in every season. However, if you want to spot the true Hyderabad scenery, winter is the ideal time to plan your trip. The winter months from October to February are considered the best time to visit Hyderabad. This time of the year in Hyderabad has perfect climatic conditions, making it ideal for visiting all of Hyderbad's tourist places.
7 Famous Historical Sites To Explore In Hyderabad
Historical places have their unique charm. They give you a glimpse into the rich, glorious past and represent the great achievements made in art and architecture. Hyderabad city boasts several interesting historical places that will entice every history lover.
1. Charminar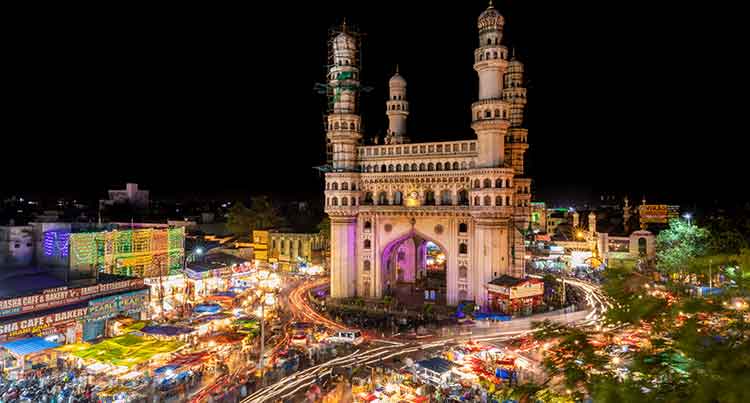 Out of all Hyderabad tourist places to visit, Charminar is one place that attracts the majority of the tourists. Also known as Four Minarets, Charminar is a monument built by the Qutab Shahi Dynasty. It is known for its stucco decorations, balconies, and unique architectural styles. It is a popular spot that should be on the top of your list while touring Hyderabad.
Timings: 9:30 AM to 5:30 PM
Entry Fees: Indian Citizens: INR 5 per person Foreign Nationals INR 100 per person
2. Makkah Masjid /Mecca Masjid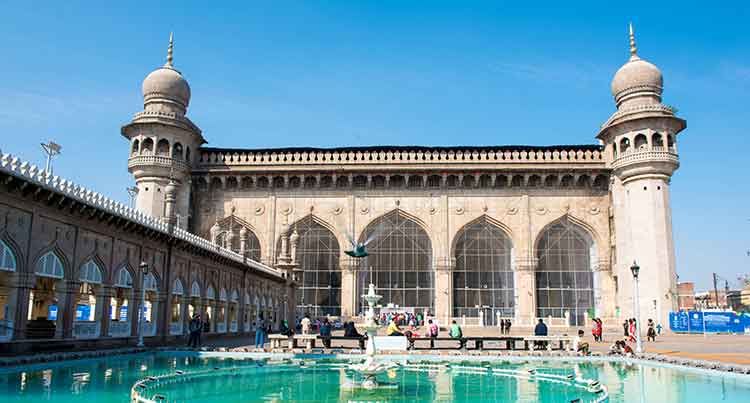 Makkah Masjid is one of the largest mosques in India and can host up to 10,000 people at one go. It was built in the 17th century and took the name from the Grand Mosque of Mecca. The bricks used in this mosque are made from soil sourced from Mecca. The mosque's style of architecture looks unique because of its designed facades.
Timings: 4:00 AM to 9:30 PM
Entry Fees: No entry fee
3. Golconda Fort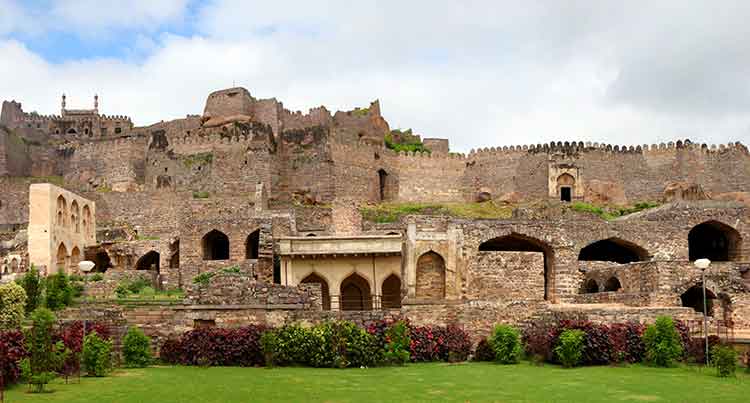 Golconda Fort is one of the top-rated Hyderabad tourist places. It was built by Kakatiya Kings and was completed by successors Prataprudra in the 16th century. The interesting thing about this fort is its architecture. The fort has eight gateways, royal chambers, several temples, stables, and moveable bridges. It is also a famous picnic spot. Golconda Fort overlooks the entire Hyderabad city and is a must-visit for sure.
Timings: 8:00 AM to 5:30 PM
Entry Fees: Indian citizens: INR 15, Foreign Nationals: INR 200
4. Salar Jung Museum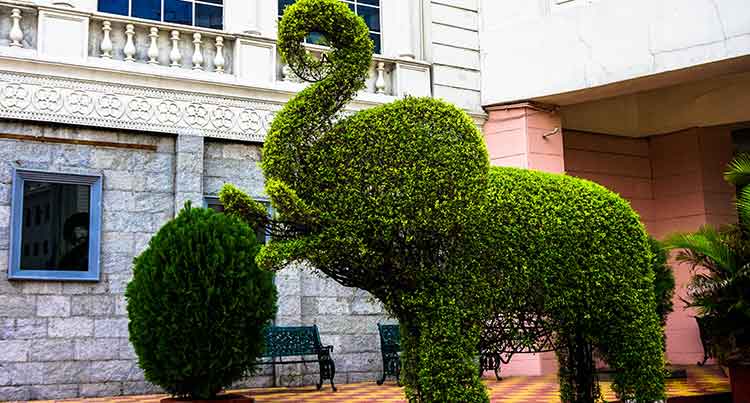 Are you someone who admires art? If yes, then Salar Jung Museum is one of the best places to visit in Hyderabad. It is amongst one of the three national museums in India. It boasts artefacts like manuscripts, ceramics, weaponry, antique furniture, carpets, clocks, and so much more. It has a total of 38 galleries that have different sections of every subject.
Timings: 10:00 AM to 5:00 PM
Entry Fees: Indian Citizens: INR 10, Foreign Nationals INR 150
5. Taj Falaknuma Palace
One of the most popular tourist attractions and Hyderabad's beautiful places is Falaknuma Palace built in the 19th century. It was built by Nawab Sir Vikar ul Umra. It took almost nine years to complete this architectural marvel. The palaces give a glimpse into the luxurious life of Nizams, and its roof is an exact copy of Windsor Castle. No matter what type of trip you are on, a visit to Fakanuma palace is a must.
Timings: Tour option: 4:00 PM tp 5:30 PM
Entry Fees: INR 3100/Adult and INR 2480/Child
6. Qutub Shahi Tombs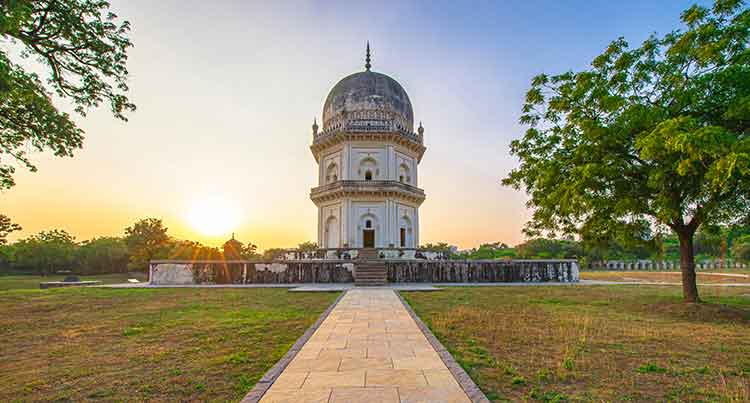 One of the most popular tourist destinations Qutub Shahi Tombs is amongst the largest mosques and is also on the top list of Hyderabad's best places in terms of historic sites. It was built by Sultan Quli and is only 850 meters away from Banjara Darwaza of Golkonda Fort. The interesting part about this monument is the blue-green tile work at the center of each tomb. It is a famous landmark in Hyderabad and is a must-visit place if you love history.
Timings: 9:30 AM to 4:30 PM
Entry Fees: Child INR 5/ Adults INR 10 per person
7. Chowmahalla Palace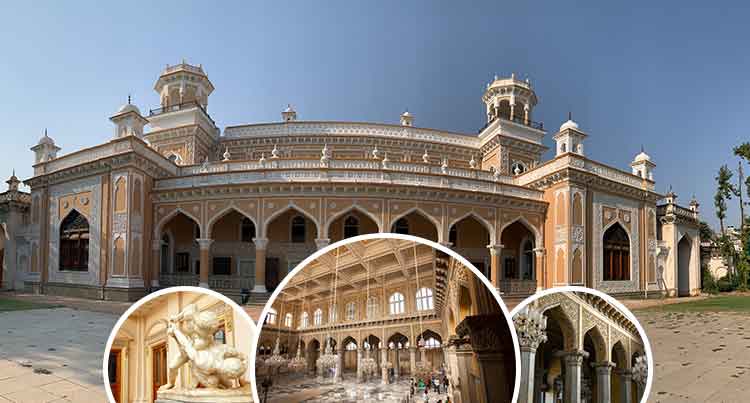 Chowmhahalla Palace is one of Hyderabad's famous places and is often visited by foreign tourists. It was built in the 18th century for the Nizams of Hyderabad. The southern courtyard is the oldest part of the palace, and it has even smaller palaces inside. The palace has an awe-inspiring architecture with long corridors, ornate stucco work on the walls, and a marble platform.
Timings: 10:00 AM to 5:00 PM
Entry Fees: Indian Citizens INR 80 per person/ Foreign Nationals INR 200 Per person
3 Most Famous Markets Of Hyderabad
Hyderabad city has a unique character and charm of its own. And one of the most inseparable parts of Hyderabad's heritage is its bustling and colorful markets. Do shop your hearts out at the various markets without worrying about the budget.
1. Laal Bazaar
Laal Bazaar is also known as Choodi Bazaar. It is one of the oldest markets of Hyderabad. This bustling street market was built for the wedding of Quli Qutb Shah, and the market still retains the same charm. Laal bazaar is famous for selling bangles and Khara dupattas, silk sarees, etc.
Location: West of Charminar rd, Hyderabad
Timings: 11:00 AM to 10:30 PM
What to Buy: Bangles, dupattas, pearls.
2. Chaar Minar Bazaar
Chaar Minar Bazaar is one of the best places to visit in Hyderabad. Starting from the famous Islamic design architecture, Charminar, the e-market continues through laad bazaar, Chowmahalla Palace, and Pater Gatti. This bazaar screams history and bargaining buyers. This market location of Hyderabad is surely a delight for all women.
Location: Pathergatti Road, Near Charminar, Hyderabad
Timings: 11:00 AM to 11:00 PM
What To Buy: choodi, footwear, dupattas
3. Begum Bazaar
Begum Bazaar is one of the oldest commercial markets in Hyderabad. It is also one of the best shopping places, including all the household items like antique furniture, clothing items, and whatnot. Just name it, and you will surely find it at Begum Bazaar. Begum Bazaar is mainly famous for its Bidriware and Birdri studded jewelry.
Location: Afzal Gunj, Hyderabad
Timings: 10:00 AM to 11:00 PM
What to Buy: Bidriware
Best Chicken Food Dishes To Tickle Your Taste Buds With In Hyderabad
Hyderabad is a city that is dominated by Mughal culture, and that's what is reflected in its food culture as well. In Hyderabad city, the best cuisines are non-vegetarian and are dominated by chicken and mutton. If you are a hardcore non-vegetarian, do try its famous chicken dishes. You would be surely licking your fingers after eating every inch of the delicious food.
Chicken Roast With Gravy Hyderabad Style
For all the roasted chicken fans, it's time you try Hyderabad-style chicken roast and gravy. The addition of peanut paste enhances the taste of this dish and makes it very scrumptious. Out of all the chicken dishes, this one is the most favorite amongst the localities.
Where To Eat: Dhaba estd 1986
Price: INR 400-600
Chicken fry with gravy is one of the most famous cuisines of Hyderabad city. As the name suggests, the chicken pieces are deep fried and then served with a different gravy. The gravy provides the dish a very unique and tangy taste. It is simply one of the most mouth-drooling dishes available in Hyderabad.
Where To Eat: Bonsai
Price: INR 250-300
3. Chicken Dum Biryani
Hyderabadi biryani is very famous not just in India but in foreign countries as well. Many tourists especially plan their Hyderabad trip to taste Hyderabad Biryani. It is considered the best amongst all the biryanis. The curry leaves in the delicious biryani make it even more mouth-drooling. Don't forget to take raita along to enhance your taste.
Where To Eat: Paradise Biryani
Price: INR 400-600
Garlic Chicken With Cream
Many individuals like the taste of garlic very much, and that's what you get Garlic chicken with cream. The addition of garlic in this dish gives it a different taste. The garnishing of this dish is also very different and gives it a special taste as well. When in Hyderabad, do taste it and take your friends as well.
Where To Eat: Tatva
Price: INR 200-300
Chicken Soup with Egg
Eggs are rich in protein, and they also enhance the taste of every dish you put them in. In Hyderabad, you will get to eat a very weird combination that is Chicken soup with egg. This healthy double combination makes this dish even healthier. Some restaurants add peas to it as well, which makes the dish even tastier.
Where To Eat: Almond House
Price: 100-200
FAQs
Q: Are there any museums in Hyderabad where I can take my kids?
Ans: Yes, there are three main museums in Hyderabad that are popular historical sites where you can take your kids, including BM Birla Science Museum, Salarjung museum, and Sudha Cars Museum.
Q: What are the different Hindu temples in Hyderabad city?
Ans: Hyderabad is a holy city that consist of different Hindu temples you can visit on our Sanghi Temple, Chilkur Balaji Temple, Birla Mandir, ISKCON Temple, Mahabodhi Temple and Pedamma Temple.
Q: What are the things I should not miss in Hyderabad?
Ans: If you are visiting Hyderabad, then don't forget to visit the following destinations. It includes the famous Ramoji film city, Jama Masjid, Hyderabad zoo, Nehru Zoological Park, Wonderla Amusement Park, Osman Sagar Lake and Hussain Sagar Lake.
Q: What are some of the best hotels to stay near all of Hyderbad's tourist places?
Ans: The best hotels located near Hyderabad's beautiful places are the 5-Star hotel like Lemon Tree Premier, Royalton Hotel, Holiday Inn, Park Hyatt, Taj Falaknuma, Taramati Baradari Resort and The Park.
Q: What is famous in Hyderabad when it comes to shopping?
Ans: Hyderabad is the capital city that is famous for pearls and colorful lac bangles. That is the reason why it is called the City of Pearls. So on your next Hyderabad trip, makes sure you buy something associated with these two things.
About MyTicketsToIndia
MyTicketsToIndia is a reliable online travel agency that provides flights to Hyderabad and Hyderabad tour packages at cheap rates. Not just that, their travel professionals can also help you in planning your Hyderabad trip. From flight tickets, transportation to accommodation they can cater it all.
Popular USA To Hyderabad Routes
Austin To Hyderabad Flights
Boston To Hyderabad Flights
Chicago To Hyderabad Flights
DFW To HYD Flights
Detroit To Hyderabad Flights
Houston To Hyderabad Flights
LAX To HYD Flights
JFK To HYD Flights
PHL To HYD Flights
Phoenix To Hyderabad Flights
MSP To HYD Flights
EWR To HYD Flights
MCO To HYD Flights
Seattle To Hyderabad Flights
SFO To Hyderabad Flights
Tampa To Hyderabad Flights
IAD To HYD Flights
Charlotte To Hyderabad Flights
CVG To HYD Flights
About Heena Ganotra | View Posts
A writer by both passion and profession, Heena Ganotra is "half agony, half hope" but all heart. And oh, she has been a book lover from the start! Her love for books is what convinced her to make a career in the wonderful world of words. She loves what she does and is out-and-out a satisfied soul with a wish to spread happiness like herpes. Insight- Some say she is living the best life anyone could because she reads, writes, travels, and makes merry. They're right because what else does one really need! :)