8 Amazing Places To Explore In Ahemdabad
Posted on Thursday, September 9th, 2021 by MTI Team
About Ahmedabad
Ahmedabad, a city that has always been a heartbeat of western India has still retained its importance no matter which era we talk of. A city with incredible history, sprawling heritage, and divine culture that attracts tourists with varied interests throughout the year Ahmedabad is a wonderful melange of both old and new. Situated on the banks of the Sabarmati River, Ahmedabad is the former capital of Gujarat and is famous for its scrumptious food. Ahmedabad location boasts many ancient temples, classy markets, beautiful gardens and intriguing museums. Ahmedabad is the best example of a city that has still retained its every bit of old-world charm even with progressing globalization. Whether it's about the grand Jumma Masjid or the incredible latticework, everything here has its own story to tell. 
How To Reach Ahmedabad?
By Air: If you book USA to Ahmedabad flight, the nearest airport is Sardar Vallabhbhai Patel Airport. It provides both international and domestic flights to and from Ahmedabad. Many Ahmedabad tour packages offer flight tickets to and from major cities of India. 
By Train: Ahmedabad Railway Station, which is also known as Kalupur Station, is the prominent railway circuit of the city. It operates regular trains to and from all the major cities of India. 
By Car/Bus/Bike: Ahmedabad city is well connected by road to major Indian cities like Mumbai, Pune, Surat, Shirdi, Udaipur, etc. All national highways are well constructed, which leads to Ahmedabad. 
Best Time To Visit Ahmedabad
If you genuinely want to experience Ahmedabad beauty, try to plan your Ahmedabad trip during the winter season. November to February are the best time to visit Ahmedabad as the weather is quite pleasant and offers an excellent opportunity to do all sightseeing activities. Summers are not a great time to visit Ahmedabad as the scorching sun might interfere with your fun.
Here is a list of the top 6 tourist destinations in India Ahmedabad
The list for Ahmedabad's beautiful places is a long one, and every place has its own specialty which entices travelers. However, we have a curated list of the best places to visit in Ahmedabad, which you should not miss.
1.Sabarmati Ashram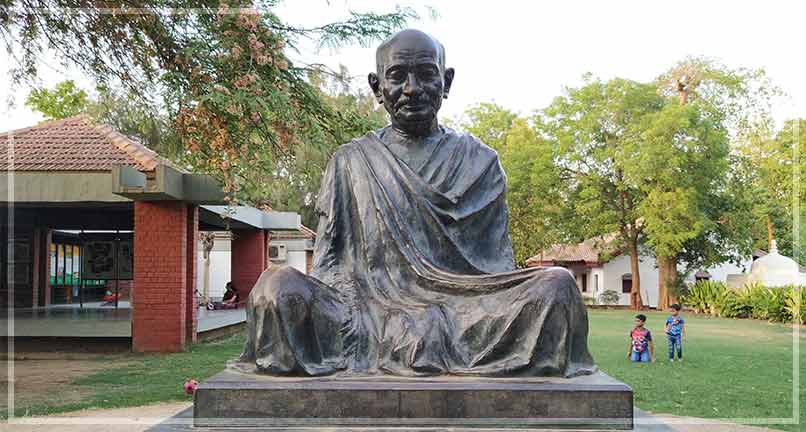 Once the residence of Mahatma Gandhi and his wife Sabarmati Ashram comes among the top Ahemdebad places for history lovers. It was the center of operations for the Indian freedom struggle. Gandhi ji began his Dandi march from here only. the museum located inside the ashram displays some of Gandhi's photographs and personal letters.
Location: Ashram Road
Timings: 8:30 am to 6:30 pm
Entry Fees: Free
2. Bhadra Fort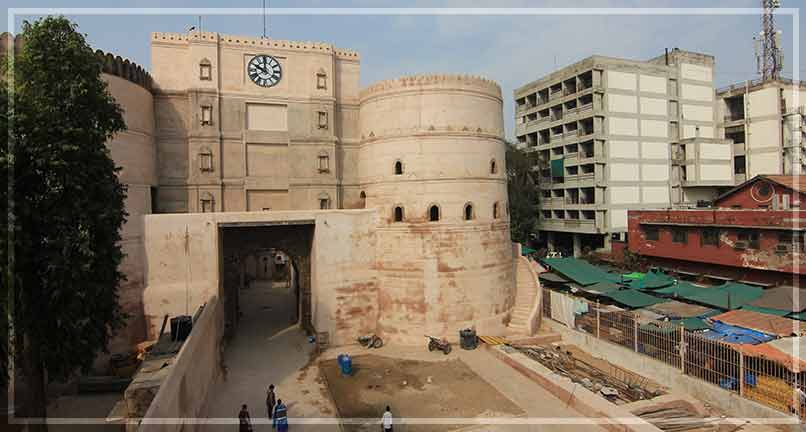 Bhadra Fort of Ahmedabad city is a famous tourist attraction with a rich legacy. It was constructed in 1411 by the founder of City, Sultan Ahmad. It houses a temple called BhadraKali Temple, which gave the fort its name. The majestic fort has a grand courtyard and several palaces.
Location: Court Road
Timings: 9:00 am to 5:00 pm
Entry Fees: Free
3. Jama Masjid, Ahmedabad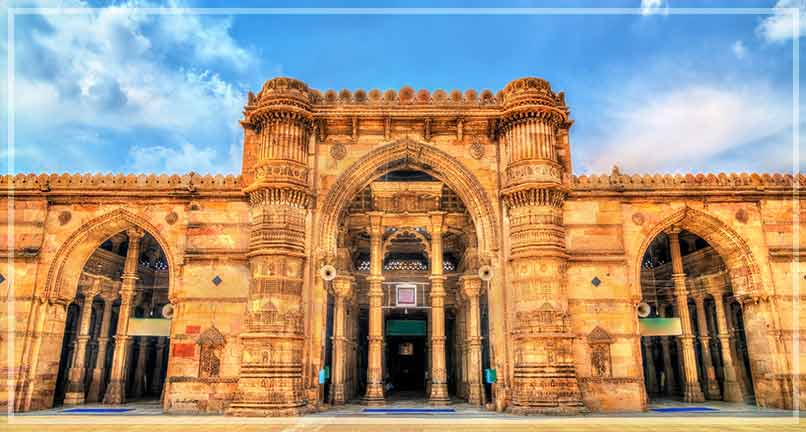 Another architectural marvel and Ahmedabad tourist place mentions Jama Masjid. Sultan Ahmed Shah created it in the year 1423. It is located next to the Bhadra Fort and matches the grandeur with its yellow sandstone and six pillars with fine carvings.
Location: Manek Chowk
Timings: 6:00 am to 8:00pm
Entry Fees: Free
4.Sarkhej Roza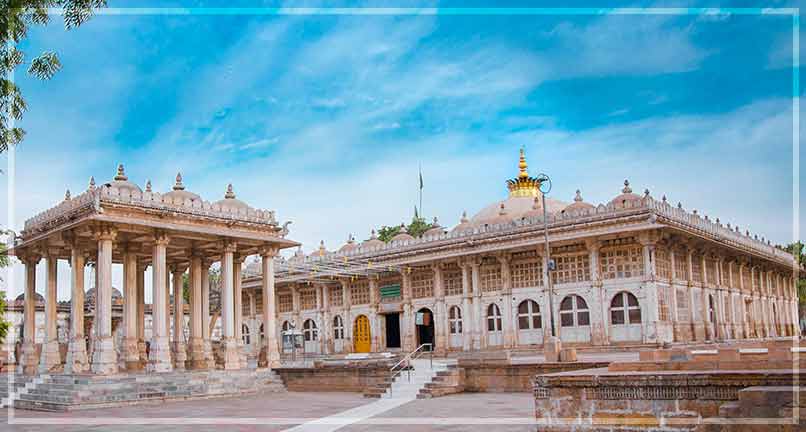 A group of tombs and pillars make the most famous Sarkhej Roza of Ahmedabad. Like other monuments, this location also features Islamic architecture and is embedded with gorgeous latticework. The beautiful water body called Sarkhej Lake adds to the beauty of this location.
Location: Sarkhej Makarba Road, Ahmedabad
Timings: 9:00 am to 6:00 pm
Entry Fees: Free
5. Vastrapur Lake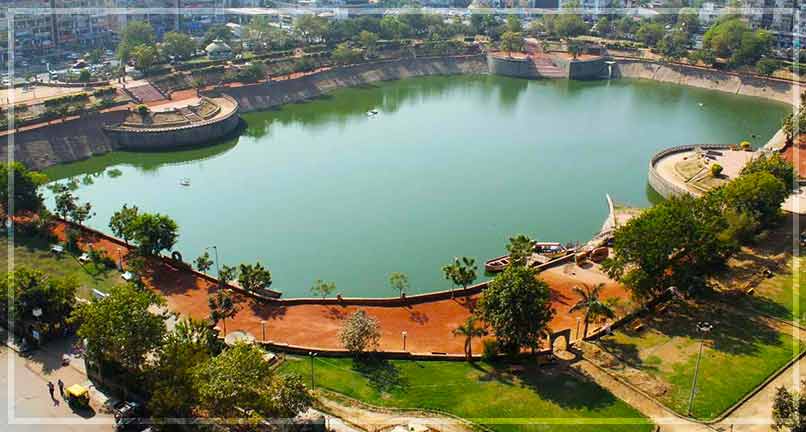 One of the best Ahmedabad scenery can be seen during the evening time at Vastrapur Lake which is the biggest lake in Ahmedabad. It is an eponymous area of the city that will offer you a calming experience and a sense of beautiful scenery all around the area. At this artificial lake you can also see a glimpse into Gujarat's colorful traditions.
Location: Vastrapur
Timings: 8:00 am to 10:00 pm
Entry Fees: Free
6. ISKCON Temple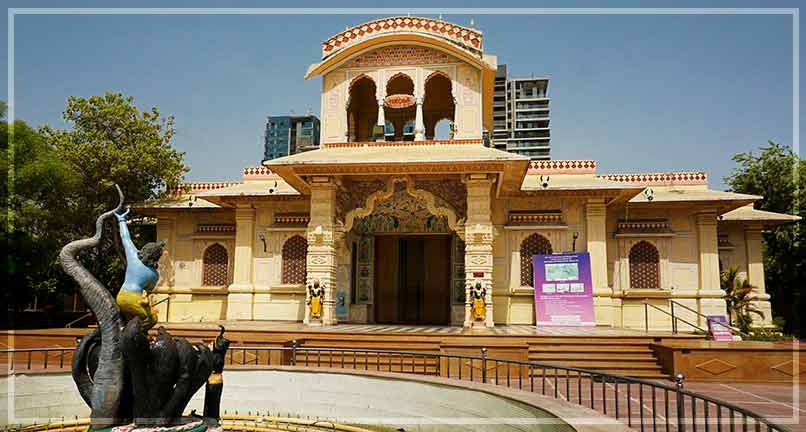 The ISKCON Temple is amongst the most spiritual places to visit in Ahmedabad. The temple reflects a seamless mix of two styles that is Rajasthani Khamira and Gujrati Sompura. The sprawling 4-acre campus of the temple is dedicated to Lord Krishna and also houses idols of other Hindu deities.
Location: Satellite Road, Sarkhej, Ahmedabad
Timings: 4:30 am to 1:00 pm
Entry Fees: Free
7. Auto World Vintage Car Museum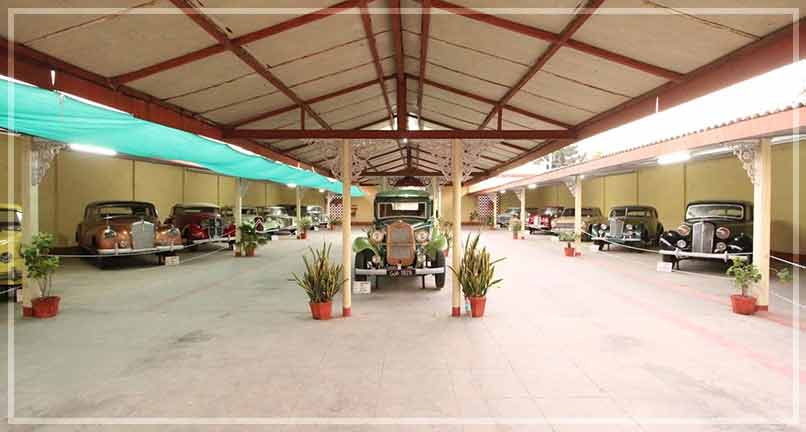 If you are an automobile lover then, Auto World Vintage Car Museum is one of the best places to visit in Ahmedabad. In this museum, you can see the evolutionary journey of a wide array of automobiles. From horse-drawn carriages to spectacular convertibles, you will find it all here.
Location: Kathwaa
Timings: 8:00 am to 9:00 pm
Entry Fees: Rs 50
8. Swaminarayan Temple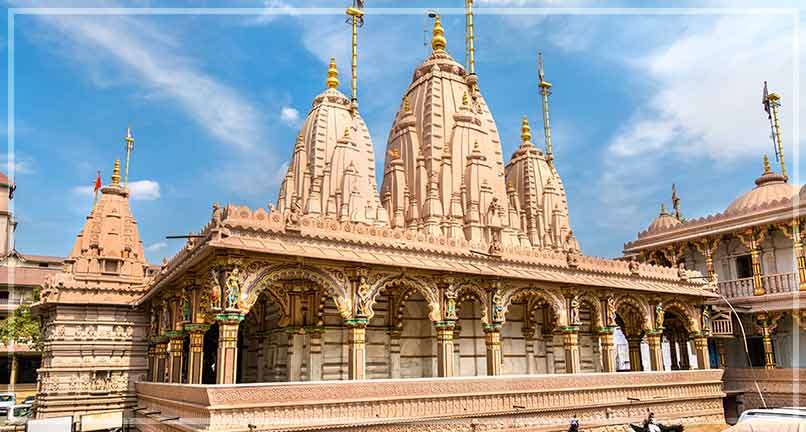 Swaminarayan Akshardham Temple is amongst the best Ahmedabad tourist places. The temple has mesmerizing architecture, which will surely leave you awestruck on your first visit. The temple is dedicated to Lord Narnarayan. Food at the temple is cooked in Satvik style.
Location: Swaminarayan Mandir Road, Kalupur, Ahmedabad.
Timings: 6:00 am to 7:00 pm
Entry Fees: Free
5 Top Markets To Shop In Ahmedabad
In Ahmedabad, it is said that if you visit this city and do not shop from the famous markets, then your trip is incomplete. So in order to complete your visit to Ahmedabad, there are certain markets which you should not miss out on including:
1. Lal Darwaja Market
A bustling market area that offers the most crowded and the best street shopping hub in Ahmedabad yet. Lal Darwaja provides you with a double bonanza with fantastic food scenes and great shopping options. Here you can buy sarees, fabrics, shoes, and lots of handicrafts,
Address: Lal Darwaja
2. Dhalgarwad
This is the most amazing gem of Ahmedabad City and is one of the oldest fabric markets in Ahmedabad. The famous things to purchase here are Bandhej, Silk Patola series, chaniya, cholis, cotton prints and more.
Address: Dhalgarwad, Khadia
3. Sindhi Market
Sindhi Market is one of the top-rated places to visit in Ahmedabad if you are a shopaholic. It looks a lot like the Lal Darwaja market but has its own charm. The best things to purchase here are bed sheets, curtains,pillow covers, etc.
Address: Sindhi market, Revdi Bazar, Kalupur, Ahmedabad.
4. Manek Chowk
Manek Chowk is one of the best markets in the Ahmedabad location. It is the second-largest market in India and offers an amazing collection of all types of shopping options. What you can buy here is gold jewelry, Garba attire, traditional Gujarati material, etc.
Address: Gandhi Rd, Danapidth, Khadia
5. Law Garden Bazar
The very famous Law garden Bazar comes to life during the nighttime and is famous for Indian traditional wear. This market is famous for its traditional mirror work and beadwork, Kutchi Jewellery and dresses.
Address: Netaji Road, Ellisbridge
5 Unique Activities To Gain In Ahmedabad
Every city offers its own unique experiences but in Ahmedabad, you will relish something that is totally out-of-the-box. Whether you are into history, nature, wildlife or interested in food hunts, adventure activities, this city surely has something for everyone.
1. Visit Popular Temples
While there are many Ahmedabad places to visit, the majority of them are magnificent temples. On your visit to Ahmedabad city, don't miss out on the various famous temples of the city. Some of them are Akshardham Temple, Modhera Sun Temple, Swaminarayan Temple, etc.
2. Try Traditional eateries/Street Food.
Ahmedabad's heart lies in its street food. In this city, you can find a fantastic range of street food stalls that will deliver you the best taste. From Khakhra, Dhokla, in snacks to Kulfi, Jalebi in sweet delights, Ahmedabad promises you the best and most delicious food scenes.
3. Witness Wildlife at Kankaria Zoo
A visit to Kankaria Zoo is a must when you are visiting Ahmedabad famous places during your trip. Here you can spot over 2000 birds, 450 mammals, and 140 reptiles. It is surely a haven for wildlife lovers.
4. Explore Cloth Factories
Ahmedabad city is known as a manufacturing garment hub. So how can you miss out on visiting the great cloth factories working in the city? See how clothes are designed, collection of fabrics and curated at the famous factories of Ahmedabad for a unique experience on your trip.
5. Visit the Sprawling Parks
Ahmedabad is a city that has numerous lush-green parks where you can spend a peaceful evening. Some of the best parks to explore in Ahmedabad are Kankaria Lake, Parimal Garden, Vastrapur Lake, Auda Garden, etc.
FAQs
Q: How to choose the best Ahmedabad tour package?
Ans: Always choose a tour package which best suits your interest and hobbies. What do you want to do on your Ahmedabad trip can help you choose the right tour package.
Q: What is Ahmedabad famous for?
Ans: Ahmedabad has numerous tourist places to visit, but it is known for its world-famous cotton textiles. You can also visit the Calico Museum of Textiles to see why it is actually known as the textile city of India.
Q: How many days are enough for the Ahmedabad trip?
Ans: The bustling city of Gujrat has numerous attractions to visit. However, a 3 three-day trip to Ahmedabad would be enough to explore all of its attractions and sights.
Q: When is the cheapest time to book my Ahmedabad tour package?
Ans: The cheapest time to book your Ahmedabad tour is from March to May. It is the best time to visit Ahmedabad's popular tourist attractions.
Q: Which place is best for couples in Ahmedabad?
Ans: The best places to visit in Ahmedabad, for couples are Nal Sarovar Bird Sanctuary, Parimal Garden, Kankaria Lake, Victoria Garden, Thol Bird Sanctuary, etc.
Q: What are the various museums I can visit in Ahmedabad?
Ans: There are plenty of museums which you can visit in Ahmedabad including Vechaar Utensils Museum, Kite Museum, Calixo textile museum,Lalbhai Dalpatbhai Museum etc.

MyTicketsToIndia is one of the best online travel agencies that is committed to offering the lowest airfares on flights to Ahmedabad. Their qualified team of travel experts can also help you plan your Ahmedabad trip with the best itineraries and travel arrangements according to your preferences.
EXPLORE MORE TOURIST SPOTS In India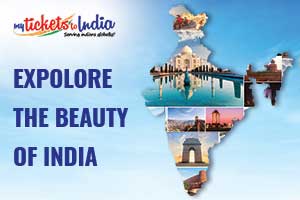 Travelling India:
With the Great Himalayas in the North to the famous backwaters in the South, India is home to scenic tourist attractions, the finest architectural heritage, stunning landscapes, and much more. One can never get tired of all that India has to offer. Whether it is the bustling city of glamour, Mumbai, or Ahmedabad, the first world heritage city of India, travelers are surely going to be mesmerized by the ideal
tourist spots of India.
Popular USA To Ahmedabad
Atlanta To Ahmedabad Flights
Boston To Ahmedabad Flights
Chicago To Ahmedabad Flights
IAH To AMD Flights
LAX To AMD Flights
JFK To AMD Flights
PHL To AMD Flights
EWR To AMD Flights
JFK To AMD Flights
IAD To AMD Flights
Priyanka Jadhav is a travel writer, who is inclined to explore different cultures and countries. When she is not writing, she is either reading fiction novels or surfing the internet for the next best place to add to her bucket list. Her interests piqued at a young age when she traveled across India and witnessed a variety of cultures, languages, foods, and people. If you're craving for an adrenaline rush, or need an instant travel update - Priyanka has a way with words to help you in every aspect possible. Bring quirky articles and the latest travel updates your way through MyTicketsToIndia, she aims to provide travelers with the necessary information possible.