FAQs on Flights to Mumbai from San Diego
Q: Which airlines offer the best flights from San Diego to Mumbai, India?
A: JetBlue Airways, Air India, Lufthansa, and United Airlines offer the best flights from San Diego to Mumbai, India.
Q: Which airport will I be traveling from and to during my trip?
A: During your trip from San Diego to Mumbai, you will travel from San Diego International Airport (IATA code: SAN) to Chhatrapati Shivaji International Airport (IATA code: BOM) in Mumbai.
Q: What if I exceed the baggage allowance I have on my booking?
A: On exceeding your allotted baggage allowance, you shall be liable to pay a certain amount after which your baggage will be allowed on board.
Q: Can I carry alcohol on my flight?
A: Yes, you can carry alcohol on your San Diego to Mumbai flight, provided the alcohol content is below 70% and the bottles are sealed.
Q: Are cigarettes permitted on international flights?
A: Yes, cigarettes are permitted on international flights, however, you can smoke while flying.
Q: How much time does it take to travel on a flight from San Diego to Mumbai, India?
A: It takes roughly 26-27 hours on a flight from San Diego to Mumbai, India.
Q: Can I carry a portable charger with me while traveling?
A: Yes, you can carry a portable charger in your hand luggage or carry-on baggage while traveling on international flights.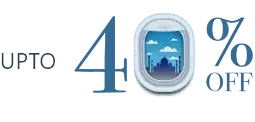 Don't Just Take Our Word For It! Call Us & Get The Cheapest USA-India Flight Price
Top Routes from
San Diego
About Mumbai
Mumbai, the capital of Maharashtra, is a megacity of India. It is also the financial capital of the country. Not only is the city characterized by wealth, fame, power and glamour, but it also has a rich history. Hence, whether you want to party and enjoy the luxuries of life, Mumbai is the perfect destination for you. The city is also home to the biggest entertainment industry in India, Bollywood. Mumbai is also known as the city of dreams as it gives employment and livelihood to thousands who migrate to the city daily.
Top 5 Tourist Attractions of Mumbai
Visit The Gateway of India built to welcome King George during his visit to British India. Now, a popular gathering place for tourists and locals alike where you can watch the ferries and yachts.
Drive across the Bandra-Worli Sea Link that is as iconic as the Brooklyn Bridge of New York.
Become one with nature while walking on the undisturbed natural trails of Sanjay Gandhi National Park.
If striking a pose with Michael Jackson is your dream, or take a selfie with Harry Potter? Visit the Red Carpet Wax Museum, a museum that exhibits lifelike wax figures of prominent icons.
Explore Elephanta Caves, a World Heritage Site that consists of five caves dedicated to Lord Shiva.
Best Time to Travel to Mumbai
The best time to visit Mumbai from San Diego is during the months of November to February as the winter months are the most pleasant months to experience the city of dreams.
Best Deals on San Diego to Mumbai Flights
Searching for Seattle to Mumbai flights? MyTicketsToIndia is your one-stop destination to fly to Mumbai with hassle-free bookings. It is one-such platform that serves you with a variety of options at one place, so that you can opt for the most suitable flight according to your needs with thrilling deals and offers. The deals are stated below:
Call – Only Deals
Festive Deals
Business – Class Deals
Last – Minute Deals
Group Deals

Why Book Seattle to Mumbai Flight Tickets with MyTicketsToIndia?

The leading travel agency, MyTicketsToIndia has an extremely user-friendly platform to search and compare from the cheapest to the premium-most airlines offering various amenities and airfares. Accompanied by best deals and offers to fly to India from USA at the most reasonable flight prices. You can always reach out to MyTicketsToIndia's customer care for any additional information related to flight tickets.

**We also provide the lowest fares on return tickets from India to USA.

Request A Call Back
Our Blog
Activities
Looking for the latest updates on USA to India flights? We have it all here. Right from travel restrictions due to COVID-19 to the new non-stop flights being introduced, we cover every detail that we feel can help travelers have an easy journey.
Indian
Vibes
Here's where we share biographies, Indian events, temples, and more to keep Indians in USA closer to their homeland.