Beaches In Kerala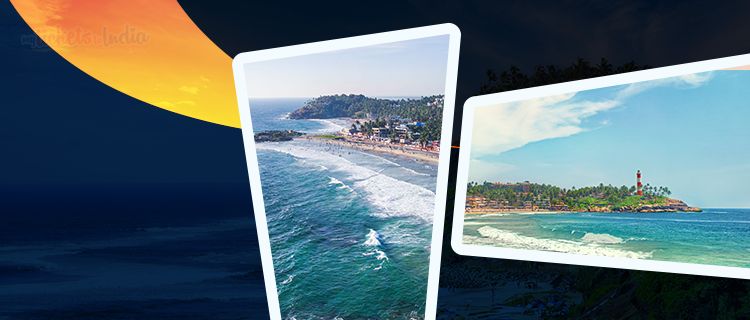 Posted on Tuesday, December 14th, 2021 by MTI Team
About Kerala
Beaches in Kerala are known for their unparalleled beauty and unmatched ambiance. Whether you are looking to witness the glory of sunrises/ sunsets or to pamper yourself with some personal time, the top beaches in Kerala offer these all. Widely known for its backwaters, you can easily book one of the many resorts available and have a gala time. The longest beach in Kerala is the Muzhappilangad Drive-in beach and is a popular attraction that you must have on your bucket list. All you have to do is book tickets to India (Kerala) and make your dream come true.
Best Beaches In Kerala
Kovalam Beach
Kovalam, the coastal town of God's own country is a fishing village that hosts the Kovalam Beach, a haven of serenity. Snuggled in the southern part of Kerala, Kovalam Beach is one of the cleanest beaches in India lined with tall lighthouses. Being one of the secluded beaches of Kerala, it also is a hub for couples.
Best Time to Visit: Between September and March.
How to Reach: Regular city buses connect Kovalam to various cities of Kerala or a drive across Trivandrum is the most delightful experience.
Famous for: Preservation of natural beauty.
Timings: Open to visitors 24 hours
Location: Trivandrum, Kerala
Things to do:
Buy different kinds of handicraft items, clothing, trinkets, etc.
Visit the Ayurvedic Health and Wellness Centre to take pleasure in body massages.
Indulge in sunbathing, surfing, swimming, and motorboat rides.
Varkala Beach
Situated in the South Kerala region, Varkala Beach is an ideal holiday destination of Kerala for tourists looking for a secluded beach. Listed as one of the best seasonal beaches across the globe by Discovery Channel, this exotic beach is known for its stretch of sand and sparkling blue water.
Best Time to Visit: In the winter season when the climate is temperate.
How to Reach: One can avail bus from Kochi and Trivandrum. It is connected to NH 47 and tourists can hire a car to reach here as well.
Famous for: Natural springs which are believed to have medicinal properties.
Timings: Open to visitors 24 hours
Location: Thiruvananthapuram, Kerala
Things to do:
Indulge in water activities like windsurfing, parasailing, snorkeling, etc.
Enjoy the Ayurvedic massages and yoga treatments from the famous centers.
Taste lip-smacking South India, Continental, Chinese, and Italian cuisines with a variety of delicacies.
Lighthouse Beach
Climb the top of the lighthouse until you reach the very top and let your stress disappear with the gentle sea breeze, the amazing view of the endless blue waters here, and the dazzling silver-colored sandy shores. One of the most beautiful beaches in Kerala, this ideal destination ensures every visitor falls in love with the charm of the breathtaking views, rushing waves, and overall the quintessential charisma of the beach!
Best Time to Visit: October to February is an ideal season to explore the beach.
How to Reach: The beach near Trivandrum can be accessed by bus or car.
Famous for: The observation platform which is 142 steps high offers the views of Poovar on one side, and the Beemapalli mosque on the other.
Timings: Open to visitors 24 hours
Location: Kovalam, Kerala
Things to do:
Water sport activities like swimming, surfing, parasailing, paragliding, etc.
Try out the variety of hotels that offers exotic seafood dishes.
Book an appointment for Ayurvedic massages.
Some Other Famous Beaches In Kerala
Chavakkad Beach
Cherai Beach
Fort Kochi beach
Kollam Beach
Kanhangad Beach
Marari beach
Meenkunnu Beach
Muzhappilangad Beach
Payyambalam Beach
Saddam Beach
Shangumughom Beach
Snehatheeram Beach
Kappil Beach Varkala
Thirumullavaram Beach