United To Start Daily Non-Stop SFO-BLR Flights From 28 May 2022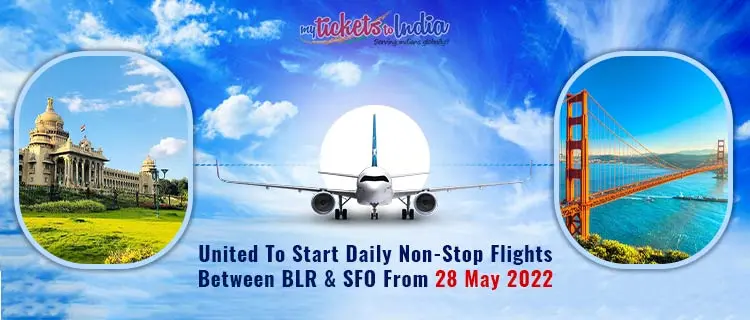 Last Updated on Nov 16th, 2023 by Heena Ganotra, 2 comments
Here comes a piece of good news for air travelers who plan to travel between India and the USA!
The US-based United Airlines has recently announced the beginning of its daily non-stop flights between Bangalore and San Francisco from 28 May 2022.
Further, Marcel Fuchs, United's Managing Director of International Sales, said, "By introducing the first-ever nonstop service between the two international technology hubs, Bengaluru and San Francisco, we are proud to open up new opportunities for both businesses and leisure travelers."
Also, the press release mentioned that United Airlines offers more flights between the US and India than any other US carrier.
Insights Into The Bangalore-San Francisco Non-Stop Route By United
Aircraft in Use: Boeing 787-9 Dreamliner
Business Class Seats: 48 (Flat-Bed)
Premium Class Seats: 21
Economy Class Seats: 188
Total No. of Seats: 257

Other USA-India Non-Stop Routes By United Airlines
United Airlines has been operating on 4 non-stop routes between USA and India which are as follows –
San Francisco to Delhi (SFO-DEL) & back
Newark to Delhi (EWR-DEL) & back
Newark to Mumbai (EWR-BOM) & back
Chicago to Delhi (ORD-DEL) & back (Introduced in Dec 2020)
Other Airlines Offering SFO-BLR Non-Stop Flights
Only Air India has been offering San Francisco to Bangalore non-stop flights (round-trip). The airline launched its services on this route in January 2021. With this, Air India made its first-ever move into connecting the West Coast of the US with the Silicon Valley of India.
Other Non-Stop Flights Between USA & India
Here's the updated list of non-stop flights between the USA and India. There are 15 flights in total for now. However, looking at the demand, this list is anticipated to expand and it shall in the near future.
Even though international flights have been suspended since 23 March 2020 due to COVID-19, international flights (including flights between USA and India) have been operating under Vande Bharat Mission (since May 2020) and under Bilateral Air Bubble Arrangements (since July 2020).
In case you're looking to book a non-stop USA-India flight or otherwise, we are just a call away. With us by your side, all your queries will stand resolved and you will have the best flight discounts.
Ready to be a step closer to your loved ones in India? MyTicketsToIndia is right here to help!
About Heena Ganotra | View Posts
A writer by both passion and profession, Heena Ganotra is "half agony, half hope" but all heart. And oh, she has been a book lover from the start! Her love for books is what convinced her to make a career in the wonderful world of words. She loves what she does and is out-and-out a satisfied soul with a wish to spread happiness like herpes. Insight- Some say she is living the best life anyone could because she reads, writes, travels, and makes merry. They're right because what else does one really need! :)