A Detailed Guideline On Air India Baggage Allowance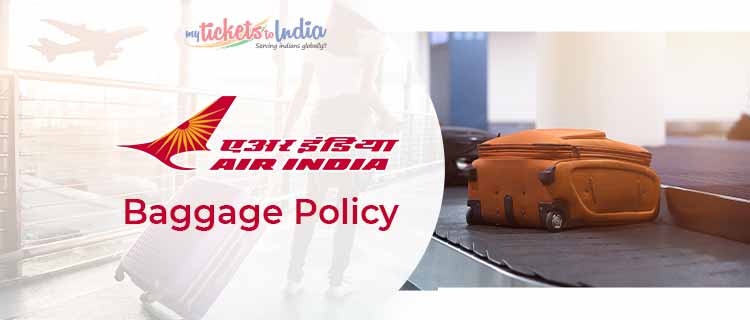 Last Updated on Oct 30th, 2023 by Priyanka Jadhav, 1 comments
If you've been wondering about the Air India baggage allowance for carry-on & checked, we have you covered. As an Indian government-owned air carrier headquartered in New Delhi, this airline has a total fleet of 128 aircraft. Having three classes of air travel – first, business, and economy class, Air India has its own unique baggage policy that one must know before boarding the flight. Given below are the details on Air India's baggage policies, including baggage allowances and fees.
Air India Carry On Baggage Policy
The Air India baggage carry-on policy applies to all Air India-operated air carriers. One must remember not to exceed the carry-on luggage size of 55 x 35 x 25 cm (22 x 14 x 10 inches) – (Height, length, width). However, the luggage allowance varies with the class you decide to fly in.
Economy Class: Flyers can carry one piece of baggage (carry-on) with a maximum weight of 8 kg (17 pounds). However, if a flyer carries baggage weighing more than 10 kg (22 pounds), they will have to pay excess baggage fees, and the hand baggage will be then checked into the hold.
Business and First Class: Flyers can carry one piece of hand baggage with a maximum weight of 12 kg (26 pounds). The baggage is put on hold if it weighs more than 12 kg.
Alliance Air-operated Flights' Cabin Baggage Allowance
A subsidiary of the Air India airline company allows Air India baggage carry-on size with the total linear dimensions of 40 x 30 x 15 cm (16 x 12 x 06 inches), i.e., the height, length, and width.
According to Air India Baggage Policy, on an Alliance Air flight, an infant, not entitled to a seat or is allowed a free baggage allowance, will accompany the adult passenger with a child-restraint seat, stroller, or other infant items free of cost. These items can be registered both as carry-on baggage and checked baggage. Other than carry-on baggage, a passenger can hold a personal item as well.
However, here is the following list of prohibited items on Air India, according to standard Air India baggage allowance: these are liquids, gels, and aerosols like beverages, shampoos, lotions, creams, paste, hair sprays, liquid cosmetics, or any other items exceeding the 100 ml limit.
Carriage of 'kirpan' while traveling by air: According to Air India baggage allowance, 'kirpan' is a religious symbol of Sikhism; passengers flying on a domestic flight (within India) can carry it as checked baggage. It is not permitted to be carried on international flights as stated by Air India's baggage policy for international flights.
Carriage of Power Banks and Samsung Galaxy Note 7: As these items are flammable materials, they are considered hazardous to carry on an aircraft.
Air India Hand Baggage Allowance for Other Items
In the current times, according to Air India's luggage policy, Air India has permitted the allowance of battery cells in a cabin class. Spare batteries can be carried in carry-on baggage only.
Passengers are allowed to carry powder or powder-like substances in their carry-on not exceeding more than 12 oz. Items such as medically prescribed powder-like substances, baby formula, and human remains.
Air India Baggage Policy for flights from India to USA
The Air India baggage allowance is based on the piece concept. The baggage allowance for travel on flights to and from USA is:
Economy Class: Each passenger can carry two pieces of luggage, each of 50 lbs (23 kg).
First and Business Class: Each passenger can carry two pieces of baggage up to 70 lbs (32 kg).
Infants: Children traveling in any class are allowed the weight permissible for a single piece of baggage up to 22 lbs (10 kg).
Suggested Read: Air India Business Class Flights To India

Air India Checked Baggage Policy
On domestic travel, Air India's domestic flight baggage policy for flyers connecting to Air India international sector on the same ticket has a free international baggage allowance applied to their air tickets.
Baggage Size and Weight Concept for Air India Cabin Class
In accordance with Air India's luggage policy, here are the following rules for baggage dimensions of various travel classes:
Baggage Dimensions for First and Business Class: The total linear dimensions must not exceed 62 inches (158 cm) for a single piece of checked-in baggage. The weight permissible for each piece of baggage is 32 kg (70 pounds).
Baggage Dimensions for Economy Class: For Economy passengers with two pieces of luggage, the maximum dimensions must not exceed 273 cm (107 inches). The weight of each baggage must not be more than 23 kg (50 pounds).
Please note that there are certain prohibited items that must not be carried in a checked-in bag.
Free Baggage Allowance on U.S Routes for Adult and Child
| Flight Departure | Flight Arrival | Economy Class | Business and First Class |
| --- | --- | --- | --- |
| India | USA | 2 pieces, each of 23 kg | 2 pieces, each of 32 kg |
| USA | India | 2 pieces, each of 23 kg | 2 pieces, each of 32 kg |
According to Air India's infant baggage policy, infants (younger than 2) are eligible as a piece of baggage not more than 10 kg.
Special Baggage Allowance for International Travel on Air India Flights
There are certain rules a passenger has to follow on flight bookings to Air India if they plan to bring items such as sporting equipment, bulky, fragile, or perishable items, musical instruments, carriage of arms, etc. Under the Air India Baggage Policy, here are the special baggage allowance items:
1. Sporting Equipment
As per Air India's sports baggage policy, one can carry sports equipment like
Golfing Equipment: Flyer is permitted to carry a golf kit that includes a golf bag and a pair of shoes which can be either checked as free baggage allowance according to the fare type you book with or can be charged 50% of the excess baggage cost per kg while booking flights from India to USA.
Snow/ Water Skiing Equipment: Flyers can carry a pair of skis, boots; snowboarding boots, snowboard; or a pair of water skis. It can be included as a free baggage allowance or charged 33% extra of the excess baggage per kg.
Surfboarding: Flyer must include this item as a free baggage allowance or be charged an equivalent of 50% of the excess baggage rates per kg.
2. Pet and Pet Carriage
Air India is one of the top 5 pet-friendly airlines. As per Air India's pet policy, domesticated animals such as dogs, cats, birds, and other pets can be carried on a flight journey. There are certain regulations that a flyer must follow before boarding the flight with their pet:
A maximum of two animals can be checked as baggage, subject to valid health and vaccination certification and a No Objection Certificate.
The dog or cat must be older than three months with Rabies vaccination taken more than one month before departure. Other Health Certificates must also be mentioned. The name of the owner must match the name of the flyer.
Passengers' flight tickets must include that they will be carrying a pet.
Pet will be carried as an additional charge and not be included in the Free Baggage Allowance. It excludes Guide or Service Dogs.
3. Musical Instruments
As per Air India's Musical Instruments Policy, musical instruments can be taken in-flight as:
Carry On Baggage: Small instruments like violin, the flute can fit within your carry-on baggage in the overhead bin or underneath the seat in front of you.
Seat Baggage: If your musical instrument does not fit in the space provided and the passenger cannot risk checking it in the hold, they can buy an additional seat at the currently available airfares.
Checked Baggage: Instruments that are bulky or fragile should be checked as baggage. It must be the owner's responsibility to pack it adequately. Or, it can be transported as checked baggage with a limited release tag, freeing the aircraft from any liability due to any case of damage.
Air India Baggage Fees for Excess & Overweight Luggage
According to Air India baggage fees, Air India's excess and overweight baggage policy for international travel are explained below:
Air India flights from India to US, Canada, Europe, or Australia (vice-versa): USD 40/ kg.
Air India flights from India to other international destinations (vice-versa) USD 15/ kg.
For international travel with Air India, whether your India flights from USA or India to USA, excess baggage charges are calculated based on the weight and piece-based system.
Excess baggage can be purchased with a discount rate of 20% by getting in touch with their customer service team, booking office, or on their online portal. Prepaid baggage allowance is available for all Air India domestic and international flights. Here are a few rules one must follow:
When the piece concept applies, prepaid baggage allowance can either be purchased as additional baggage that provides the customer with two extra pieces of luggage or overweight baggage that provides flyers with excess weight on free checked baggage.
Excess baggage is permitted to be purchased up to 6 hours before flight departure; however, this applies to Air India flights only and not Alliance Air, Air India Express, or Air India codeshare flights.
Prepaid Baggage is not permitted for infants, and neither is there any refund given if it is not used.
Baggage Services by Air India
Delayed or Damaged Baggage: As soon as you've realized that your checked baggage is delayed or damaged on arrival at your final destination, you should immediately contact Air India's staff at the Baggage Service Counter. Fill in the Property Irregularity Report and obtain a unique reference number. You must also provide the staff with a detailed description of your luggage and items carried. Air India will then begin tracking your baggage.
Reimbursement Policy for Delayed or Damaged Baggage
If the passenger is flying abroad and their baggage is delayed for more than 24 hours, they will be reimbursed 3000 INR. In the event, that the baggage is damaged. Air India will make efforts to get it repaired. However, Air India will not be held liable for any sign of minor wear and tear. If the baggage is lost and Air India is unable to trace it within 21 days of the report, then they can apply for compensation.
Note to Passengers: Air India advises passengers not to pack their valuable items such as cash, jewelry, and important documents in their checked baggage. The air carrier is not responsible for loss/ damage or delay of the baggage then.
Air India Checked and Carry On Baggage Packing Tips
If you feel like you overpack on journeys, keep a baggage calculator with you to never exceed the weight limit.
Don't pack any valuables such as medication, important documents, cash, or other valuable items as checked baggage. Please keep it in your hand luggage for ease of access and control of your important items.
Any item over your free baggage allowance, including duty-free purchases, come under excess baggage.
One must remember to label the bag tag attached to their baggage. Fill it with the correct details of your name and address.
Keep all bags including handbags, locked (secure) at all times.
Conclusion
This piece of information contains everything a flyer needs to know about Air India's baggage policy. Should you have any concerns regarding Air India's web check-in, bookings, refund, or cancellation, MyTicketsToIndia is right by your side to assist you with a seamless flight experience.
Note: For getting more updates about Air India policies, you can follow our latest Air India News blogs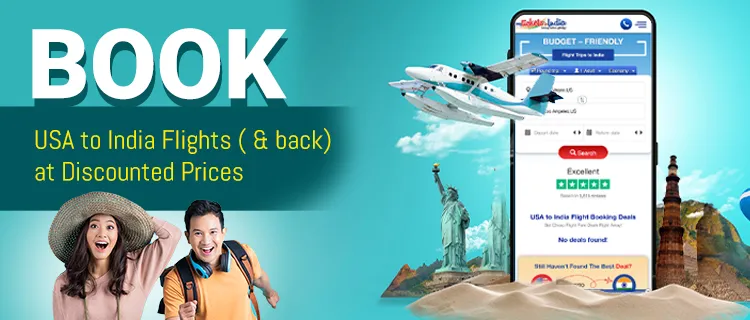 MyTicketsToIndia is a reliable and leading travel agency that provides customers with flight booking services, including incredible discounts on flight fares and detailed information about popular tourist destinations one can visit. Contact us today by calling us at 1-555-948-0222 or chatting with us online.
Baggage Policy For Other Airlines
We understand your urge to know the baggage details of other airlines. We have, thus, shared the airlines' baggage policy for specific airlines below.
Etihad Baggage Policy
Emirates Baggage Policy
Lufthansa Airlines Baggage Policy
Delta Airlines Baggage Policy
Spirit Airlines Baggage Policy
Virgin Atlantic Baggage Policy
Air France Baggage Policy
Frequently Asked Questions
Q. How many bags can I carry on my Air India flight?
Ans: A flyer booking international flights on Air India from India to the USA can carry two pieces of baggage, each 32 kg.
Q. How strict is Air India with a hand baggage allowance?
Ans: As per Air India's carry-on baggage policy, the maximum weight of hand baggage after paying excess baggage fees must not exceed the limit of 10 kg.
Disclaimer
While the information provided here is constantly updated, MyTicketsToIndia does not stand accountable for any changes made by Air India on an impromptu basis.
Priyanka Jadhav is a travel writer, who is inclined to explore different cultures and countries. When she is not writing, she is either reading fiction novels or surfing the internet for the next best place to add to her bucket list. Her interests piqued at a young age when she traveled across India and witnessed a variety of cultures, languages, foods, and people. If you're craving for an adrenaline rush, or need an instant travel update - Priyanka has a way with words to help you in every aspect possible. Bring quirky articles and the latest travel updates your way through MyTicketsToIndia, she aims to provide travelers with the necessary information possible.