Crisp Details On Delta Airlines Baggage Policy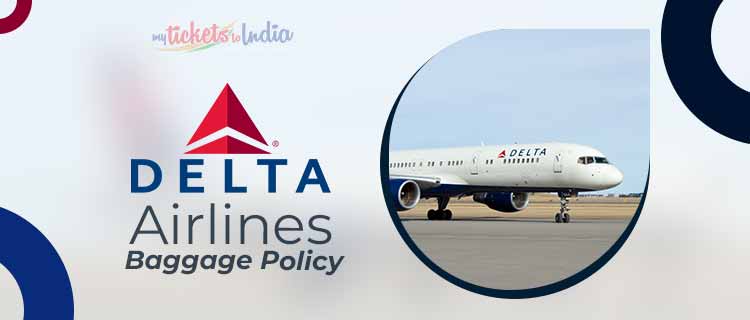 Last Updated on Oct 30th, 2023 by Priyanka Jadhav, Leave a Comment
Know the Delta Airlines baggage policy to travel on your next Delta flight with the utmost comfort. The major air carrier of the United States, Delta Air Lines is a legacy airline headquartered in Atlanta. Many travelers prefer taking this airline because of the generous Delta Airlines baggage allowance. It is viewed as a good air carrier for its on-time record of arriving within 15 minutes prior to the scheduled time, exciting frequent flyer program, comfortable lounges with excellent service at the airport accompanied by customer-friendly Delta Airlines baggage policy for international travel and domestic flights. Let's discuss what these policies are –
Delta Airlines Baggage Allowance for Checked
According to Delta Airlines luggage policy, the flyer must know the baggage dimensions which must be 62 inches in total length (height + width + length). Secondly, the passenger must also pack according to the Delta Airlines baggage weight policy, which varies for each cabin class while traveling internationally.
The Delta Medallion Status is as follows:
Delta Silver Medallion
Delta Golden Medallion
Delta Platinum Medallion
hDelta Diamond Medallionh
Basic Economy Ticket within US and Canada

1 free checked baggage
(70 pounds)

2 free checked baggage
(70 pounds)

3 free checked baggage
(70 pounds)

3 free checked baggage
(70 pounds)
Basic Economy Ticket to and from international destinations

1 free checked bag over standard checked baggage allowance
(50 pounds)

1 free checked bag over standard checked baggage allowance
(50 pounds)

1 free checked bag over standard checked baggage allowance
(50 pounds)

1 free checked bag over standard checked baggage allowance
(50 pounds)
Delta Premium Select

3 free checked baggage
(70 pounds)

3 free checked baggage
(50 pounds)

3 free checked baggage
(70 pounds)

3 free checked baggage
(70 pounds)
Delta One

3 free checked baggage
(70 pounds)

3 free checked baggage
(50 pounds)

3 free checked baggage
(70 pounds)

3 free checked baggage
(70 pounds)
Delta Airlines Luggage Policy for Military
Military personnel (active-duty military members) can avail themselves of special benefits when they choose to fly with Delta – ranging from benefits like a personal check-in counter to an addition such as self-service kiosks. However, active-duty military personnel can carry additional luggage sizes of 63-80 inches.
For active-duty military members traveling on a basic economy tickets are allowed five checked items of baggage up to a weight limit of 100 pounds each. Military personnel booking flights for personal travel; are allowed two free checked baggage (50 pounds each) on a basic economy ticket and three free checked baggage (70 pounds each) on a delta premium select ticket.
Delta Airlines Baggage Allowance For Carry-On
Delta allows one carry-on baggage and one personal item such as a purse, diaper bag, laptop bag, etc., free of cost. However, the limitations of Delta Airlines' hand baggage policy state that the size must not exceed more than 45 linear inches, including the handles and wheels. One must adhere to the Delta Airlines baggage carry-on rules, i.e, the carry-on item should easily fit in the overhead space or under the seat in front of you. If there is a lack of space for the item of baggage during the time of boarding the flight, then Delta gate checks your carry-on baggage without any additional baggage cost.
Delta Airlines Baggage Carry On
Most travel destinations restrict the size of containers of liquids, gels, aerosols, and pastes. One should read about the allowance according to the country you are traveling to and pack accordingly.
Do not exceed carrying liquid, gels, aerosols, and pastes that are more than 3.4 ounces.
Place items of these kinds in a zip-lock bag of clear plastic.
Essential items like medications, breast milk, juice, or formula for infants are allowed post a special screening.
Delta Airlines Baggage Packing Tips
Pack your valuables like passport, money, boarding passes, and jewelry in the carry-on or personal item baggage.
Delta allows duty-free goods purchased at the airport onto the plane for free. Keep your receipt of duty-free items handy.
Consider packing according to the destination you are traveling to. If the weather is hot, pack light. If the weather is cold, try wearing heavier clothes during the journey rather than packing them.
Replace liquid toiletries with solid ones to save space.
Suggested Read: Delta Airlines Lost Baggage Claim and Tracking
Delta Airlines Baggage Policy for Special Items
Learn extensively about the Delta Airlines baggage allowance for special items that can be packed as Delta Airlines baggage carry-on and checked as well. The following items will explain in detail Delta Airlines luggage policy with regard to Delta Airlines' baggage fee.
Infants and Children Items
According to Delta Airlines' infant baggage policy, in a domestic flight, infants younger than the age of 2 years old are allowed to travel on the lap of an adult and will be counted as the adult's baggage. However, on international flights, infants traveling on an adult passenger's lap will cost 10% of the flyer's cabin ticket fare. A flyer must contact Delta for both Delta Airlines International and Domestic Baggage Allowance to list their child on the ticket.
Delta Airlines does not consider child-restraint seats or strollers as standard baggage as long as these items are FAA-approved. Thus, Delta checks these items for free. One can check their stroller free of cost at the ticket counter or the gate itself. Children traveling on 50% or more than that of the fare of the adult will be entitled to the standard baggage allowance.
Medical Supplies and Wheelchairs
Delta Airlines accepts medical supplies and devices to be carried onboard for free of cost. The flyer must inform Delta Airlines about their medical requirement 48 hours before the flight departure or one hour before at the ticket counter.
The total linear dimensions of musical instruments should not exceed more than 150 inches, and the size restrictions should be 165 lbs (75 kg). If the item is fragile, and cannot be checked as baggage or carried as hand luggage, then the flyer can purchase a seat next to theirs as cabin-seat baggage. The item of the musical instrument must be packaged properly and not injure or obscure the view of other passengers.
1. Delta Airlines allows non-motorized bicycles up to 150 linear inches and 100 lbs that are properly packaged in a hard-shell case.
2. Golf Equipment must be checked as a standard item containing one set of golf clubs, golf balls and tees, and one pair of golf shoes, and must be packed in a hard-shell case. The fees for sports equipment are charged as a standard checked baggage item.
3. Sports equipment like skateboards, ski/snow/surfboards, or scuba gears must also be packed in a hard-shell case, and Delta will accept it as checked baggage. One can know more about bringing fishing equipment to canoes/kayaks on Delta's Sports Equipment Allowance here.
Delta Airlines Baggage Fees
To avoid paying excess Delta Airlines baggage fees each way due to excess baggage, here are a few Delta Airlines baggage guidelines one must be familiar with:
A passenger can check up to 3 to 10 bags at $200.
A passenger on a Delta Connection carrier can check up to 4 bags.
Baggage that is not able to meet the size and weight restrictions will require special handling and a fine of overweight baggage fees each way.
Delta Airlines Baggage Policy for Delayed, Lost, or Damaged Items
As soon as you find out that your baggage is either of the three – delayed, lost, or damaged, here are the steps one must follow:
Submit a claim for your delayed, lost, or damaged baggage at Delta's Baggage Online Claim Form.
Notify Delta representatives with the file reference number you will be provided after the form is submitted. Passengers are eligible for a baggage fee rebate for the first two checked bags.
According to Delta Airlines damaged baggage policy, Delta representative can not be contacted for normal wear and tear; however, if the TSA representative damages the bag during a security search, the passenger can contact TSA customer service for reimbursement (baggage claim).
Here is everything you need to know about Delta Airlines' baggage policy. With MyTicketsToIndia, the reliable and leading travel agency, you can make all your Delta Airlines flight booking with ease coupled with Delta Airways' exciting services that include the SkyMiles frequent flyer program, and loyalty status program, award-winning Business Elite Serve, and more. Reach out to us by giving us a call @ 1-585-948-0222 or starting a live conversation.
Baggage Policy For Other Airlines
Looking to know the airlines' baggage policy for other airlines? We have you covered.
Frequently Asked Questions
Q. What items are on the list of prohibited goods as per Delta Airlines?
Ans: Aerosols, bleach, insecticide, pepper spray, flammables, ready-to-eat meals, refrigerators, air conditioners, freezers, and dehumidifiers are prohibited goods, according to Delta Airlines.
Q. How do I prepay for the Delta baggage?
Ans: Passengers can pay for their luggage during check-in, which is limited to 24 hours before the flight departs.
Q. What are Delta Airlines baggage fees for oversized bags for domestic as well as roundtrip flights from India to USA?
Ans: Delta Airlines charges USD 200 for each oversized bag boarded to travel within the United States. For roundtrip flights from India to USA, the oversized baggage fees are USD 175 for each bag.
Disclaimer
While the information given here is constantly updated, MyTicketsToIndia stands unaccountable for any consequences arising or changes made by Delta Airlines on an impromptu basis.
Priyanka Jadhav is a travel writer, who is inclined to explore different cultures and countries. When she is not writing, she is either reading fiction novels or surfing the internet for the next best place to add to her bucket list. Her interests piqued at a young age when she traveled across India and witnessed a variety of cultures, languages, foods, and people. If you're craving for an adrenaline rush, or need an instant travel update - Priyanka has a way with words to help you in every aspect possible. Bring quirky articles and the latest travel updates your way through MyTicketsToIndia, she aims to provide travelers with the necessary information possible.