Overview of the Application & Process of OCI Card from USA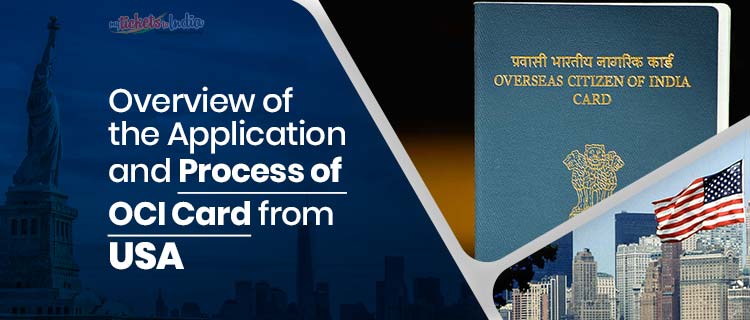 Last Updated on Oct 30th, 2023 by Priyanka Jadhav, Leave a Comment
Did you know that more than 15 million people of Indian ancestry have been residing outside of India as a result of Indian emigration? The Overseas Citizenship of India (OCI) immigration status allows such Indians to travel or return to India. Anyone with Indian ancestry can seek OCI status. This article aims to assist such persons with all the information they need to apply for an OCI card. Overseas Citizenship of India (OCI) – a smart card given to the Persons of India (PIO) who have immigrated from India and acquired the citizenship of a foreign country, like the United States. There are many benefits of the OCI card, such as
The OCI applicant can enter India several times with a multi-purpose lifelong visa.
They are not required to obtain any police clearance certificate for the duration of their stay in India.
They must be given the right to equality in matters of financial, economic, and educational fields, and must be treated equally to NRIs.
Registered Overseas Citizens of India must be treated equally with respect to intercountry adoption of Indian children like the non-resident Indians (NRIs) are. And they must be treated fairly like the Indian nationals in terms of tariffs in airfares in domestic sectors.
The applicant must be charged the same entry fees for visiting national monuments, historical sites, and museums in India.
Equality must be given while pursuing careers such as a doctor, nurse, dentist, pharmacist, advocate, architect, or chartered accountant.
The equality to appear for the All India Pre-Medical Tests or other tests such as this.
The applicant must be treated fairly for any services provided to them. Overseas Citizens of India can provide a notarized affidavit declaring that a certain address may be treated as their place of residence in India, and an affidavit submitted by them can provide proof of their residence overseas as well as their email address.
Howbeit, an OCI cardholder is not permitted to cast a vote or become a member of the Legislative Assembly/ Council or Parliament, cannot hold constitutional posts like that of President, Vice President, Judge of Supreme Court, or High Court. Neither are they allowed to hold employment in the Government sector.

Eligibility for an OCI Card
A foreign national
Have attained the citizenship of India after 26th January 1950
Belonged to a territory that later become a part of India after 15th August 1947
Either a child, grandchild or great-grandchild of that citizen
Minor child of persons mentioned above
Spouse of a foreign origin of an Indian citizen
Minor child whose both parents are Indian citizens or one of the parents is a citizen of India
Step By Step Guide to the OCI Card Application
It is required to send all OCI applications to the respective VFS Global Centers as per your jurisdiction. In-person applications have not been permitted until further notice. Applicants can submit their application to a center based on their jurisdiction such as – Washington DC, New York, Chicago, Houston, San Francisco, and Atlanta.
STEP I: TO IDENTIFY THE OCI APPLICATION CATEGORY
The following are the OCI classifications:
New OCI Registration
OCI Registration in lieu of PIO card validity
OCI Registration in lieu of lost PIO card
OCI Miscellaneous Services: These services can be availed for re-issuance or issuance of duplicate OCI documents, just in case:
The applicant issued a new passport
The applicant's particulars like name, father's name, nationality have been changed.
Loss or damage of OCI registration certificate or visa
Change of address or occupation
Cancel or renunciation of OCI
STEP-II: FILL THE ONLINE APPLICATION FORM FOR OCI CARD
Select the correct OCI services by clicking on the Online Application Services, the applicant will be directed to the Government of India's Online OCI Services website. There must be no more than 180 days between the applicant submitting the form and the submission of three forms to the Embassy, or it won't upload in the system. In order to prevent committing mistakes, the applicant can print a sample form for assistance and beware of common mistakes such as:
Determine your eligibility before beginning the registration process.
Use OCI Miscellaneous Services if you are an OCI Cardholder.
Use the OCI Registration website if you have a favoring PIO card validity .
If the PIO card holder's card is lost or stolen, then they must register through OCI Registration.
In case of emergency travel, applicants can apply for an appropriate visa.
The form must have complete and accurate information. It is important that you keep a record of your 'File Reference Number' after completing the form on the Online OCI Services website and uploading photographs, signatures, and documents. Return to the VFS website to continue with the subsequent steps.
NOTE: While filling or submitting an online form on the Government website, you face a problem and cannot complete the process, then you must submit the physical application to the VFS India Consular Application Centre.
STEP-III: REGISTERING AT THE VFS GLOBAL WEBSITE
Opt for the correct VFS Indian Consular Application Centre. After the online form is filled, prepare for the physical application with the required documents to send by post to the VFS Indian Consular Application Centre based on your state of residence. Due to the ongoing Covid-19 pandemic, applications can only be accepted via courier.
If the applicant is part of a family or is traveling with a group, he needs to create an individual profile for each member.
Steps to Complete the Mail-In Application Submission Process
Create an account on the VFS website, and click on Apply Now to begin the process.
Select the appropriate passport category for your intended purpose of travel and your state of residency in accordance with the Consular Jurisdiction.
Choose preferred mode of submission as postal.
If you choose to pay with a money order or banker's check, make sure you have all the necessary information before registering online. Providing false or fake information can result in your application being held or even rejected.
STEP-IV: SUBMIT PHYSICAL APPLICATION TO THE VFS GLOBAL WEBSITE
Indian Embassy USA can help you determine the center you must submit your application to. The VFS Indian Consular Application Center will accept physical applications that are filled out in black ink only. Select the postal method during the registration process. OCI applicants applying at the Mission, outside of the jurisdiction of their state of residence must use their own pre-paid courier labels.
STEP-V: SUBMIT THE RECEIPT OF THE APPLICATION BY POST
Upon receiving the receipt of your application the VFS system will be updated, and you will receive an email on your registered email id. The application needs to meet the requirements of the Mission/ Post, so a review process is initiated. In lieu of the ongoing Covid-19 pandemic, it must be noted the VFS staff will attend to packages 48 hours after receiving them at the location hence, the applicant must begin tracking the status of their applications 3-4 days from the day the documents were delivered to the VFS Indian Consular Application Centre.
OCI Card Fees
All applicants are required to pay a charge in US Dollars. The fee does not waiver for anyone.
Payment should be made separately by each applicant. In the case of a group application, the total application charges must be paid individually by each applicant.
If your CC/ MO/ PO is not honored, then you can be charged a fine in addition to the penalties levied by the bank. If the applicant refused to pay, legal action can be taken – which includes the termination of service if already delivered.
| Service Type | Consular Fee | ICWF Fee | Service Fee | Total |
| --- | --- | --- | --- | --- |
| New OCI Card | $275 | $3 | $15.90 | $293.90 |
| OCI in lieu of PIO Card | $100 | $3 | $15.90 | $118.90 |
| OCI in lieu of Lost PIO Card | $200 | $3 | $15.90 | $218.90 |
| OCI in lieu of Damaged PIO Card | $200 | $3 | $15.90 | $218.90 |
| Applied from another jurisdiction other than the jurisdiction of residence applicants must apply for OCI in lieu of a PIO card | $100 | $3 | $15.90 | $118.90 |
| OCI Re-issue (New Passport) | $25 | $3 | $15.90 | $43.90 |
| OCI Re-issue (Lost/ Damaged) | $100 | $3 | $15.90 | $118.90 |
| OCI Misc.Change of ParticularsChange of AppearanceCorrection of OCI Online FormChange of Address/ Occupation | $25 | $3 | $15.90 | $43.90 |
| Renunciation of OCI | $25 | $3 | $15.90 | $43.90 |
Tracking OCI Application Process
When the PIO to OCI conversion application status changes, the applicant is notified through email or SMS. To track one's PIO to OCI conversion application status, they must enter the tracking ID number found on their receipt from the VFS Indian Consular Application Center together with their date of birth.
In addition to that, you can also use the VFS Global SMS service to receive updates on your PIO to OCI conversion application status. This SMS service is paid.
Once the Embassy of India/ Consulates of India has assessed your application and come to a decision, they will send it to the VFS Indian Consular Application Center, who will then inform the application about the status of the application via the preferred mode of communication.
The OCI Card Application Processing Time
The time duration to OCI card application process is between 8 and 19 weeks. The procedure of obtaining an OCI card consists of several steps. Due to incomplete application, the processing time may be prolonged even further. The following can help you assess the general processing time and the necessary steps involved in applying for an OCI card.
1. Application for the OCI Card
Once the application is sent to process by the Embassy/ Consulates, and the final card is sent from Delhi, India. Then, the process takes approximately 60 days.
2. Receival of OCI Card by Consulate
Once it reaches the Consulate, the applicant must send their original US passport. Once the passport is received by the VFS Global Center, the processing resumes. It takes up to 3 days for the Consulate to match the passport.
3. Time Taken by Consulate
The Consulate requires at least 7 days to identify the US passport with the OCI card.
4. Time Taken by VFS Global Center
The VFS takes up to 3 days to ship the US passport with the OCI card.
There are a variety of factors that come into play when it's time to process the card and the passport, including the number of business days and time taken by the courier companies to deliver the passport.
Where to Apply for OCI Card?
The VFS Global Center in the applicant's jurisdiction can be used to apply for an OCI card. It is also possible to get an OCI Card while you are already in India on a long-term visa (for more than a year).
| VFS Global Center | Timings(Monday to Friday) | Address | Consular Jurisdiction | Processing Time |
| --- | --- | --- | --- | --- |
| Washington DC | Submission Timing: 9:00 AM – 4:00 PMCollection Timing: 4:00 PM – 6:00 PM | 1025, Vermont Ave NW Floor 2, Washington DC 20005 | Bermuda, Delaware, District of Columbia, Kentucky, North Carolina, Virginia, and West Virginia | Minimum 3 weeks and maximum 6 weeks if clearance required. |
| New York | Submission Timing: 9:00 AM – 4:00 PMCollection Timing: 4:00 PM – 6:00 PM | 145 W 45th St 4th floor, New York NY 10036 | Connecticut, Maine, Massachusetts, New Hampshire, New Jersey, New York, Ohio, Rhode Island, Pennsylvania, and Vermont | Additional 10 days |
| Chicago | Submission Timing: 9:00 AM – 4:00 PMCollection Timing: 4:00 PM – 6:00 PM | 142 E Ontario St #1700 Chicago, IL 60611 | Missouri, Illinois, Indiana, Iowa, Minnesota, North Dakota, South Dakota, Michigan, and Wisconsin | Minimum 4 weeks and maximum 6 or more weeks if clearance is needed. |
| Houston | Submission Timing: 9:00 AM – 2:00 PMCollection Timing: 2:00 PM – 6:00 PM | 2425 W Loop S #330, Houston, TX 77027 | Arkansas, Kansas, Louisiana, Oklahoma, Texas, New Mexico, Colorado, and Nebraska | Minimum 3 weeks and maximum 6 weeks or more if clearance is needed. |
| San Francisco | Submission Timing: 9:00 AM – 2:00 PMCollection Timing: 2:00 PM – 6:00 PM | VFS Global Center, 5 floors, 228 Grant Ave, San Francisco, CA 94108 | Alaska, Arizona, California, Guam, Hawaii, Idaho, Montana, Nevada, Oregon, Utah, Washington, and Wyoming | 2-3 weeks |
| | Submission Timing: 9:00 AM – 2:00 PMCollection Timing: 4:00 PM – 6:00 PM | 100 Peachtree St floor 2 suite 225, Atlanta, GA 30303 | Alabama, Florida, Georgia, Mississippi, Puerto Rico, South Carolina, Tennessee, and the Virgin Islands | 6-8 weeks and 4 weeks additionally required if passport clearance is needed. |
Indians of a foreign land, due to the OCI card, are at a major advantage as multinational companies are more inclined to hire you. OCI application process have skyrocketed as a result of their increasing utility, and certain Indian consulates now have a long waiting list. OCI cards are easier than ever to get, and the eligibility standards aren't particularly stringent. If you are a person of Indian descent there's a good chance you are eligible for an OCI card.
Documents Checklist
Proof of Current Citizenship
Evidence of self, parents, or grandparents.
Being eligible to obtain Indian citizenship before the Constitution was ratified,
Being an Indian citizen after the territory they belonged to became a part of India post 15th August 1947,
Or, becoming an Indian citizen on or post 26th January 1950.
A copy of the passport or a copy of the domicile certificate issued by a competent authority.
Parent or grandparent of Indian ancestry can be a foundation for the grant of OCI card holdership.
Demand Draft (US $275 for each applicant) is the method of payment for the application fee.
PIO cardholders should submit a copy of their card.
India is one of the most diverse countries and has the largest democracy in the world with a variety of traditions, cultures, castes, and creeds living together. The country rich in heritage is also known for having the highest number of official languages and is popularly known for the saying 'unity in diversity.' Tourists from across the globe visit India annually. Nowadays, the number of OCI applicants has increased, and thus, it is highly recommended to know how to apply for an OCI card holdership.
If you are living in the United States of America, wishing to visit India or settle in India, make sure to read this article by MyTicketsToIndia. The leading travel portal – MyTicketsToIndia wishes to provide its customers with the best flight deals and discounts, blogs from credible sources, and the latest information on everything related to flights to India and return flights to the USA.
Frequently Asked Questions
Q. Would I need to apply for the re-issue of OCI card when I acquire a new passport?
A. As per the following guidelines, the OCI applicants are required to re-apply for the re-issuance of their OCI card after acquiring a new passport:
OCI applicant i.e., 20 years or younger
OCI applicant i.e., 50 years or older
For an applicant who is 21 to 49 years of age, there is no need to re-issue any documents each time they decide to apply for a new passport. If the applicant desires, they can request for re-issuance of OCI documents.
For applicants that are 50 years of age or older, a request for the re-issuance of OCI documents can be sent after acquiring a new passport. If the OCI card, howbeit, is issued the first time after the applicant turns 50, then there is no need for the re-issuance of OCI.
Q. What documents qualify for evidence of self, parents, or grandparents being eligible for grant of an OCI under "any other proof"?
A."Any other proof' of documentation evidence can either be a school certificate, agricultural land ownership certificate, or birth certificate. This helps in achieving the proof of eligibility.
Q. Can we expedite OCI card processing?
A. No, the process of OCI card generation cannot be expedited. However, the OCI card processing time is around 5-6 weeks. Hence, one must plan accordingly in advance to avoid inconvenience at the last moment.
Q. How can I convert PIO to OCI in the USA?
A. Follow the following easy step to convert PIO cardholders to OCI in the USA:
Read through the terms and policies carefully before proceeding further with the registration.
Select the OCI registration option(in lieu of a valid PIO card) and submit all the required information. Note: PIO Card Validity should be 9th Jan 2015 onwards.
Move ahead and fill in the part-B form of the registration process.
Once done, the former PIO cardholder with favorable PIO card validity will have to upload the documents with their application. The applicants can submit their applications online in the concerned Mission within the jurisdiction of their place of residence.
No registration fee will be charged for such applications. However, SMS/Fax/Agent charges, as applicable, will be levied on the applicant.
Q. How long does it take to get OCI card in USA?
A. With its elongated proceedings and numerous applicants, the OCI card generation takes around 8-10 weeks in the USA.
Q: How to apply for OCI card in New York?
A. While the process remains the same for all US cities, the post address varies which for New York is 145 W 45th St 4th Floor, New York, NY, 10036.
Q. How to apply for an OCI card from Hyderabad?
A. Here are five easy steps to apply for an OCI card from Hyderabad:
The applicants have to submit the application form online and upload all the requisite documents along with the application.
After submission, documents have to be submitted to the FRRO, Hyderabad Bureau of Immigration, CGO Tower, Kabadiguda, Hyderabad, for prior verification, which will be responsible for verifying the supporting documents with the originals.
If there is any deficiency in the application/ uploaded documents/Photograph, the concerned officer from FRRO, Hyderabad Bureau of Immigration, Hyderabad, shall inform the same to the applicant by email.
After verifying documents with the originals and confirming that the application along with all the documents submitted is in order, the FRRO, the concerned officer from Hyderabad Bureau of Immigration, CGO Tower, Kabadiguda, Hyderabad, shall submit their confirmation of approval.
Once the approved confirmation is submitted, the application will get automatically acknowledged on the online system.
Q. Can we travel to India on PIO card?
A. Yes, You can travel to India on a PIO card. However, it is considered a valid document only if the flyer is carrying a valid foreign passport.
Priyanka Jadhav is a travel writer, who is inclined to explore different cultures and countries. When she is not writing, she is either reading fiction novels or surfing the internet for the next best place to add to her bucket list. Her interests piqued at a young age when she traveled across India and witnessed a variety of cultures, languages, foods, and people. If you're craving for an adrenaline rush, or need an instant travel update - Priyanka has a way with words to help you in every aspect possible. Bring quirky articles and the latest travel updates your way through MyTicketsToIndia, she aims to provide travelers with the necessary information possible.