How To Use Google Flights To Book Cheap Flights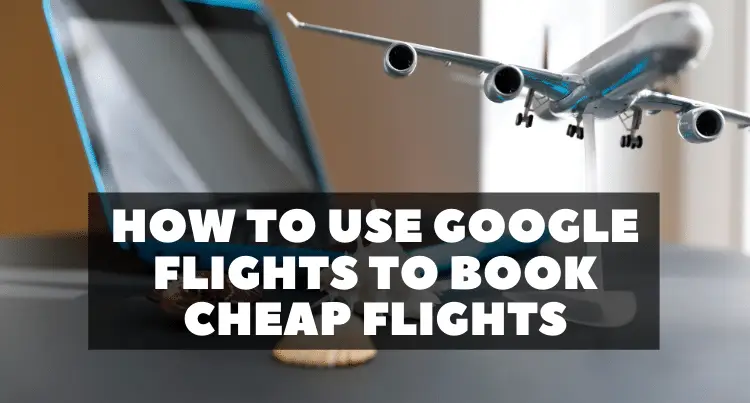 Last Updated on Nov 20th, 2023 by Heena Ganotra, Leave a Comment
Google Flights was launched by Google as an online flight booking search service in 2011. It is a service that allows users to book airline flight tickets, including Google flights from USA to India, through third-party suppliers. The best part about Google Flights is that the searches aren't limited to destinations alone. One can search for flights based on-
1. Stops
2. Airlines
3. Bags
4. Price
5. Times
6. Connecting Airports
7. Duration
8. Separate Tickets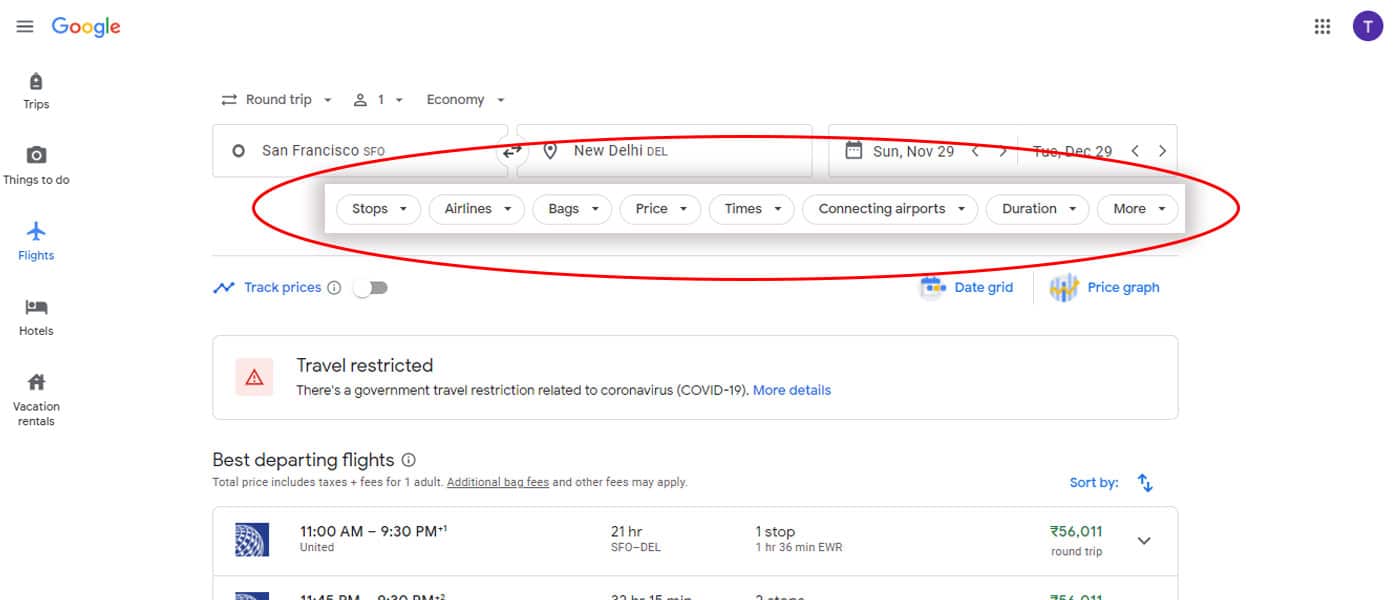 How To Use Google Flights – A Step-by-Step Tutorial on How To Book Google Flights
With features like:
1.Google Flights Explore Map
2. Google Multi-city Flights
3. Google Flights Flexible Dates
4. Google Flights Calendar among others; using this tool can be extremely fun and easy if you know how to use Google Flights inside out. Let's delve deep and know how to book Google airline tickets in steps that are easy to understand and easier to execute.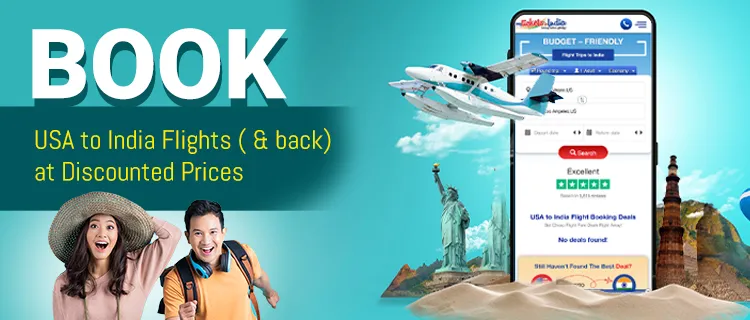 411 On Google Flights
There are certainly valid reasons why we suggest Google flights above other search engines. Unlike other online travel agencies that offer flights, hotels, cruises, and other personalized holiday packages, Google flights is a global distribution platform where different airlines directly publish their airfare. You can get the exact airfare of the airlines without any extra charges, as also followed by our website.
Use Google Flights Search Anywhere
Google Flights lets you search anywhere in the world for cheap flights. Some high-volume Google Flights searches are New York, Hawaii, Chicago, the UK, and Canada. Let's take an example and understand how Google Flights search anywhere to anywhere works. Once you go through it, you will easily be able to search for cheap Google flights to Hawaii or Chicago, or anywhere you want to go.
1. Open an internet browser (Mozilla Firefox, Chrome, Internet Explorer, etc).
2. Search for Google Flights – domestic or international (such as Chicago to Mumbai flights, San Francisco to New York flights)
3. Go to https://www.google.com/flights – the top-most link to see this: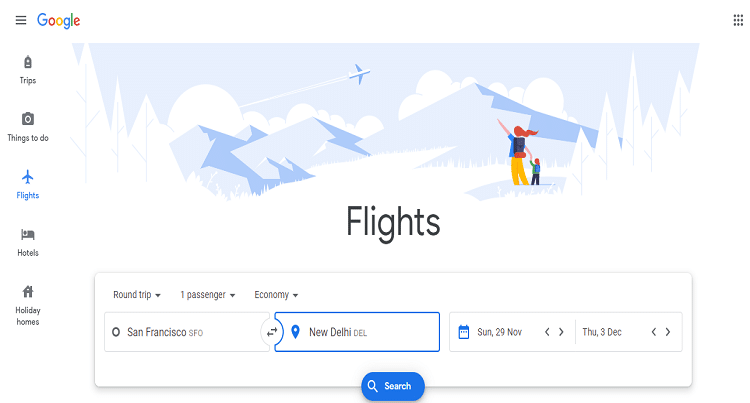 4. Enter the airport or the departure city you want to depart from and arrive at in the Google flight search. (In this example, we are choosing San Francisco to Delhi – Google Flights USA – as part of booking USA to India flight ticket price.)You could enter Houston, Austin, Las Vegas, Florida, Los Angeles (LAX) or any destination of any country, including Canada, in the Google Flight search bar.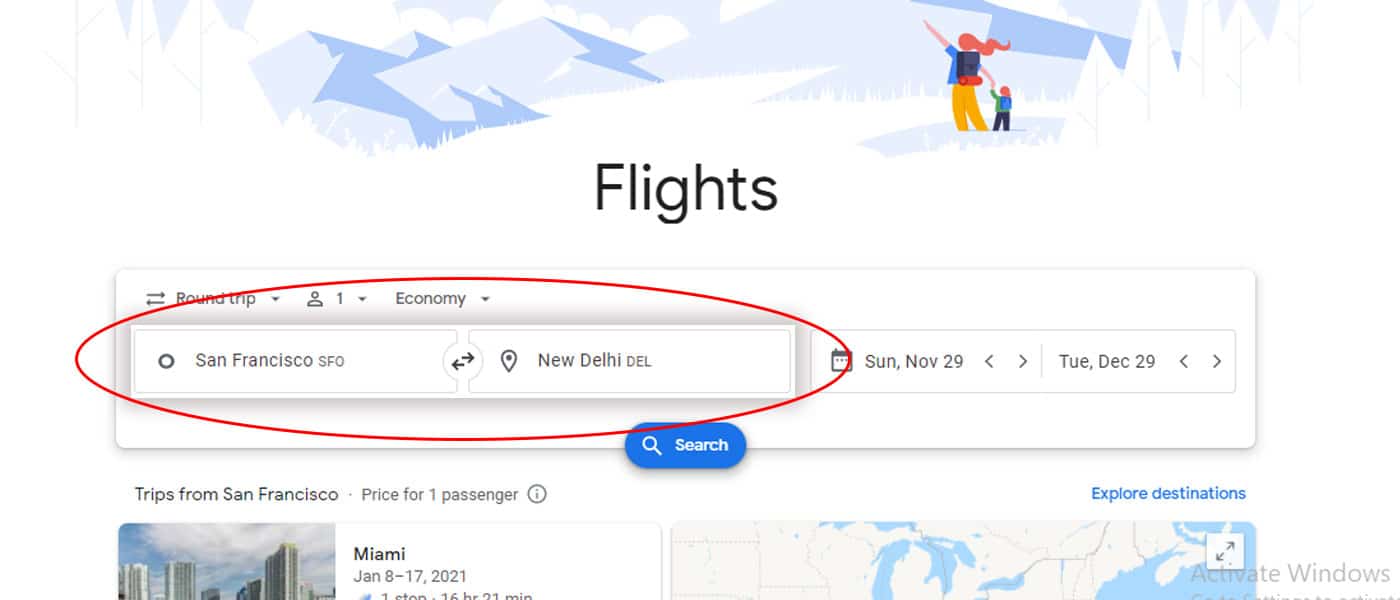 5. You can also choose from the popular destinations listed right below the Google flight search bar or by clicking on the world map given right beside it. This example, shows Miami, Chicago, and New York.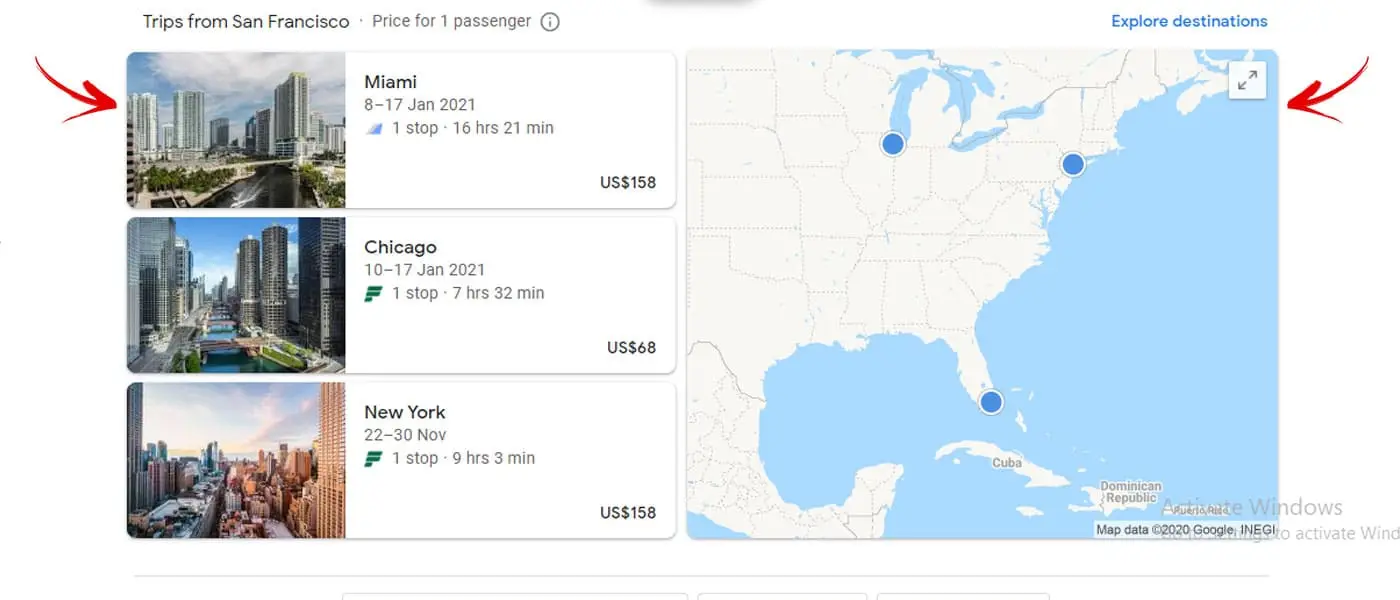 6. Choose the type of Google flight tickets you want-
Google Flights Round Trip
Google Flights One-way
Google Flights Multi-city Tool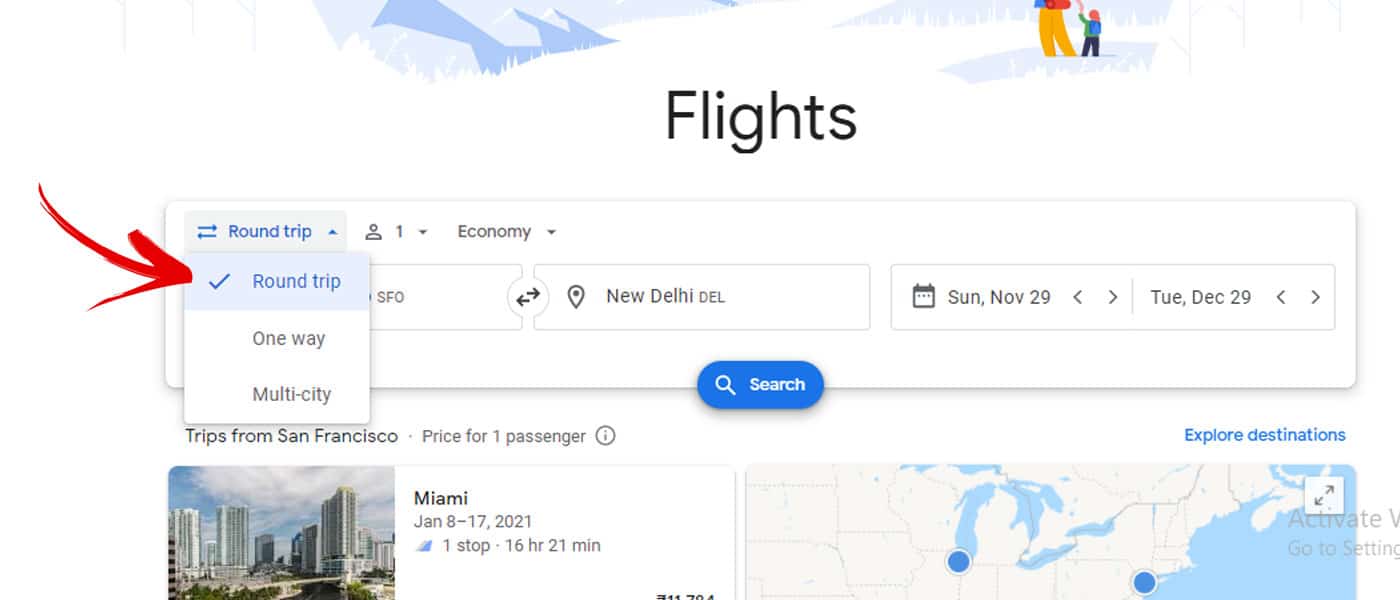 7. Choose the number of passengers.
Adults
Children (2-12)
Infants (In Seat)
Infants (On Lap)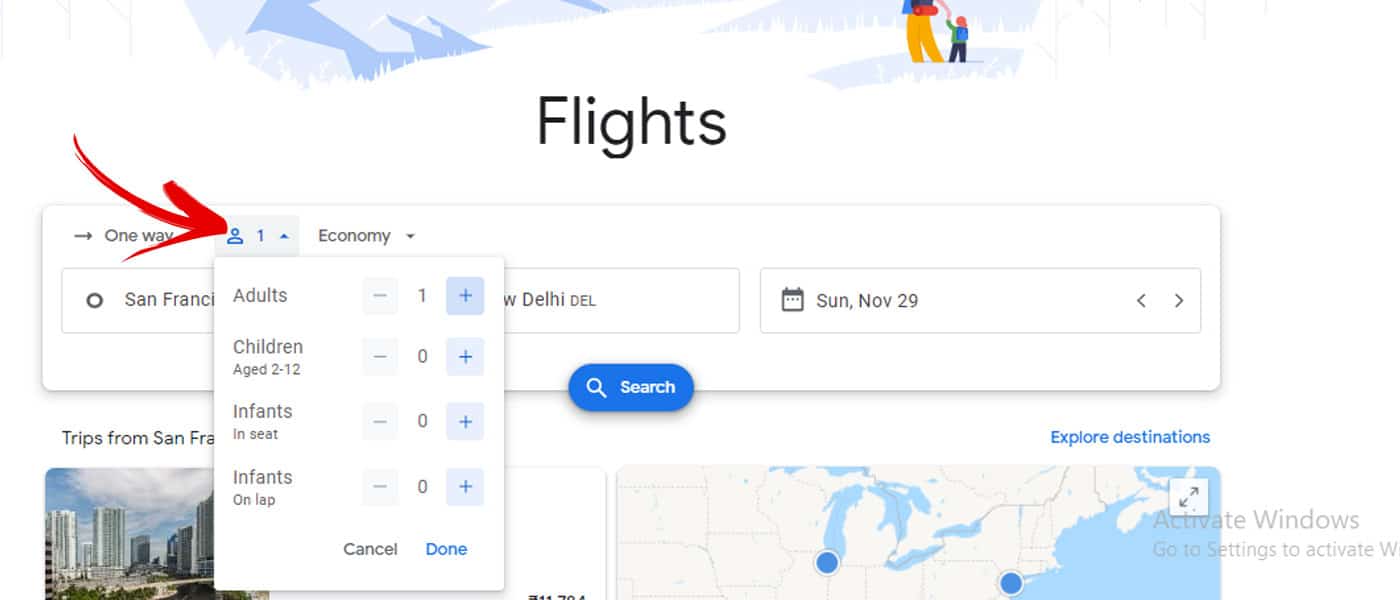 8. Choose the flight class.
Basic Economy Flights
Premium Economy
Business Class
First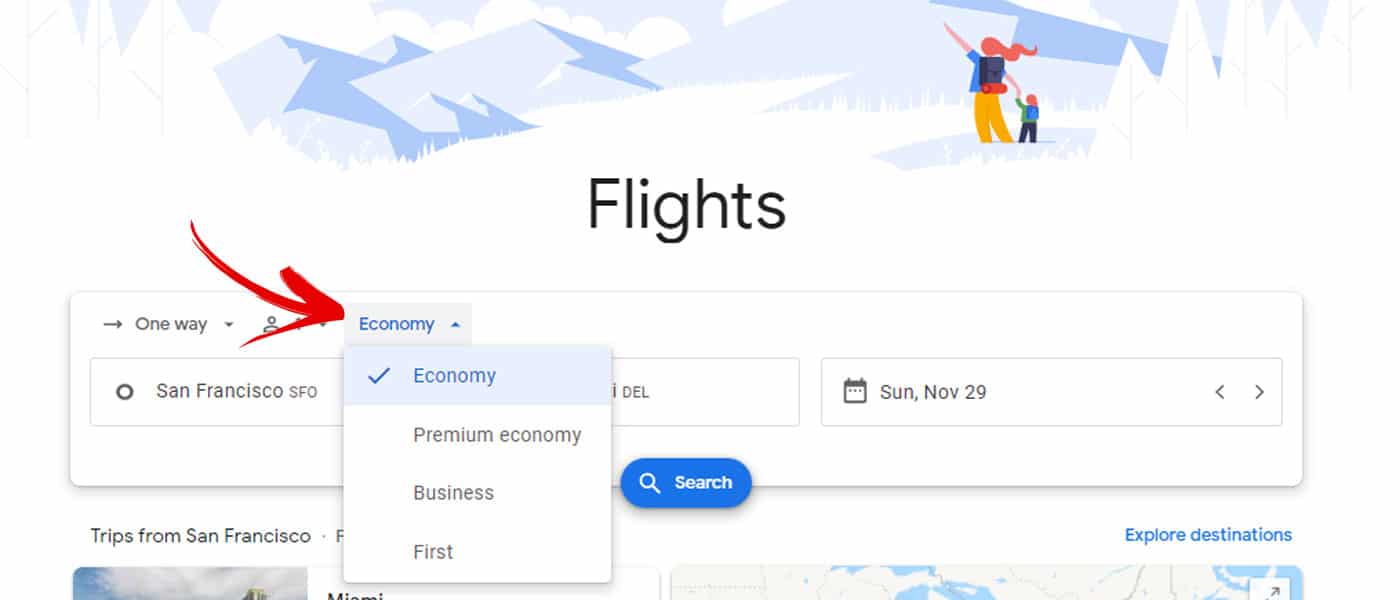 9. Click on the Google Flights calendar to choose your flight dates. Another beautiful feature you'll witness while booking Google Flight Tickets is that, upon opening the flight calendar, you'll see Google airfares for each day of the month you choose. These Google flight prices get updated once every 24 hours. Flexible dates with Google Flights can, thus, prove to be a boon.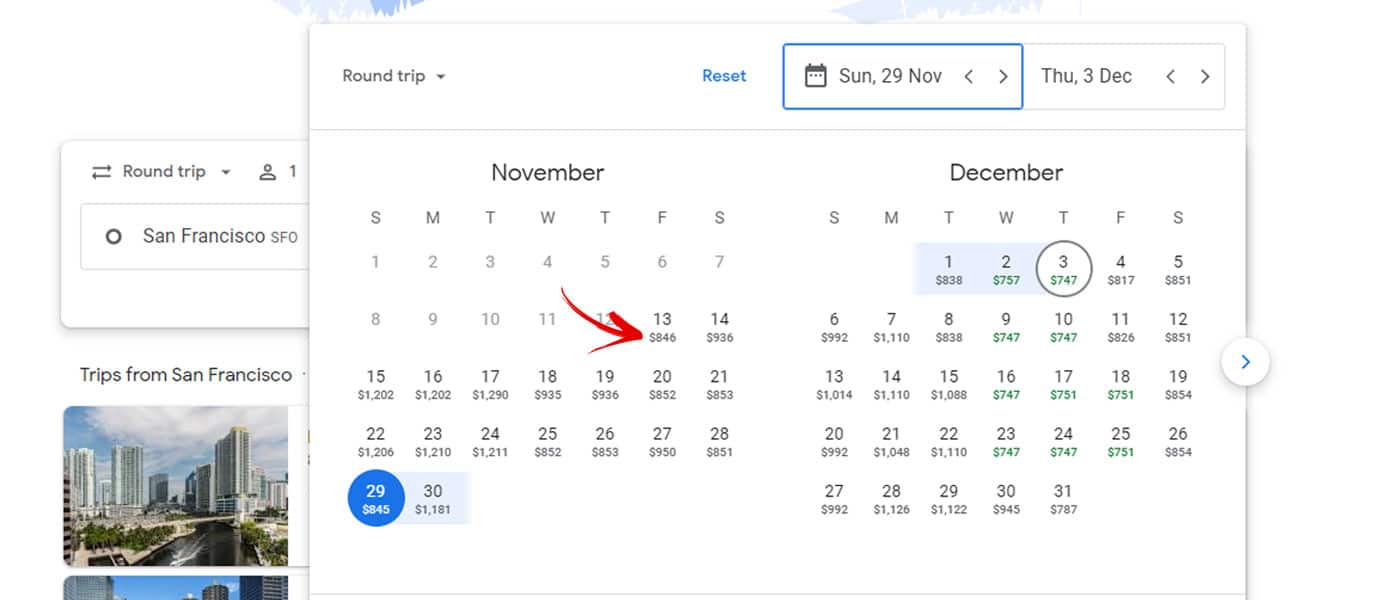 10. Press Search.
11. Once you do, you'll be directed to a page with flight options that you can choose from. As discussed in the beginning, you can filter your results by clicking on the stops, airlines, time, etc. For instance, if you want to book Atlanta to Delhi flights, you can search for these flights with specific airlines, dates, or stops.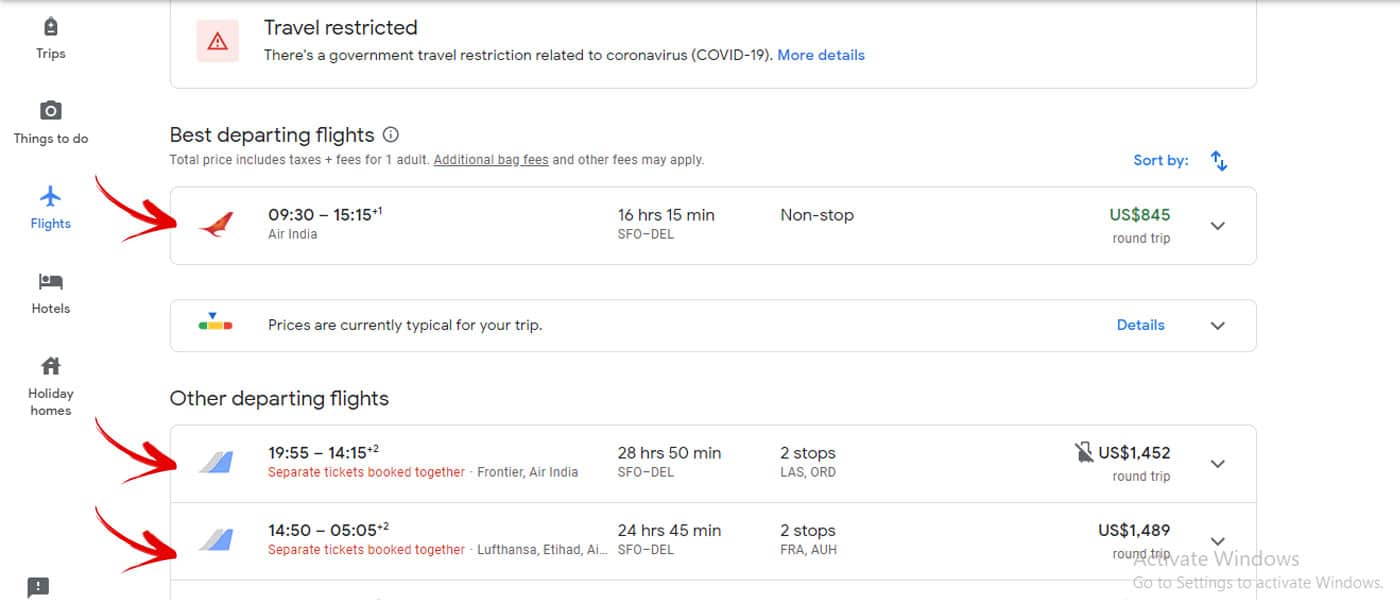 12. Choose your preferred Departing flight.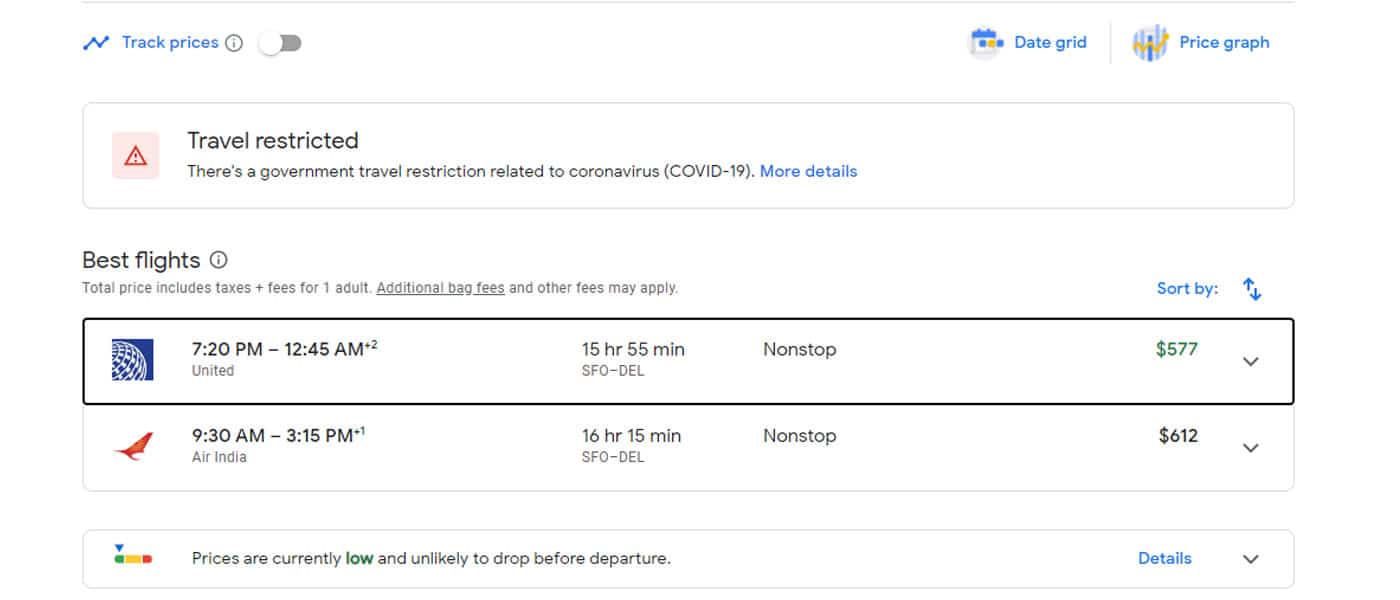 13. Choose your preferred return flight.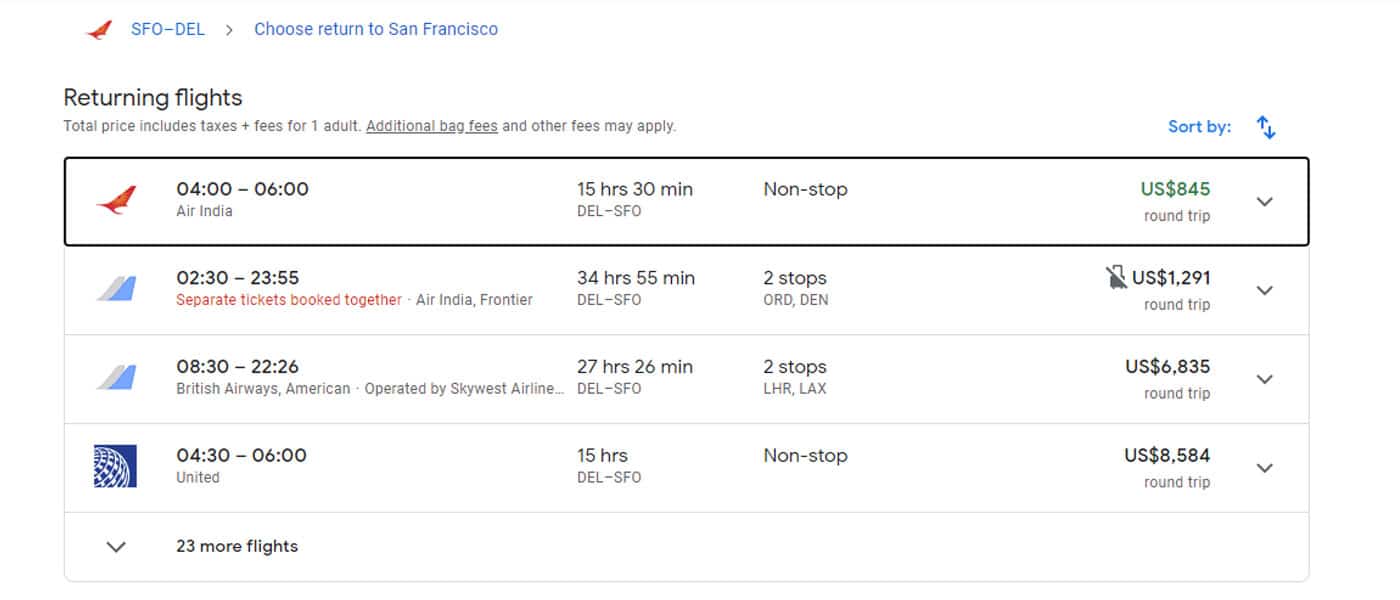 14. Your Itinerary will show up which will resemble something like this.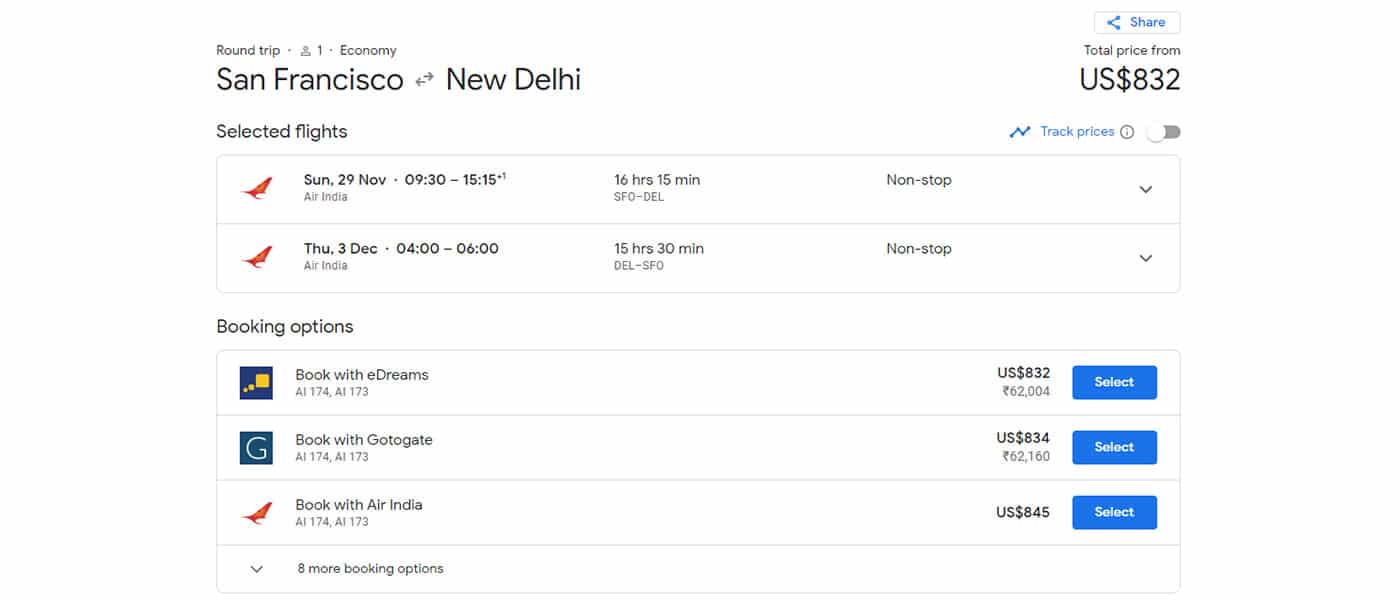 15. Google will then offer certain Booking options that you can consider purchasing your Google flight tickets from. This is because Google Flights isn't an online travel agency but only a metasearch engine. It links the customers to either airlines or OTAs for the purchase.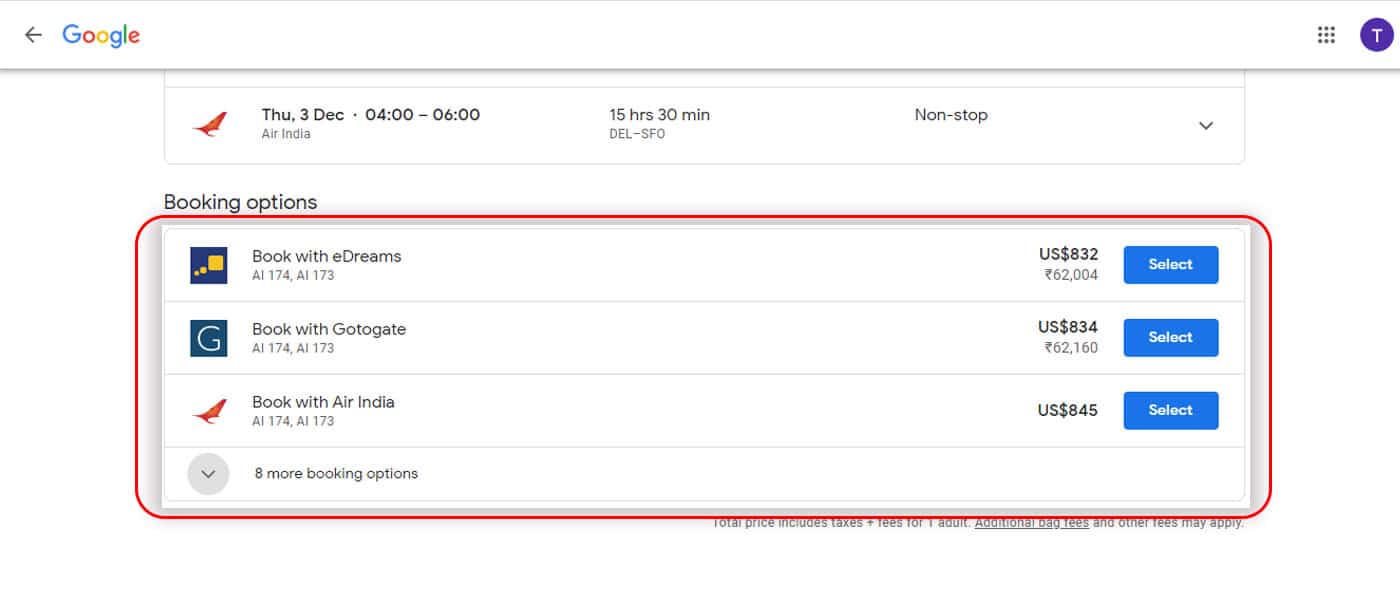 16. When you click to book through any of the options (either airlines or travel agencies), you'll be taken to the checkout page where you'll have to enter passenger and payment information. Please note that if you book on Google, you won't have to leave Google to complete the transaction.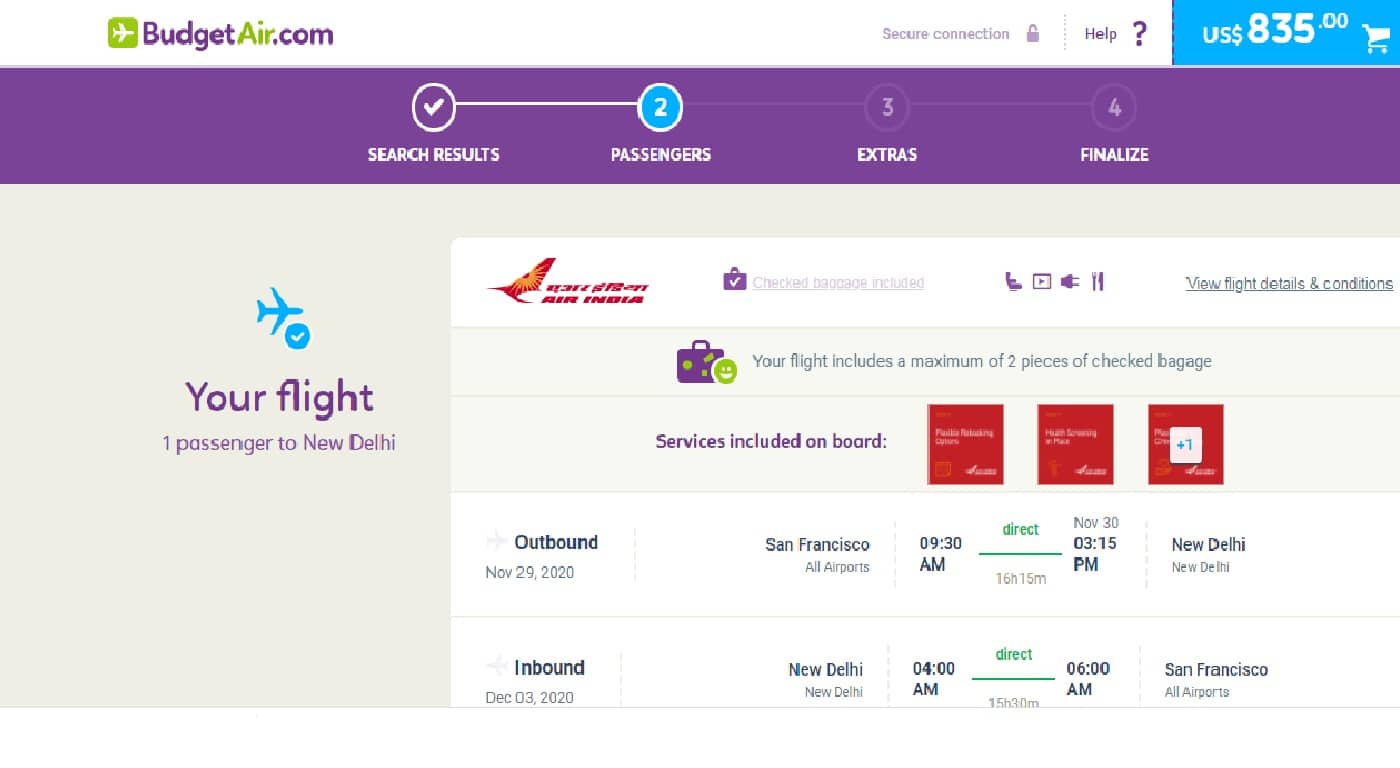 17. And it's a win! You'll have your flight ticket booked. However, don't forget to get in touch with the airline or the travel agency to confirm your booking, to make any changes, or to resolve any queries.
Canceling The Flights Booked Through Google Flights
Since Google Flights isn't an OTA but a flight search engine, any cancelations will happen directly with the airline or the travel agency you go ahead with. This is because one anyway can't book the seat or make the payment with Google; one is directed to the airline or the OTA so the sole responsibility of cancelation or reschedules falls on the shoulders of the airline or the agency books with.
Accuracy Of Google Airfares on Google Flights
Google Airfares displayed by Google Flights is inclusive of taxes. It shows the prices as per your search. For example, if you've searched for a round-trip itinerary, the Google flight Airfares will be for the entire round trip.
And as long as the accuracy of the Google airfares on Google Flights is considered, it is almost always accurate. However, under circumstances when it is wrong i.e. outdated, it is usually due to the change in Google plane tickets' prices that Google Flights fails to instantly change.
Speculations About Google Flights Using Cookies To Raise The Airfares
The rumors regarding airlines and travel agencies using cookies to race up the airfares of the flights you look for have been doing the rounds for a long time now. However, these speculations hold no value with Google Flights because it is neither an airline nor an online travel agency. This makes Google Flights have absolutely no control over the flight prices as it only displays the prices it fetches from third-party websites.
Features Of Google Flights
1. Google Flights Price Predictor
Google Flights ensures that the price you get is fair as it shows whether the flight price you are looking at is high, low, or typical. As part of its Fall Promotion, it even came out with the 'Google Flights Price Guarantee' feature wherein if the prices dropped after a booking is made, it went ahead and refunded the difference in the airfare. However, this feature came out only on a trial basis and no longer exists. Even during the roll-out phase, it was available only on certain flights.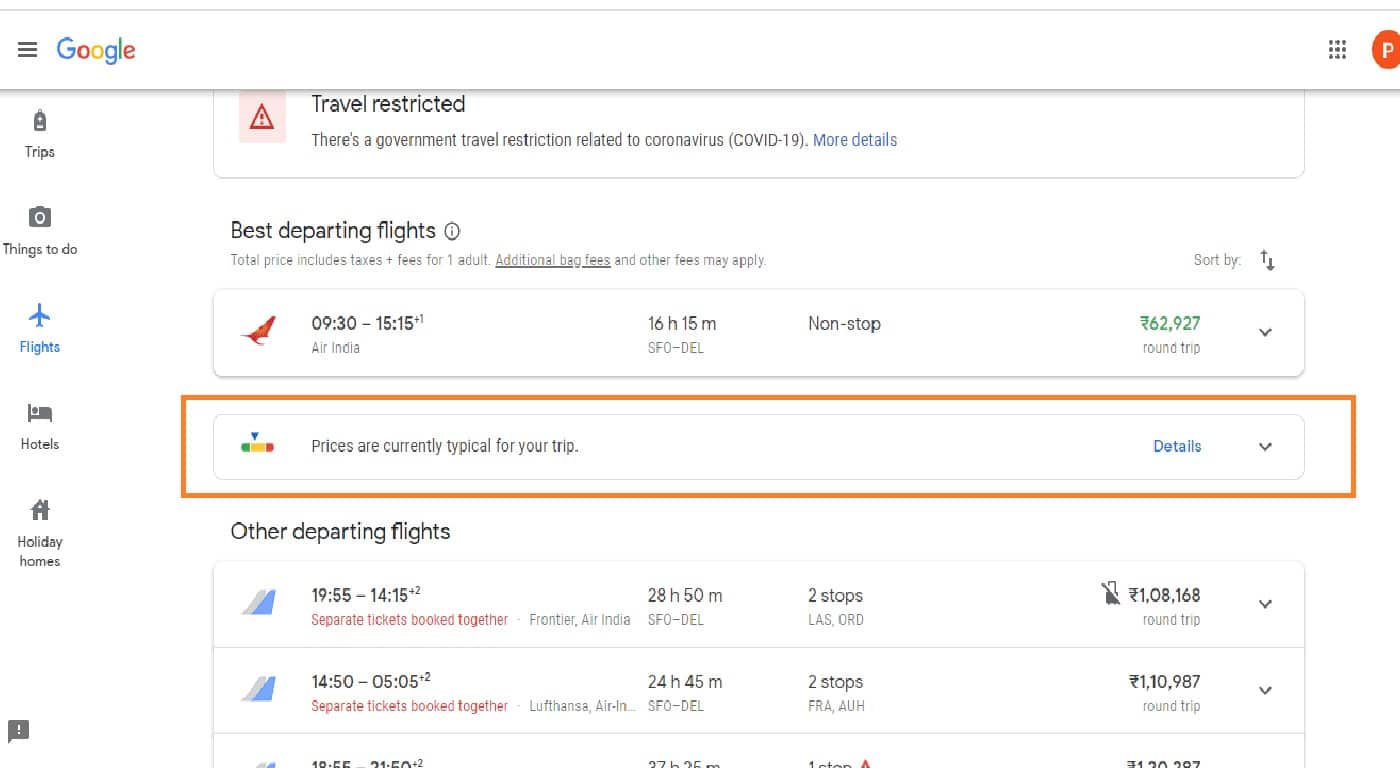 2. Google Travel Flight Itineraries
Once you book your flight and receive your trip itinerary in your Gmail account, Google will show the same under 'Trips' and that too in a timeline format. It's a pretty professional list that gives every detail of what you have booked. And this feature of Google Travel flight itineraries is what makes Google Flights stand out from other flight search engines.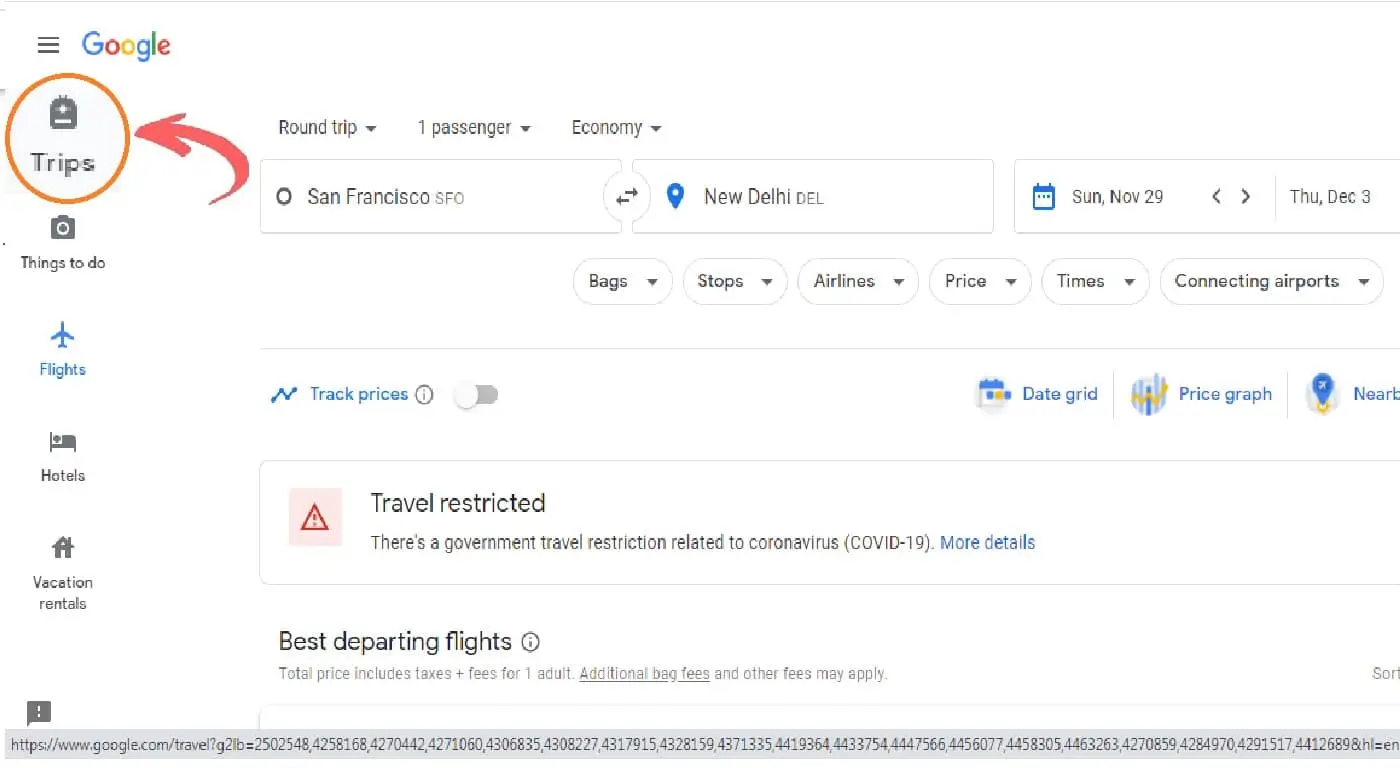 3. Google Travel Flight Recommendations
Once you book your flight, Google will help you with other options like hotels, flights, restaurants, and things you can do. For example – If you click on Search hotels in ABC city, Google will take you to its Google Hotels Page. The same goes for the restaurants where you can make reservations as well. This comes under Google Travel flight recommendations that Google Flights offers. It makes it one of the best Google Travel guide among the list of best flight search engines.
Step-by-Step Tutorial On Changing Currency On Google Flights
1. Click on the hamburger icon on the top-left corner of the Google Flights home page. (Hamburger icon is the icon with three horizontal lines that opens up a list of options).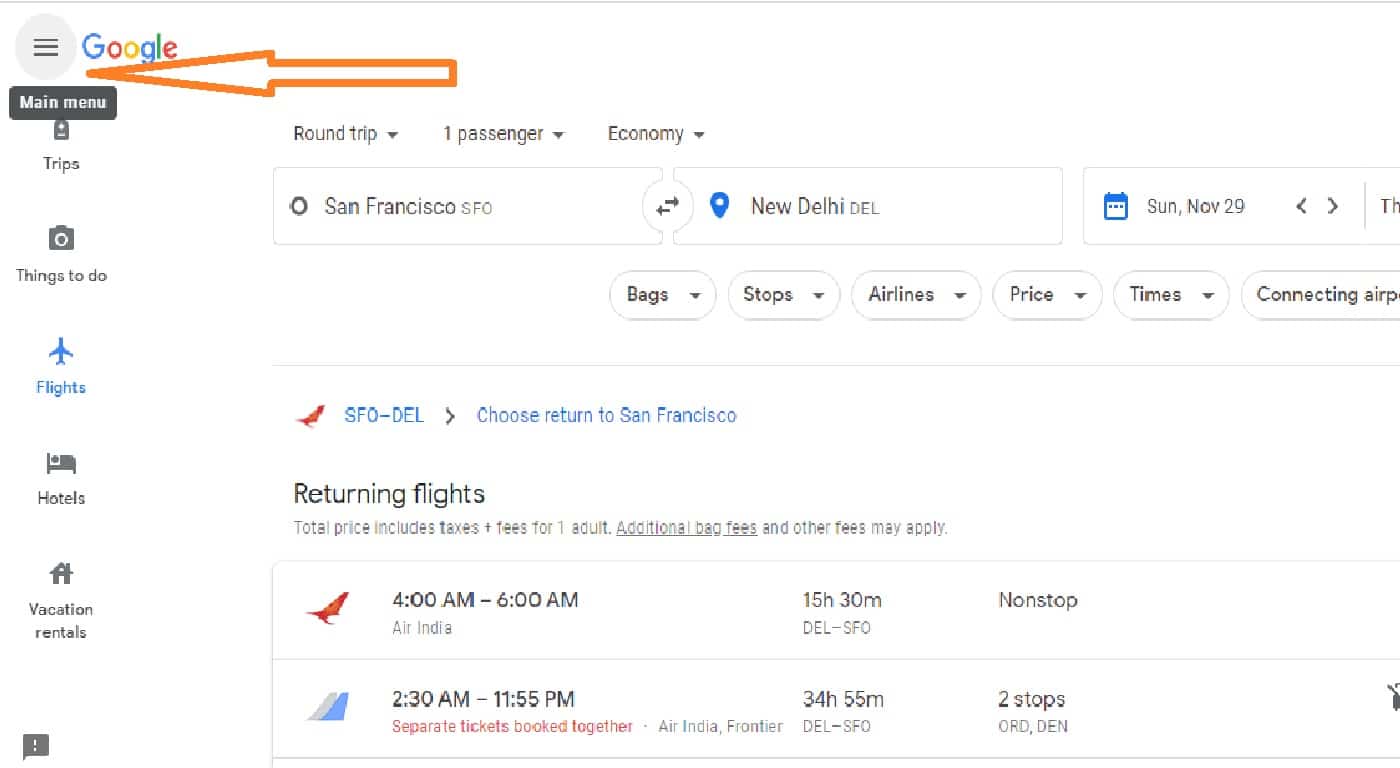 2. Once you do, a vertical list will open up.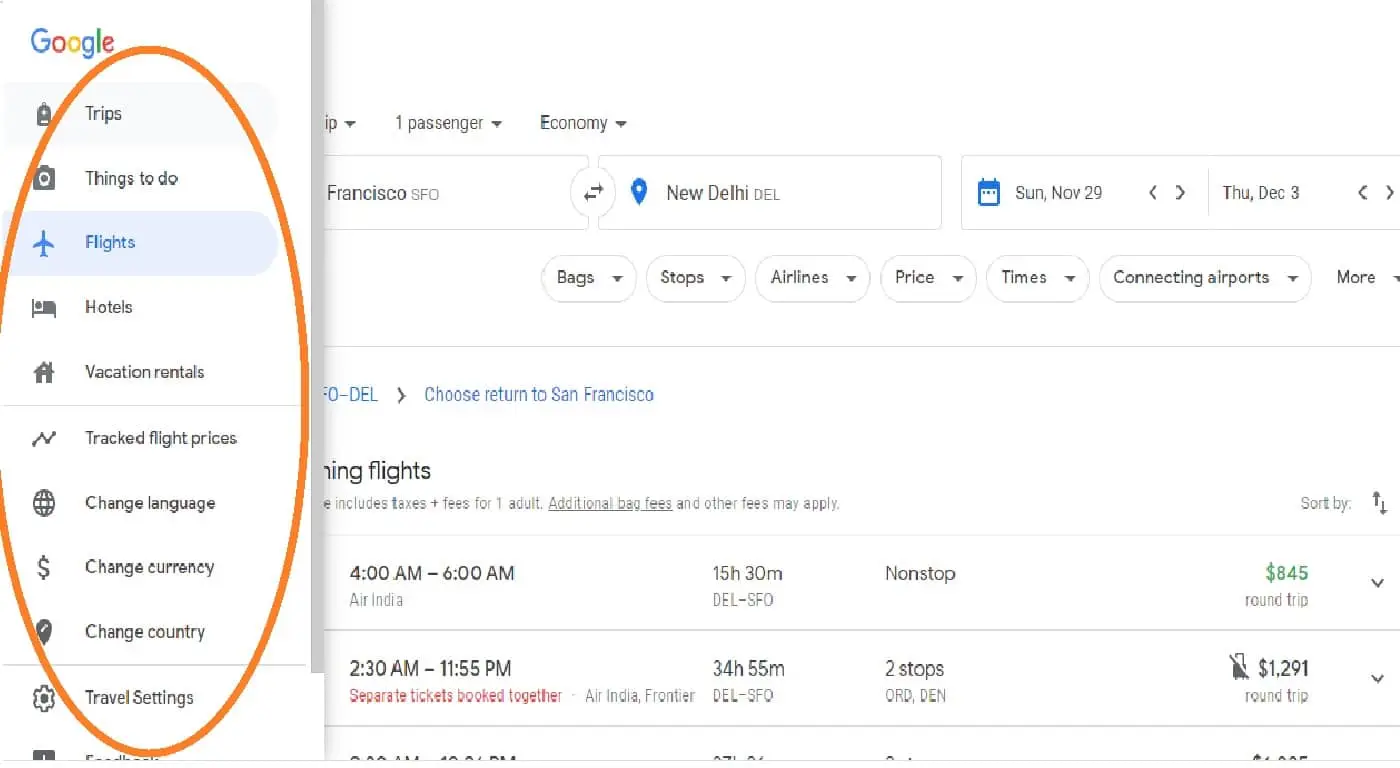 3. Choose 'Change currency'. You can even choose to 'Change country' or 'Change language'.
Note: You can adjust the currency, country, and language at the bottom of the page as well.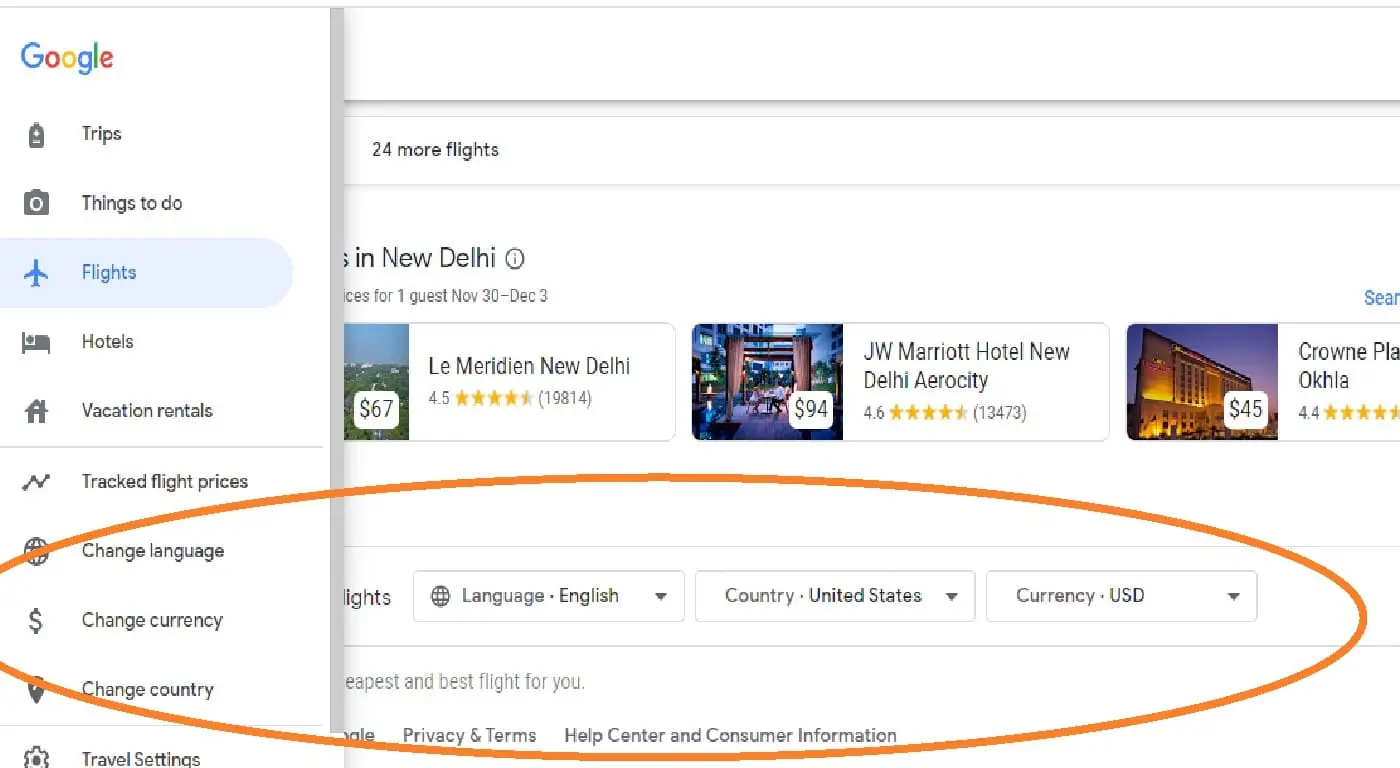 Step-by-Step Tutorial On Tracking Prices On Google Flights | Google Flight Price Tracker
1. Set your departure and arrival cities/airports in the Google flight search bar along with your travel dates.
2. On the results page, you'll see the "Track prices" button.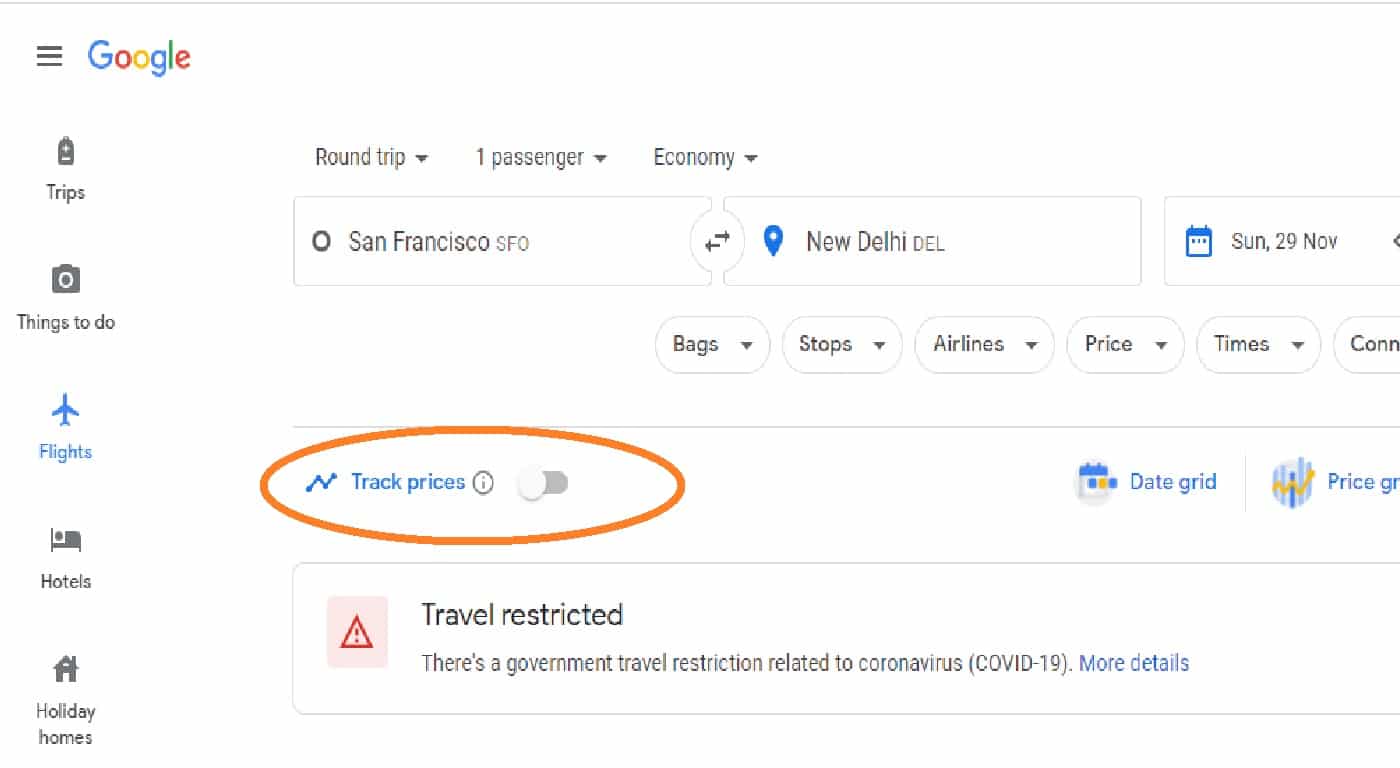 3. Click on it so it turns to the other side, changing its color to blue. You'll be prompted to sign in to Google if you aren't already.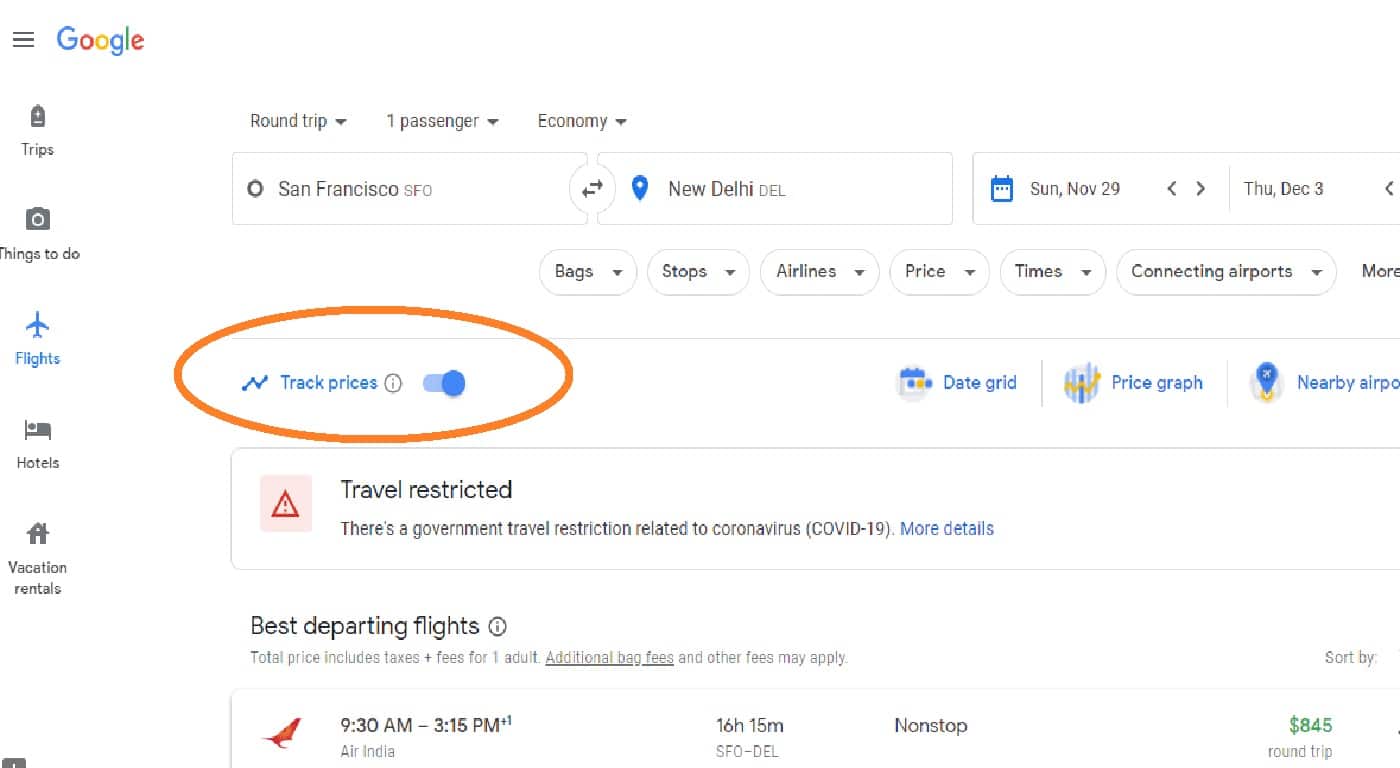 4. Once you do, the "View All" option at the bottom of the page will appear.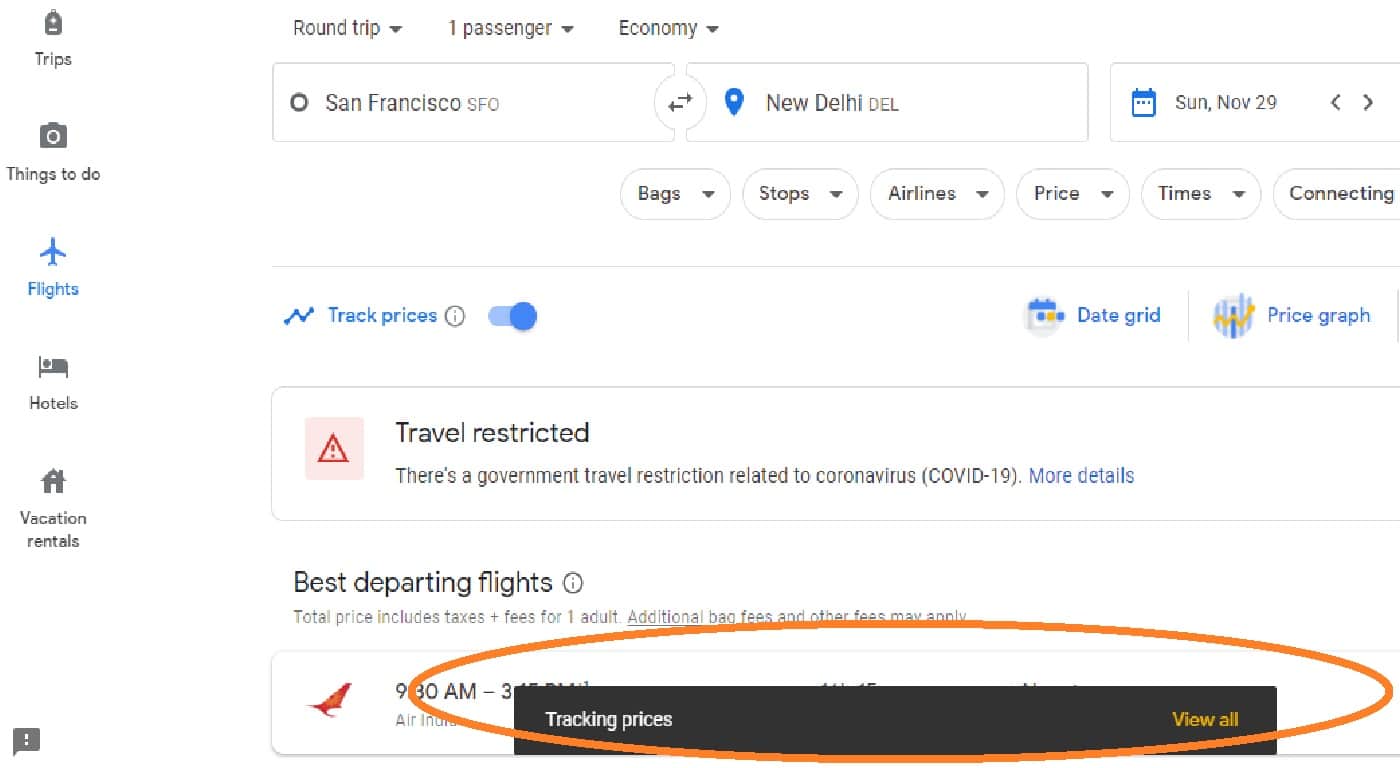 5. Once you do, the "View All" option at the bottom of the page will appear.
Note: The downfall of Google Flight tracker or setting airfare alerts on Google Flights is that you will end up getting a lot of emails as the prices keep changing quite a lot on a daily basis. This is because you cannot set an alert on Google Flight Tracker so you only receive notifications up to a particular threshold or for a particular date range or even for a specific region. You will have to choose a particular date and destination.
Google Flights – Ghosting | When You Can't Get The Cheapest Price
Chances are that when you see the lowest price on Google Flights and start booking, the fares instantly jump in price or can't be booked at all. This phenomenon is known as Ghosting and happens when the airline updates its prices but Google Flights fails to do so.
If this happens to you, there is usually no way that the fares can be redeemed. However, this is what you can try doing
1. Change the dates you initially put in Google Flights.
2. Take the Ghosting fares dates and see if they can be booked in Priceline or Momondo.
While these might/might not work, it is worth a try to make Google fly come back with the prices.
Positive Features Of Google Flights
Google Flights is one of the favorite tools for travelers as it has some great features which are as follows-
1. Lightning Fast
Google Flights is hands-down the fastest flight search engine that displays fares in milliseconds.
2. Displays Fares Up To 330 Days
Google Flights showcases fare results for any date sprawling up to a year which is huge because not many sites do that.
3. Calendar-based Fare View
Google Flights shows the prices even when you just hover over the Google calendar dates. Yes, it's that simple!
4. Google Flight Map Search Explorer
Google Flight Explorer helps you find the cheapest place to fly from your departure destination and between the range you put in the calendar just by hovering over the map.
5. Google Flights Multi-City Airport Search
Google Flights multi-city search lets the users put multiple cities i.e. up to 7 departure and 7 arrival airports without slowing down. Please note that the seven airports you put in must be separated by commas. This way, if you are booking flights from USA to India, you can put seven US airports and 7 Indian airports to see where cheap Google flights start from and land. Another thing worth noting is that certain cities in the US have multiple airports. In this case, the city codes will be different.
For example – If you are searching for Google Flights from Orlando to Delhi you can choose airports with codes as MCO & SFB. In case you are searching for Google Flights from Denver, airport codes – DEN and APA can be chosen. Likewise, Washington (WAS) has airport codes DCA, BWI, and IAD; Dallas has airport codes DFW, DAL, ADS; New York (NYC) has airport codes JFK, LGA, and EWR.
Benefit – If you're looking for cheap Google Flights to anywhere in Hawaii (for example) you might put ITO, LIH, HNL, OGG, and KOA as your destination to find where the cheapest Google Flight is from Seattle (SEA)/Miami (MIA)/Boston (BOS) (for example) i.e. to either Hilo, Kauai, Honolulu, Maui Kahului, or Kona.
6. Pre-fills Information
Prefills the information so you can compare fares without going through the hassle of manually entering the details.

Negative Features Of Google Flights
Where there are pros, there are cons. The same goes for Google Flights. While we have listed the positive features, it's time we dwell a bit on its negative features to get a 360-degree viewpoint.
1. Doesn't Always Display The Cheapest Fares
Because Google Flights fetches fares from the major airlines and OTAs (Online Travel Agencies) only, chances of it missing the lowest fares are slightly more. This is because the cheapest fares are known to be on smaller OTAs like MyTicketsToIndia which has a particular niche of catering to passengers flying from USA to India only. Apart from this, Google Flights doesn't display results from some of the airlines, including Southwest Airlines, which means one has to put in some extra efforts to search for the flight fares directly with the airlines and OTAs not listed on Google Flights.
2. No Mistake Fares
Mistake Fares only show up on smaller OTAs, hence Google Flights isn't able to list the same. This accounts to one of the major drawbacks of Google Flights.
3. Showcases Deals That Are No Longer Available
More often than not, when Google Flights showcases a particular flight fare and a user happens to click on it, either of the two things happens – (i) the flight fares jump or (ii) there is no way to book and the portal instructs you to call the airline. This process is known as Ghosting and occurs when a particular fare was available pretty recently but no longer is.
Solution – Compare Prices Against Different Sites
If the question of whether you should rely completely on Google Flights or not is nudging you off limits, we have a straightforward answer. No, you shouldn't! Instead, you must compare flight prices against different sites like MyTicketsToIndia. This is because we are one of the renowned travel agencies that have the lowest airfare policy but aren't listed on Google Flights. So what you should do is check for a travel itinerary on Google Flights and cross-check the same for cheaper fares on other sites. This way you are bound to get the cheapest fares and that's what one needs, right? Right!
Hacks To Get Cheap Flights On Google Flights
Hack1 – Use The Google Calendar Feature
Once the dates are entered in the Google Flight search bar, the calendar shows two months' worth of prices. The airfares are shown beneath the dates. If you want to know about the Google cheap flights for subsequent months, keep clicking the arrows to the right and they will take you further. Please note that you will see prices in two colors – black and green. The prices in green indicate the best deals.
At the end of the results and towards the left corner, you will see this message being flashed – Showing prices in USD for < 4-day trips > Here you can increase or decrease the duration of your trip, corresponding to which you will see the fares changing.
Hack2 – Use The Google Date Grid Feature
The Date Grid will take you to a table wherein the cheapest combinations are listed. The prices are segregated between 'cheaper' and 'more expensive'. While the cheaper prices are listed in green, the more expensive prices are in red.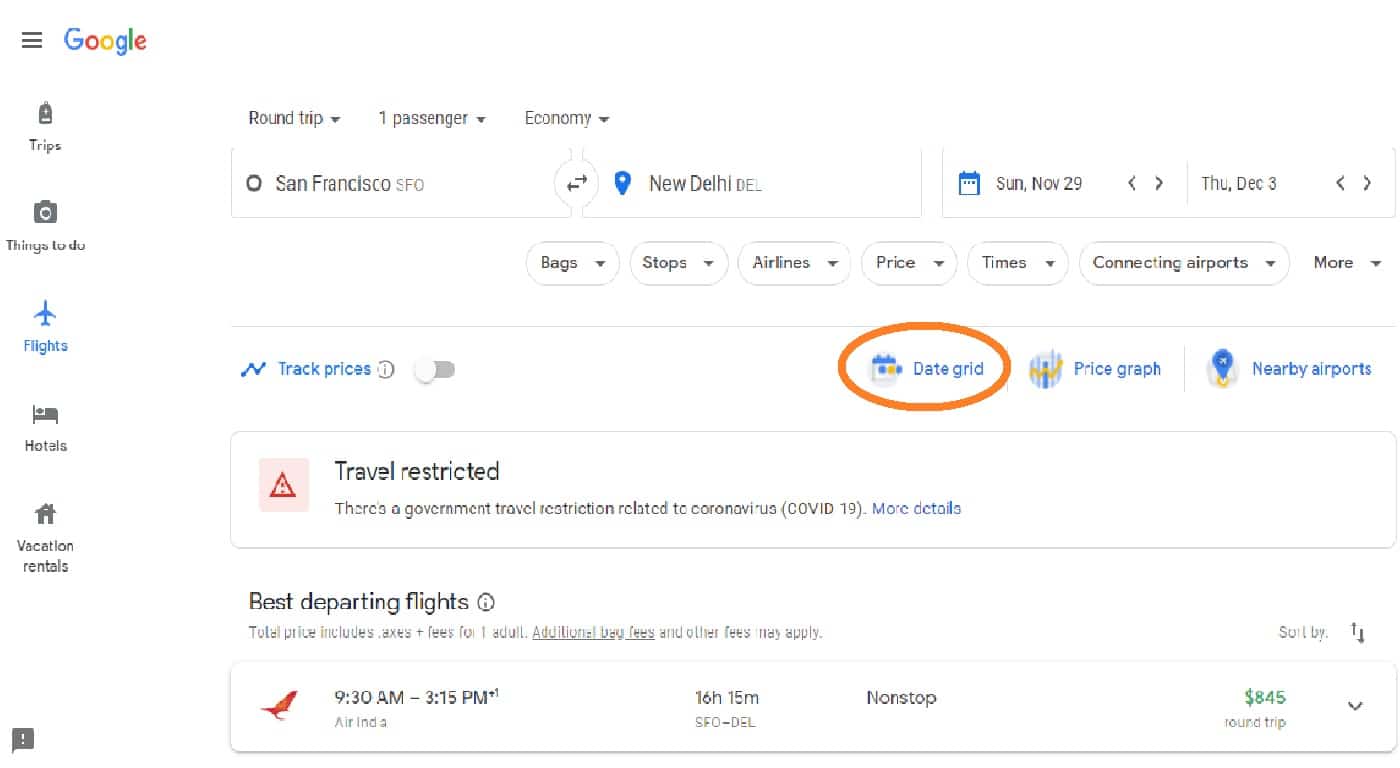 Hack3 – Use The Google Price Graph Feature
The Price Graph feature is upfront and compares prices for two months in a single visual. When you select the bars, you will be able to see the prices along. This will make it easier for you to make a decision. You can even change the dates here.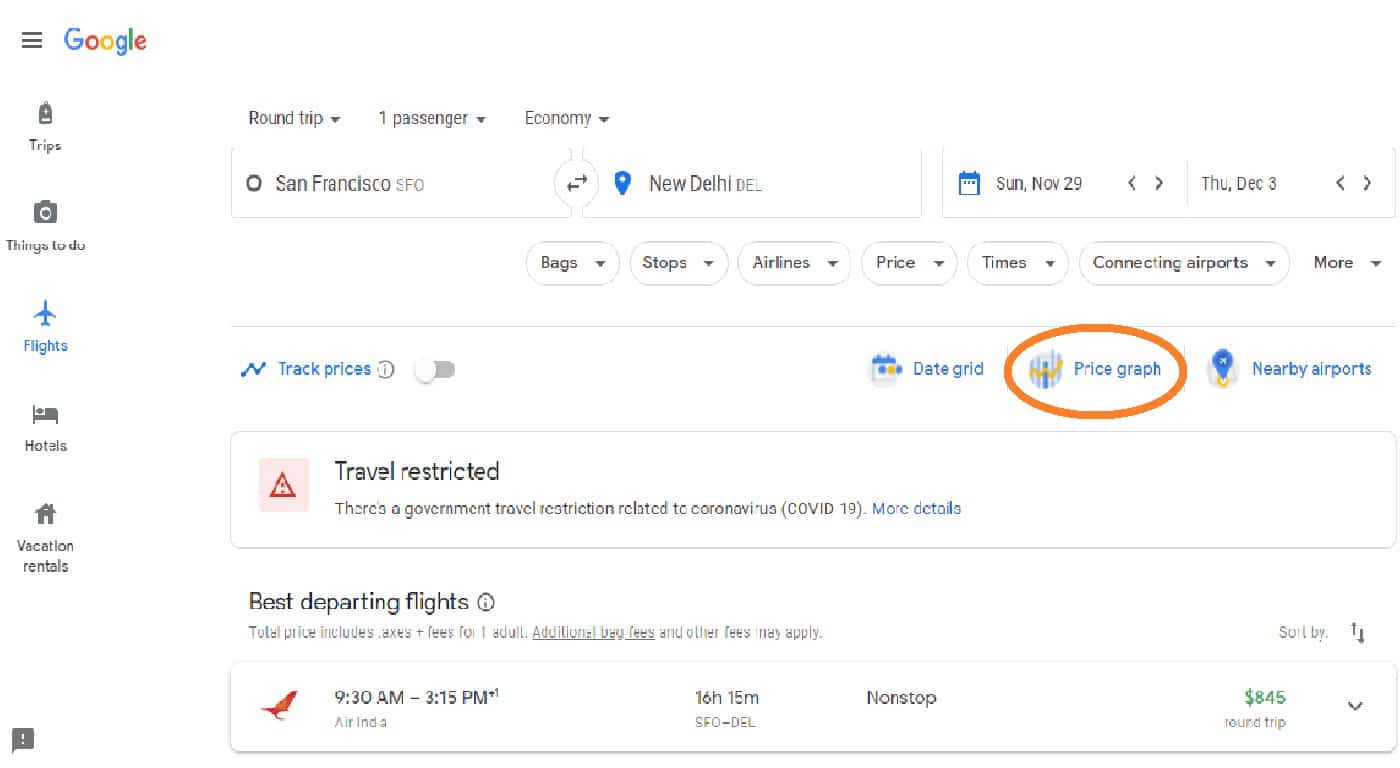 Hack4 – Use The Google Airports Feature
This feature will help you with the airports that lie near the airports you have selected. It will display the price change and all the information you need to get to your destination from the airport.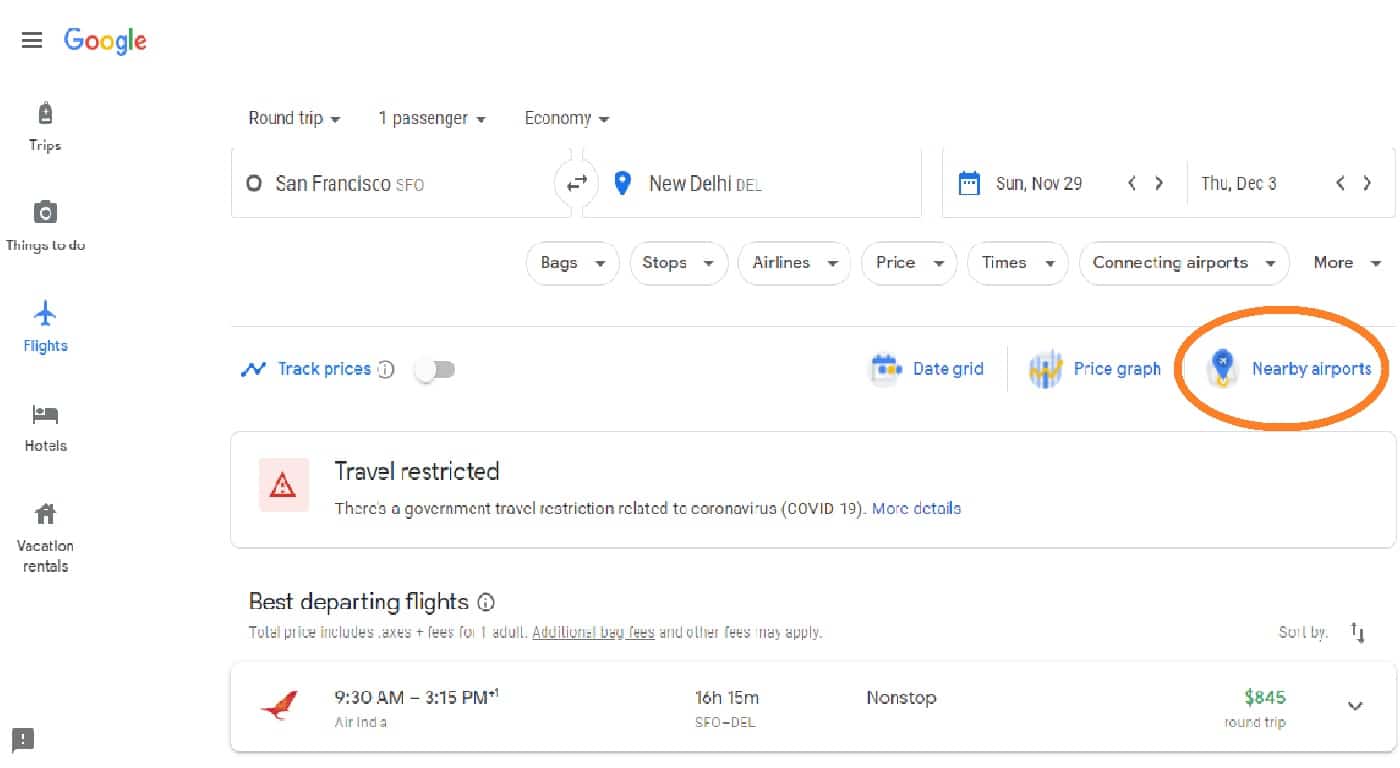 Airlines Not Available On Google Flights
With Google Flights by your side, you have the ultimate benefit to get cheap flight prices debarring the extra charges. There are many reputed airlines that are linked with Google Flights. But, the ones who are not a part of the Google Flights include- Cathay Pacific, Southwest Airlines, Allegiant, Air China, China Eastern, and Thai Airways.
Most Important Facts About
Google Flights
| | |
| --- | --- |
| Be Flexible & save | Google Flight offers you Flexible flight dates at minimum cost. |
| Fare Alerts | Flight prices get updated on daily basis (24 hours). |
| Best Flight Deals | In Google calender, you can see prices in 2 colors-Black & Green. Green color shows the best flight deals. |
| Never get ripped off | Google flights keep you updated about Low or high cost of flights across different months & events. |
Frequently Asked Questions
Q: What is Google Flights?
Ans: Google Flights is a highly effective metasearch engine that helps people look for the cheapest and most convenient flights between any two airports. Not only this; Google Flights also helps in drawing comparisons between flight prices and making the purchase easier. Because it's not an online travel portal like MyTicketsToIndia, it doesn't book flights directly. Instead, it links people to relevant Google airlines and OTA sites, thereby saving them the hassle of looking up individual airline websites or travel portals.
Q: Can I book through Google Flights?
Ans: No, you won't be able to. This is because Google Flights is only a flight search engine and not an online travel agency (OTA). In other words, Google Flights doesn't directly sell flights to the passengers but sends them off to the places – usually Google airline websites but sometimes travel agencies – from where they can book flights. But because exceptions are always there, Lufthansa and Virgin America Google airline tickets can directly be booked through Google Flights.
Q: How Does Google Flights Work?
Ans: Google Flights uses a program called ITA Matrix which was originally developed by travel experts and reservation executives. This metasearch engine tool works by finding flight schedules, seats, prices, etc, by searching databases from every airline and OTA.
Q: Are Google Flights cheaper?
Ans: While Google Flights fetches the flight prices it shows from the airlines and major OTAs, sites like Momondo and Skyscanner unearth prices from hundreds of smaller OTAs. This means that the flight prices shown by the latter can be cheaper. Thus, to find the cheapest prices, you should consider Google Flights to lock a particular itinerary and to search for the same on different sites.
Q: How reliable is Google Flight Search Engine?
Ans: Because Google Flights is a search engine, it can quite easily err. However, because it fetches data from the Google airlines and OTAs directly, the mistake would actually be the airlines' or the OTAs'. So, if we solely talk about Google Flights, it is quite reliable as a tool.
Q: Are Google airline tickets refundable?
Ans: Since Google doesn't directly book flight tickets, you will have to run through the refundable policies of the airline/OTA you plan to go ahead with for your bookings. Also, don't forget to check if there are any restrictions on the Google air flight tickets you buy. Note: The United States Department of Transportation has a "24-hour rule" under which any flight flying from the US can be canceled within 24 hours after booking and without paying any penalty if it is booked with the airline directly and at least 7 days before the departure.
Q: Are all airlines on Google Flights?
Ans: No, not all airlines are on Google Flights.
Q: Which airlines are not on Google Flights?
Ans: Southwest Airlines is one major exception. Apart from this, Air China, China Eastern, Thai Airways, and Philippine Airlines are also absent from the Google Flights results. The airlines that only have partial listings are Oman Air, EVA Air, Aeromexico, and Interjet.
Q: Why is Southwest not on Google Flights?
Ans: Southwest has a history of preventing third-party sites and apps from selling its fares. That's the reason why Southwest isn't available on Google Flights.
Q: Which airlines are on Google Flights?
Ans: Google Flights showcases Delta Airline fares and fares by airlines like British Airways, Air India, and United among others.
Q: How far in the calendar do Google Flights show the prices?
Ans: Because many airlines only show prices up to 330 days in advance, Google airfares appear up to this number of days. If Google Flight Airfares are looked up for beyond this, no prices will appear.
Q: Does Google Flights has an app?
Ans: No, Google Flights App doesn't exist. With Google Flights, search anywhere from anywhere to anywhere using its desktop or mobile version, though certain features aren't available on the mobile version.
Q: Why do Google Flights say book with an online travel agent?
Ans: This is because Google Flights isn't an online travel agency. It fetches data from airlines and OTAs and redirects the users to book through an airline or a travel agency. The travel agency then connects you to a travel agent to get done with/confirm the booking.
Q: How to change currency on Google Flights?
Ans: Click on the hamburger icon (3 horizontal lines on the top-left of the home page of Google Flights), choose 'Change currency', and select the currency you want to go ahead with.
Q: How to set up Google Alerts for Cheap Flights?
Ans: Google Flight alerts can be set on the results page once you enter your arrival and destination points along with the dates. You only have to click on the 'Track Prices' button until it turns blue.
Q: How to Track Prices on Google Flights?
Ans: Google Flight tracker is a useful feature that can be enabled on the results page of Google Flights after you enter the destination/arrival cities or airports and the travel dates in the Google Flight search bar.
Q: How to use Google Flight Tracker?
Ans: You just need to slide the button 'Track Flights' that appears after you enter the airports/cities in the Google Flight search bar so it turns blue.
Q: Are there any Google Flight Deals?
Ans: No, Google Flight deals aren't a thing as only airlines and OTAs have the liberty to offer deals and discounts. While Google Flights is neither an airline nor an OTA, MyTicketsToIndia can help you with bumper discounts.
That's pretty much everything about Google Flights!
To draw a conclusion, Google Flight explorer is an extremely helpful tool when it comes to searching Google cheap flights and Google travel itineraries. However, one must not forget to look up and compare Google airfares on different sites. That's because many renowned airlines like Southwest and OTAs like MyTicketsToIndia aren't listed on the same but offer bumper deals and discounts.
To know about the deals (festive, group, business, last-minute, and call-only) that MyTicketsToIndia (the answer to your best travel agency near me queries) offers, get in touch with us either by giving us a call or by joining the live chat today!
See you on the other side of the call/chat!
Disclaimer: Google will stop offering the option to book a flight directly through the site after September 30, 2022, for users outside the USA. The same will end in the United States after March 31, 2023. But, travelers will still be able to search for flight deals on Google flights and click on the airline and online travel agency links to book their flights.
About Heena Ganotra | View Posts
A writer by both passion and profession, Heena Ganotra is "half agony, half hope" but all heart. And oh, she has been a book lover from the start! Her love for books is what convinced her to make a career in the wonderful world of words. She loves what she does and is out-and-out a satisfied soul with a wish to spread happiness like herpes. Insight- Some say she is living the best life anyone could because she reads, writes, travels, and makes merry. They're right because what else does one really need! :)