Air India To Process Refunds In 21 Days | Steps To Claim Refund
Last Updated on Jan 25th, 2022 by Heena Ganotra, 25 comments
With travelers showing their dissatisfaction towards airlines for the delay in refunds, a solution has sprung up as a sigh of relief.
The harbinger of this change is the Supreme Court of India. That's because it has ordered the Ministry of Civil Aviation to clear all the credit shells, thereby clearing all the refunds after 31st March 2021.
The MoCA has also expressed annoyance over airline companies defaulting on refunds to passengers. According to an official of MoCA, only GoAir and IndiGo have shared the documents to show how they've refunded the due amount to all the passengers.
It is strange that the national carrier of India i.e. Air India hasn't yet cleared the credit shells for around five lakh twenty-five thousand passengers which amounts to around ₹2000 Crore.
Air India Refunds
To clear the pending refund and credit shells, the airline on Twitter shared a new process to claim a refund from the airline's website.
"Passengers may kindly note that tickets issued through Air India Website with a booking of present or future travel date can be claimed for a refund on our website by clicking Air India Manage Booking," Air India said in a series of tweets on April 6, 2021.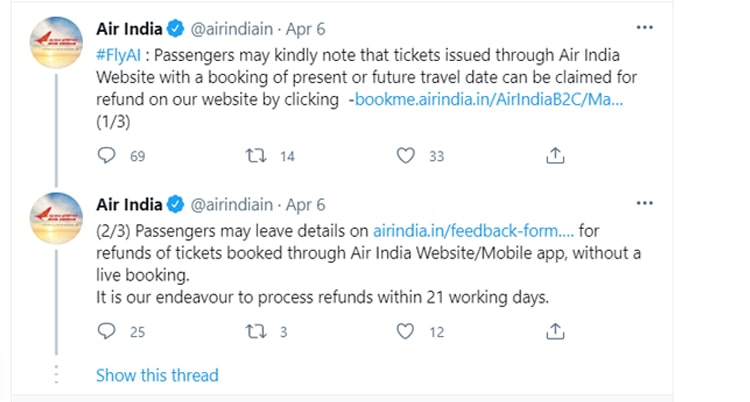 The airline further asked its passengers to leave details on Feedback – Air India for refunds of tickets booked through Air India Website/Mobile app, without a live booking.
"It is our endeavor to process refunds within 21 working days," Air India Added.

Refund of Travel Agent's Bookings
Air India has also shared updates on booking make made through travel agents. The airline said that it has advised all travel agents to process the refund and remit the amount to passengers at the earliest.
"The process of refund of tickets issued by travel agents is open. The travel agents have been advised to expedite the refund of tickets up to lock-down period on priority and remit the amount to passengers at the earliest."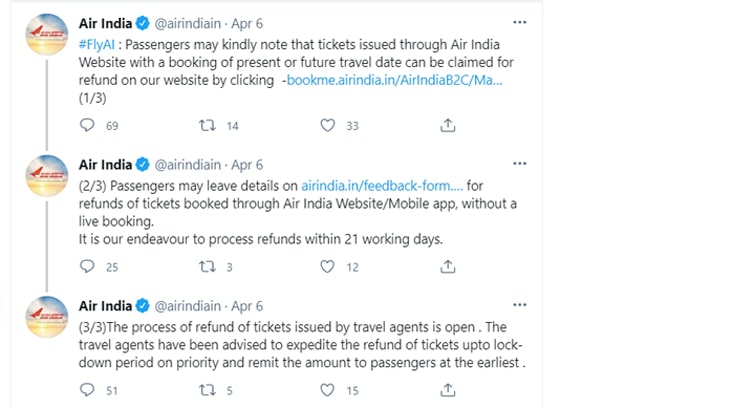 "Air India is committed to processing its pending refund claims expeditiously. Dissemination of information regarding refunds is already initiated. Air India has cleared close to Rs 1000 Crore from 1st April 2020 till date in India. We are also addressing queries related to refunds from passengers through our social media platforms," Air India spokesperson said.
Good News, right? Absolutely!
When it comes to refunds, MyTicketsToIndia has always been on its toes. Having always maintained our stance, this news has made us the happiest since we have our records clear and transparent.
With this news doing the rounds, travelers will now be able to book Air India flights without any apprehensions.
In case you are tempted to book Air India flights too, MyTicketsToIndia is right here to offer a helping hand! All you have to do is give us a call and we'll handle the rest. Be it quarantine guidelines or travel updates that you must know, we'll have your back.
About Heena Ganotra | View Posts
A writer by both passion and profession, Heena Ganotra is "half agony, half hope" but all heart. And oh, she has been a book lover from the start! Her love for books is what convinced her to make a career in the wonderful world of words. She loves what she does and is out-and-out a satisfied soul with a wish to spread happiness like herpes. Insight- Some say she is living the best life anyone could because she reads, writes, travels, and makes merry. They're right because what else does one really need! :)