Round Trip Vs One Way Air Ticket – Which Is A Better Option?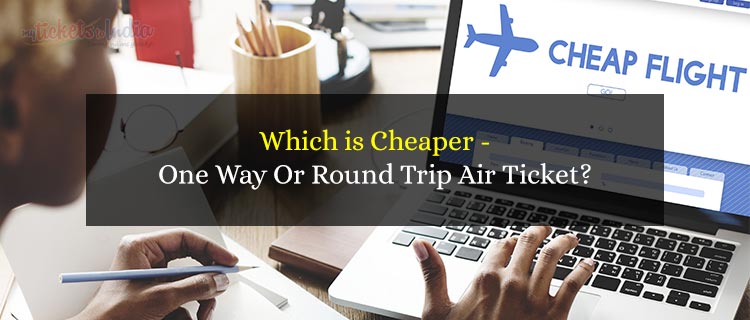 Last Updated on Aug 24th, 2023 by Renu Dahiya, 2 comments
Are you confused about which air ticket to choose – one way or round trip? Landed at the right place. We will help you out in clearing all your confusion and doubts by presenting you with a detailed comparison between one-way and round-trip flights. Knowing the exact meaning of one-way and round trip flights well before choosing the one for you is always better so that you can bag the best yet cheapest air ticket.
With the comparison drawn, you can easily make a choice that fits your preferences, situation, and budget.
Meaning – Round Trip Flights & One Way Flights
Let's begin with the meaning of roundtrip and one way flights and which option you should choose while searching for a flight ticket for you.
What Are One Way Flights?
One-way flights allow a traveler to travel only to his destination, without returning. For example – booking the USA to India flight (one-way flight), either directly or via another country/city.
Benefits – If you are going on a long vacation and your schedule is not fixed, then it is always better to book a one way flight ticket rather than booking a roundtrip ticket. By buying a one-way flight ticket, you don't have to worry about flying back if you're enjoying your abroad trip. Due to the flexible schedule, you can score the cheapest discounts and airfares on your return flight.
What Is A Round Trip Flight Ticket?
Round-trip flight tickets allow a passenger to travel from one point to another and then return to the same starting point that the passenger left, usually through the same route. For example – booking the USA to India flight and back, either directly or via another country/city.
Benefits – If you have a fixed schedule, then this option is considered to be the best way of booking plane tickets instead of booking two separate one-way tickets. And, most of the time a roundtrip flight ticket costs less than two one-way air tickets. The most important advantage of buying a round-trip ticket is that you don't have to worry about finding yourself another flight ticket that fits your budget as everything is taken care of ahead of time.
Round Trip Vs One Way
After being familiarized with the meaning of one-way and roundtrip flights, let's discuss the main differences between these two types of tickets. Your decision about booking a one-way or a round-trip ticket will become easier with this detailed comparison.
| | | |
| --- | --- | --- |
| S.No. | Round Trip Ticket | One Way Ticket |
| 1 | Round-trip tickets mean you can travel from one place to another and can return to the place you left. | One-way tickets mean you can travel from one place to another, without returning. |
| 2 | Roundtrip flight tickets are comparatively less costly than the one way airline tickets. | One-way airline tickets generally are more expensive than the roundtrip tickets. |
| 3 | A Traveler doesn't need to purchase a separate flight ticket as the price for a return ticket is already included in the roundtrip ticket. | A Traveler needs to buy another separate air ticket to get back to the destination passenger left. |
| 4 | When the traveler flies roundtrip or books a roundtrip air ticket, it is more convenient for airlines' scheduling system. | Airlines find it quite difficult to set flight schedules ahead of time when the traveler needs to book a separate flight ticket for the return journey. |
| 5 | Booking a round trip plane ticket is the best and cheapest option if the traveler has a fixed schedule. | Booking a one-way air ticket is more appropriate in case the traveler is not sure about his/her return. |
| 6 | In the case of a roundtrip, passengers will get two flight tickets for less than the price of one ticket. | In the case of a one way trip, Passengers will pay for a single plane ticket which is generally high in price. |
| 7 | Booking round-trip flight tickets is the best option for international travel. | Booking one way flight tickets is a cheaper option for domestic travel. |
| 8 | A passenger will be charged with cancellation and change fee only once, in case of canceling roundtrip tickets. | A passenger will have to pay the change and cancelation fees twice for both side tickets, in the case of one-way tickets. |
Top Tips To Buy Cheap Air Tickets
For scoring one-way or roundtrip flight tickets within your budget, travelers just need to follow the below-mentioned tips regarding booking cheap plane tickets.
Try to book your air tickets on the weekdays, instead of choosing the weekends to score a great flight deal.
Being flexible with the dates will help the passengers keep the price down in case of booking a one-way flight ticket.
Use the best flight booking engines like MyTicketsToIndia for purchasing one-way or roundtrip tickets at low prices.
Always use incognito mode while searching for one-way and roundtrip flights to avoid price hikes.
Booking flight tickets a month or two in advance is the best way to bag the cheapest air tickets.
Consider booking red-eye flights to avoid burning a hole in your pocket.
Book budget airline tickets instead of booking with major airlines to save big.
Redeem your reward points and miles to score the flight tickets at economical fares.
Conclusion
Every traveler must understand his requirements, preferences, and budget when it comes to booking a flight. They should know a clear difference between a round trip and one-way plane tickets. Sometimes, if you want to go on an extended open trip, it doesn't make sense to book a roundtrip flight ticket when a one-way air ticket makes more sense. So, consider this piece next time you search for a flight to make a clear choice about which option best suits your requirements.
Frequently Asked Questions
Q: What is the meaning of outbound flight?
Ans: Outbound flight is a flight that is leaving or about to leave a particular place to reach another destination.
Q: What is the meaning of inbound flight?
Ans: In the case of roundtrip flights, where a passenger is flying to one place and returning to the destination he/she left, the inbound flight is one that flies back to the origin city/country.
Q: Do I have to pay a cancelation fee twice for a roundtrip?
Ans: No, you don't need to pay a cancelation fee twice in case you've booked roundtrip flight tickets.
Q: What is throwaway ticketing?
Ans: Throwaway ticketing is a type of practice in which travelers used to book a roundtrip ticket and throw away the unrequired portion to get a one-way air ticket at a price of a roundtrip. This practice is very common among frequent flyers and is considered the cheaper option.
Q: How to book the cheapest one-way or round-trip air tickets?
Ans: To book one-way or round trip plane tickets at cheap prices, always use the best flight-booking platforms like MyTicketsToIndia. At our easy-to-use website, you'll surely get great flight deals with 100% transparency.
Still not sure which option is right for you – one way or roundtrip? Don't worry! Contact our team of travel experts at MyTicketsToIndia, and let us help you find the best yet cheapest flight that suits your needs. We'll surely provide you with detailed answers to all your queries.
With over 13 years of experience in the industry, MyTicketsToIndia is one of the best flight-booking platforms that deals in offering cheap flight tickets to India from USA and vice versa. Our dedicated 24/7 customer support is always on its toes when it comes to customer satisfaction. You'll get all the solutions here regarding your travel problems.
Renu Dahiya is a passionate writer who worships her profession. Her love for writing has encouraged her to pursue her career as a writer. Her friends call her a "travel worm" and always come to her to know some interesting traveling tips and destinations. Renu is a repository of knowledge about traveling who knows which place should be visited in which season. Oh yes, she is insanely in love with dancing too. Writer, traveler and dancer, a perfect combination! Without a doubt, she is a complete package.