American Airlines Baggage Policy: Here's What You Need To Know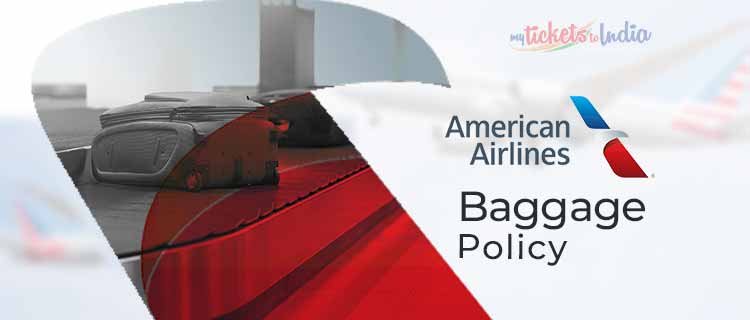 Last Updated on Oct 30th, 2023 by Priyanka Jadhav, Leave a Comment
Want to learn more about American Airlines' baggage Policy and fees? Here we've brought you a detailed guide to American Airlines' baggage allowance policy that you can consider while planning your travel next time. Headquartered in Fort Worth, Texas; American Airlines flies to 273 destinations across 4 continents throughout the world. With its sizable presence in the US, mainly in Los Angeles, Dallas, Fort Worth, Miami, New York, and Chicago. It is popular for being the world's largest airline when it is measured by fleet size, scheduled passengers carried, and revenue generated.
Discover more about American Airlines' baggage policy by reading extensively about American Airlines baggage fees and allowances that can be of use for your next domestic or international flight.
American Airlines Carry-On Size Guidelines
American Airlines carry-on baggage has always been a professional tourist's number one choice. And why wouldn't it be? Reducing waiting time, less risk of baggage loss or damage, and no bag fees! American Airlines carry-on size for baggage has listed size restrictions for baggage and personal item. International passengers are allowed to board flights with one carry-on baggage and one personal item free of charge.
One should strictly adhere to American Airlines baggage carry-on rules, such as carry-on baggage can not be larger than 22 x 14 x 9 linear inches. It needs to fit in the overhead space. And the personal item must not exceed 18 x 14 x 8 linear inches which needs to fit underneath the seat in front of you. Although these restrictions are slightly more flexible. Here are some American Airlines carry on baggage restrictions that one must follow during packing.
Sharp objects such as scissors and knives are prohibited.
Lithium batteries are hazardous as they are flammable.
Mace, tear gas, or pepper spray.
Explosives or arms and ammunition.
Marijuana is illegal in most countries.
Aerosol sprays.
Certain items are prohibited onboard but do not count as a carry-on, checked, or personal baggage, such as a diaper bag, medical or mobility devices like collapsible walkers, wheelchairs, etc; or comfort items such as seat pillows or footrests.
American Airlines Baggage Allowance for Special Item
Flying with Children and Infants
Following the American Airlines baggage allowance, families with children are offered special treatment through American Airlines. When flying with children under the age of 2 years, a traveler must make sure to book his travel companions on the same reservation to ensure the child is seated with at least one adult during the flight. They can enjoy the perks of boarding flights early and the allowance of carrying one diaper bag. However, children aged 2 and above need to have their own ticketed fare and seat to travel.
According to American Airlines baggage policy, every flyer with a child is allowed one free checked stroller and one car restraint seat that can be checked at the gate before boarding the flight unless the item weighs more than 20 pounds.
Flying with Pets
According to the American Airlines baggage policy for pet animals, carry-on pets are allowed on all American flights, except in the region where this policy isn't accepted. Carry-on pets (service animals) cost $125 for each way, and the pet is only allowed in the cabin if it sits underneath the seat in front of you the entire flight.
Flying with Musical Instruments
Allowed to carry on provided it fits either in the overhead space or underneath the seat in front of you. If the item is too big and needs to be handled with special care, the passenger can then purchase an extra seat. The seat must be a bulkhead window seat next to yours not weighing more than 165 lbs (75 kg).
American Airlines Luggage Policy For Checked Baggage
American Airlines' baggage policy allows up to 10 checked baggage on domestic, trans-Atlantic, and trans-Pacific flights.
According to the size and weight limits of American Airlines' luggage policy, checked baggage must not be larger than 62 inches.
If the passenger has booked flights in the main cabin, then the maximum weight of the luggage cannot be more than 50 pounds.
As per the American Airlines business class baggage allowance, the luggage should not weigh more than 70 pounds.
The American Airlines baggage fee for domestic flights in economy class starts from $30. However, standard fees for checked luggage completely depend on the number of bags the passenger has, the classes of service they are flying in, and their final destination. If the bag is oversized or overweight, the passenger has to pay an additional cost.
The perks of flying business class are that customers receive two free checked items of baggage up to 70 pounds. And the first-class (premium cabin) passengers receive an allowance of 3 checked baggage free of cost weighing 70 pounds.
Suggested Read: American Airlines Business Class Review
American Airlines Baggage Allowance Benefits for Active-Duty Military
Active-duty U.S. Military personnel and their dependents are allowed to check up to 5 checked baggage free of cost when they are needed to travel on orders. If active-duty U.S. Military members on personal travel are allowed 3 checked baggage free of cost.
How do passengers pay checked baggage fees through American Airlines?
As claimed by American Airlines baggage fee, one can proceed with the payment of their checked baggage fee online while purchasing their flight tickets or during the online check-in procedure. Other than that, travelers can also pay for their baggage at the American Airlines kiosk (service desk) at the airport. A ticket counter may accept payment through cash, however, one must always be ready to clear their payment with a card.
American Airlines Baggage Fees for Checked Baggage Exceptional Item
Sporting Equipment
Bicycles: They must be packed in a hard-sided case, bag, or box. The bicycle must not weigh more than 50 pounds, otherwise, a $150 baggage fee is applied.
Fishing Equipment: Includes a rod case and an equipment bag which together count as one checked baggage. If the weight is more than 50 pounds, then an overweight fee applies.
Golf Clubs: These sports equipment can be checked as standard baggage fees up to 50 pounds, however, an overweight fee applies if the luggage is more than the given weight.
Hockey and Lacrosse Equipment: One bag and one stick bag count as one checked item with a maximum weight of not more than 50 pounds.
Ski or Snowboard Equipment: American Airlines baggage policy allows passengers one pair of skis, or one snowboard and one equipment bag. These count as checked items of baggage. Overweight fees apply if the baggage is more than 50 pounds.
Sports Equipment also includes archery equipment, baseball bats, parachutes, skateboards, etc.
How to Avoid American Airlines Baggage Fees?
Here are a few methods that can help passengers in avoiding exorbitant American Airlines luggage fees:
Try packing your luggage in a carry-on bag only. American Airlines does not charge for carry-on baggage, even for basic economy classes of service.
Join a frequent flier program, either American AAdvantage or American Airlines credit cards. This can allow you to check bags for free, especially through an elite status.
Limiting the number of bags carried or checked or compression clothes to fit in a smaller space is also a good way to avoid exorbitant American Airlines baggage fees.
American Airlines Extra Baggage Fee
Depending on the carry on size and weight of the luggage, American Airlines can accept baggage with an additional baggage cost. The overweight baggage fees are known to be very expensive.
Overweight Baggage Fees for Trans-Pacific Flights
51 – 70 pounds: $100
71 – 100 pounds: $450
Oversize Baggage Fees for Trans-Pacific Flights
American Airlines Delayed or Damaged Baggage
Delayed Baggage
Unable to find your baggage at the American Airlines baggage claim counter? Find an airport agent when you have arrived at the airport. The agent will provide you with a 13-character file reference number to use when filing your baggage claim report.
According to American Airlines baggage policy, if your baggage claim office is unable to locate the baggage, the passenger on an international flight will be given a reimbursement for the items that they need immediately while away from home. Within 30 days of the delay in returning the missing items of luggage, kindly send American Airlines the following:
Your 13-character file reference number
A copy of your ticket receipt and baggage claim checks
Your original, dated, and itemized reports.
Damaged Baggage
If you notice damage to your baggage, find an agent at the airport before leaving the airport or contact American Airlines within 24 hours for domestic flights and 7 days for international flights. American Airlines provides the passenger with a 13-character reference number to use when filing the claim (report).
If your bag is inspected by TSA (Transportation Security Administration), they will not reimburse for baggage which is:
Over-packing
Checking bags that won't close completely
Checking restricted items, fragile items like electronic devices, etc at the security checkpoint.
Traveling with extremely worn-out bags.
American Airlines Lost and Found Policy
If the passenger lost the items on the plane or at the gate, they can contact American Airlines for assistance.
If the passenger lost the items at the airport, they must get in touch with the airport staff for assistance.
American Airlines Packing Tips
There is nothing better than avoiding exorbitant excess luggage fees by packing lightly and smartly. Here's how you can travel with zero baggage fees stress:
It doesn't matter if you are traveling for two days or two months, it is possible to fit everything in a carry-on! If not, American Airlines' baggage policy provides passengers with one free checked baggage allowance.
Pack your essential documents and valuable items in your personal luggage to avoid the hassle of removing items at the security checkpoint and also to keep it secured.
To save room in your piece of luggage, wear your bulkiest clothing on the plane. Remember, no airline charges passengers for the clothes they wear. However, make sure to wear items of clothing that are easily removable at the security checkpoint.
This is all that one must know before booking a flight from the USA to India and returning India to the USA flights through American Airlines. Although, if you have any concerns regarding airlines' baggage policies or flight bookings, kindly contact our team @ 1-585-948-0222.
MyTicketsToIndia, your favorite and number one choice of travel agency is here to provide you with the exciting flight tickets to India from USA booking deals, guidelines for major airlines, and detailed blogs on your next tourist destination to visit! Isn't that exciting!
Baggage Policy For Other Airlines
Here's the list of airlines' baggage policy for particular airlines –
Frequently Asked Questions
Q: Can a passenger avail free checked bag with American Airlines?
Ans: Yes, according to the American Airlines baggage policy, a passenger can get one or more free checked baggage under the following conditions:
Have a ticket in premium economy class, business class, or first-class cabin.
Are an elite AAdvantage or Oneworld member.
Are active-duty U.S. military personnel.
Q: Can I take my guitar on American Airlines?
Ans: Yes, passengers are allowed to carry their musical instruments such as a guitar on board. Provided it fits in the overhead compartment or under the seat in front of you. If the passenger wished to check the instrument in the hold of the aircraft, one must store it in a hard protective case.
*While the information provided here is updated, MyTicketsToIndia stands unaccountable for any consequences arising or changes made by Spirit Airlines on an impromptu basis.
Priyanka Jadhav is a travel writer, who is inclined to explore different cultures and countries. When she is not writing, she is either reading fiction novels or surfing the internet for the next best place to add to her bucket list. Her interests piqued at a young age when she traveled across India and witnessed a variety of cultures, languages, foods, and people. If you're craving for an adrenaline rush, or need an instant travel update - Priyanka has a way with words to help you in every aspect possible. Bring quirky articles and the latest travel updates your way through MyTicketsToIndia, she aims to provide travelers with the necessary information possible.