U.S Embassy and Consulates in India Extend Validity on Visa Fee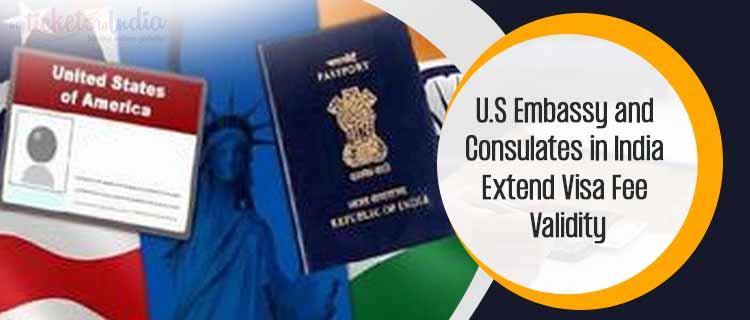 Last Updated on Mar 28th, 2022 by Priyanka Jadhav, 1 comments
The U.S Embassy and Consulates in India come as a bearer of good news for Indian travelers and other non-immigrant applicants who were trying to seek a US visa but were unable to schedule an appointment due to the suspension of routine consular services. This move was initiated in response to the significant worldwide challenges related to the pandemic due to the spread of coronavirus.
The US Embassy and Consulates in India sent an announcement to the non-immigrant visa applicants about the extension of validity of visa payment called the Machine Readable Visa (MRV) fee until September 30, 2023. The non-immigrant visa application is issued by international travelers (foreign nationals) pursuing to enter the United States on an interim basis.
These sectors include tourism, business, medical treatment, and other fields of temporary work. Non-immigrant applicants must pay the MRV fee unless exempted from it. The MRV application fee is non-refundable, non-transferable, and is a mandatory requirement issued by the US Government which must be paid whether or not the visa is issued.
Individuals that are not required to pay the fee are Type A Visa holders (ambassadors, diplomats, government officials, and support staff), Type G Visa holders (representatives of a foreign government recognized by the US), Type J Visa holders (partaking in exchange visitor programs sponsored by U.S. Government).

Statement of the US Department of State Visa Appointment Service
The US Embassy and Consulates in India acknowledge the fact that the visa application process fee is paid by the non-immigrant visa applicants and that these individuals have been waiting to arrange for a visa appointment for a long time. According to the US Department of State Visa Appointment Service, the U.S Mission states that "We are working diligently to restore all routine visa operations as quickly and safely as possible. In the meantime, rest assured that the US Mission will extend the validity of your payment (known as the MRV fee) until September 30, 2023." Non-immigrant visa applicants, including infants and children, must pay a Machine Readable Visa (MRV) fee to initiate a U.S. Visa application.
This move helps all applicants that weren't able to schedule a visa appointment. This is an opportunity to schedule/ attend one with the already paid feed. With the spread of coronavirus in India, the pandemic situation in India had worsened and the cases were rising every day. Due to this reason, the routine non-immigrant visa appointments at the US Embassy in New Delhi and the consular services officer present in major Indian cities like Mumbai, Kolkata, Chennai, and Hyderabad were extremely limited, exemption situations with emergency visa services only. However, last month the US Government decided to lift all international air travel bans related to Covid-19 for fully vaccinated passengers from November 2021.
Frequently Asked Questions
Q. I have a valid U.S. Visa for a passport that will expire soon. Will I need to get a new visa for my new passport?
Ans. As long as the passport issuing authority does not punch holes through your visa, you will be able to use it to travel. In this case, you must carry both your new and old passport with the U.S Visa.
Q. My passport expires within the next year and I have to apply for a U.S visa? What is the procedure in such circumstances?
Ans. Kindly obtain a new passport before you complete any payment related to visa fees. If there is an urgent need to travel, one can schedule an online appointment with a passport number and an explanation of the emergency. A passport must be valid for up to 6 months before flying to the U.S. The airline does not accept U.S Visas in a damaged passport.
Q. The Consular Officer did not give me time to explain. Why?
Ans. The Consular Office is a public officer who is appointed by the State to reside in a foreign country and perform routine services like issuing visas and renewing passports. He evaluates aspects of your situation, such as your financial and family situation in India, your stated intent in visiting the U.S, your travel history, and various other factors. Based on this information, and your interview, the officer makes a decision.
Q. Why didn't the Consular Officer look at my documents?
Ans. Applying for a non-immigrant visa is not a documentary process. Officers do not rely on documents but ask required questions in the interview to evaluate your case. If the officer did not check your documents and made a decision, then it would be due to clear circumstances. If a visa was refused, it is not due to the Officer not checking the documents.
Q. If my visa was refused, would I get my money back?
Ans. Applicants for the U.S visa must pay a non-refundable visa application fee and would not be returned even in the case of you failing to qualify for the visa.
Q. How soon should I apply for a visa appointment?
Ans. As soon as possible. Although most of the applications are processed and can be picked up within 2 business days, some require administrative processing. It is recommended that one must apply six to eight weeks before planning to travel to the U.S. Also, one shouldn't book flight tickets or hotel reservations until the visa is not made available.
Q. Do children need visas to attend visa appointments and should parents accompany children?
Ans. The visa application process is the same for babies and children as it is for adults, except children before the age of 14 do not need to have a visa interview and can just submit an online application with the fees included. First-time non-immigrant visa applicants that are 14 years old and above must attend a visa interview.
Q. I received a job offer from a U.S based company that is offering me a U.S visa. The only condition is that I need to pay money for the visa. How should I know if this is legitimate or not?
Ans. The U.S Embassy and Consulates in India wish to alert non-immigrant visa applicants to beware of
Receiving job offers that the individual did not apply to.
Demanded money for a U.S work visa.
Demanded bank account details to get a job or visa.
Demanded to meet someone from the U.S Embassy or Consulate
Q. How to find out if a U.S based company is genuine or not?
Individuals must telephone the U.S based company offering the job detailed questions about the company. Genuine companies do not have a mobile number as a point of employment contact. 
Compare the area dialing code with the location of the company.
Genuine U.S companies use company websites and not Hotmail or yahoo type email account.  
This is the official website for information about the visa application procedure. If given different instructions, contact the Indian Police to report the scam as it categorizes under international crime.
Priyanka Jadhav is a travel writer, who is inclined to explore different cultures and countries. When she is not writing, she is either reading fiction novels or surfing the internet for the next best place to add to her bucket list. Her interests piqued at a young age when she traveled across India and witnessed a variety of cultures, languages, foods, and people. If you're craving for an adrenaline rush, or need an instant travel update - Priyanka has a way with words to help you in every aspect possible. Bring quirky articles and the latest travel updates your way through MyTicketsToIndia, she aims to provide travelers with the necessary information possible.