Self Declaration Form On Air Suvidha No Longer Needed For India Travel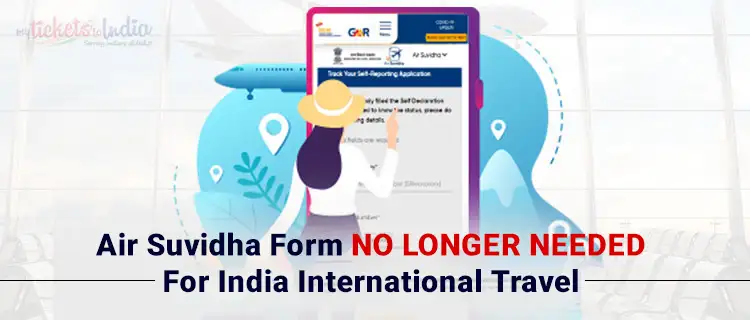 Last Updated on Nov 15th, 2023 by Heena Ganotra, 371 comments
As per the latest guidelines for international travel to India (given on 21 Dec 2022 and effective 24 Dec 2022), the Air Suvidha form came back on 1 Jan 2023 for 6 countries, namely Singapore, Hong Kong, Korea, Japan, Thailand, and China.
However, now, it has been discontinued again.
The information given below is no longer valid but has been kept for future use, in case the form comes back again.
Why Did India End The Air Suvidha Form Requirement?
Indian government ended the Air Suvidha form requirement to offer relief to passengers traveling internationally to India. Since the form was nothing but a hassle with its "edit" and "track" options causing issues every now and then, the Union Ministry decided to put an end to the root cause i.e. the filling up of the Self Declaration form on the Air Suvidha portal.
Ministry's Statement | Official Announcement
The announcement from the Civil Aviation ministry was as follows –
In the light of sustained declining COVID-19 trajectory and significant advances being made in COVID-19 vaccination coverage both globally as well as in India, Ministry of Health & Family Welfare has issued revised 'Guidelines for International Arrivals'.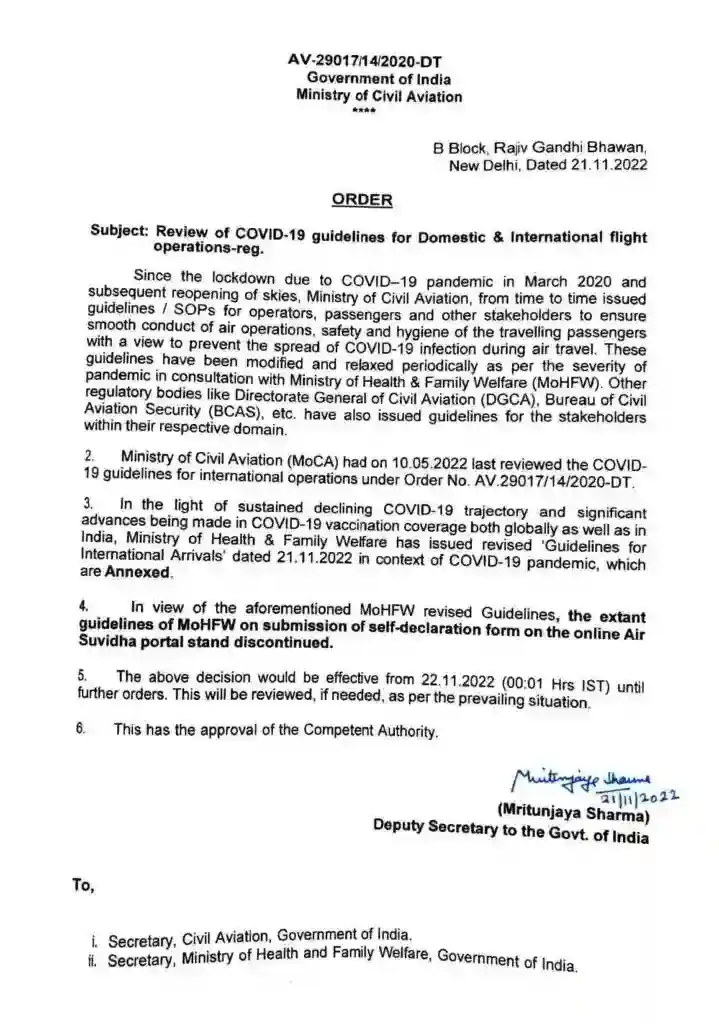 Revised Guidelines for International Arrivals in India
One of the major guidelines says, "All travelers should preferably be fully vaccinated as per the approved primary schedule of vaccination against Covid-19 in their country." The word "preferably" is to be focused on. So even if you aren't fully vaccinated, you can now travel to India without having to pay any penalties. This would indeed be a sigh of relief for many! For more details on revised guidelines, check here.
Why Has Air Suvidha Come Back?
"The health ministry is examining reintroduction of mandatory 'air suvidha' forms for international arrivals with details of RT-PCR test conducted 72 hours prior to travel or complete vaccination proof for passengers coming from China and other countries reporting the high number of Covid cases."

Official Source
Air Suvidha | What Was It?
Air Suvidha was an online contactless solution by the Ministry of Civil Aviation and Delhi Airport on behalf of the Ministry of Health and FW (MOHFW India) for all international passengers coming to India. It was a Self Declaration Portal for International arriving passengers. Launched in August 2020, it promoted contactless self-declaration to ease the process for international travelers arriving in India.
Whether you were flying to Mumbai, Bangalore, Delhi, Chennai, Hyderabad, or Kolkata, you had to fill the same Air Suvidha form available on the Delhi IGI Airport website. It was a one-stop solution for all international passengers arriving in India, irrespective of their entry airport and final destination in India.

Air Suvidha Exemption Form
The Air Suvidha exemption form was discontinued way back. However, now, even the Air Suvidha form has been discontinued.
Disclaimer – Any information below this point is OUTDATED and kept only for curious passengers.
History of the Air Suvidha Form
Want to know how this form was filled just for fun or curiosity's sake? Here's how.
No Uploading Of Either RT-PCR or Vaccination Certificate
The Indian government has eliminated the uploading of either RT-PCR or vaccination certificates on the Air Suvidha form. This comes as a relief because the portal remained down on a regular basis and uploading forms on the same was a pain.
However, please note that filling out the Air Suvidha form is still mandatory for foreign arrivals in India. Also, you will have to carry –
RT-PCR test conducted within 72 hours of your departure (if not vaccinated) OR
Certificate of completing *full primary vaccination schedule
These will be checked and verified by the officials at the airport itself.
How To Fill Air Suvidha Self-Declaration Form
Post the new set of guidelines that were released on 10 February 2022 (effective from 14 February 2022), the mandatory RT-PCR conducted 72 hours prior to the scheduled departure is no longer required if the travelers can show their full Vaccination Certificate. Kids below 5 years of age, however, are exempted to undergo RT-PCR tests even if they are not fully vaccinated.
Please note that passengers from only 133 countries are allowed to show their primary vaccination schedule completion certificate. Passengers from other countries will have to show the RT-PCR test. You can check the entire list here.
Now that we know this, here's how to fill out the Air Suvidha form-
Open Air Suvidha Portal
Fill in the following details –
Full Name (as per your passport)
Flight Number (Arriving in India) Ex: AZ123 / AZ1234
Nationality
Passport Number
Date of Arrival (DD/MM/YYYY)
Country of Departure (Origin)
Date of Final Dose of Vaccination (If you're fully vaccinated)
Date of RT-PCR Test Taken (Not to be filled if you're fully vaccinated)
First Airport of Entry State/Union Territories
Mobile Number (+91) – (It is mandatory to provide a valid and working phone number in India. The passengers will be liable for a punishable offense under the provisions of the Indian Penal Code and Disaster management Act if this information is found to be incorrect. If you do not have a personal number, you can share a relative's number as well.)
Email ID
No. Of passengers traveling
Fill Final Destination Information –
Address
State/Union Territories
District/City
Pincode
How To Track Your Air Suvidha Self-Declaration Form
If you've already filled the Air Suvidha self-reporting form and want to know the self-declaration status, you will have to fill your –
Request Number (SRxxxxxxxx)
Passport Number
Email Id
On submitting these details, you will easily be able to track your Air Suvidha self-declaration status.
How To Edit Your Air Suvidha Self-Declaration Form
If you want to modify your self-reporting application form online, you will have to enter the following details –
Registration Number
Passport Number
Email Id
On submitting these details, you will easily be able to edit your Air Suvidha self-declaration form.
Frequently Asked Questions
Q: Is there a time period between which I have to fill my self-reporting form?
Ans: No. The Air Suvidha self-reporting form can be filled in at any time before boarding.
Q: What happens after I submit the self-reporting form?
Ans: On submission, the mandatory self-reporting application will be forwarded to the Airport Health Organization (APHO) under the Ministry Of Health and Family Welfare, Government of India. Passengers can then refer to their email inbox for the updated application document. Passengers should show this document on arrival in India at the APHO counter and proceed for immigration.

Q: Who needs to complete the Self Declaration Form for India?
Ans: All passengers traveling to India must have a completed Air Suvidha Self Declaration Form.
Q: Can parents or legal guardians complete the self-declaration form on somebody's behalf?
Ans: Yes, parents or legal guardians may complete the Indian Self Declaration Form on behalf of any children who are too young to fill one in themselves.

Q: Where can I find the self-declaration form in India?
Ans: The Self-Declaration Form for India travelers is only found online and must be filled in and submitted electronically. If one doesn't fill the form, their boarding will be restricted.
Q: What if I lose the vaccination handwritten card?
Ans: You can download the soft copy certificate from the state portal for the Air Suvidha form.
Q: Is there an Air Suvidha app?
Ans: No, there's no Air Suvidha app.
Q: Is there a particular syntax while filling the flight number in the form?
Ans: While filling up the self-declaration form, flight number should be entered without any spaces. Eg. JA039 for flight number JA039
We hope you found this blog helpful!

And if you're looking for book tickets to India,we are here to help you out. MyTicketsToIndia has been offering India flights along with all the necessary travel restrictions/quarantine information for hassle-free flight journeys. This includes any doubts you may have about the Air Suvidha portal.

MyTicketsToIndia has also taken an initiative to keep the Indians in America updated about the ongoings in their homeland – India through its sister portal – IndianVibes! Do check it out to stay abreast with the latest happenings with us.
About Heena Ganotra | View Posts
A writer by both passion and profession, Heena Ganotra is "half agony, half hope" but all heart. And oh, she has been a book lover from the start! Her love for books is what convinced her to make a career in the wonderful world of words. She loves what she does and is out-and-out a satisfied soul with a wish to spread happiness like herpes. Insight- Some say she is living the best life anyone could because she reads, writes, travels, and makes merry. They're right because what else does one really need! :)