An Ultimate Guide To The 7 Largest Airlines In USA
Last Updated on Aug 24th, 2023 by Ankita Awasthi, Leave a Comment
Believe it or not, the top seven largest airlines in the list don't just serve the majority of the country's passengers but also comprise a combined market cap of nearly $130 billion. Interestingly, the aviation industry caters to hundreds of destinations all over the world and hence shines out through its business, services, and revenues.
Previously, flying in top-level airlines was just a dream for the maximum number of travelers. However, over a century or so, the industry has expanded its scope bracket enabling the flyers to have the best air ticket deals for themselves.
Now, statistically quoting, over 2.6 million passengers of the United States travel through 46,000 flights or more every day. This could be possible mainly due to the enormous expansion of the most extensive airline services.
Enhancing the fleet size and aircraft size, various airlines ensured that people reached their destination faster than expected. That brings us to the curiosity of which airlines tops the list of the biggest airlines in the US. Read further and explore the list of airlines that are surprisingly topping the charts in the US, mainly on the basis of their fleet size and passenger capacity.
Largest Airlines in the US Based On Fleet Size And Passenger Footfall
American Airlines
Delta Airlines
Southwest Airlines
United Airlines
Air Canada
Alaska Airlines
JetBlue Airways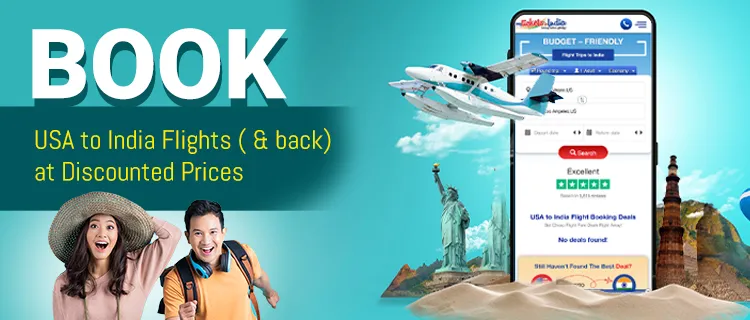 1. American Airlines
Despite the challenges faced due to pandemic years, American Airlines managed to transport the highest number of passengers across North America. With a total passenger count of 95.3 million in 2020, the American airline beat its competition United Airlines by more than 37.5 million passengers. Interestingly, American Airlines is not only topping the charts of the biggest airlines in the USA but is also acing the race of the biggest airport in the world as well. Besides this, it is also one of the biggest airlines to offer cheap flights for students.
Fleet size: 858 mainline aircraft from both Boeing and Airbus
Revenue: $44.5 billion
Headquarters: Fort Worth, Texas, United States
2. Delta Airlines
Although American Airlines is acing all the spheres of competition, it is still coming second on the company revenue analysis to Delta Airways. Delta is regularly acknowledged for its excellence in everything from services to customers, operational efficiency, and work culture.
Fleet size: 851 Airbus and Boeing aircraft
Revenue: $44.9 billion
Headquarters: Atlanta, Georgia, United States
3. Southwest Airlines
Since 1976, the airline has successfully paid a quarterly dividend and encountered 40 long years of profitability. Having a success record for such a long period of time is in itself a milestone apart from being an industry record. It has been featured several times in business magazines as a leading company in the aviation business. The airlines' consistency has managed to keep at sets an example for all the airlines.
Fleet size: 753 Airbus and Boeing aircraft
Revenue: $22.0 billion
Headquarters: Dallas, Texas, United States
Suggested Read: List of Biggest and Busiest Airports in USA
4. United Airlines
United Airlines is the senior-most airline company that caters to all of the major destinations of the United States of America. Established in 1926, United Airlines was previously named Varney Air Lines. Apart from making its way into this list, it also managed to rank among the top 10 airlines worldwide on the basis of the routes it covers and fleet size. Each year, its aircraft carry 143,200,000 passengers to their destinations. Regarding its other information, the airline operates eight major hubs around the world. The most significant airport is Chicago-O'Hare. This hub has the most flights and the largest number of passengers. Interestingly, in 2013, this airline was one of the initial U.S. carriers to offer Wi-Fi via satellite.
Fleet size: 842 Airbus and Boeing aircraft
Revenue: $41.9 billion
Headquarters: Chicago, Illinois, United States
5. Air Canada
Although Air Canada is Canada's largest international and domestic airline, it managed its way to remain in the largest airlines record even in the United States. It caters to 6 continents and 210 international destinations through its services. The airline significantly caters to more than fifty million flyers! Unbelievable, right?
Founded in 1937, Air Canada airlines have been doing exceptionally well ever since its inception.
Fleet size: 180 Airbus and Boeing aircraft
Revenue: $2.10 billion
Headquarters: Montreal, Canada
6. Alaska Airlines
For half a decade now, Alaska has been ranked as the nation's most efficient in terms of fuel efficiency by the International Council on Clean Transportation (ICCT). In fact, the airline has been awarded an FES score (FES) of 1.14, which is pretty high for an airline company. Interestingly, for the past eight years, it consistently managed to earn the J.D. Powers' highest rating in the North America Airline Satisfaction Survey. The airline transports more travelers across Alaska and the lower 48 territories than all other carriers.
Fleet size: 145 Airbus and Boeing aircraft
Revenue: $3.57 billion
Headquarters: SeaTac, Washington, United States
7. Jetblue Airways
One of the best low-cost American airlines, Jetblue airways is the seventh-largest airline in the US. It is also one of the top 5 pet-friendly airlines for USA to India travel. A1 in-flight wifi services and speedy service at no extra charge *at every seat, on every flight*are two of the characteristics highlights of the airlines. The airline has been certified as a 3-star airline for its quality of services and products. By product quality in the aviation business, the officials refer to the seats, amenities, food, beverages, etc. Likewise, the service quality is referred to the ground as well as cabin staff. As per the latest updates, Jetblue airlines' were catering to passengers through 1000 flights daily even through the pandemic travel restricted period of time.
Fleet size: 282 Airbus and Boeing aircraft
Revenue: $2,957 Million
Headquarters: Long Island City, New York, United States

Popular Routes Operated By These Airlines
FAQ's
Q. What does fleet size mean in airlines?
A. Fleet size refers to the number of aeroplanes authorized under the same airlines' ownership or control regardless of whether or not the aeroplanes are a part of different subsidiaries, divisions, or organizational structures on a contractual basis.
Q. What is the largest airline in the world?
A. Announced on the top of the world's largest airlines several times before, American Airlines is declared as the same, yet again. Be it on the basis of the flights, seats, or the available seat miles, American Airlines is single-handedly acing all the charts. In fact, American Airlines even managed to deliver the most to its capacity during the peak period of pandemic years.
That's pretty much everything about it! Still in doubt? Leave a comment, and we'll acknowledge your concerns!

Headquartered in the USA, MyTicketsToIndia is the quintessential flight-booking portal to answer all your queries and assist you through your next plane tickets to India and vice-versa. A firm trust score of 4.8 analyzed from the 5k+ reviews on Trustpilot clearly testifies our sincerity towards brilliant services. So, in case you still are unsure and have queries regarding the USA to India travel, our travel executives are just a call away. Feel free to reach our travel experts @ 1-585-948-0222 or join the live chat.
Ankita Awasthi has been a content writer for over half a decade now. She seeks to satiate her writing urge by charting creative blogs with up-to-the-minute information. In true wordsmith spirit, she believes that a creative head never sleeps! Her blogs constantly aspire to inspire readers to live their travel dream. Her writing genre covers Indian tourism destinations, offbeat locales and travel guides with focus on its rich art history, culture, heritage, nature trails and travelling attributes.