How To Use Google Flights Explore Map to Find Cheap Flights to Anywhere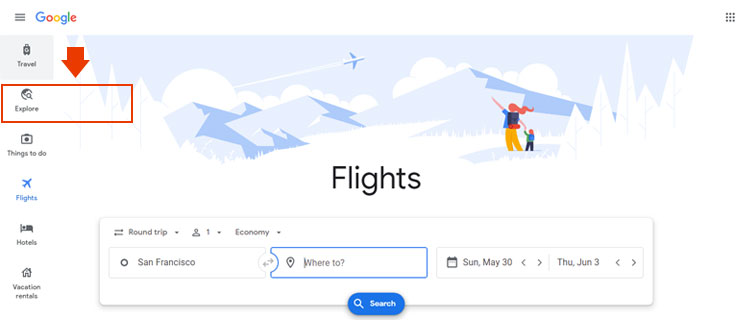 Last Updated on Sep 20th, 2023 by Heena Ganotra, Leave a Comment
How many of you've wished to wake up to friends telling you that you're going on a vacay and that everything is booked/packed? Everybody, right? We thought so! Well, we understand that there are moments when we just want to escape the monotony of life. And the place doesn't matter as long as it's cheap!
Google Flights offers this luxury through one of its least advertised features by the name Google Flights Explore. The feature helps travelers book the cheapest flight tickets possible. Instead of choosing the destination prior to bookings and then looking for the cheapest flight, this feature gives travelers a chance to look for the cheapest destinations to fly in the range of dates that are put. This way, you can shortlist from the destinations it suggests and all are guaranteed to be the cheapest.
When you book international flights to India from USA or vice versa, MyTicketsToIndia does exactly this to help passengers save big on flights. However, for those looking forward to a DIY (Do It Yourself) approach, Google Flights Explore Map feature can help.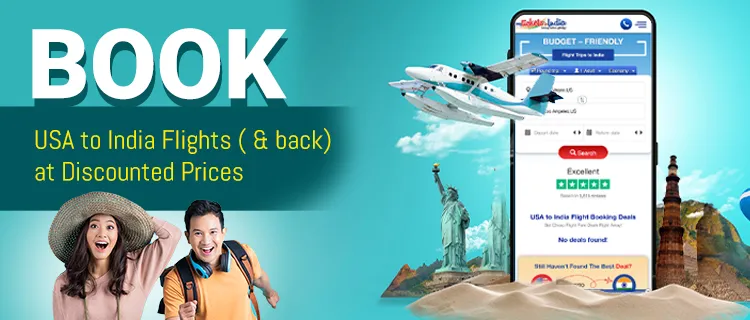 Want To Delve Deep Into The Basics?
In case you want to go back to the basics and are wondering how to use Google Flights to Book Cheap Flights, we've covered a full guide on that for you to go through.
How to Find Google Flights Explore
1. Navigate to the Google Flights homepage at www.google.com/flights.
2. Enter your departure airport, but leave your destination blank and enter the google flight Search button.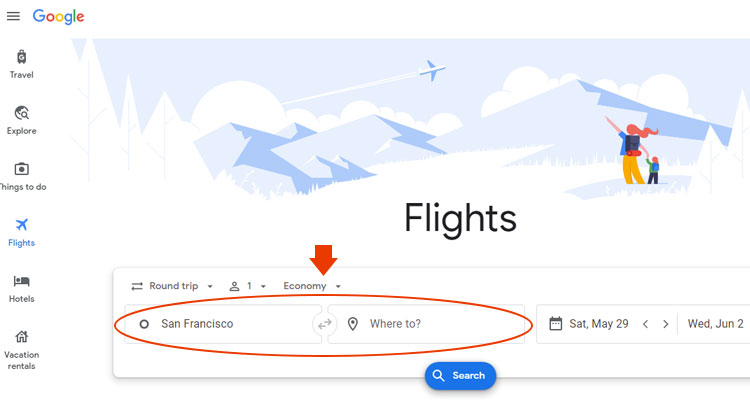 3. A map will appear along with a number of options.
4. You can put a limit to the Price by using the slider.
5. You can limit the number of Stops by choosing one of the following options-
6. You can choose from the Travel Mode wherein you'll have the option to either choose "Flights Only" or "All" which will include cars as mode of transportation too.
7. You can limit your Interests by choosing –
8. You can limit the Airline. This will make sense if you are an elite member. You can either choose "All airlines" or one of the below options-
Oneworld (American Airlines)
9. You can edit the Time ranges if you need to avoid early departures or late arrivals.
10. There's an option to go ahead with your carry-on Bags as well if you want it to be included in your flight tickets. Yes, Google Explore option gives you this liberty.
11. You can avoid long layovers using the Duration slider.
How to Use Google Flights Explore
By exploring the options listed above, one can easily use the Google Flights Explore feature. The beauty of this tool is that it lets you be the king of your choices. If you want non-stop flights (like San Francisco to Bangalore flights), so you shall get! However, if you can't tolerate long-duration flights, your wish will be the tool's command. If you have only a weekend to spare, enter the Dates and you shall be served exactly that! Cool, right? Same goes for the destination. Your destination can be as broad as the entire United States of America or anywhere in India.
While it's easy for anyone to use Google Flights Explorer Map, savvy users can edit the website URL to get even more specific results. Fo example –
Narrow the price results more specifically by editing the "mp=" amount.
Searching for first or business-class flights instead of economy by adding ";sc=b" for business class or ";sc=f" for first class.
Eliminate Allegiant (G4), Frontier (F9) and Spirit (NK) results by adding ";a=-G4,-F9,-NK" and this also works for the major carriers (American AA, Delta DL and United UA).
You can Move the Map to explore other options. For example – If you're looking to book Chicago to India flights, you can hover on the map to India to find the cheapest destinations you can fly to. 
Points About Google Explorer To Keep In Mind
The feature isn't perfect. It doesn't show results beyond six months unless specific dates are manually set unlike Google Flights that shows results up to 11 months.
Google Flights doesn't show SouthWest flights since this particular airline doesn't share its prices with OTAs or search portals.
The google flight explorer tool takes 15-20 seconds for the prices to load.
The results for the searches aren't sorted by price – nor are they always highlighted on the map. One must, therefore, scan through the results on the map for accuracy.

Latest Updates To The Explore Feature
Google continuously tries to better its features and the 'Explore' feature is no different. The latest update that is still under testing isn't available to all but has some interesting alterations which are as follows-
1. Number Of Stops & Cheapest Dates Appear In The Summary Bubble
Before, while hovering over the Explore Map, one could only see the prices over the destinations. However, now, the number of stops along with the cheapest dates appear while browsing the map too. For instance, if you plan to book New York to India flights, you will see a lot of options with the number of stops and cheapest dates while browsing the map.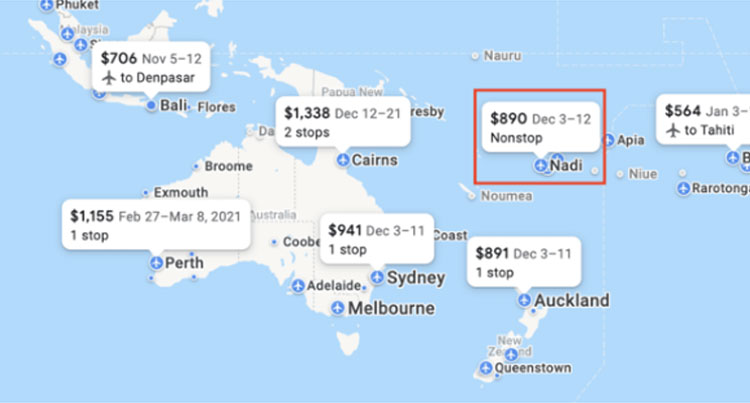 2. Major National Parks Are Now Listed On The Explore Map
The increased interest in outdoor travel activities that are close to nature; thanks to COVID-19, Google has added major national parks worldwide. If you hover over a national park, you'll get information regarding the nearest airport and the time it will take you to reach the park from the airport.
For example, a flight from Chicago to San Francisco in late October will run you $113, and from there, it's a 4 and a half-hour drive to Lassen Volcanic National Park: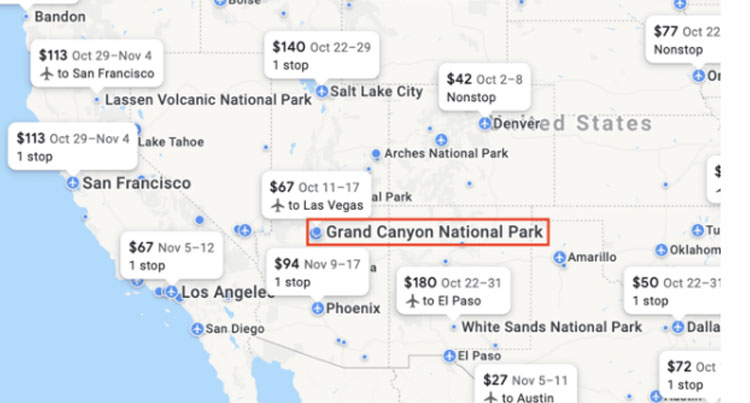 3. Commercial Airports Have A Blue Airplane Icon
While this feature is currently being rolled for the US audience only, it is expected to spread worldwide. Again, as part of Beta Testing, this feature might not be available to you just yet. However, in this feature, the points of interest (cities, beaches, parks, etc.) have a blue dot.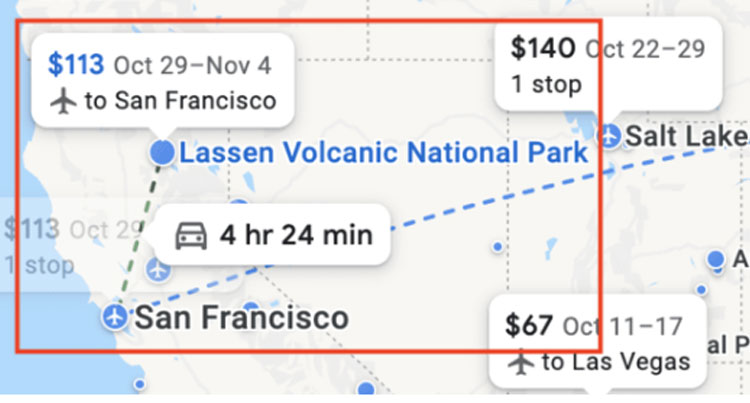 Conclusion
While this tool is invaluable if you don't have a destination in mind, Google Flights has certain limitations as it doesn't show the prices offered by OTAs and certain airlines. It only showcases the prices by major airlines and OTAs like Skyscanner and Momomdo. Since it neglects other travel agencies, it limits the passengers' chances to enjoy the cheapest prices.
This is where MyTicketsToIndia (the answer to your best travel agency near me searches) comes into the picture. You can do your research on this tool and get back to us for the best prices and we'll offer you the same. This way, you'll get to experience the best of both worlds. Sounds interesting? Well, then, get going! Try this tool and don't forget to get back to us to ask for a free quote on India to USA flights or back. You can either call us or join the live chat. We'll love to help you out!
Disclaimer: Google announced it will soon disable the feature of booking a flight directly through the site for travelers outside the USA after September 2022. For users in the USA, the same will end after March 2023. But, Google flights will continue to enable travelers to search for cheap flight tickets and click on the airline and online travel agency links to book their flight tickets.
About Heena Ganotra | View Posts
A writer by both passion and profession, Heena Ganotra is "half agony, half hope" but all heart. And oh, she has been a book lover from the start! Her love for books is what convinced her to make a career in the wonderful world of words. She loves what she does and is out-and-out a satisfied soul with a wish to spread happiness like herpes. Insight- Some say she is living the best life anyone could because she reads, writes, travels, and makes merry. They're right because what else does one really need! :)