American Airlines Student Discount: Guide To Saving Money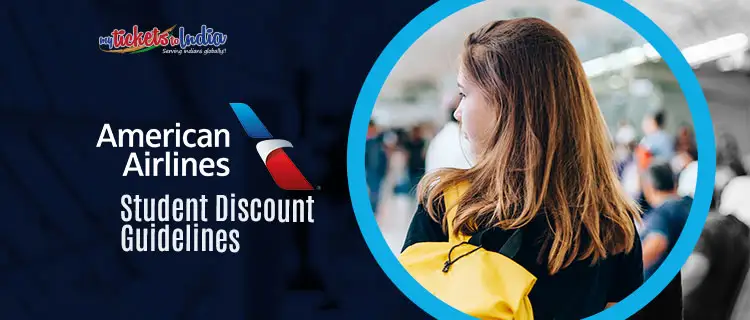 Last Updated on Nov 15th, 2023 by Navneet Kaur, 1 comments
Do you wish to travel for your studies but are worried about the cost? As a student, you're probably looking for ways to save money. Well, did you know that American Airlines offers discounts for students? This makes air travel more affordable for students, so they can focus on their studies. What's more, American Airlines student discounts make it possible for students to travel without breaking the bank.
In this blog post, we'll walk you all through what AA student discounts & AA promo codes offer and how to qualify for them. We'll also give you some tips on how to get the best deal on your airline tickets. So keep reading to know more!
What Is American Airlines Student Discount?
As a student, you may be eligible for American Airlines student deals and discounts on your flights. The AAdvantage membership program provides special services and deals for passengers who are still enrolled in academic institutions. To take advantage of these offers, you will need to provide your school's name and student ID when you book your flight. American Airlines offers discounts of 10-20% to students of listed colleges and universities.
What Is American Airlines College Discounts Program?
American Airlines offers student discounts on some flights. In fact, it is one of the 9 best airlines that offers cheap student flights. The American Airlines College discount program benefits students who have enrolled in a college or school in the United States. However, another condition of the college discounts is that the student must be between 12 and 25 years old, and their university must be listed on the American Airlines discount code list. The airline allows such passengers to fly to more than 400 destinations across the country at a discount.
In addition, the American Airlines student discount allows travelers to enjoy their time away from their studies at a quieter destination during their vacations. Whether a student chooses to spend their time in the lush greenery, on the beach, or in a high hill station, they can enjoy their best time with American Airlines flight Deals. As a result, you can save on American Airlines flights by booking through their vacation service.
How to Get the American Airlines Student Discount?
Students can take advantage of cheaper fares and additional perks on each trip by booking with student discounts. American Airlines offers discounts on domestic flights within the United States, as well as flights to Mexico, Canada, Europe, Asia, South America, and the South Pacific. Here are some important things you should know about American Airlines' student discount policy.
As a leading flag carrier, American Airlines offers discounted ticket fares for students on most flights.
In addition, students can use American Airlines promo codes to secure a particular discount on flights. To take advantage of the best deals, students must meet the program's requirements.
It is necessary for students to present a valid ID and the name of their school to the relevant authority in order to receive a discount from the airline.
Moreover, only students enrolled at one of the universities listed on the airline student discount list are eligible for the discount.
American Airlines Student Discount Policies – Highlights
For student travelers, the AAdvantage program offers additional discounts on American Airlines flights. To qualify for the discount, you'll need to provide your school name and student ID. You can also use your American Airlines promo code student to get affordable flight tickets.
If you're a student looking to travel with a group, American Airlines offers discounts on flights when you book in advance. To be eligible for the American Airlines coupon codes & student discounts, you must be verified as a student at a participating college and listed on the American Airlines website. This option can help you save money, guarantees your flight ticket, and allows you to book your flight up to 11 months in advance.
During the off-season, American Airlines typically offers lower flight prices. This can be advantageous for students, especially those who attend colleges or universities that have partnered with American Airlines. This can make traveling back home for holidays and breaks much easier.
Benefits of Group Bookings
If you're looking to save on airfare for a group of ten or more people, American Airlines offers student discounts on group bookings. This helps students who study in the USA save more money. If you can arrange travel for a group of ten or more students, the benefits and facilities also increase. Furthermore, you can also make a seat reservation up to 11 months in advance of your flight's departure date, but this depends on the available seats, the destination, and the type of ticket. And, you have the option to hold a reservation for 24 hours before you have to make the final payment.
Do American Airlines Enforce Validity On Student Discounts?
American Airlines doesn't have a set time for ending discounts, so they can expire at any time. Make sure to take advantage of travel vouchers or discounts when you have them. So, it is advisable to check the guidelines on the official site before the current deal expires if you have an American Airlines student discount.
Important Points To Keep In Mind
The discounts will not be applicable on most international flights. Therefore, students are advised to go through the booking guidelines on the student discount & promo code for American Airlines before booking their tickets.
Students can also receive discounts through the loyalty program membership.
American Airlines Contact Information
Contact American Airlines Students Discount: +1-800-433-7300 or +1-860-364-8556
American Airlines College Students Discount: +1-800-433-7300
Dial For American Airlines Promo code: +1-860-364-8556
American Airlines Students Deals: 860-318-2831
Latest American Airlines Coupon Codes
You can search for the latest AA coupon codes on these sites, updating on a daily/monthly basis. Enjoy huge savings with these latest coupon codes.
Disclaimer – Please note that these promo codes are subject to change, and they are not provided by MyTicketsToIndia. We recommend checking these websites or American Airlines' official website for the most up-to-date discounts and offers.
FAQs
Q: How do I use my student discount on American Airlines?
Ans: Students can save on American Airlines flights by using their Student ID number when booking. To take advantage of the discount & promo codes for American Airlines, students can enter their name and ID number on the AA website and select their university from the drop-down menu. From there, they can follow the normal flight booking procedure.
Q: Do American Airlines have promo codes?
Ans: Yes. You can easily find American Airlines promotion codes. The airline frequently releases promo codes and sales to help you save on reservations and tickets, including American Airlines international flights! If you're looking to save on your next American Airlines flight, one of the best ways is to sign up for their email list or loyalty program. This way, you'll always have the latest American Airlines promo codes and coupons in your inbox, and you can be sure to get a great deal on your flight booking.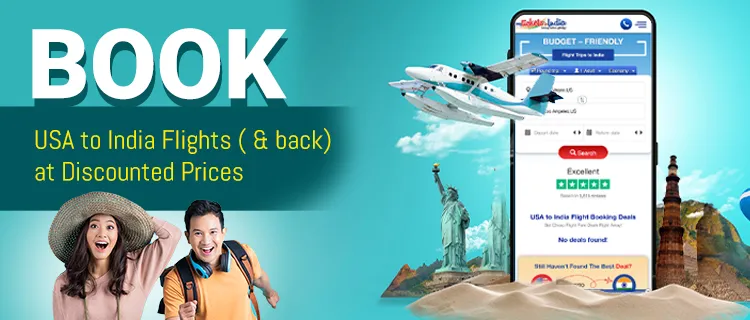 Now that you are familiar with the student discounts offered by American Airlines, you must know that AA student discounts don't apply on USA to India flights. However, you don't have to worry one bit!
If you've been planning to book India flights, MyTicketsToIndia (your IATA-certified travel agency) is here to provide you with the most exciting flight deals on this route. We will help you in every possible way so you can make big savings. Avail the wings for your dreams and fly high with us.
Navneet Kaur is a Professional Content Writer with 5+ years of experience, she started her career as a Content Writer. Apart from having good knowledge of marketing and business, she firmly believes in dreaming big and making them come true. She lives with a passion to explore and learn about adventure, destinations, history and live events happening around. Including her travel writing skills, she has also written about places, arts and entertainment, personal experiences, nature and its beauty, etc.