| | |
| --- | --- |
| Aircraft | Number of Accidents |
| Boeing 737 | 149 |
| Boeing 737 NG/Max | 27 |
| Boeing 747 | 49 |
| Bowing 757 | 9 |
| Boeing 767 | 15 |
| Boeing 777 | 7 |
| Airbus A300 | 33 |
| Airbus 310 | 8 |
| Airbus A319 | 1 |
| Airbus A320 | 28 |
| Airbus A321 | 7 |
| Airbus A330 | 9 |
| Airbus A340 | 5 |
Are Private Planes More Dangerous Than Commercial Planes?
Traveling in a private plane is way more dangerous than taking a commercial flight. Officials say that private planes are nearly as deadly as cars. Private plane crashes are frequently associated with celebrities or high-level executives, but they are not nearly as rare as they seem. While the commercial airline industry has improved its accident rate by 80% in the last 15 years, the general aviation industry (which includes private and recreational air travel) has not.
Private planes are used less frequently as compared to cars, but when we see the statistics on plane safety, private planes may be just as (or even more) dangerous than the leading cause of transportation deaths in the USA i.e. Cars. As per the reports, there are nearly 21 general aviation fatalities per every 2 million hours of private air travel. And, 1.1 death per every 2 million hours of car travel. The data depicts that boarding a private plane is around 19 times more dangerous than getting behind the wheel of a car. Most of these private plane crashes are caused by pilot error and many occur when pilots lose control of their aircraft.
Comparisons Of The Safety Of Plane Travel With Other Dangers
There is a multitude of other experiences in life that you likely never think twice about. It turns out that they are more dangerous than traveling in a plane. These dangers are not meant to make you feel anxious about them. Instead, they are meant to show you how unfounded your worries about flying really are! So, just check out these facts and repeat them to yourself when you start to worry about what will happen on your next flight. And, how likely is it for a plane to crash?
Your odds of being killed in an automobile accident are 1 in 5000 which means that your drive to the airport is more dangerous than actually flying in a plane. So, the next time you make the drive to the airport, don't forget to pat yourself on the back. Remember you have just made it through the most dangerous part of your flight.
You have a higher chance of dying of food poisoning than in a plane crash, at 1 in 3 million. Funny, right? But it's a fact!
You also have a better chance of dying of a snake bite, getting hit by lightning, dying of scalding in hot water, or falling off your bed. And, if you're left-handed, it's riskier to use right-handed equipment than it is to die in an airplane crash. The fact of the matter is that flying in a plane is really, really safe. By far, it is the safest mode of transportation.
Conclusion
Many of us have heard that flying in a plane is exceptionally safe, but if you have a fear of traveling in an airplane, you need more than other people's words of reassurance to build your confidence in flying. You need to go through the airplane safety statistics firsthand. Because we all know that there is something incredibly comforting about seeing hard data, whether you are planning to book domestic flights or long-hours international flights (such as Chicago to Delhi flights), you will land safely. According to aviation officials, flying is the safest form of transportation to date. It beats traveling by car, train, bus, ferry, and motorcycle by a long shot.
Frequently Asked Questions
Q: Why don't airlines supply parachutes to passengers?
A: Commercial aircraft do not carry parachutes because using parachutes requires skills and extensive training that most people on a commercial aircraft do not have. It is not that easy to use a parachute.
Q: Can turbulence cause a plane crash?
A: Turbulence is a rapid change in the speed or pressure of a fluid. It can cause aircraft to drop in altitude and make a lot of noise. It's rare for turbulence to be powerful enough to actually create a chance of a plane crash, but it can cause injuries.
Q: What is the safest part of the plane?
A: The safest part of the plane is the rear cabin. It is made of stronger material than the front cabin, further from the point of impact, and equipped with safety features like reinforced walls and stronger seatbelts.
Q: What are the odds of being in a plane crash?
A: According to the officials, the odds of an airplane crashing are 1 in 11 million. It means flying in a plane is much safer than traveling in a car.
Q: Which airline has never had a crash?
A: While minor accidents are common with every airline, Hawaiian Airlines has never had a major crash involving fatalities.
Q: Can you actually survive a plane crash?
A: According to a report analyzing aircraft accidents from 1980 to 2020, the officials found that the survival rate of crashes was 96% approximately. Catastrophic plane crashes that involve loss of life are extremely rare i.e., 1 in 19.8 million if you fly with airlines with a good safety record.
Q: How much safer is flying in a plane than traveling in a car?
A: According to the reports, the fatality rate for commercial flights in the US is 0.07 deaths per 100M miles flown and driving is 1.18 deaths per 100M miles driven. It depicts that your chance of dying is 1, 686% higher in a car than in a commercial airline.
Once you get the facts and statistics related to the odds of a plane crash, you will surely be able to begin trusting that flying is super safe. And, we hope that this informational blog has helped you in clearing all your doubts. If you have any further questions, you can ask us in the comments below. Our travel experts at MyTicketsToIndia, resolve all your queries at the earliest.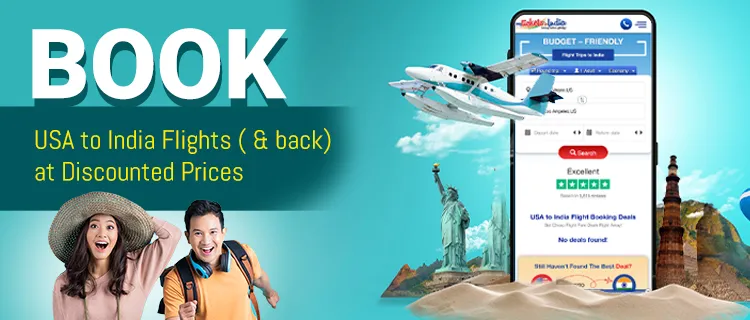 So, ready to fly? We can help you with your flight booking! Over the years, we have earned a reputation for excellence among our clients. We are a renowned air ticketing agency in the USA due to the quality of our work and incredible deals & discounts on cheap tickets to India from USA (and back). We have a team of professional travel agents with years of experience under their belt. With their experience, finding cheap plane tickets is a cakewalk. All you have to do is call us and let us know your travel dates and other requirements. We assure you that you will get the best deal ever!
Renu Dahiya is a passionate writer who worships her profession. Her love for writing has encouraged her to pursue her career as a writer. Her friends call her a "travel worm" and always come to her to know some interesting traveling tips and destinations. Renu is a repository of knowledge about traveling who knows which place should be visited in which season. Oh yes, she is insanely in love with dancing too. Writer, traveler and dancer, a perfect combination! Without a doubt, she is a complete package.