Detailed Guide On Traveling Alone At These Solo Travel Destinations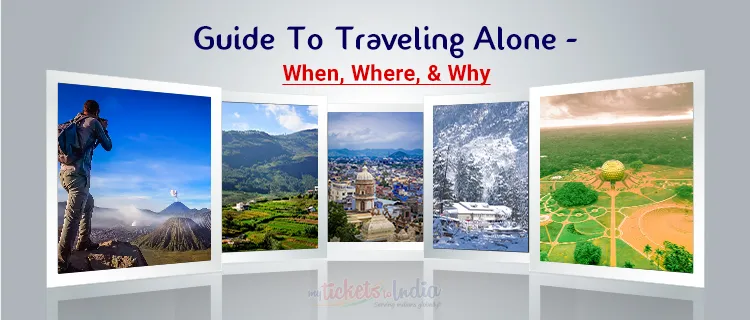 Last Updated on Jan 4th, 2023 by Pawanpreet Kaur, Leave a Comment
Solo travel might sound daunting at first but believe it or not, traveling alone is one of the most rewarding and enriching experiences one can have in their life. Just a little stepping out of your comfort zone is needed, and there's a world to see from a different perspective. Trying solo travel also allows you to be completely in control of your own trip. You can go at your own pace, choose your own activities, and change your plans as you see fit. Moreover, traveling alone can be a great way to build confidence and learn to rely on your own strength. Here's why many solo travelers prefer exploring the world alone by themselves.
In this post, we'll share useful tips on how to travel alone and some of the solo travel destinations to explore and fuel your wanderlust. Just remember you are strong and independent, and you can do whatever you want, whenever you want.
Useful Tips On How To Travel Alone!
Whether you want to explore the city lights or hike through a beautiful forest, solo travel can be an incredibly wonderful experience. It's all about traveling by yourself without having to worry about coordinating with anyone else's schedule or preferences. So. let's check out the following tips on how to travel alone and how to make this solo trip one of the best solo vacations.
Plan Your Itinerary Before Hand
This might sound lame but it is the foremost thing to do! Having an itinerary can help you stay on track and make the most of your time. Simply jot down the places you want to visit and things to cover for each day you are traveling alone. A little planning with a sense of adventure can make your journey more enjoyable and you can create memories that will last a lifetime. Besides, look for the cheapest months to book flights to save BIG.
Go Light With Your Bag
Packing light is key when traveling solo. Not only will it make your journey easier, but it will also give you more freedom to explore. Bring only the essentials and leave room in your backpack for souvenirs. Overpacking for your solo trip can make your trip more difficult and stressful! We have something for you regarding comfy airport outfit ideas if that helps.
Choose Your Accommodation Wisely
Being a solo traveler you can find innumerable accommodation options available at your travel destination. But if you are traveling solo, it's always important to choose a place that makes you feel comfortable and safe. Consider staying in a guesthouse or homestay, where you'll have the opportunity to meet other travelers and get insider tips on the best places to go and things to do.
Start Early
One of the best tips for traveling alone is to start early because it is both safe and convenient for a solo traveler to enjoy daytime activities. Starting early is not just beneficial for solo travel senior females but for everyone. Try waking up early, relish a delicious breakfast place, and head over to the best solo travel destinations you've planned.
Stay Safe
This is a top priority for anyone traveling solo, but it's especially important when you're on your own. Do your research before you go and be aware of your surroundings at all times. Trust your gut and if something doesn't feel right, don't hesitate to walk away. Moreover, familiarize yourself with the areas you will be visiting or let someone know where you are going. It's always a good idea to have a friend or family member aware of your travel plans in case something happens.
Join Other Solo Travelers
One of the best parts about solo traveling is the opportunity to meet new people. Talk to your seatmate on the plane, strike up a conversation with someone in line at the coffee shop, attend local events, or join a tour group. You never know who you'll meet or where they'll take you. Solo travel can be an incredible experience if you're prepared and willing to step out of your comfort zone.
Go Out & EXPLORE!
There are innumerable things to do solo when you are going on a solo trip. Climb that mountain, and go to the beach alone as it is the best opportunity to do whatever you want. Take advantage of this freedom and get out there, enjoying the spontaneity of solo travel. Let us tell you that nothing soothes the soul more than exploring new places on our own terms. And the best part is without having to compromise or consider anyone else's needs or interests.
8 Indian Solo Travel Destinations For Female Travelers
1. Goa – For The Best Solo Beach Trip
Goa is amongst the best solo travel destinations in India which are most popular for its beaches, laid-back atmosphere, and its friendly locals. The place is perfect for the best solo vacations as there's much more to this tiny state than meets the eye. Behind the postcard-perfect vistas lie a fascinating history and a rich culture that is a unique mix of Indian and Portuguese influences. From the iconic churches to the lively markets of the city capital, this city can make your solo vacation a lot of fun, especially these 7 iconic Goa destinations. Tempted already? Book a flight from USA to Goa and experience the madness yourself. 
2. Kerala – Ideal For Best Solo Vacations
A tropical paradise that is best known for its majestic beauty, scenic beaches, and lush green vegetation, Kerala is fairly referred to as "God's Own Country." There is a myriad of things to do in Kerala even if you are traveling alone. The forests, hills, bustling markets, and beaches of this state are sure to make your solo trip super fun. So, just get cruising on the backwaters in a houseboat or just lay back on the beach, sipping over coconut water. Here are our handpicked 7 destinations to explore in Kerala. Trust us, they won't disappoint you.
3. Gokarna – Paradise For Alone Traveler
A scenic town located in the southern state of Karnataka, Gokarna (also one of the best beaches in Karnataka) welcomes visitors from all over the world. Blessed with a tropical climate, individuals who are traveling solo are sure to get pleased by its charm and alluring beauty. Whether you are a solo travel senior female or looking for the best solo vacations for guys, it is an ideal place to hit the beach alone. 
4. Pondicherry – Perfect Place To Travel Solo
Enriched with history and culture, Pondicherry is home to many interesting museums and art galleries. The reason it is ideal to enjoy the best solo vacations is the city's charm, rich cultural heritage, and easy-going people. If you are looking for a city to just relax and enjoy the vibrant vibes, it is an ideal destination if you are traveling alone. If you think about what to do alone in Pondicherry, just take it easy because the city is full of surprises and delights. You can walk by the shores of any of the beaches in Pondicherry and let the waves wash away all your worries. 
5. Mumbai – Incredible Place To Traveling By Yourself
Amongst the best solo travel destinations, Mumbai is the one loaded with the best nightlife, adventures, and things to do. The beauty of Mumbai lies in its striking contrast of old and new, traditional and modern. From the grand Victorian architecture of the Gateway of India to the cutting-edge skyline of the financial district, the city is no less than a beautiful surprise. Booking your flight tickets from the USA to Mumbai is sure to make your solo travel worth the efforts made. 
6. Udaipur – Perfect For People Who Travels Alone
Traveling alone? Udaipur is one of the best solo travel destinations that is surrounded by stunning mountains and valleys. The city is blessed with some of the most beautiful tourist attractions in India. Your solo trip to Udaipur is sure to make your solo travel worth the time. It is definitely a place that you will want to visit if you are interested in Indian culture and history. If you are in search of places for the best solo vacations, this destination in the state of Rajasthan is the place to be. 
7. Manali – For Best Solo Vacations For Guyz
Manali always tops the charts in the list of solo travelers because of its popularity among tourists for its stunning natural scenery. Situated in the Himalayan mountains, Manali is blessed with panoramic views of snow-capped peaks, lush green valleys, and rushing rivers. Another reason people traveling alone prefers this location for a solo trip is its culture and vibe. It is also home to numerous famous destinations that are known worldwide. Here, you can perfectly explore both Hindu and Buddhist cultures. 
8. Chandigarh – Must Visit For Solo Travel Senior Female
A city that is not just known for its greenery and cleanliness but also popular for the safety it holds for women! It is an ideal destination for solo female travelers. The city has a cosmopolitan culture with people from all parts of India living here in harmony. You can check out some of the best attractions in Chandigarh here. The best part is that the rate of crime and violence in the city is very less than compared in other cities in India. Women are even safe at night and enjoy the nightlife of Chandigarh without any worry. Moreover, the residents are always happy to assist and ready to help others in need. And guess what? You can experience all this by booking cheap flights to Chandigrah! 
Frequently Asked Questions
Q: Why you should try traveling alone?
Ans: Solo travel can be super fun! This is the time when you are by yourself, you can plan everything according to your choices, find time with yourself, and strongly come together as a person. It is an amazing chance to reset and recharge away from the hustle and bustle of everyday life.
Q: Do I need to be experienced to go solo?
Ans: No experience is necessary and in fact, many first-time solo travelers find the experience empowering and liberating. That being said, some basic research and trip planning will go a long way towards making your solo travel adventure safe and enjoyable.
Q: Is solo travel safe?
Ans: Solo travel can be as safe or safer than traveling with a companion since you are in control of your own itinerary and activities. By being mindful of your surroundings and taking common-sense precautions, you can minimize risk and enjoy a trouble-free trip.
Q: How do I meet people when traveling solo?
Ans: Meeting people while traveling solo is easy if you put yourself out there and take advantage of opportunities. Joining a tour or group activity is a great way to meet like-minded travelers, and staying in a hostel will also give you ample opportunity to socialize.
Q: What are some of the benefits of solo travel?
Ans: Solo travel can offer many benefits, including increased independence, confidence, and self-awareness. People who travel alone often have more flexibility and freedom when it comes to planning their trip and choosing activities.
Q: What are some common mistakes made by solo travelers?
Ans: One of the most common mistakes made by solo travelers is failing to properly research their destination. This can lead to problems such as getting lost, missing out on key attractions, and being taken advantage of by locals. Additionally, many solo travelers make the mistake of not budgeting properly or overspending on souvenirs and other items.
Q: What should I do if I feel unsafe while traveling solo?
Ans: If you ever feel unsafe or uncomfortable while traveling solo, the best course of action is to trust your gut and remove yourself from the situation as quickly as possible. If you are in a public place, it's also a good idea to alert a nearby security guard or police officer. In general, it's always better to err on the side of caution when traveling alone.
Hope you find this quick guide on traveling alone and solo travel destinations helpful. We tried keeping all the general tips on solo travel that you might find helpful. Rest, you do not need to stress much about the negativity and just make your solo travel happen without any worries. You are surely going to have your best solo trip.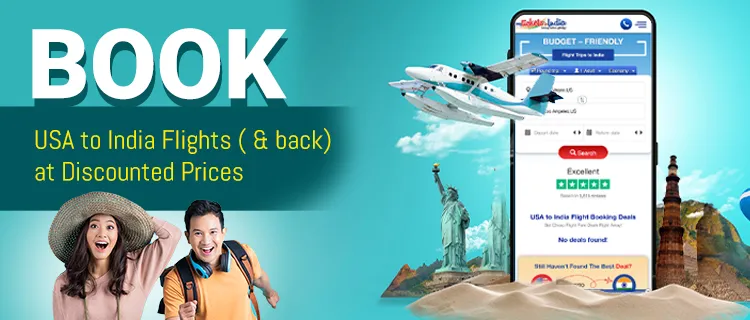 We are also there to help you with cheap flights from USA to India through our air-ticketing portal MyTicketsToIndia. We are an IATA-certified tour and travel agency that believes in making travel cheaper for our customers. Sounds unbelievable? Save money on flights now by calling us at +1-585-948-0222. We are just a call away!
Pawanpreet is a versatile content writer and editor who enjoys experimenting with various niches of writing. Her keen eye for detail and love for thorough research helps her create high-quality content to outweigh clickbait. She extensively works for digital marketing and manages clients that range from travel to luxury goods. Her creativity is fueled by her love for learning new things, travelling, and the environment. Also, she is a free soul and an avid animal lover who believes in doing everything with a smile :)